Mihonoseki Shimane
Get Splashed By Traditional Ocean Culture in Mihonoseki, Shimane, 美保関島根
Greg Goodmacher
Soak yourself with Japanese sea culture in Mihonoseki's enchanting harbor. It's an ancient village curled around a semi-circular bay with a tiny wharf, family-owned fishing boats, and seabirds. You could drive by within minutes but don't. Instead immerse yourself in the quiet, aesthetically pleasing environment to discover reminders of daily life crossing many centuries of Japanese history.
Walking around this village is a stroll through time. Give yourself at least two days to savor Mihonsoseki's past and present. Breathtaking scenery and national cultural treasures, priests and shrine maidens who still follow ancient customs, and friendly locals will present you with unique travel memories.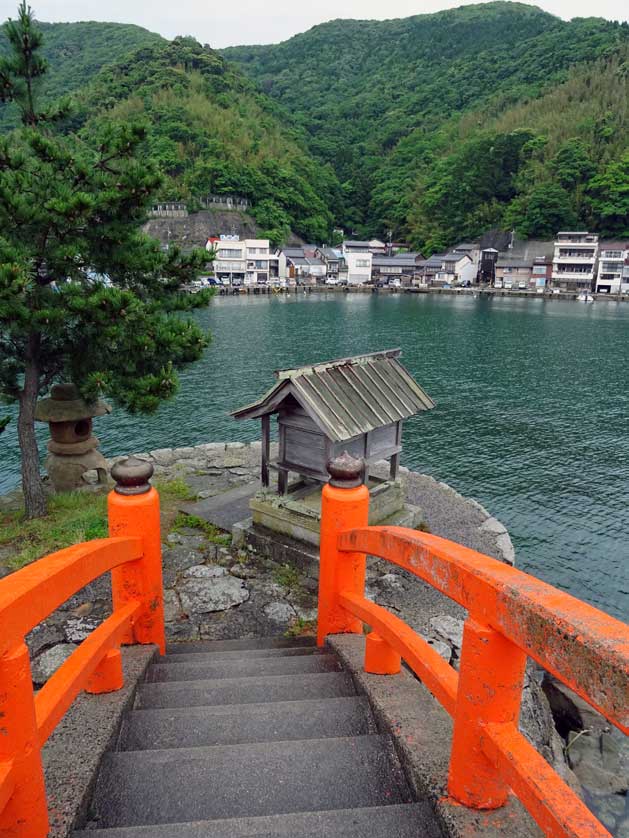 Mihonoseki Harbour, Sakaiminato, Shimane Prefecture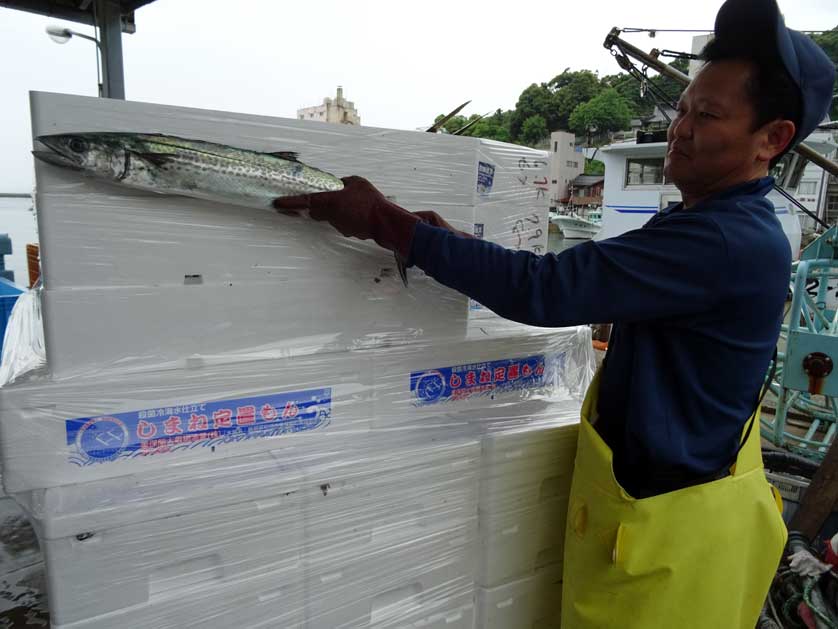 Proud Mihonoseki Fisherman, Mihonoseki, Shimane Prefecture
History
Centuries ago, flourishing trading and shipping companies in Mihonoseki directed the flow of iron for swords, pottery, Japanese sake and other goods to and from Tokyo, Osaka, and neighboring countries.
Mihonoseki was wealthy and influential. The famous author Lafcadio Hearn described the Mihonoseki he encountered in the late 1800's as a noisy place filled with gamblers, geisha, sailors, and dancing girls.
But today it is a sleepy backwater holding national and folk treasures. Amidst the green hills, along the rocky coast, and lining its tiny streets are windows into various eras of Japanese history.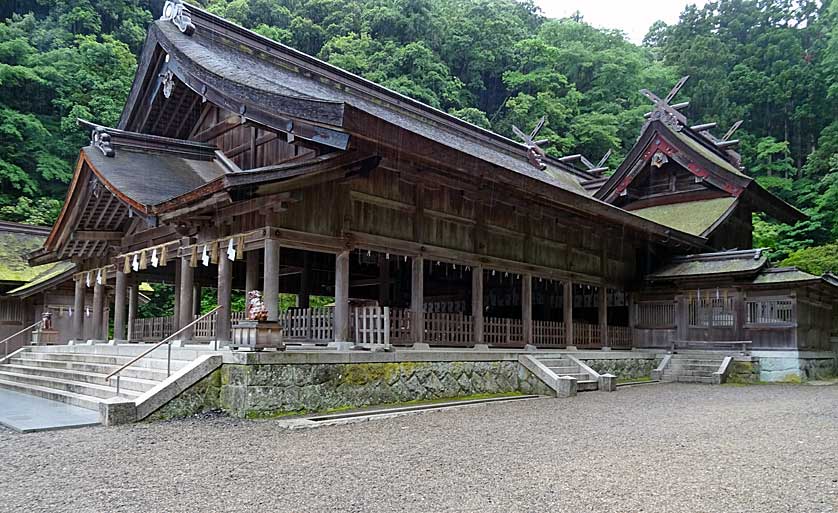 Miho Shrine, Shimane Prefecture
Miho Shrine
Traditions still thrive in Mihonoseki. To experience authentic rituals still being performed, walk under the stone gate close to the sea and enter the sacred grounds of Miho Shrine.
The Japanese Agency for Cultural Affairs designated parts of the shrine as Important Cultural Properties. A brief walk from the harbor brings you to the shrine grounds from where you can see the sea though the entrance of the shrine gate.
The locals who built Miho Shrine in the late 1500's dedicated it to Ebisu. Ebisu is a god of commerce and fishing. Some say that Ebisu enjoys fishing off the shores of Mihonoseki.
Japanese artists often depict him as a portly smiling god who carries a large sea bream. (He was the inspiration for a popular Japanese beer - Yebisu Beer.) If you go fishing with a six-pack of Yebisu, you might see him. Miho Shrine is the head shrine for three thousand Ebisu shrines scattered across Japan.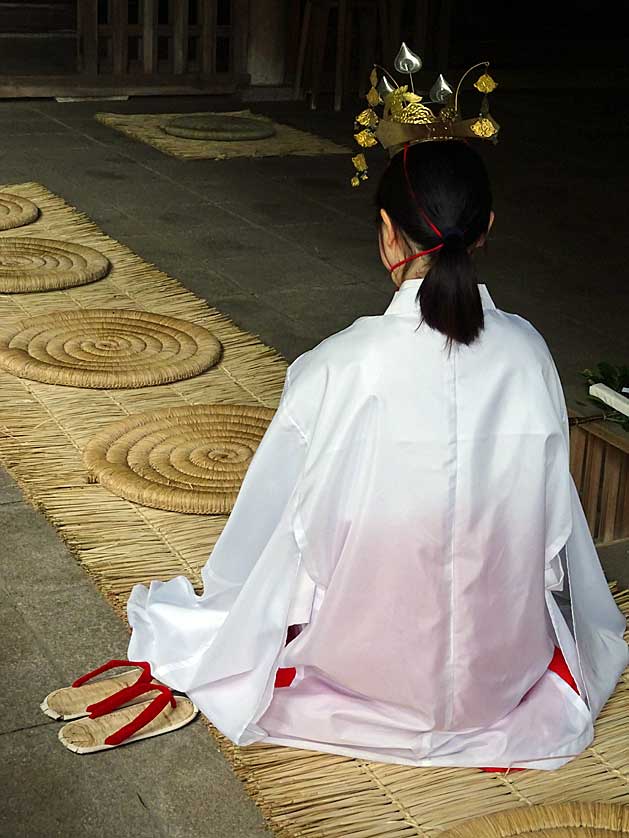 Shrine Maiden in Prayer, Miho Shrine, Shimane Prefecture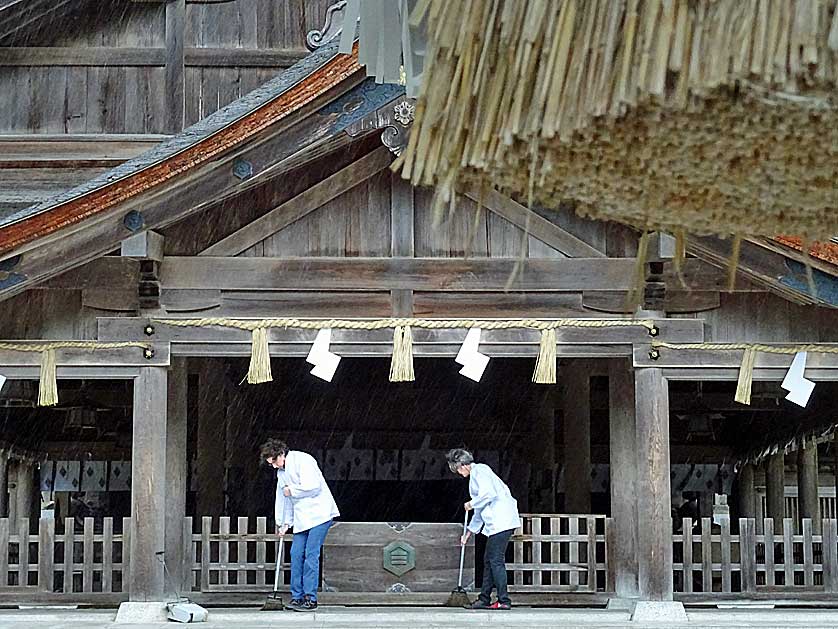 Sweeping the Shrine Before Morning Ceremony, Miho Shrine, Shimane Prefecture
Sacred Dances
Get up early to observe shrine maidens performing sacred dances, which they do every morning. Visitors who are respectful of Japanese culture can participate in this sacred ritual of Asamike, or making morning offerings. My friends did.
They swept the wooden shrine floors, and afterward, they were allowed to sit in a special section of the shrine while in front of them a shrine maiden danced in a white gown.
Priests in elaborate silk clothing played sacred music on ancient musical instruments, and prayers were spoken and offered. A small group of locals and a few visitors observed while standing outside.
If you want to join Asamike, contact the Mihonoseki Tourism Association Office in advance. The phone number is 0852 73 9001.Communicating in English only, though, might be difficult. Your best bet while traveling is to ask a Japanese speaker for help or stay in Mihonoseki and request your hotel staff to assist you. Asamike takes place almost every day except for festival days or days when the priests are busy with weddings and other private ceremonies. A partipation donation of 1,500 yen is customary. The experience is priceless.
Reverently preserved Miho Shrine is a beautiful thatch-roofed shrine at the base of a thickly vegetated small mountain. The only interruptions to the historical atmosphere of Asamike are the phones and digital cameras the few tourists use to record this deeply-moving cultural treasure.
Miho Shrine Priests Playing Sacred Music
Fukuda Liquor Store
In the evening, soak your liver with Japanese culture in the homelike Fukuda Liquor Store, where everyone stands or sits on crates while chatting and drinking at the counter.
This style of drinking is called tachinomi. It's dirt cheap, unpretentious, and another window into Japan's past. Old-fashioned bottles in unusual shapes: samurai, Japanese gods, monkeys, monks, gourds, fish, and raccoon dogs crowd the shelves while old calendars and beer posters line the walls.
The convivial shop owners will likely drink with you, and they will make you feel welcome. This little shop is easy to find. At night, it might be the only open shop on Aoishidatami Street.
Aoishidatami Street
Aoishidatami Street is named for the blue cobblestones that locals long ago placed over sandy soil to create the narrow lane that stretches between Miho Shrine and Bukkoku Temple (also worth visiting). It exudes a memorable atmosphere, especially on weekend evenings, when locals place lanterns on the street.
Rings of light illuminate the wooden architecture of quiet traditional houses and other old buildings. In the morning, school children late for school will run down the lane, and modern sailors on the way to work will stride toward the wharf just minutes away.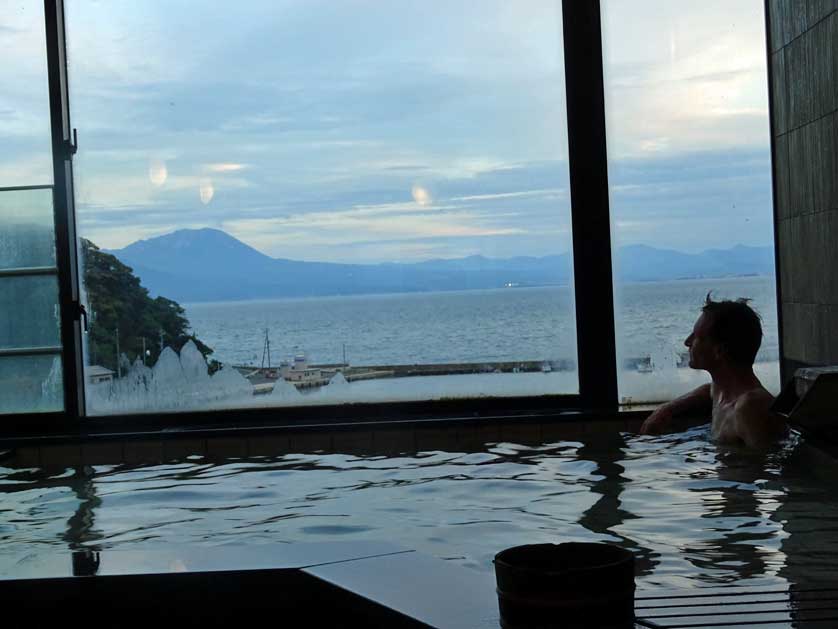 Enjoying the View from the Mihokan Bath
Mihokan
Mihokan, a 17th century inn, which is another government designated Important Cultural Property, stands along Aoishidatami Street. You can stay there.
Be sure to eat a luxurious meal of regional delicacies in one of the dining rooms decorated with screens, pottery, and other arts and crafts from Japan's past.
The current hostess of the inn is a beautiful woman who looks stunning in her kimono as she gracefully pours your drinks and enlivens your meal in a dining room that guests used centuries ago.
The peninsula that cradles Mihonoseki has many stimulating walks and views. Gohonomatsu Park, on a hill above Mihonoseki, offers a short half-hour hike and beautiful vistas.
You can also enjoy nature on a two-hour walk to the historic Mihonoseki Lighthouse. Eat at a restaurant with views of distant islands. Look down on fishing boats and an occasional tiny cruise ship. You can also join guided tours of the nearby coves.
After hiking, fishing, strolling or enjoying a local cruise, return to Mihokan to bathe Japanese style.
The communal baths that face the sea are as wonderful as the dining rooms are beautiful and the meals are delicious.
Perched in a room above the village, you will be able to look down on the wharf, sea, and sea birds, and Mt. Daisen in neighboring Tottori Prefecture stands majestically on the other side of the bay. I can't think of a better way to finish a day in Mihonoseki.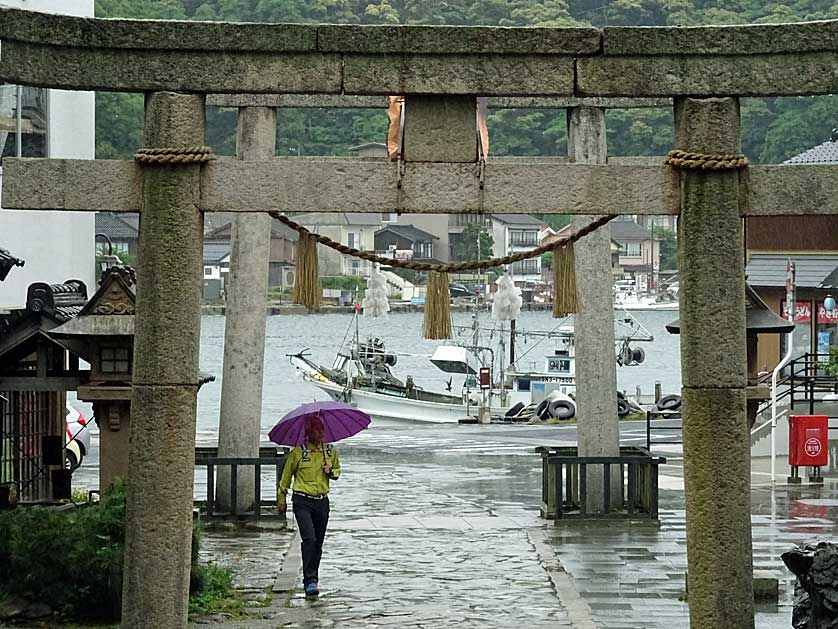 View of the Bay Through a Shrine Gate
Accommodation in Sakaiminato
There are several places to stay in Sakaiminato that can be reserved online. These include the two star Onyado Nono right at Sakaiminato Station, the historic Fukumakan ryokan with tatami floors and futon bedding located very close to Miho Shrine and Hotel AreaOne Sakaiminato Marina.
Both nearby Matsue and Yonago have more places to stay.
Access
Buses are available from JR Matsue Station in Shimane Prefecture. It takes about 80 minutes. There are also trains to Sakaiminato from Yonago (see below).
Alternatively, you could rent a car or take a taxi from Matsue.
Great Travel Deal
If you are going to Matsue from Hiroshima, be sure to take the Hiroshima-Matsue Highway Bus. Until March 31, 2019, the fare for the scenic three-hour journey is only 500 yen, which got to be one of the best travel deals in Japan.
The JR Sakai Line is a small, single track branch line in Tottori Prefecture only 18 kilometers long. It starts at Yonago Station on the Sanin Line and ends at Sakaiminato, with another 14 stations in between including one for Yonago Airport.
The Sakai Line is now one of Japan's growing number of popular character train lines.
The complete list of stations on the Sakai Line is as follows: Yonago, Bakuromachi, Fujimicho, Goto, Sambommatsuguchi, Kawasakiguchi, Yumigahama, Wadahama, Oshinozucho, Yonago Airport, Nakahama, Takamatsucho, Amariko, Agarimichi, Babasakicho and Sakaiminato (for ferries to the Oki Islands).
The author of this article blogs about Japanese Hot Springs at hotspringaddict.blogspot.jp.
Related Articles
Mihonoseki Shimane guide: Mihonoseki is an historic port and fishing village in Shimane Prefecture, southwest Japan.
All the themes of the city