Aichi Expo 2005
Aichi Expo 2005 愛知万博
Expo 2005 will be held March 25 to September 25, 2005 on three sites to the east of Nagoya City in Aichi Prefecture, central Japan: Nagakute Town, Seto City and Toyota City. The three sites will cover approximately 173 hectares (428 acres).
The overall theme of Expo 2005 Aichi Japan is "Nature's Wisdom".
The venue is divided into the main Nagakute Area and the Seto Area.
The official song is "I'll Be Your Love," which was produced by Yoshiki, a former member of the rock group X Japan. Dahlia will perform the song.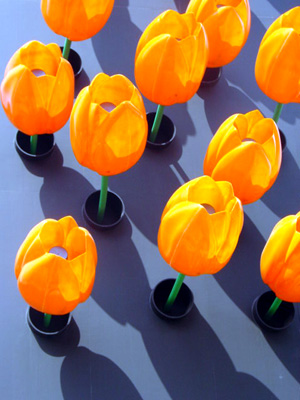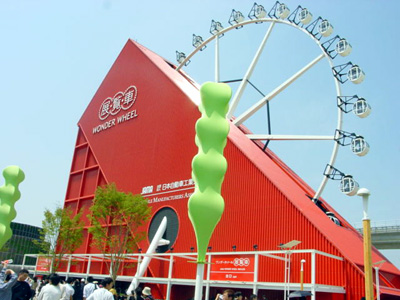 The Expo's mascot characters are Morizo and Kiccoro, who embody "nature's wisdom."
General Admission is 4,600 yen for Adults (ages 18-64), 2,500 for Youth tickets (12-17), 1,400 for Children, and 3,700 for a Senior ticket (65 and older). An unlimited pass is available for 17,500 yen and a weekday family discount pack of 4 tickets costs 16,400 yen.
Nagakute Area
The Nagakute Area is divided into the following zones and stresses global intercommunication.
The Global Commons will offer six large exhibition spaces with individual modules for participating nations from the Americas, Asia, Africa, Europe and Oceania.
The Global Loop is a 2.6 km (1 1/2 mile) walkway that will be the central thoroughfare for visitors and connect the Global Commons.
The Central Zone contains the hi-tech centerpiece pavilion of Expo 2005 - the Global House complete with huge screens and video projections of life on Earth and Expo Plaza an outdoor site for video presentations, artistic performances and cultural festivals.
The Japan Zone contains the Japan central government, Nagoya City and Aichi/Central Japan Regional pavilions.
The Corporate Pavilion Zone holds nine exhibition pavilions from Toyota, Mitsubishi and JR among others.
The NGO Global Village brings together local and international NGOs under the theme of "sustainability".
The Convention Hall will host a variety of short programs focusing on among others: creation of goods, cities, children and global exchange and science for youth.
The entire Nagakute site covers an area of 250,000 square meters. Each area has restaurants, rest areas and shopping facilities.
Seto Area
The Seto Area is divided into three main zones and emphasizes "satoyama" or people living in harmony with nature in a traditional Japanese way.
The Citizens' Pavilion/Kaisho Plaza covering 5,000 square meters (16,400 sq ft) will be formed as a terraced paddy-field with stages for citizens' and NGO forums, interactions and performances.
The National Government/Aichi Prefecture pavilions will stress the wisdom, technology and spirit of Japanese who live with nature.
The Satoyama Trail Zone will allow visitors to experience the nature and history of "satoyama".
Aichi Expo At A Glance
Over 7000 events will take place during the course of Expo 2005.
Each participating country will hold National Day celebrations during the course of Expo.
There are 40 restaurants & 3 ATMs on the main site.
Many international musical stars will perform during the Expo - Philip Glass May 22-24; cellist Yo Yo Ma July 22.
Aichi Expo 2005 (March-September 2005) including travel details, exhibits, pavilions and interviews.
All the themes of the city