Atera Valley
Japan City Guides: Atera Valley
Atera Valley 阿寺渓谷
Atera Valley is located in the Kiso Valley region of Nagano Prefecture, north west of Nojiri and within easy driving distance of Kiso-Fukushima, Iida and Nakatsugawa.
The approximately 6 km long valley is popular with hikers and is easily accessible by car from National Highway 19 which follows the route of the old Nakasendo Highway through Nojiri.
The Atera Valley is south east of Mt. Ontake (3,063m) and is known for its pristine water and many picturesque waterfalls.
Atera Valley, Nagano Prefecture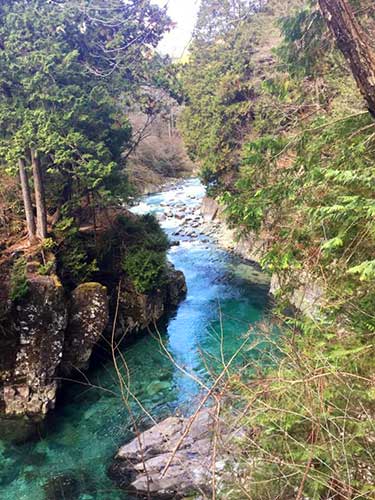 Atera Valley, Nagano Prefecture
Atera Valley Attractions
The river running through the Atera Valley has a turquoise, emerald green color which comes from the white color of the rocks that line the river bed.
The area is particularly beautiful (and more crowded) during the autumn leaf viewing season and is also popular with families in summer who come to escape the summer heat in this cool, elevated, shaded valley.
A number of impressive waterfalls (Kippo-no-taki, Rokudan-no-taki, Ugen-no-taki) and pools (Inogaeri-no-fuchi, Tanuki-ga-fuchi, Kuma-ga-fuchi) can be viewed as you walk (or drive) along the valley.
The Kiso Valley has long been treasured for the quality of its timber reserves, especially cypress or hinoki trees, which were used to rebuild the shrines in Ise and generally used in construction.
A railway line that was built in the Taisho Period and used to transport timber from the area is now disused. It ran from 1923-1966.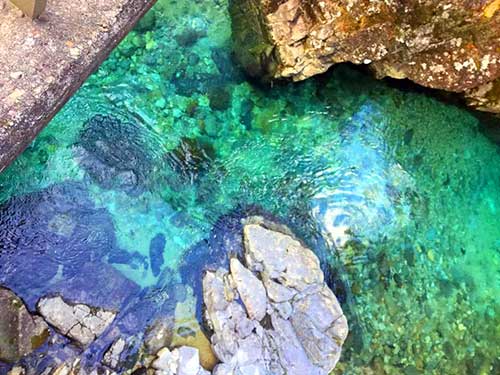 Atera Valley, Nagano Prefecture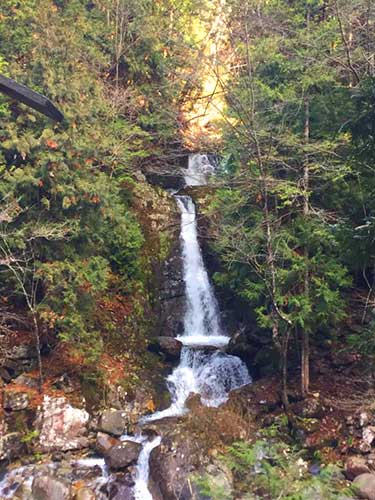 Atera Valley, Nagano Prefecture
Temples in the area include Josho-ji Temple in Suhara and Myokaku-ji Temple in Nojiri. Josho-ji and Myokaku-ji Temple are both Rinzai-sect Zen temples belonging to the Myoshin-ji school from Kyoto and date back to the 14th century.
Atera Valley is also well-known for its wild flowers including varieties of rhododendron, azaleas, clove cherry and coptis.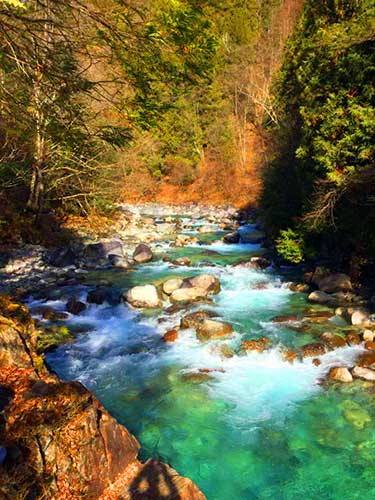 Atera Valley, Nagano Prefecture
Accommodation in and around the Atera Valley
The Atera Campsite (阿寺渓谷キャンプ場) is located at the northern end of the valley and is open from April until October. Bring your own tent or rent one at the site. Tel: 0264 55 2013
www.vill.ookuwa.nagano.jp).
The Nozokido Campsite (のぞきど森林公園キャンプ場) is located in Nozokido Forest Park on the east side of the Kiso River, east of Nojiri town. Tel: 0264 55 3488.
Forespa Kiso Atera is a traditional ryokan (inn) with a free pick-up service to/from Nojiri Station Tel: 0264 55 4455.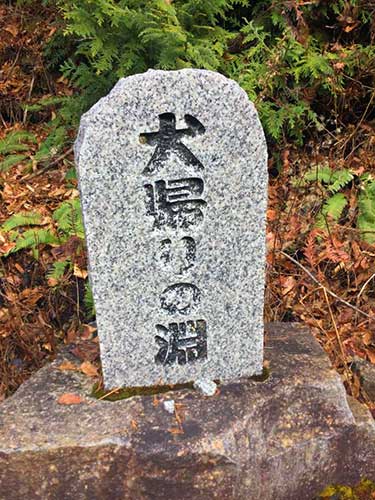 Inogaeri no Fuchi, Atera Valley, Nagano Prefecture
Atera Valley Access
Air
Chubu International Airport is the most convenient international airport airport for an onward journey to the Atera Valley. There are direct connecting trains on the Meitetsu Centrair service to Nagoya Station and Kanayama Station for JR trains to Nakatsugawa. If you are traveling from Osaka take the Shinkansen to Nagoya and change.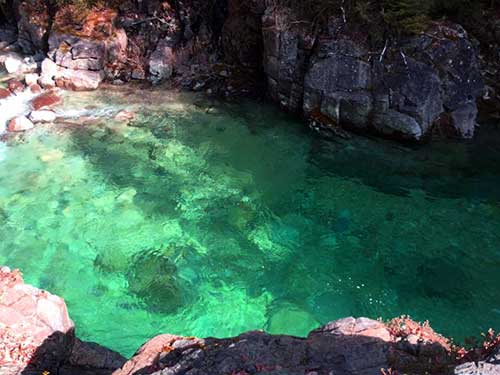 Atera Valley, Nagano Prefecture
Rail
There are Shinano Express and local trains from Nagoya Station to Nakatsugawa taking around 70 minutes. Change at Nakatsugawa for a Chuo Line train to Matsumoto and get off at Nojiri (30 minutes).
Car/Bus
The Atera Valley is about 40 minutes drive from the Nakatsugawa I.C. on the Chuo Expressway from Nagoya.
Kiso Valley Map
View Magome, Tsumago and Nakasendo Map in a larger map
The Atera Valley in the Kiso region of central Japan is famous for its emerald green river, waterfalls and wild flowers.
All the themes of the city