Lake Suwa Nagano
Lake Suwa (Suwa-ko) 諏訪湖 長野
Suwa Lake (Suwa-ko), located in Nagano Prefecture, south east of Matsumoto, is Nagano prefectures's largest lake. Around the shores of Lake Suwa are the four shrine complexes that make up Suwa Taisha Grand Shrine, one of the oldest and most important Shinto shrines in Japan.
Lake Suwa is the source of the Tenryu River which flows south through Iida, and is famous for its spectacular gorge, where you can take a boat ride and be serenaded by a singing boat woman.
Lake Suwa is 759m above sea level and is the 24th largest lake in Japan with a circumference of just under 16km.
Suwa Lake is close to the historic, Edo Period Nakasendo Highway and is easily accessible by car from Narai, Kiso-Fukushima in the Kiso Valley, Kofu and Kamikochi.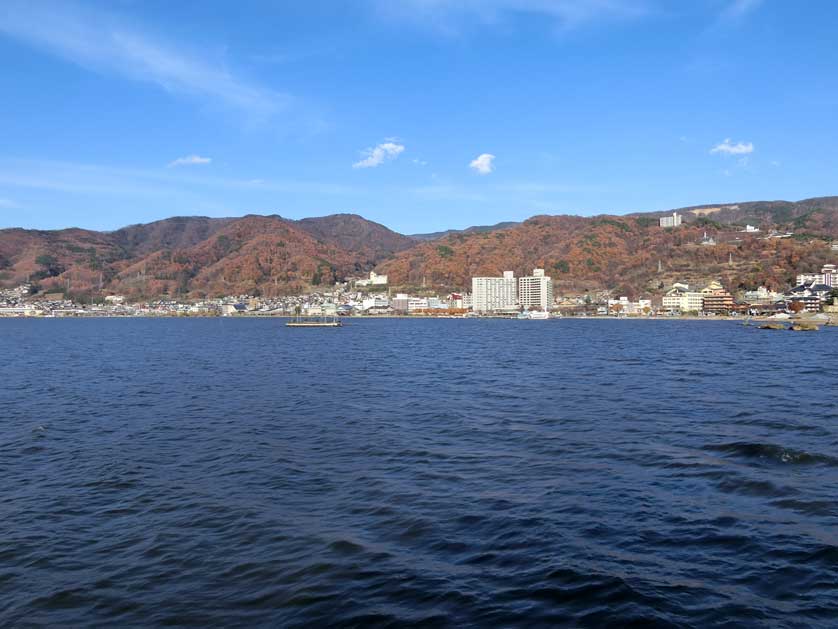 Lake Suwa (Suwa-ko), Nagano Prefecture.
Lake Suwa Attractions
The Lake Suwa area is popular year round. There is skiing in the winter on the nearby mountain slopes such as Kirigamine, along with the now increasingly rare occurrence of the dramatic formation of large ice ridges, known as omi-watari, on the lake.
If Lake Suwa freezes over and large cracks and fissures form in the ice, in a process known in Japanese as omi-watari, then the Shinto kami Tateminakata-no-Mikoto is said to have crossed the lake from the Upper Shrines of Suwa Taisha to visit his spouse in the Lower Shrines. In olden times the fissures in the ice with their raised edges were a sign the ice was thick enough for the locals to attempt ice fishing.
Lake Suwa is surrounded by many hot springs (onsen) and travelers from Tokyo and Nagoya come to combine taking the waters at Kamisuwa Onsen with viewing of the lake. Many of the ryokan and hot spring hotels (see below) have their own in-house hot bath. There are said to be seven different hot springs in the area.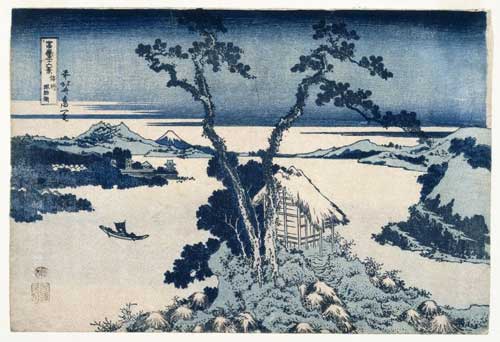 Brooklyn Museum - A View of Mount Fuji across Lake Suwa in Shinano Province (Shinshu Suwako) - Katsushika Hokusai.
Lake Suwa Geyser Center
The Lake Suwa Geyser near Kami-Suwa Station shoots to around 50m about once an hour, though it is sometimes covered and not visible. The Geyser Center includes an outdoor hot spring (rotemburo) and a foot bath (ashiyu).
Lake Suwa Museums
There is a number of museums and art galleries within walking distance of JR Kamisuwa Station that cater to the large number of people who visit the area for its onsen, skiing and summer fireworks. Lake Suwa presents itself as a Chubu version of Hakone, just west of Tokyo - a resort area of mountains, hot springs, lakes and numerous museums.
Suwa City Museum of Art (Tel: 0226 52 1217) dates from 1956, making it the oldest public museum in Nagano Prefecture. The building itself is a registered tangible cultural property and holds works by Seiji Togo, Sosen Mori and Auguste Rodin. There are exhibits of both Japanese and western painting, woodblock prints, sculpture and calligraphy.
The eclectic Suwa City Museum (Tel: 0226 52 7080) has a bit of everything including exhibits on the local Onbashira Festival held every 6 years and the Omi-watari phenomenon, as well as displays focused on local wildlife (including the area's butterflies), movies and anime.
The Sunritz Hattori Museum (Tel: 0226 57 3311) is a private collection with a wide variety of exhibits. Tea utensils by the renowned artist Koetsu Honami (1558-1637) are on display just once a year in addition to paintings by Renoir and Chagall, Japanese paintings and calligraphy.
Suwa Gurasu no Sato (Tel: 0226 57 3311) has works by such glass artists as Rene Lalique and Emile Galle as well as exhibits of Venetian glass, a workshop where visitors can make their own tombo dama (glass beads) and a restaurant overlooking Lake Suwa.
Kitazawa Museum of Art (Tel: 0226 58 6000) combines more glass art from Emile Galle with contemporary Japanese painting.
Taizi Harada Museum of Art (Tel: 0226 54 1881) is dedicated to the paintings of locally-born artist Taiji Harada.
Suwa Takashima Castle dates originally from 1598 when it was constructed by Takeyoshi Hineno, a retainer of the warlord Toyotomi Hideyoshi. At the time Takashima Castle was called the "Floating Castle of Suwa" as it utilized Lake Suwa in its defense. The castle we see today is no longer right on the lake shore and is a reconstruction built in 1970 after the original was torn down 100 years previously during the Meiji Period of Japanese history. The first and second floors host a small museum with exhibits on the history of Takashima Castle, and the third floor is an observation deck. The area around Takashima Castle is much appreciated for the quality and quantity of its flowering cherry trees in spring and wisteria a little later.
Boat Trips on Lake Suwa
Pleasure cruises on Lake Suwa include swan-shaped boats that ply the lake on 30 minute cruises (reduced services in the winter months) as well as tours on the "Duck" amphibious sightseeing bus.
In October and early November there are fishing expeditions on the lake in dome-shaped vessels to fish for pond smelt, a local Suwa-ko delicacy.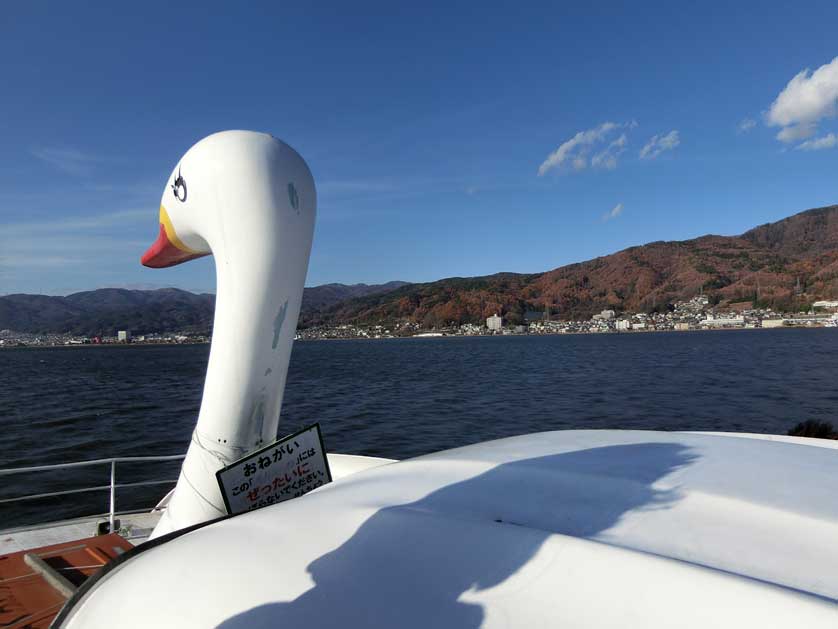 Lake Suwa Pleasure Boat, Nagano Prefecture.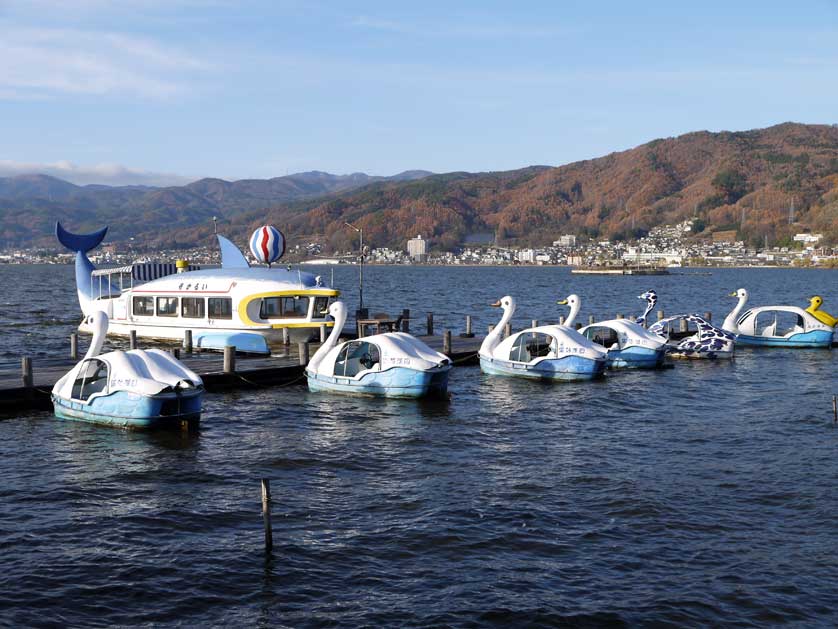 Suwa Lake, Nagano Prefecture.
Summer Firework Festivals
Suwa Lake is probably best known among young Japanese people for its spectacular fireworks (hanabi) festivals during the hot summer months, which are somewhat cooler up at the lake. August 15 sees the Suwa Lake Fireworks Festival when over 40,000 fireworks are set off. There are 15-minute fireworks displays most nights during August and early September leading up to the magnificent National New Fireworks Competition on the first Saturday of September.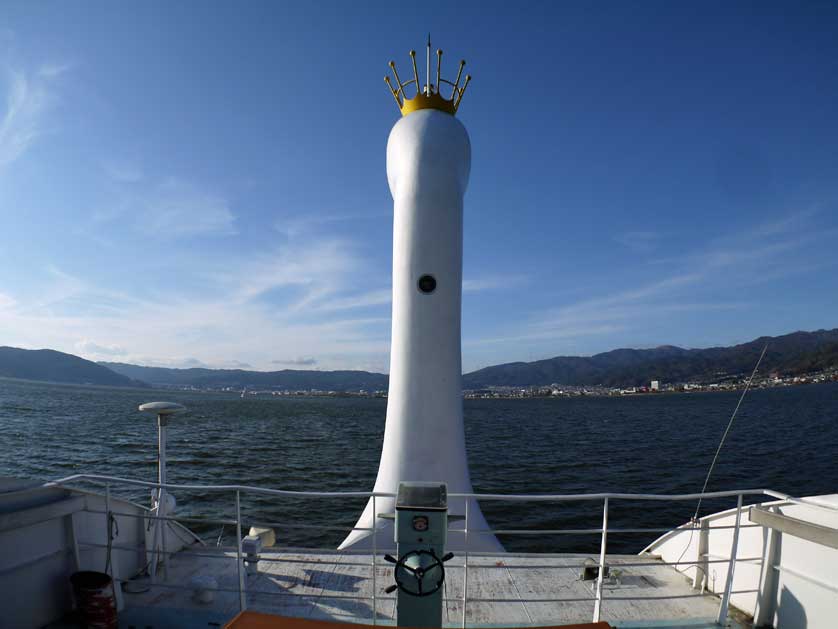 Boat crossing, Lake Suwa, Nagano Prefecture.
Other Things To See & Do Around Lake Suwa
Lakeside Park, just south of JR Kamisuwa Station has a popular promenade, open air stage and sculpture park along with a ubiquitous, historic Japanese D51 locomotive.
Noted onsen attractions, besides the numerous ashiyu (foot baths) that dot the area (at Kamisuwa Station, Suwako Service Center on the Chuo Expressway, Suwa City Museum etc), include Suwakko Land with cave baths, cascading baths and even sleeping baths. The Katakurakan is a huge bathhouse built in 1928 by a silk magnate using imported marble and incorporating a senninburo - or "thousand people bath", for the welfare of local citizens.
Up in the Kirigamine Highlands there is skiing in winter, gliding in summer at the Glider Fureal Center, and hiking through the highland Yashimagahara, Ikenokurumi and Kuruyama marshes, preserved habitats for a variety of plants (some of them very rare) including azaleas, gentians, and gypsy roses. Kirigamine Nature Conservation Center has information on and hiking maps of the area. Musho Tower (fog bell) is a local landmark and symbol of Kirigamine Heights with wonderful 360-degree views.
The Tourist Information Center (Tel: 0226 58 0120) is located just outside JR Kamisuwa Station on the JR Chuo Line.
Accommodation Near Suwa Taisha & Lake Suwa
There are a number of ryokan, Japanese-style inns, around Lake Suwa, which are convenient for visiting Suwa Taisha shrine, the lake and the surrounding highlands.
Recommended places to stay on the shores of Lake Suwa close to Kamisuwa Station on the JR Chuo Main Line include Kamisuwa Onsen Shinyu, Kamisuya Aburaya, Hotel Beniya, Hotel Saginoyu, KKR Suwakoso, Rako Hananoi Hotel and the Suwa Lakeside Hotel.
Hotels and ryokan closer to Maemiya and Honmiya, south east of Lake Suwa near JR Chino Station include the Candeo Hotels Chino, just off the Chuo Expressway, the Chisun Inn Suwa IC, the Hotel Route Inn Suwa Inter and the Hotel Route Inn Suwa Inter 2.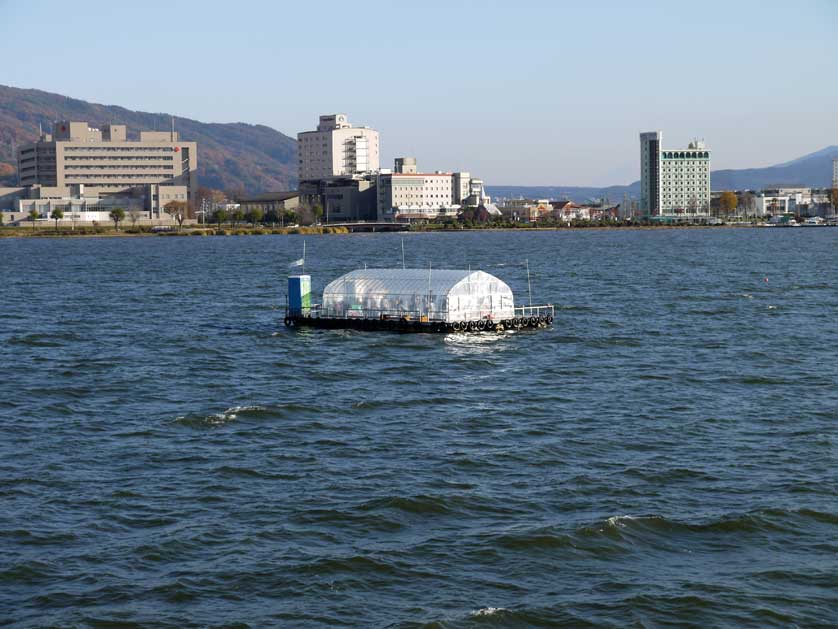 Suwa Lake, Nagano Prefecture, Japan.
Suwa Lake Access - Getting to Suwa Lake
Air
Shinshu Matsumoto Airport (Tel: 0263 57 8818) is the nearest airport to Lake Suwa (Suwa-ko) and Suwa Taisha. There are flights to Osaka (55 mins), Fukuoka (1 hour, 40 mins) and Sapporo (1 hour, 30 mins).
Train
There are JR express Shinano trains from Nagoya (2 hours) and Nagano (50 mins) to Matsumoto. From Nagoya change at Shiojiri (1 hour, 52 minutes) and take a local train to Kami-Suwa (21 minutes) or Chino (28 minutes).
The Super Asuza Express from Shinjuku Station in Tokyo takes 2 hours 13 minutes to Kami-Suwa Station, 2 hours 20 minutes to Chino and 2 hours and 30 minutes to Matsumoto. From Matsumoto Station to Kami-Suwa Station is 37 minutes by local train and 43 minutes to Chino.
There are local trains on the JR Oito Line to Hakuba (55 mins) and Hotaka (30 mins) from Matsumoto Station.
There are highway bus services from Matsumoto to Shinjuku, Tokyo (3 hours, 15 mins), and from both Chino and Kami-Suwa to Shinjuku. There are buses from Matsumoto to Nagoya (3 hours, 10 mins), and Osaka (5 hours, 30 mins). Matsumoto Bus Terminal is just outside the railway station.
If driving by hire car take the Chuo Expressway to Suwa I.C.
Local buses include Karinchan buses which run around Kamisuwa and Swan buses which circle the lake. Both services are run by Alpico. Local taxi companies include Alpico (Tel: 0226 54 0181) and Suwa Kotsu (Tel: 0226 52 1190).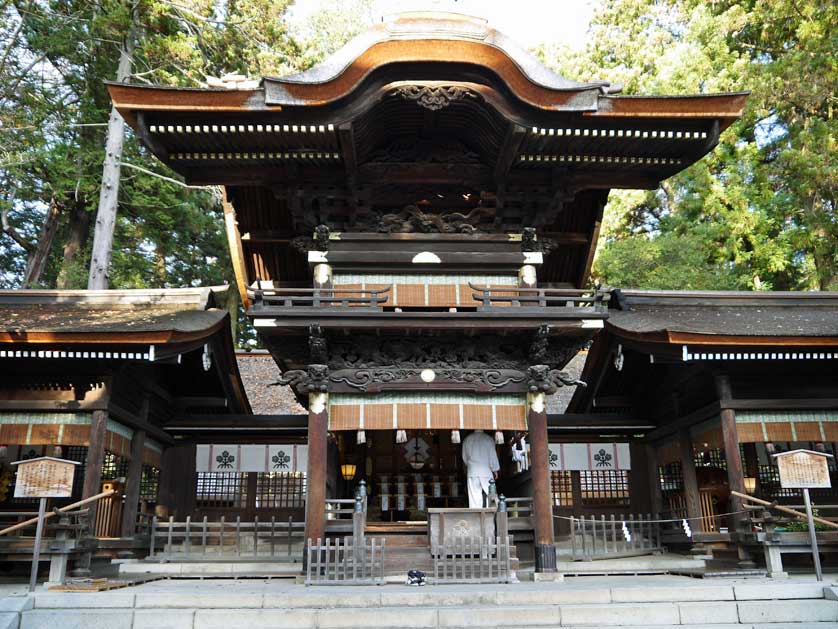 Suwa Taisha Shrine, Nagano Prefecture.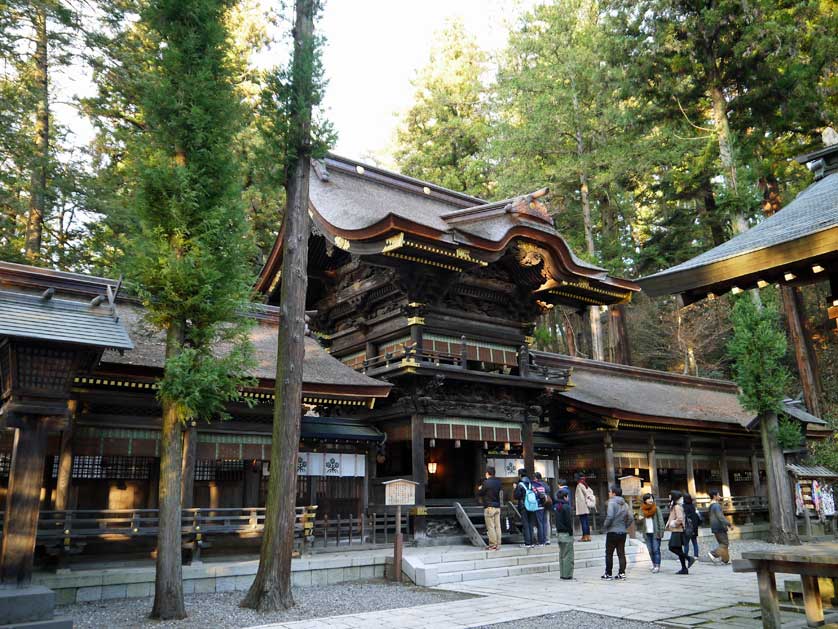 Suwa Taisha Shrine, Nagano Prefecture.
Book Hotel Accommodation in Nagano Japan
Lake Suwa: read a guide to Lake Suwa (suwa-ko) in Nagano Prefecture famous for its onsen, skiing, highland hiking and firework displays in summer.
All the themes of the city