Shiga Kogen ski resort
志賀高原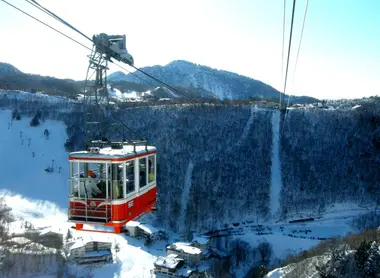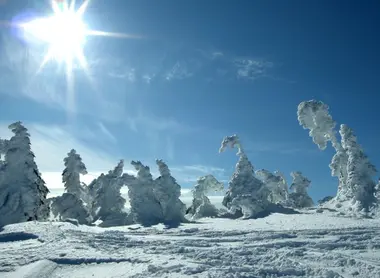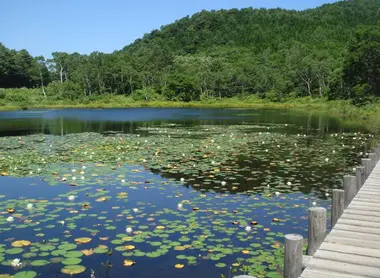 Japan's longest ski season
ShikaKôgen is a ski resort located about fifty kilometers north-east of Nagano, in the town of Yamanouchi, within Joshinetsu National Park. It is one of the Japanese resorts where the ski season is the longest, stretching from November to Golden Week.
Japan's biggest ski destination
The Shiga Kogen ski resort extends over heights ranging from 1,300 to 2,300 meters , at the level of the Shiga high plateau, a former lava flow from Mount Shiga where ponds, lakes, swamps. The resort itself includes over an area of 4.25 square kilometers more than fifty ski lifts and gondolas, as well as the enviable number of 19 ski areas . With a vertical of 980 meters, 600 hectares of land and more than 80 kilometers of hiking trails, the winter sports resort has an imposing size by Japanese standards.
Read also : Skiing in Japan
The quality of the slopes is well established, the ski resort having already hosted some of the events of the 1998 Nagano Winter Olympics (such as slalom, Super G or women's downhill) and is regularly the host of the Alpine Skiing World Cup. A large number of activities are possible. The slopes are diverse enough to accommodate skiers of different levels, from beginners to professional skiers. In addition, 8 runs are open to night skiing. And for more than two years, snowboarders can enjoy the charms and facilities of Shiga Kôgen.
A national eco-park certified by UNESCO
ShigaKôgen is not limited to skiing activities! Since 1981, within the framework of UNESCO's "Man and the Biosphere Programme", it has become an eco-national park . With a nature that moves through forty ponds and lakes, where Japanese macaques and Japanese saros live, Shiga Kogen is an ideal place for hikers. They can start through oak and beech vegetation and, as the altitude increases, enter an environment of conifers. The view of the Manchurian larches and birches that populate the plateau is particularly popular.
Lemarcheur can then relax on the shores of lakes Maru and Biwa where fishing is authorized in spring and summer , to end up bathing in one of the many onsen (the resort has seven thermal springs). For visitors who love local curiosities, don't miss the Yokoteyama Sancho Hutte hotel restaurant, which is also the highest bakery in Japan.
Don't you already smell the smell of bread through the snowflakes?
Read also : Mountains in Japan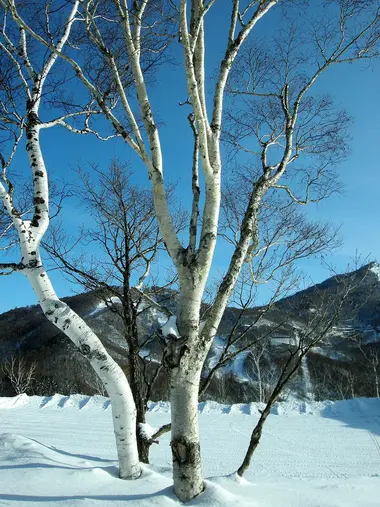 ---
Address, timetable & access
Address

Phone

Tel: +81 (0)269-34-2404

Timetable

From Nagano Station: Nagano Electric Railway train to Yudanaka, then Shiga Kogen bus to various ski resorts

Price

Adult: 5,000 yen per day (40€) - Child: 2,500 yen (20€)

Access

Ski season from November 22 to May 6 From 8:30 a.m. to 4:30 p.m., then from 6:30 p.m. to 9:30 p.m.
All the themes of the city