Kujukushima National Park
九十九島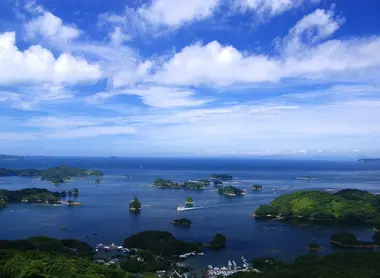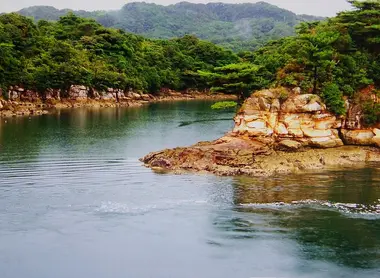 One of the most beautiful bays in the world!
Located in Sasebo, in Nagasaki prefecture, it is one of the most beautiful panoramas in Japan. While its name, Kujuku-shima, literally means "99 islands", however, the bay has over 200 small islands. The concentration of islands in this area is the densest in Japan. 
A natural treasure
In northwest Kyushu, 826 km of coastline and 400 islands form the Saikai National Park, a natural park home to many marine animals and animals that live on the coast.
In the region of Sasebo city, there are around 208 islands grouped together near a coastline made of gentle mountains. Of these islands, only four are inhabited and served by a ferry that connects them to the mainland. The remainder is made up of small wooded mountains with rocky coastlines and sandy areas protruding from the water.
We suggest you go to one of the observatories offering a 360-degree panoramic view of the bay to admire this landscape.
There is the Ishidake Observatory whose twilight view, which appeared in the movie "The Last Samurai", has become an emblem of Japanese coastal beauty. We also recommend the Tenkaiho Observatory, which is particularly popular at sunset. When the sky lights up in red and orange, its reflection on the sea gives an even more magical air to the landscape.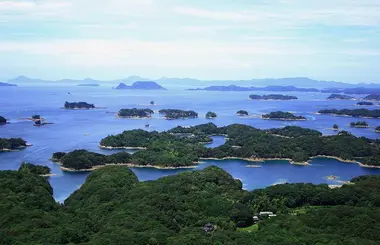 Cruises around the islands
To get closer to the islands and admire the magnificent blue of the bay's water, we recommend that you take to the sea! The possibilities are numerous, from large cruisers to sea kayaking.
Onboard the elegant pleasure boat "Pearl Queen" you can sail the day on the sunlit sea and between the green islands. But also in the evening, to admire the magnificent sunset on the horizon.
Regular cruises depart five times a day (10:00 a.m, 11:00 a.m, 1:00 p.m, 2:00 p.m and 3:00 p.m) and to enjoy the sunset, you'll need to go there in May (during Golden Week) or during a weekend between July to October. They last about 50 minutes.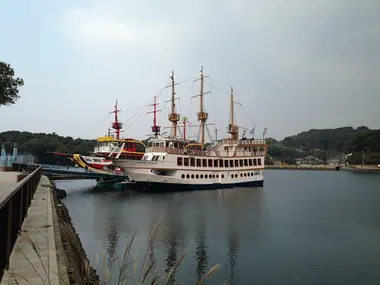 There is also the pirate ship "Mirai" ("future" in Japanese), created and named with the idea of "heading into the future by crossing the waves". Japan's first electrically powered cruise ship, it is eco-friendly and respectful of nature and the environment.
Cruises are approximately 50 minutes and the scheduled departure times are at 11:30 a.m, 1:30 p.m and 2:30 p.m. If you are traveling with children, there are treasure hunts on board for the kids during the summer and Golden Week.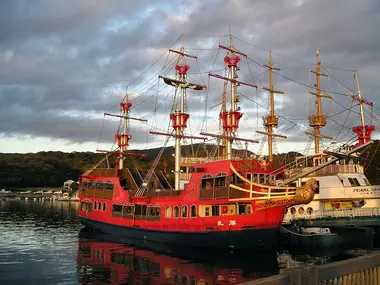 These cruises are part of the activities offered by the Saikai Pearl Sea Resort. In addition to boating, you can go sailing or rent a kayak. Also, don't miss the Umikirara Aquarium to get a closer look at the amazing marine life that inhabit the waters around the islands.
---
Address, timetable & access
All the themes of the city