Nagasaki Museum of History and Culture
The Nagasaki Museum of History and Culture is a modern museum that displays exhibits related to Nagasaki's overseas exchange and also has a large scale reconstruction of the Nagasaki Magistrate's Office.
Nagasaki Museum of History and Culture 長崎歴史文化博物館
The Nagasaki Museum of History and Culture opened in Nagasaki in 2005 and is an excellent, modern museum dedicated to the theme of "Overseas Exchange" in the Edo Period of Japanese history, namely between Dutch and Chinese merchants and Japan through the medium of this port city.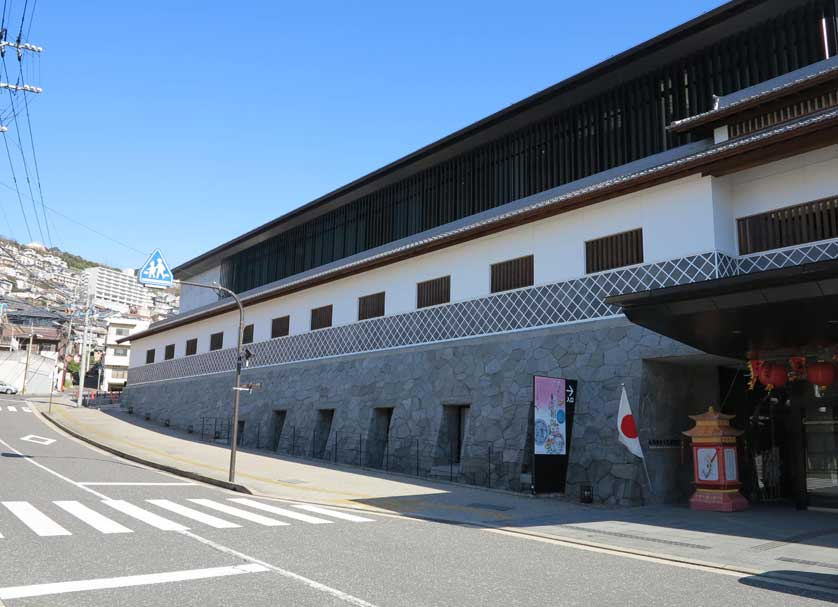 Nagasaki Museum of History & Culture
The Nagasaki Museum of History and Culture is divided into two main sections: the History and Culture Exhibition Zone, displaying around 48,000 exhibits including historical documents, maps and arts and crafts and the Japanese Government of Nagasaki Zone, a modern reconstruction of the original Nagasaki Magistrate's Office. Above the History and Culture Exhibition Zone is a Temporary Exhibition Room. The exhibits have sparse explanations in English but the video panels have a touch screen for English, Korean, Chinese or Japanese. Audio guides are also available in various languages.
Exhibits
The History and Culture Exhibition Zone introduces the history of Portuguese, Dutch, Korean and Chinese trade with Nagasaki in the Edo and early Meiji periods. European and Asian goods were introduced into Japan by Portuguese and later Dutch traders confined on the artifical island of Dejima.
The Chinese merchants had their own settlement close to what is now Nagasaki's Chinatown. Western and Chinese technology as well as ideas, customs and cuisine also passed into Japan alongside imported commodities and consumer goods.
The museum utilizes video to present this long history of international exchange in addition to a large collection of both original and reconstruction artefacts. There are models of western and Chinese ships which brought goods such as sugar, silk, ceramics, tortoise shell and medicines in exchange for Japanese copper ingots, gold and silver, marine products and pottery.
This lucrative trade encouraged the growth of domestic industries in Nagasaki producing lacquer, byobu folding screens, ceramics and art works based on Namban (southern barbarian) styles often featuring exotic foreigners with large noses, beards and outlandish faces in their designs.
After the opening up of Nagasaki and other Japanese ports such as Kobe, Yokohama and Niigata in the Ansei Treaties of 1858, Nagasaki became a funnel for the import of western technology, industry and science.
The strong influence of China on Nagasaki, which stemmed from the establishment of the Chinese Quarter in the city is seen in the museum's reconstruction of parts of a Chinese temple and information on Nagasaki's Chinese festivals such as the Nagasaki Lantern Festival and the Peiron dragon boat races.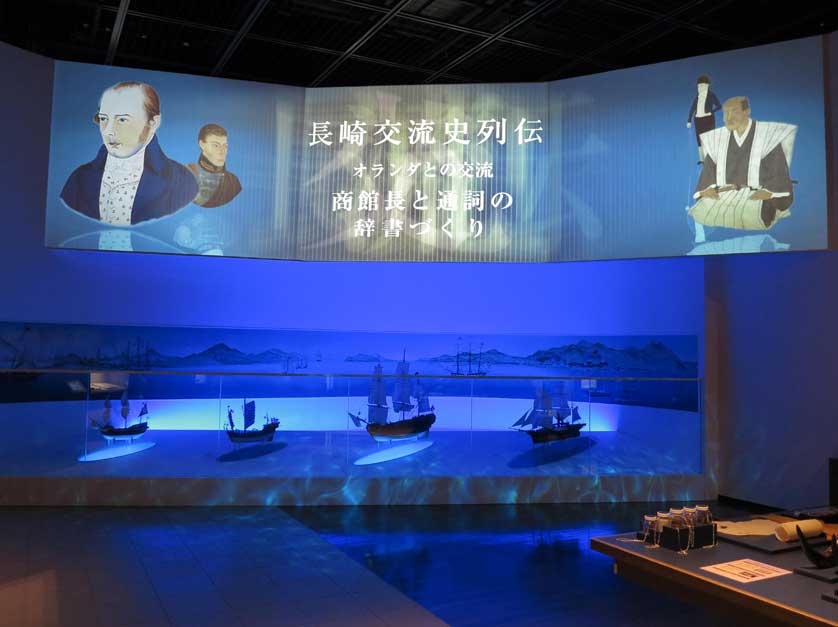 Video Panel, Nagasaki Museum of History & Culture, Nagasaki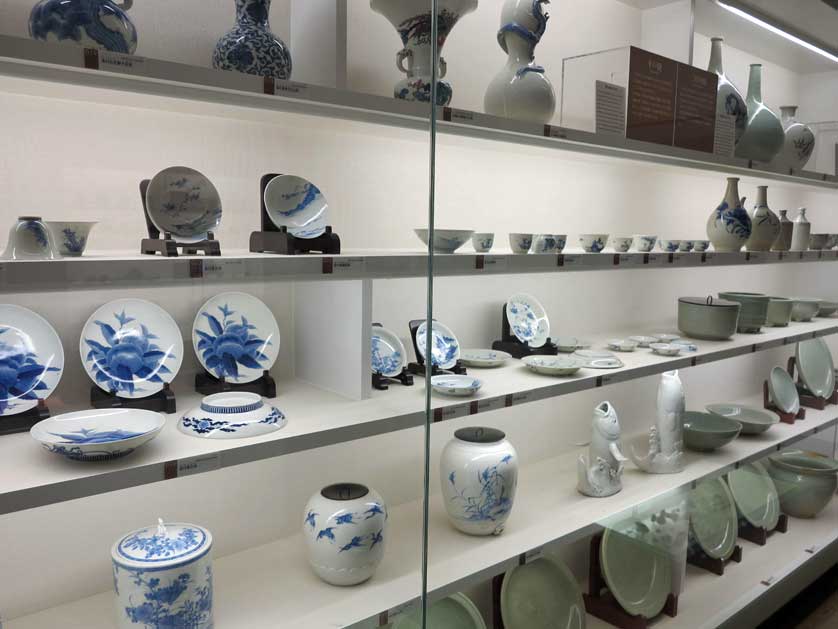 Displays of Western-influenced Ceramics, Nagasaki Museum of History & Culture
Rangaku - Dutch Learning
The History and Culture Exhibition Zone also introduces the influence of such famous residents of Dejima as Engelbert Kaempfer (1651-1716), Carl Peter Thunberg (1723-1828), Isaac Titsingh (1745-1812) and Philipp Franz von Siebold (1796-1866), four, famous, European physicians who did much to introduce western, medical and scientific knowledge to Japan and interpret Japan and its culture for a wider European audience. These men influenced and interacted with Japanese scholars of rangaku such as Sugita Genpaku (1733-1817), Hanaoka Seishu (1760-1835), Udagawa Yoan (1798-1846) and Ito Keisuke (1803-1901).
Various things from the outside world such as cabbage, chocolate, clover, coffee, beer, tomatoes, ship's paint or tar (penki from the Dutch word pek), games such as badminton and billiards are known to have been introduced to Japan through Dejima on the over 600 Dutch ships that came to Nagasaki during the Edo Period. Siebold is credited with introducing the first piano into Japan through Dejima.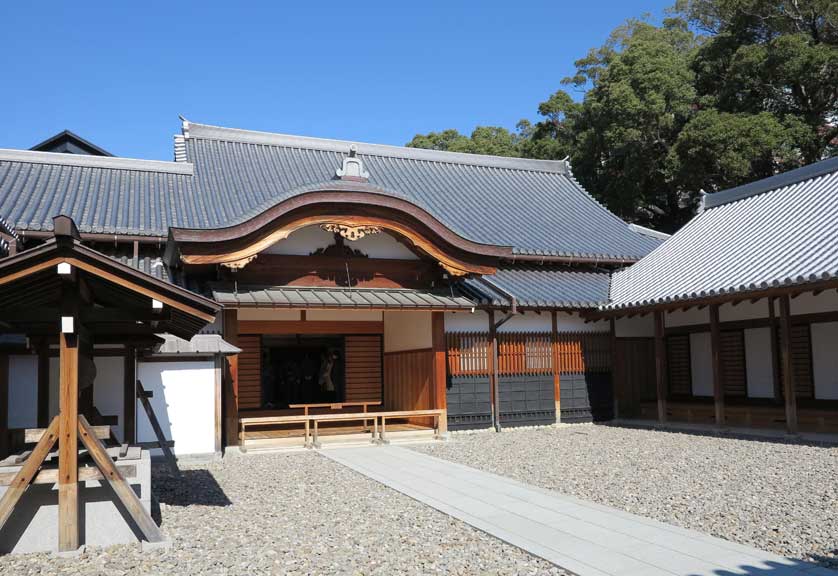 Nagasaki Magistrate's Office, Nagasaki Museum of History and Culture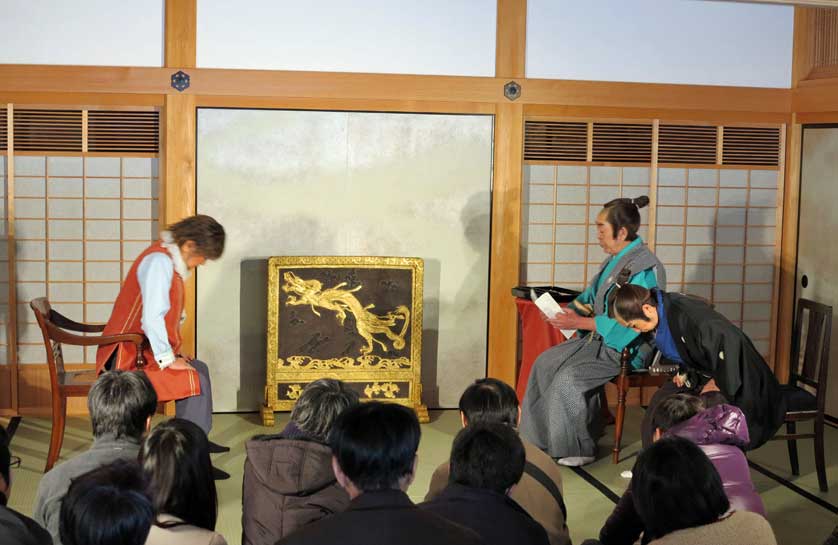 A Re-enactment of the Siebold Incident, Nagasaki Magistrate's Office, Nagasaki Museum of History and Culture

Magistrate's Office
Visitors remove their shoes to enter the tatami-floored Nagasaki Magistrate's Office, where the Tokugawa regime appointed magistrate or bugyo was in charge of all foreign trade in the city.
The wooden buildings cover a large area and have been faithfully reconstructed using original maps and drawings. Among the rooms are the oshirasu, or court room where the bugyo held cases of smuggling and other wrong-doing, the shoin room, where he received important visitors and the taimensho, or interrogation room.
Historical re-enactors, dressed in period costume act out such events as trials of smugglers and the Siebold Incident of 1826, when Philipp Franz von Siebold ona journey to Edo (Tokyo), was caught in possession of a map of Japan and forced to leave the country, leaving his Japanese "wife" and child behind.
A video theater presents the history of Nagasaki (in Japanese) and the Bugyo Exhibition Room displays original documents and the results of recent archaeological digs.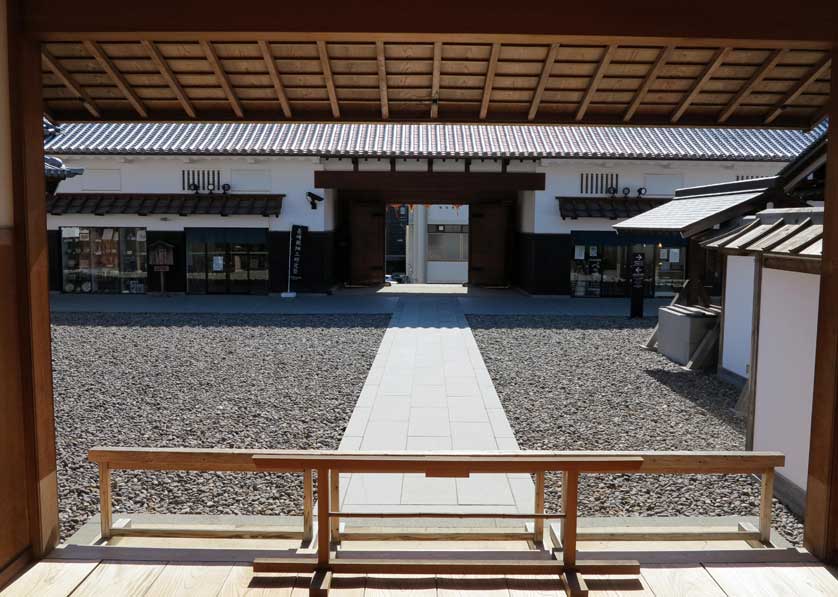 Nagasaki Magistrate's Office, Nagasaki Museum of History and Culture
The impressive grounds and gardens of the Magistrate's office, done in Japanese style, are worth a stroll and give a good impression of what the building must have looked and felt like in the Edo Period. The grounds hold an Event Square and the Ginrei Museum Restaurant, a recreation of an original 1930's western restaurant with period furnishings and paintings. The Museum Shop is located near the entrance.
Access - Getting to Nagasaki Museum of History and Culture
The Nagasaki Museum of History and Culture is close to both Sakura-machi and Kokaido-mae tram stops and the Sakura-machi Koen-mae bus stop. Admission is 600 yen and the hours are 8.30am-7pm daily (closed on the third Tuesday of the month or the next day if Tuesday is a National Holiday).
An extra fee is charged for special exhibitions.
Virtually across the road is the free Museum for the Former Site of Santo Domingo Church, which shows the excavations of the former Dominican Church, which later became the site of the residence of the Nagasaki magistrate (bugyo), after the expulsion of the Portuguese and Spanish.
Nagasaki Museum of History and Culture (nmhc.jp)1-1-1 Tateyama, Nagasaki 850-0007Tel: 095 818 8366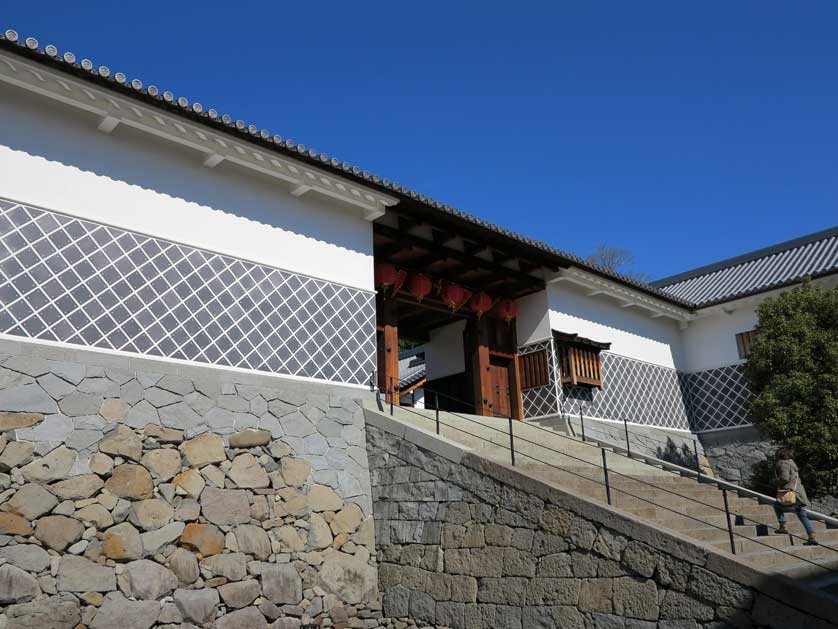 Nagasaki Magistrate's Office, Nagasaki Museum of History and Culture
All the themes of the city