Chuguji Temple
Chuguji Temple, a nunnery, next door to Horyuji Temple in Nara, contains two National Treasures: a sitting image of Buddha and an historic, embroidered mandala.
Chuguji Temple 中宮寺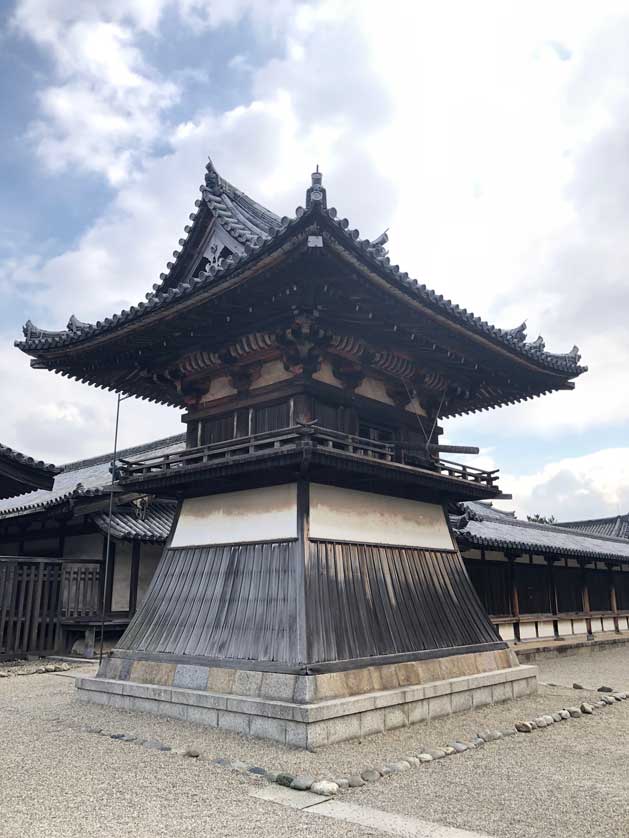 Chuguji Temple, Nara
Chuguji Temple, is an historic nunnery in Nara, located next door to Horyuji Temple, south west of Nara city in the Ikaruga district.
Chuguji, though small, is well known for containing two National Treasures in its Main Hall: a superb statue of The Sitting Bodhisattva with One Leg Crossed and a replica of the Tenjukoku Shucho Mandala, which was embroidered by imperial courtiers after the death of Prince Shotoku.
Chuguji is a Shotoku sect temple of Japanese Buddhism.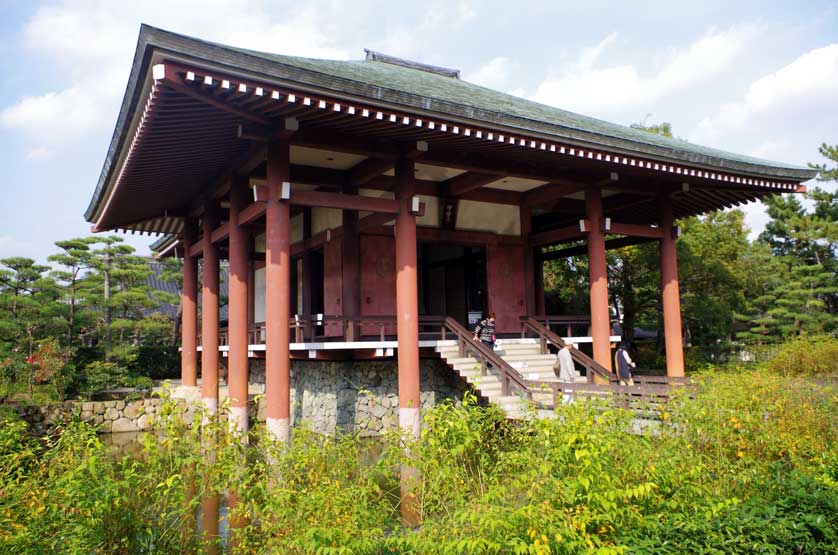 Chuguji Temple, Ikaruga, Nara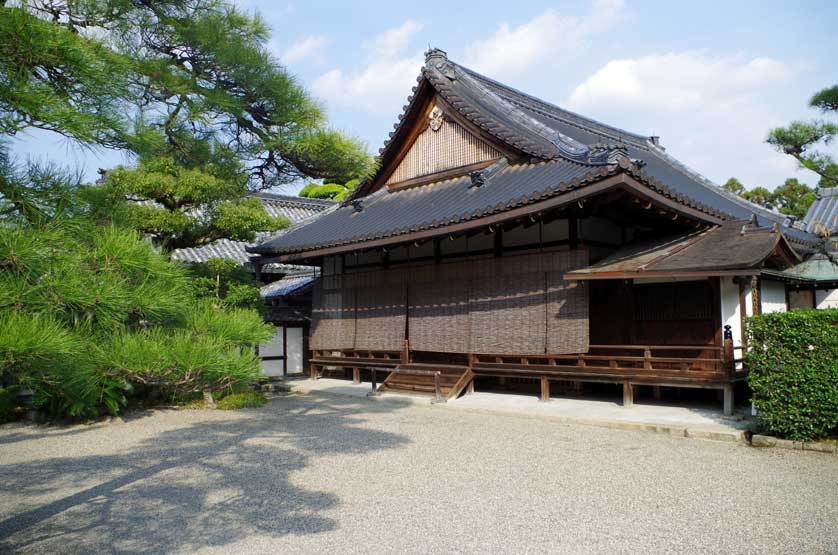 Chuguji Temple, Ikaruga, Nara
History of Chuguji Temple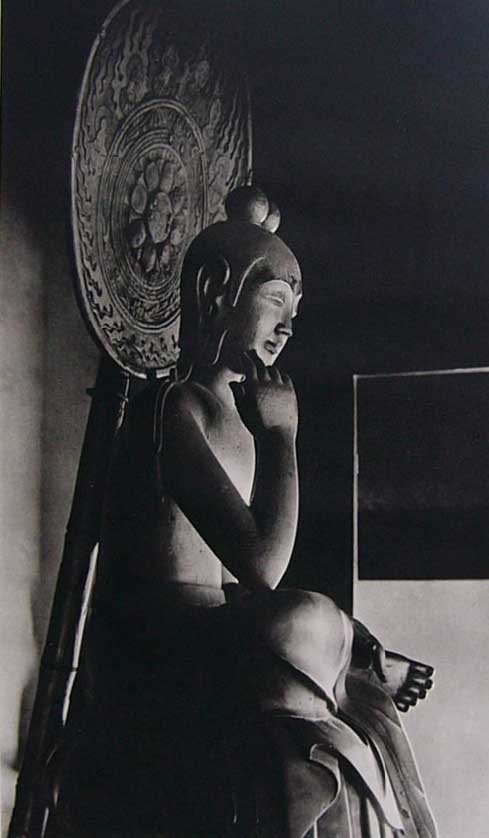 Chuguji was originally a palace of the mother of Prince Shotoku during the Asuka Period and was converted into a nunnery by her son after her death. Originally the temple stood 300 meters to the east but was moved to its present location during the Muromachi Period. The previous site is marked on maps and with an information board.
The chief priestesses of Chuguji were traditionally imperial princesses, one of three Yamato monzeki nunneries - where the temple has a special connection with the imperial family whose members often serve as the head monks (or nuns).
The black camphor wood statue of Miroku (maitreya - the Buddha of the Future) which sits in the Main Hall is considered a classic of Asuka Period art. The temple pamphlet goes as far as to describe it as: "one of the three smiling masterpieces of the world along with the Sphinx of Egypt and the Mona Lisa painted by Leonardo da Vinci." The sitting image with its right hand raised to its face in thought was believed to have been originally painted but was later finished in lacquer, which gives the statue its distinctive resinous black color.
Chuguji declined in importance after the capital moved to Kyoto from the Heian Period, and the temple's treasures including the Tenjukoku Shucho Mandala were moved into storage at Horyuji.
However, Chuguji recovered during the Kamakura Period and regained its prized mandala, which originally would have been displayed, it is thought, behind the Miroku statue.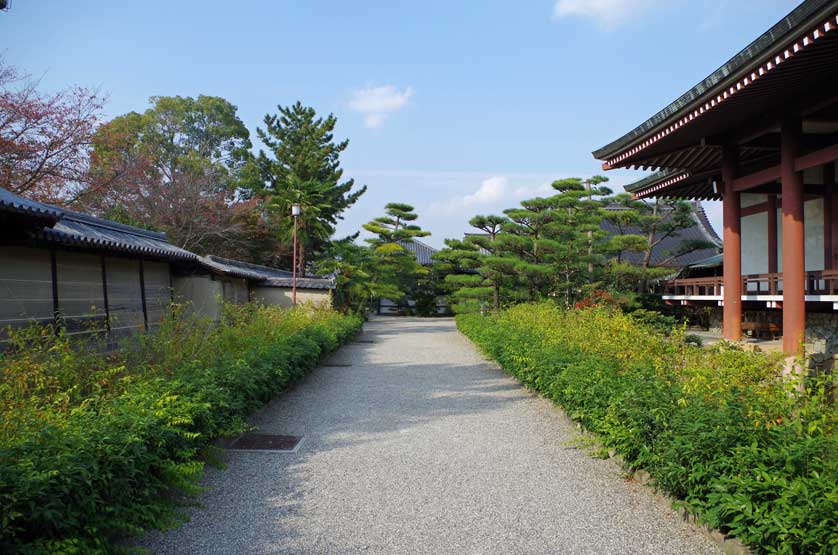 Shio-do Hall, Chuguji Temple, Nara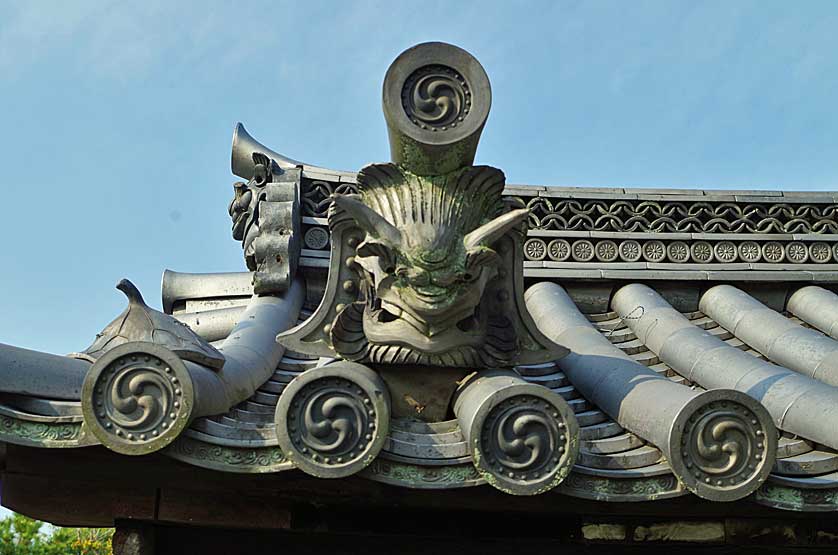 Onigawara roof tile, Chuguji Temple, Nara
Chuguji Temple Buildings
The Main Hall contains the two National Treasures of Chuguji and is a modern fire- and earthquake-resistant building, designed by Yoshida Isoya and completed in 1968. The simple design exudes a quiet dignity and an "atmosphere of gracious femininity." The hall is surrounded by yellow yamabuki (Japanese Kerria) flowers and a pond.
Visitors remove their shoes to enter the tatami mat space to view the statue and the mandala.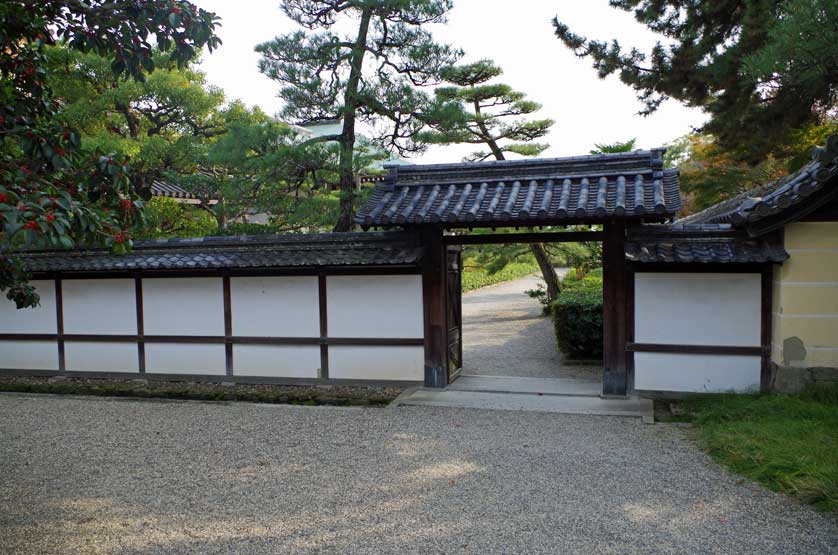 Entrance Gate, Chuguji Temple, Nara
The Tenjukoku Shucho Mandala deteriorated over time and was repaired in the Kamakura Period (1192-1333) when a replica was also made. The original embroidery and the replica are now combined into one piece.
A visit to Chuguji can be accompanied with visits to nearby Horinji Temple and Hokiji Temple. Two small, but lovely temples north of Chuguji reached through some delightful Nara countryside a couple of kilometers either on foot or by bicycle. Both temples are associated in some way with Prince Shotoku and his family.
Chuguji (www.chuguji.jp)1-1-2 Horyuji-kitaIkaruga-cho, Ikaruga-gun, Nara Prefecture 636-0111Tel: 0745 75 2106Hours: 9 am-4.30 pm March 21-September 30; 9 am-4.00 pm October 1-March 20.
Admission: 500 yen or 400 yen if you have bought a ticket to Horyuji. No photography is allowed in the main hall and the images reproduced here of the statue and mandala are from book prints from Wikipedia in the public domain.
Access - how to get to Chuguji Temple
To reach Horyuji Temple, which is located in the Ikaruga district, take a JR Yamatoji Line Osaka-bound train to Horyuji Station and then walk the 20 minutes to the temple of take a local #72 bus. Alternatively, take a #97 bus from Nara Station or Kintetsu Nara Station to Horyuji-mae bus stop. Bicycles can be hired at the information office near the bus stop on National Highway 25 at the entrance road to the temple.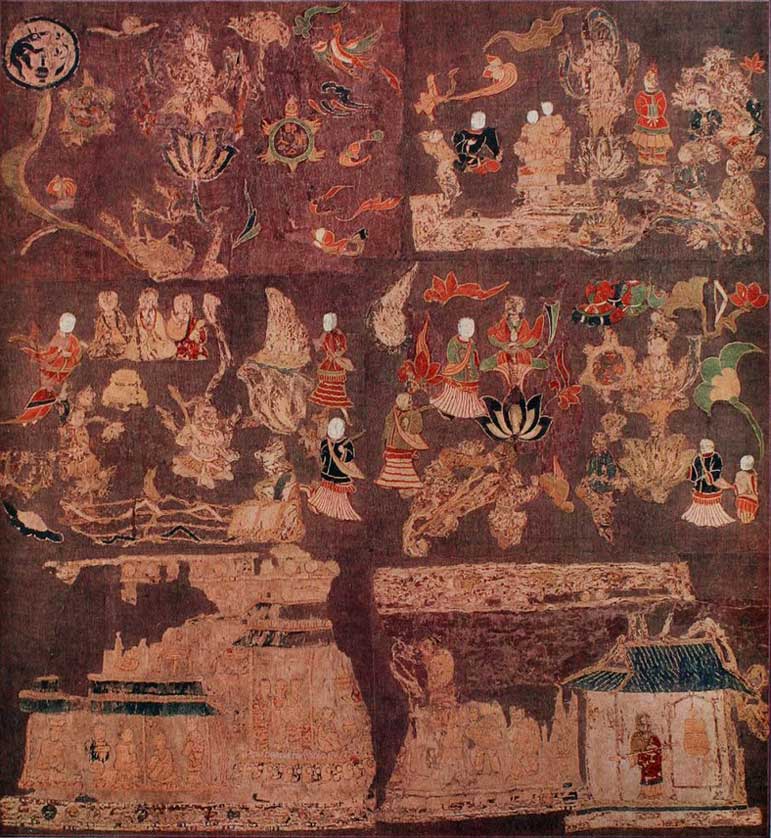 Tenjukoku Shucho Mandala, Chuguji Temple, Nara

Book Hotel Accommodation in Nara
All the themes of the city