Earth Celebration Sado Island
World's Best Japanese Drumming Festival アース・セレブレーション
Earth Celebration Happening Mid-august Annually
Greg Goodmacher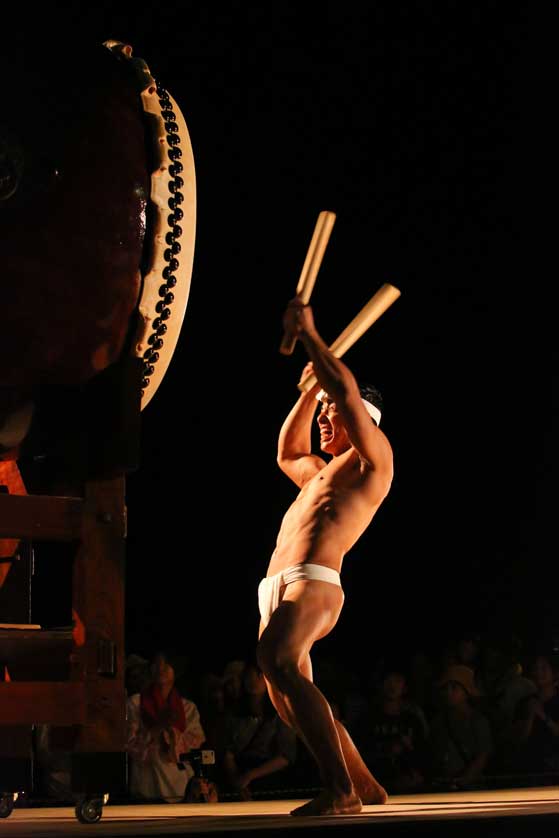 Earth Celebration, Sado Island, Niigata
The internationally-renowned Earth Celebration drumming festival on Sado Island (Sado-ga-shima) is held every August, and aims to send ripples of music and peace around Earth. The rhythms of the shimmering blue sea, swaying fields of golden-green rice and forests of bamboo, and traditional percussion instruments shake out inhibitions, shatter barriers, and elicit smiles among the world citizens gathered for the Earth Celebration.
Why is a remote island off the coast of Niigata, far from Tokyo and other major cities, the host for this fantastic international festival? Sado is the home of Kodo (鼓童) - the most famous taiko group in the world.
Kodo members tour the world to promote Japanese drumming while maintaining their roots in the island that has been the troupe's home since 1982. These musicians, along with other Sado residents, strive to both preserve Japanese culture and introduce other music and dance groups to Japanese audiences. The Earth Celebration revitalizes the local culture and community of Sado-ga-Shima while also promoting global exchange.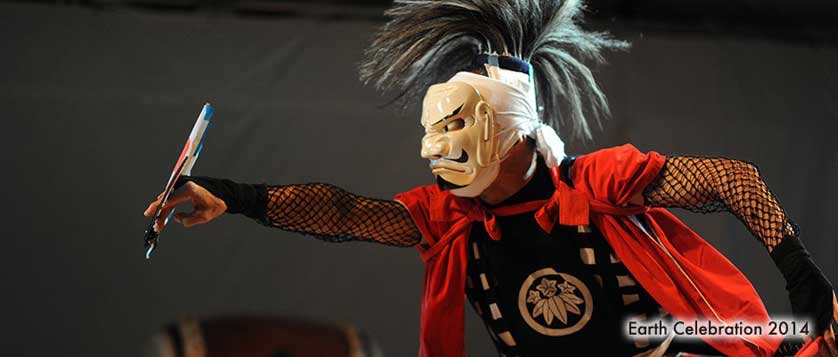 Photo provided by Earth Celebration Committee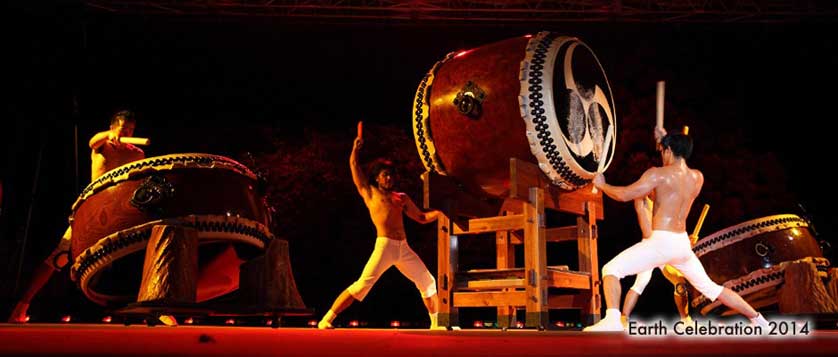 Photo provided by Earth Celebration Committee
What Is Taiko?
What exactly is taiko? A taiko is a traditional Japanese drum, of which there are many types. The taiko performances by Kodo incorporate dance, comedy, and some non-percussion instruments, such as the Japanese flute and stringed instruments. But at heart, taiko is about intensive drumming that shakes the ground, that rises and falls like ocean waves hitting the shore, that makes one feel as if an invisible but vibrant field of energy is pulsating around you.
Taiko is about positivity. There is none of the angst of rock and roll, the anger of rap, or the sadness of the blues. The musicians are multitalented artists who drum while dancing, who sing or chant while marching, and who smile while performing strenuous physical feats that only peak athletes can match.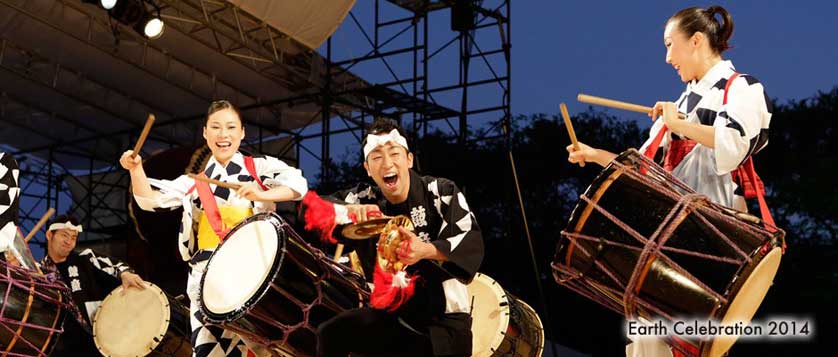 Photo provided by Earth Celebration Committee
Most Japanese musicians concur that Kodo is Japan's premier taiko group. In 2013 members of Kodo were selected as "Japan Cultural Envoys from the Agency for Cultural Affairs." Sweden, Denmark, Germany, Ireland, Switzerland, Austria, Italy, France, Netherlands, Luxembourg, the USA, Russia, and Canada are just some of the nations in which they have performed.
Kodo invites musicians and dancers whom they meet while overseas to join the Earth Celebration. The year I attended, Mustapha Tettey Addy, a master drummer from the Ga tribe of Ghana, played traditional drum music and lead a workshop on his culture's drumming, chanting, and dancing. Dressed in loose-fitting white clothing, his lively music had Japanese and foreigners alike dancing together on a grassy lawn at Ogi Port Park, one of the sites of the celebration.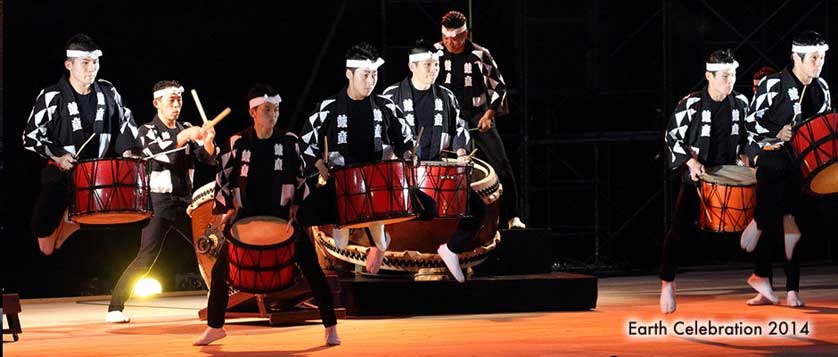 Photo provided by Earth Celebration Committee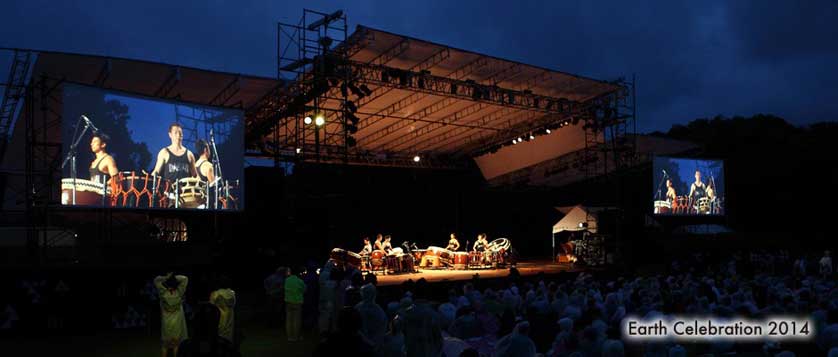 Photo provided by Earth Celebration Committee
Earth Celebration participants simultaneously celebrate the wonderful differences between peoples while also celebrating the unity of the human family. There is an abundance of smiling, laughing, and communicating among strangers, who bond into a friendly community. If music and dance unlock doors between peoples, the Earth Festival is an effective key.
The Earth Celebration is a three-day buffet that ladles out satisfying amounts of concerts, workshops, dancing, cultural explorations, and tours of the unique geophysical and ecological wonders of Sado-ga-Shima. It is also a great place to take music and dance workshops. Everyone is free to choose and taste as much of the cultural festival as they want. Or they can just hangout, digging the vibes or watching clouds and waves dance on the island's horizon.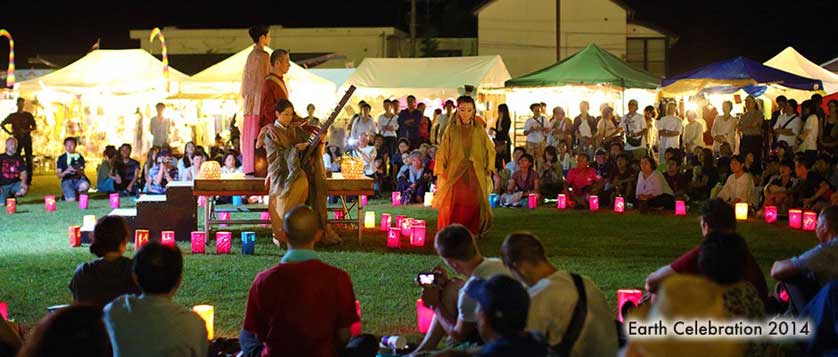 Photo provided by Earth Celebration Committee
Food
Like the music, food choices consist of local and international varieties. The smells, sounds, and sights of different dishes drift across the grassy field of the Harbor Market. At one end of the park and food spectrum, carnivores waited for giant American-style hamburgers that were sizzling noisily under the flames of gas burners.
On the other end of the park, vegetarians chose from a variety of colorful vegan dishes. Local restaurants serve seafood caught just off the coast of the island. The open garage of a local's home near the harbor was turned into a barbecue pit for cheap but yummy squid, tuna, shrimp and jackfish.
Between 10,000 and 15,000 people from every inhabited continent visit the festival each year. A Romanian woman spoke English to me while selling me a colorful plate of vegetable pilaf from her food stall. I requested a mango shake in Thai from a Thai woman who had recently moved to Japan. Languages I overheard were Chinese, Korean, Spanish, and some I could not identify.
Many international visitors are repeaters. One man traveling with members of his taiko drumming group from Germany told me that he first attended the Earth Festival twenty years ago. "Foreigners at that time were rare," he said. "Now there is a multicultural chord to the music festival."
The festival's core events are the live performances by Kodo, which are held every evening on a grassy field in Shiroyama Park. Lines start at the base of an ancient shrine. Everyone walks along a forest path to reach the concert venue. The music starts as the sun sets. The powerful performances affect everyone. Everybody in attendance moves their bodies under the sway of Kodo's artful musical exhibition.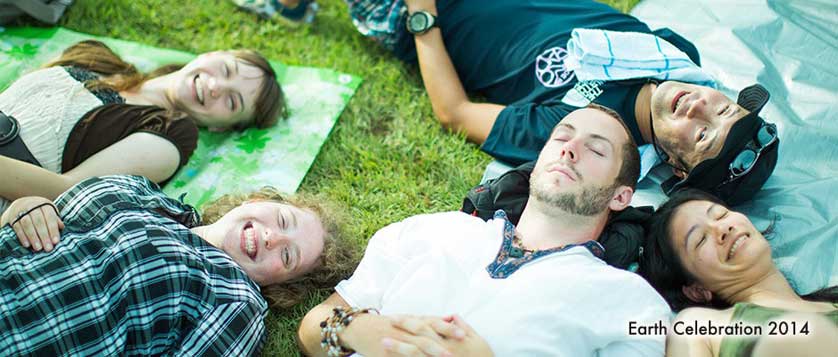 Photo provided by Earth Celebration Committee
Travel
Despite being internationally known, there are no direct international flights to Sado-ga-Shima, which lacks an international airport. Ferry boats to Sado-ga-Shima leave from three locations within Niigata Prefecture. The most convenient access for people coming from other areas of Japan is the ferry terminal in Niigata city. Niigata city can be reached by train, including high-speed shinkansen (Bullet Trains), highway buses, and by airplane from Tokyo and a few other large Japanese cities.
Sado-ga-Shima is a very large island with various transportation options such as rental cars, electric bicycles, taxis, and buses. The bus service on Sado Island is limited, though. If you want to see much of this amazingly diverse island, you should research your options and plan your trip before arriving.
A useful website for travel to and around the island is www.visitsado.com.
Map of Sado Island
Niigata Map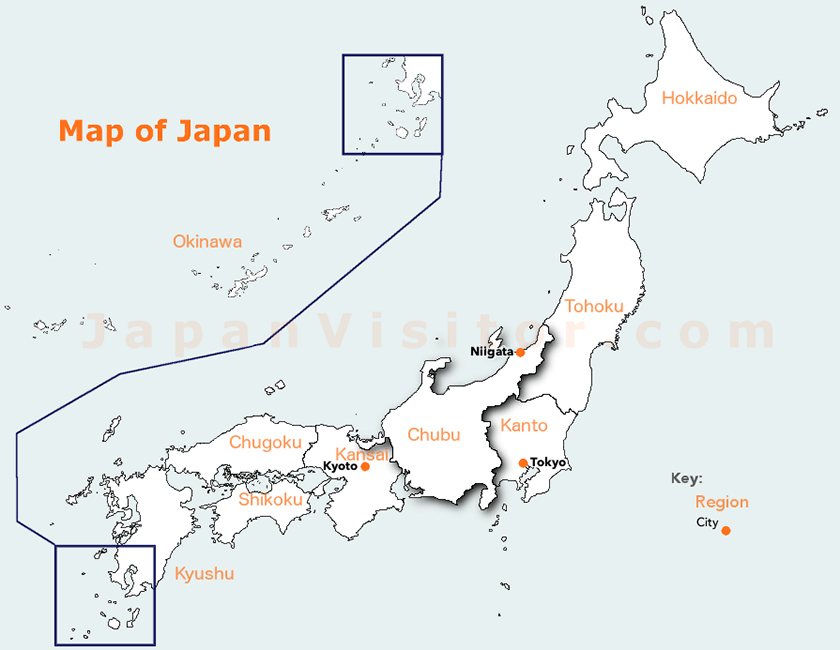 Niigata Map
Book Hotel Accommodation on Sado Island
Earth Celebration: read a guide to the Earth Celebration on Sado Island in Japan, an annual international percussion festival organized by the Kodo Drummers.
All the themes of the city