Dai Sekirinzan Park
Dai Sekirinzan Park: read a guide to Dai Sekirinzan Park in the north of Okinawa main island - part geological wonder, part nature reserve, part a great hiking and walking destination.
Dai Sekirinzan Park 大石林山
Jake Davies
Without a car, visiting the northern part of Okinawa island is time-consuming and not very convenient, so most visitors concentrate on the more accessible attractions around southern part of the island, which is a shame really as the northern part has much to recommend it: Churaumi, the best aquarium in Japan, Ocean Expo Park, Nakijin Castle, the second biggest castle in Okinawa, and in my opinion, best of all, though still little known, is Dai Sekirinzan Park, right at Cape Hedo, the northernmost tip of the island.
It is possible to visit it by public bus, but renting a car is best. Cape Hedo has become more popular in recent years. A monument commemorating the end of the U.S. occupation provides a photo op, and on clear days the 23km distant Yoron Island can be seen. Driving to the cape the main road passes by the last outcropping of high country, and in there is Sekirinzan. It's well signed from the main road.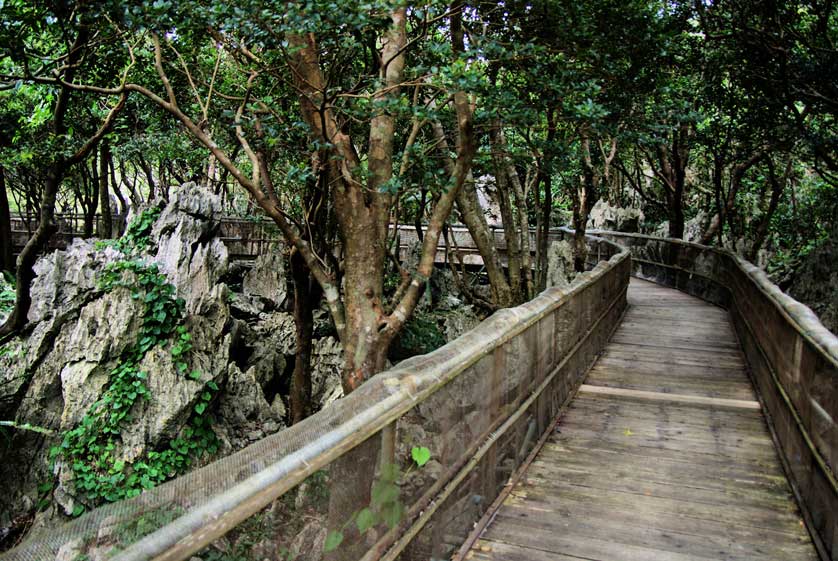 Boardwalk, Daisekirinzan, Okinawa
Dai Sekirinzan is a karst, a limestone plateau eroded over millions of years by water, and believed by geologists  to be the oldest part of the island, the part that first rose up out of the sea to create the island of Okinawa.
Dai Sekirinzan is a little hard to explain, it's part geological wonder, part nature reserve, part a great hiking and walking destination, and part cultural site with sacred shrines, which has led it to being proclaimed a "Power Spot" - one of the few in Japan, in my opinion, that genuinely deserve the label.
After parking your car tickets are purchased from the ticket booth, where you can also pick up an informational leaflet in English, then you wait for a shuttle bus to take you up the mountain. Usually only a few minutes wait before you are bumping and rocking on a bone-shaking drive along a rutted track up into a small basin surrounded by hills.
Here is where the walking paths start, but before heading off you might want to take a break in the cafe-restaurant where you can sit and enjoy the view while drinking or eating. Coffee, ice cream, shaved ice, and a variety of Okinawan specialties are on offer.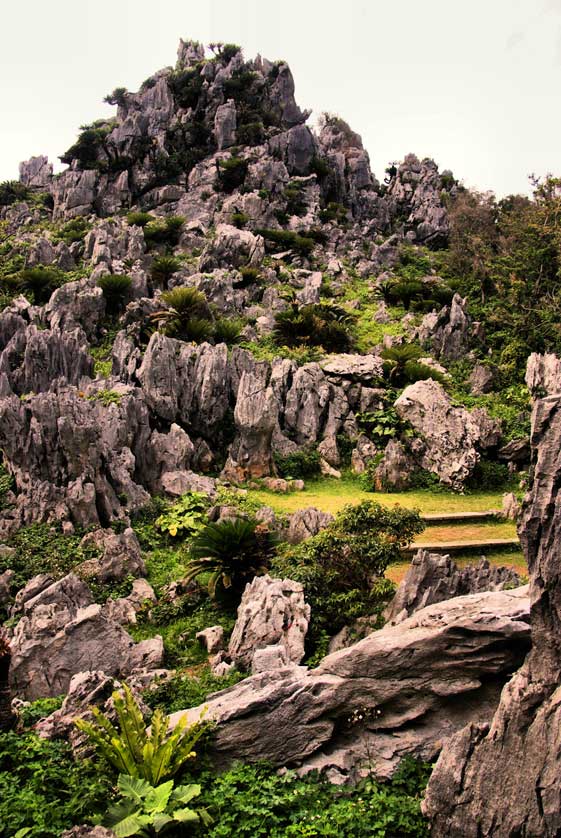 Daisekirinzan, Okinawa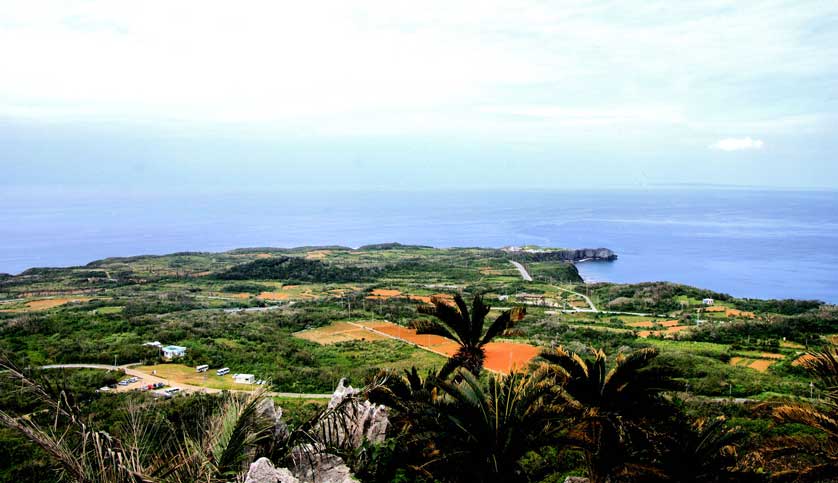 View of the ocean from Daisekirinzan, Okinawa
There are four different trails to be walked, each color coded and very well marked.
The shortest is the barrier free course at only 600 meters in length. It is boardwalk all the way and is wheelchair accessible. The operators of the park have done everything they can to make this unusual landscape and nature experience accessible to the disabled, offering a 50% discount on entry prices.
The other trails are not much longer, though can involve a little climbing. It's not Yoyogi Park, but it's not Mount Fuji either, so no need for hiking boots, just sturdy shoes. Free walking sticks are available as are umbrellas.
The "Strange & Big Rocks" course is the longest at 1.1km and it passes through a natural amphitheater with the best vista of the rock formations. This is one of the Utaki, traditional Okinawan sacred places, within the park.
The Sea View Course climbs to several overlooks looking down on Cape Hedo and the seascape beyond.
The final course is the Subtropical Nature Course, and it is best to save this to last. On the way back down to the parking lot the shuttle bus driver can drop you off half way down and you follow the path down to your car. This course has the biggest and best examples of Banyan trees.
What all the courses offer is the opportunity to wander in a fantastic and otherworldly landscape of strange rock formations and exotic vegetation. It is easy for your mind to imagine weird and strange creatures frozen in rock. You wouldn't be surprised to turn a corner and see Gollum. Though difficult to get to, this is well worth the effort.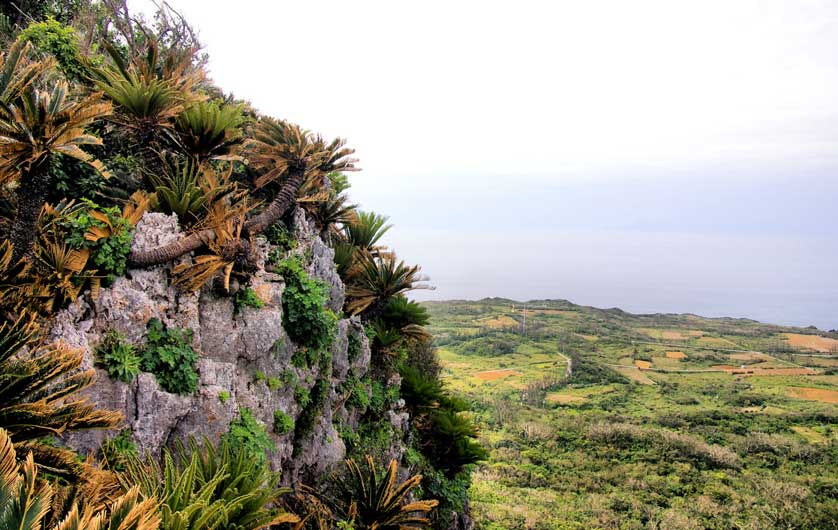 Daisekirinzan, Okinawa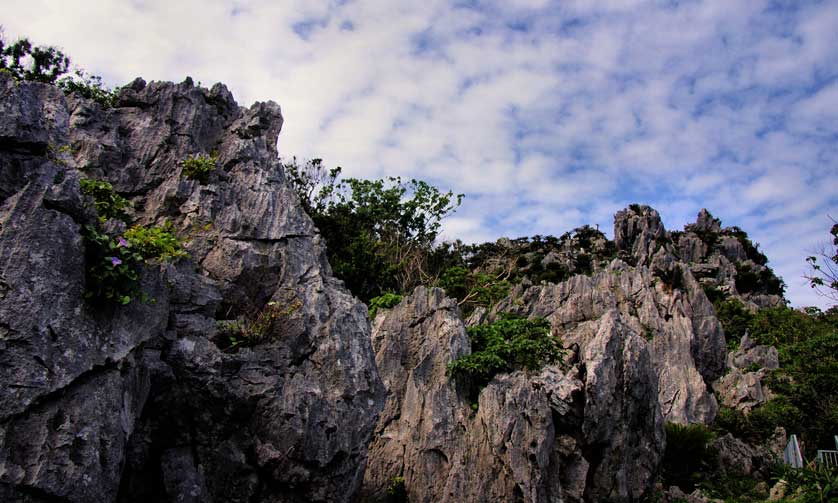 Rock formations, Daisekirinzan, Okinawa
Dai Sekirinzan Park Access
Open 7 days a week. 9 am-5 pm April through September, 9am-4pm October through March.
820 yen for adults, 410 yen for kids.50% reduction for disabled.
If you visit Cape Hedo first you can pick up a 10% discount coupon.There is an infrequent bus to Cape Hedo, but rental car is best.
905-1422 Hedo, Kunigami, Okinawa.Tel: 0980 41 8117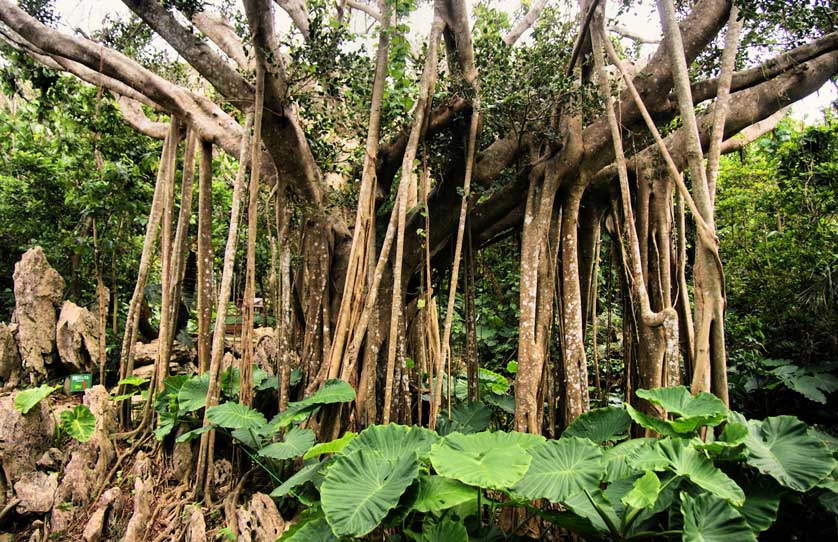 Banyan Tree, Daisekirinzan, Okinawa
Images by Jake Davies
Book Discount Hotel Accommodation in Okinawa
All the themes of the city