Washi Paper Making At Ogawa
Ogawa is the traditional washi paper production center of the Kanto region. In 2014, it received, along with the neighboring village of Higashi Chichibu, UNESCO Intangible Cultural Heritage Status for keeping the ancient traditions of Japanese paper making alive and flourishing.
Ogawa Washi Paper, Ogawa Town, Chichibu Region, Saitama Prefecture 小川和紙 小川町 埼玉県
by Johannes Schonherr
Ogawa is a small town in the Chichibu mountains of north-west Saitama Prefecture. Walking its quiet streets, dotted here and there with time-worn wooden buildings, feels like being far away from Tokyo and deep in the countryside. However, Ogawa is conveniently located on the Tobu Tojo Line and can easily be reached by riding direct trains straight from Ikebukuro Station.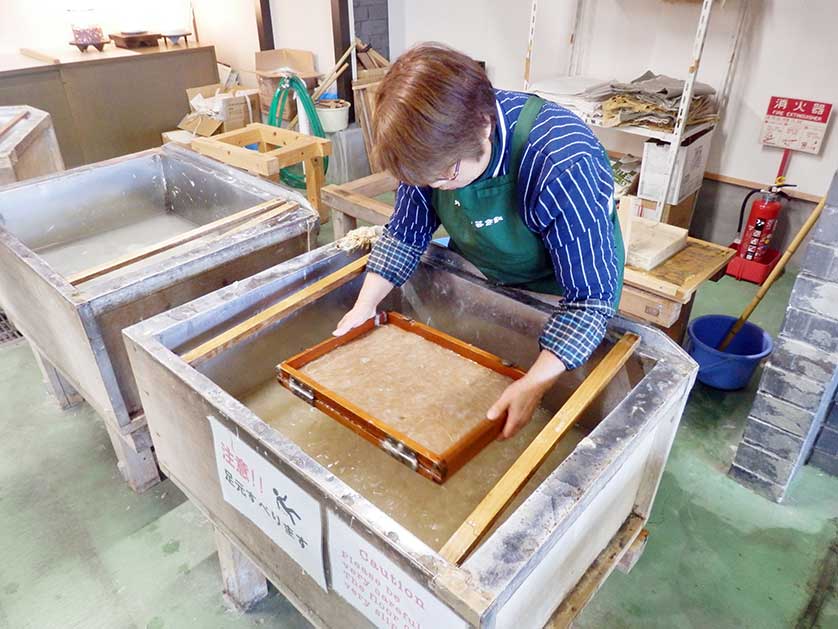 Paper scooping by hand in Ogawa, Saitama Prefecture
Washi
Ogawa is the traditional washi paper production center of the Kanto region. In 2014, it received, along with the neighboring village of Higashi Chichibu, UNESCO Intangible Cultural Heritage Status for keeping the ancient traditions of Japanese paper making alive and flourishing.
Washi paper is a signature product of Japan. Washi is very durable, it's refined yet features an always slightly individual surface.
Traditionally, washi paper was used for account books and documents. It is said that in the case of a house fire, merchants threw their account books into the nearest well. After the fire, they would retrieve the books, dry them and continue to use them.
Washi paper was also used for books, drawings and paintings (including ukiyo-e woodblock prints), cheaper versions were used as window paper (before window glass became available) and for shogi screens.
Today's variety of washi paper usage is almost endless. Products range from exclusive letter pads to meishi business cards, lamps and lanterns, and all the way to refined wallpaper for the well-to-do.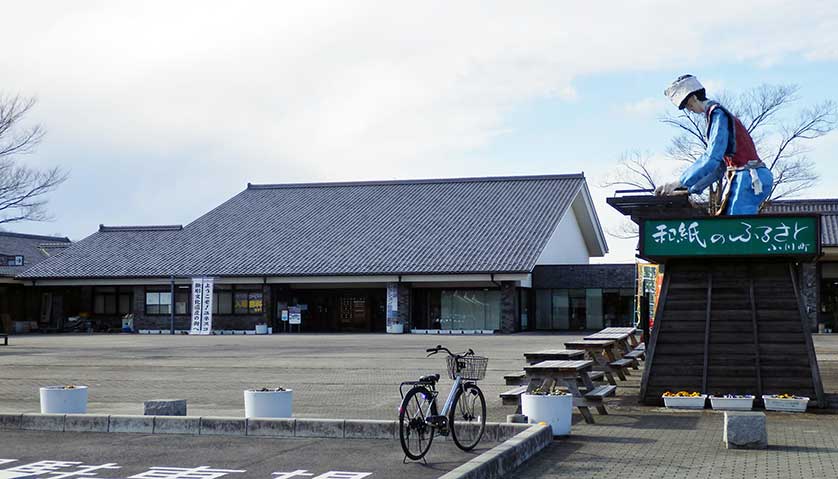 Sculpture of a traditional paper maker in front of the Saitama Craft Center, Ogawa, Saitama Prefecture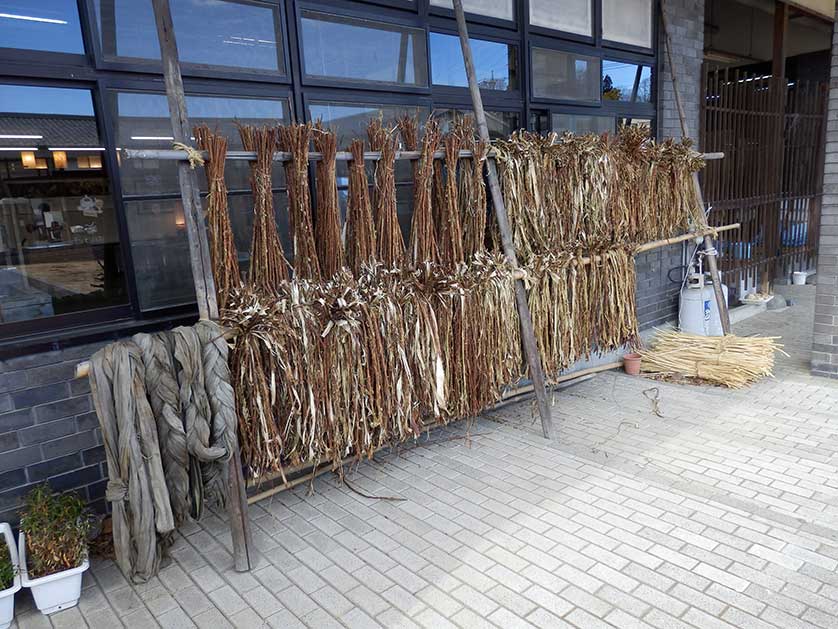 Paper Mulberry bark left to dry outside the Saitama Craft Center, Ogawa, Saitama

Ogawa Washi History
It is said, that the tradition of washi-making in the Ogawa area dates back to the 8th century. Around Ogawa, plenty of Kozo trees (Paper Mulberry shrubs) grow and so do Tororo Aoi plants (Abelmoschus manihot). An extract of the roots of the latter is used as a binding element in washi paper making. At the same time, Ogawa has many small rivers, providing plenty of water. Not just any water, though. The rivers in the Ogawa area come down from the limestone mountains near Chichibu and carry much limestone residue with them. That means, they are very alkaline. The alkali base in the water kills bacteria and thus prevents the early components of the paper from rotting. Thus, all the basic conditions for successful paper making were in place.
Paper production picked up on a big scale when Edo (today's Tokyo) became the capital of Japan at the beginning of the 17th century beginning what is known as the Edo Period of Japanese history. The population of the capital rose steadily and with it a paper consuming bureaucracy. Book printers, merchants, artists and many other businesses also had a high demand for locally made paper.
With the industrialization and modernization of Japan during the Meiji Period (1868-1912), Western-style industrially made paper was introduced to Japan. Industrially made paper was cheap and good enough for mundane daily use but the demand for traditional washi paper remained strong and still is today. Just that it is today considered a true craft product to be used only in the appropriate circumstances.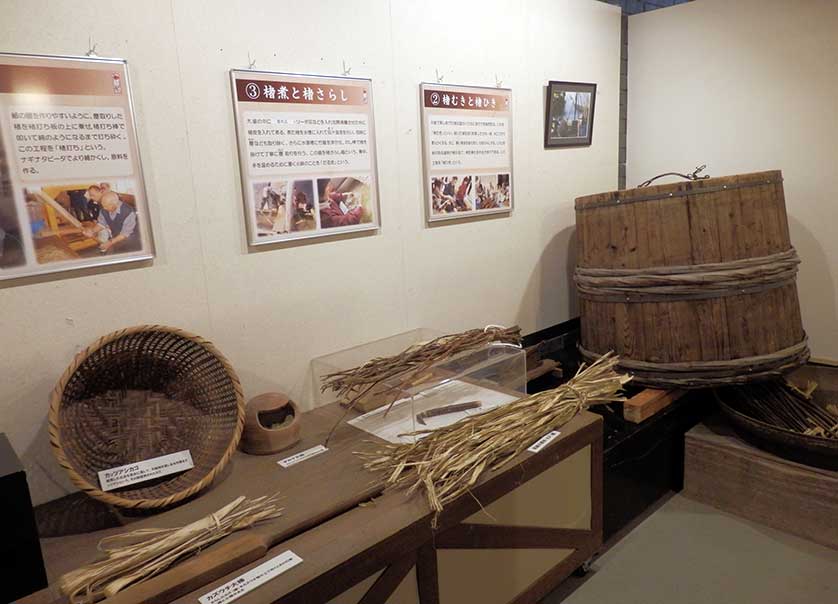 Exhibits and photos explain how washi paper is produced, Saitama Craft Center, Ogawa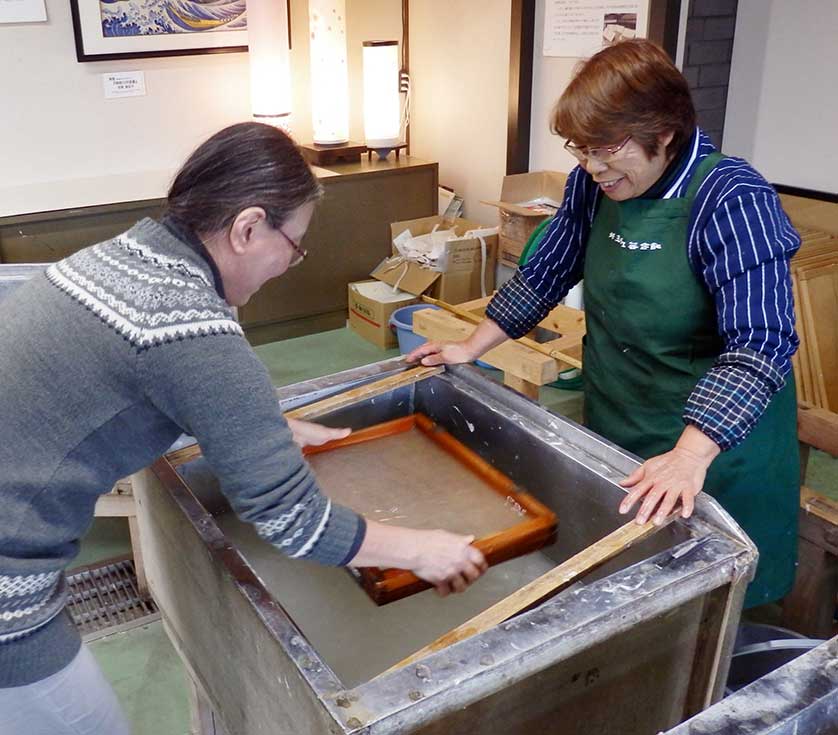 A visitor scoops paper pulp, Saitama Craft Center, Ogawa

Ogawa Washi Today
High quality hand-made washi paper products are available in Tokyo department stores and in specialized shops in the city, they just tend to be a bit on the expensive side. Shopping for washi in Ogawa tends to be cheaper. You can buy it directly from the manufacturers and various local traders.
In Ogawa and in Higashi Chichibu Village, many small workshops produce the paper. Some use machines to fill in the high demand for the cheaper versions, some stay exclusively with the traditional ways.
Many of those paper-making workshops can be visited, some of them offer visitors a chance to try their hands in the art of paper scooping.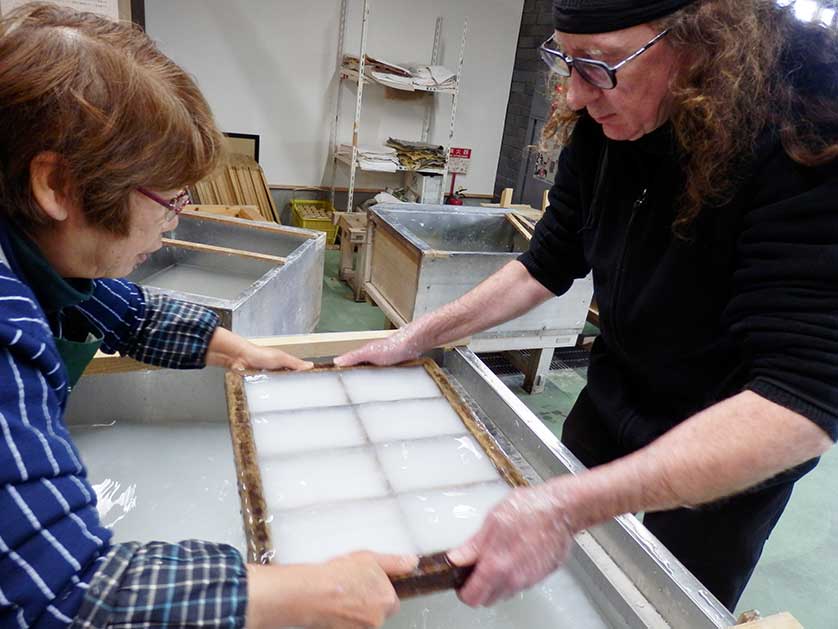 A visitor scoops paper pulp for postcard making, Saitama Craft Center, Ogawa
Saitama Craft Center Ogawa 埼玉伝統工芸会館
The best place, perhaps, to learn about traditional washi paper making and to make one's own paper, however, is the Saitama Craft Center in Ogawa.
Located at the Ogawamachi michi-no-eki roadside rest house, the Saitama Craft Center is part museum and part workshop.
The museum section exhibits examples of famous craft products made in the prefecture. Tokorozawa dolls for example, traditional Kasukabe wooden furniture, lucky charm daruma dolls.
The main focus of the Craft Center is, however, on washi paper making. All the steps of washi paper making are explained in detail via photos and exhibits.
In short, the Kozo (Paper Mulberry) shrubs are cut down and stripped of their bark. Only the inner white part of the bark will be used for the paper production. That white bark is then boiled and cleaned and pounded to pulp.
That pulp is placed into a water basin, the Tororo Aoi root extract (called Neri by the paper makers) is added and from the basin the soon-to-be paper sheets are scooped with a flat bamboo screen. The Kozo fibers collected on the screen, put in place by softly rocking back and forth the bamboo screen, will become the final paper sheets after they are properly dried.
Making your own Washi Paper
Enter the workshop right next to the exhibition space of the Craft Center. Many varieties of washi paper are hand crafted there. Not all the steps of the early production can be seen at the same time, however. The stripping of the bark, the boiling and so on are done at different times. But you will always encounter women scooping the paper.
These same women will be happy to guide you through scooping your own washi paper.
First of all, you have to decide what kind of paper you want to make. A large sheet of high-quality Hosokawa-shi paper? A set of postcards? Different kinds of pulp are used for the different papers. The fee charged for guiding you through the making of paper depends on what kind of paper you want to make.
You will then be taught how to scoop the pulp and how to shake the bamboo screen. It's not as easy as it looks at first glance. In the case of think postcard paper, for instance, you have to add layer upon layer of pulp onto the screen. If you shake the screen just a bit too much, air will get between the layers, making the paper useless. Fortunately, the problem can easily be solved by returning the pulp to the water and starting another try.
Once you have successfully scooped your pulp, another bamboo screen will be placed on top of it, squeezing the water out. Then, your product is placed on a large low table.
Would you like to take it home just as it is? Perhaps not if you are given the chance to decorate it and make it thus look even more traditionally Japanese. Flower blossoms, grasses, fern leaves and other potentially decorative small plant parts are available for free use, as are paper fibers dyed in various colors.
Using a tweezer, you now need to come up with something creative on the still wet and still very vulnerable paper sheets. Whatever you create, you need to keep in mind that the plant parts and so on you put on the paper need to be very thin. Tear the flower blossoms apart and re-arrange the single petals.
Another very thin layer of freshly scooped paper pulp will be placed on top of your creation.
Unfortunately, you can't take your creation home at the same day. The paper first needs to properly dry.
Write down your Japanese postal address in the form provided by the Craft Center and they will send you your washi paper art within a week. If you are traveling, a reliable hotel address or the address of a Japanese friend will do. In any case, it has to be an address within Japan. The Craft Center does not ship overseas.
Written English-language explanations on how to scoop your own paper and what to consider when decorating it are readily available. 
The English spoken by the staff of the Craft Center however is at best rudimentary. They will still guide you through the whole process successfully. Just be attentive and you will understand their directions without knowing a word of Japanese.
Hours and Admission
Craft Center opening times: Tuesday-Sunday 9.30 am to 5 pm. Closed on Monday (on Tuesday if Monday is a national holiday), closed over the New Year Holidays from December 29th to January 3rd
Address: Ogawa 1220, Ogawa-machi, Hiki-gun, Saitama Prefecture
Tel: 0493 72 1220
Admission: Adults 300 yen, children 150 yen
The fees for making your own paper depend on the type of paper but are generally about 1000 yen per person including shipping.
Saitama Craft Center English-language website, detailing all the steps of washi paper making saitamacraft.com/hosokawashi_e.html
Visitor decorating washi postcards, Saitama Craft Center, Ogawa
Access - Getting to Ogawa
Train
To get to Ogawa, take the Tobu Tojo Line from Ikebukuro Station to Ogawamachi Station. The journey by express train is less than 70 minutes and costs 810 yen.
For the Craft Center, take a bus from Ogawamachi Station heading for Ogawa Park Hill. Get off at the Dentokogei-kaikan-mae bus stop. Walk on in the direction the bus drives and you will see the Ogawamachi Rest House and the Saitama Craft Center after about 200 meters to your right. The bus fare is 180 yen.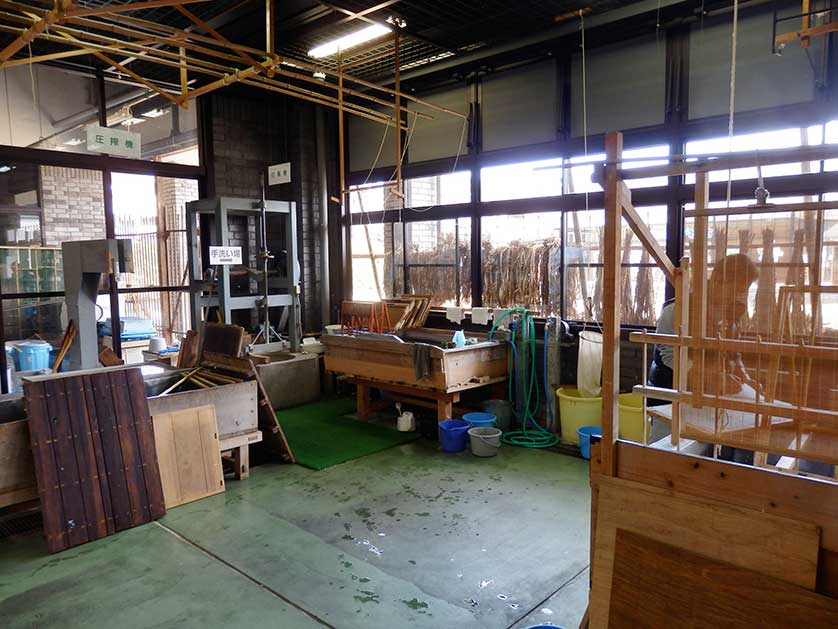 Paper making workshop, Saitama Craft Center, Ogawa
Book Hotel Accommodation in Japan
All the themes of the city