Heirinji Temple
Heirinji Temple is an active Zen temple in Saitama Prefecture and dates from 1375; it is famous for its spectacular fall colors.
Heirinji Temple, Niiza, Saitama Prefecture 平林寺, 新座, 埼玉県
by Johannes Schonherr
Driving through the flatlands of southern Saitama Prefecture, just north of the Tokyo city line, means driving from stop light to stop light through a seemingly endless wasteland of industrial warehouses, shopping malls and cookie-cutter residential buildings.
Sanmon Gate, Heirinji Temple
In older times, this area was known as the Musashino Plain, it was sparsely populated and much of it was covered with dense forest that mixed both broadleaf trees and conifers, making for colorful contrasts in the late days of autumn. Very few areas of those old forests have been preserved to this day.
One such still surviving old forest area belongs to the Heirinji Temple in Niiza. The temple buildings themselves are rather modest and close to the entrance. Behind them, the forest stretches out, dotted with ancient cemeteries here and there. On quiet days, it's a great pleasure to just walk through those woods.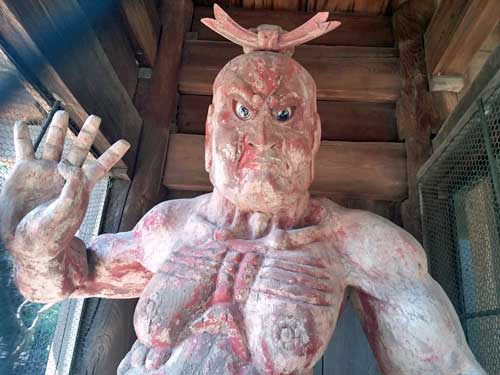 Nio Guardian, Sanmon Gate, Heirinji Temple
Active Zen Temple
Sanmon Gate, the actual gate to the temple grounds, houses two fierce Nio guardian gods. They stare angrily down at the visitors and make motions that clearly express: "Don't enter here." This message is only partly directed at mythical evil spirits.
Modern signs spelling out "Don't enter!" abound around the temple buildings. There is no big Buddha statue on display here. There is no central building to visit. There is hardly a corner for believers to pray in. Almost all the temple buildings are off-limits to the casual visitor.
That's because this is a still very active Zen Buddhist temple. Heirinji Temple belongs to a strict sect of the Myoshinji branch of Rinzai Zen.
No matter how many tourists might walk through the public parts of the temple in the plum blossom and the autumn foliage season, the monks and their students will stay behind closed doors and follow their strict daily regimen away from the prying tourist cameras.
Visiting on a regular day, you encounter plenty of gardeners and other staff but you will rarely catch a glimpse of the monks. They live in their own world right beyond those "Don't enter" signs. Sometimes you can faintly hear them chant.
A faded sign on a public path spells out the monks' daily routine:
Wake-up call at 3am
Prayer for one hour
Breakfast at 4am (okayu rice soup)
Meditation and koan philosophical dialogues from 4.30am to 7am
Working / Gardening / Cleaning till 11am
Lunch at 11am (boiled barley and rice)
More work till 5pm
Dinner at 5pm (boiled barley and rice)
Meditation from 6pm on
Lights are turned off at 10pm
A tough life for sure but probably a fulfilling one for those inclined to develop a really deep understanding of Buddhist teachings in the long term.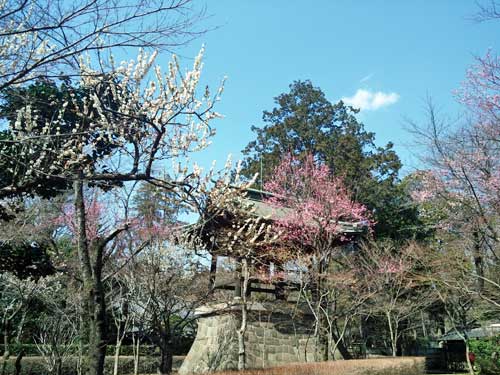 Heirinji Temple Plum Blossoms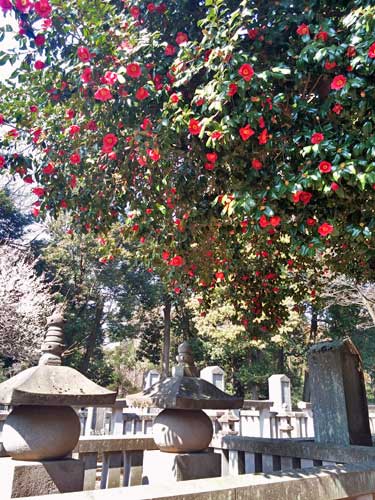 Plum blossoms and winter camellia at the Matsudaira graves
History of Heirinji Temple
Heirinji Temple was originally founded in 1375 in what is now Iwatsuki city, about 40 kilometers to the northeast of its current location. The founder was a powerful monk named Sekishitsu Zenkyu who also presided over grand temples in Fukuoka, Oita, Kyoto and Kamakura.
The original temple was burned down by the army of Hideyoshi Toyotomi in the civil war that eventually led to the unification of Japan (1573-1591). After Ieyasu Tokugawa completed this union, he ordered the original Heirinji Temple to be rebuilt. The restored temple, still in Iwatsuki, was erected in 1603.
In 1663, on the order of Nobutsuna Matsudaira, the lord of Kawagoe Castle in present-day Kawagoe, Heirinji Temple was moved from Iwatsuki to its current location.
The Matsudaira clan was closely related to the reigning Tokugawa shoguns. In fact, the Tokugawa clan emerged from a branch of the Matsudaira. Thus, the Matsudaira were the second-most powerful clan in Japan in Edo times (1603-1868).
The graveyards you will encounter in the forests of Heirinji Temple enshrine the ancestors and descendants of the local branches of the Matsudaira family.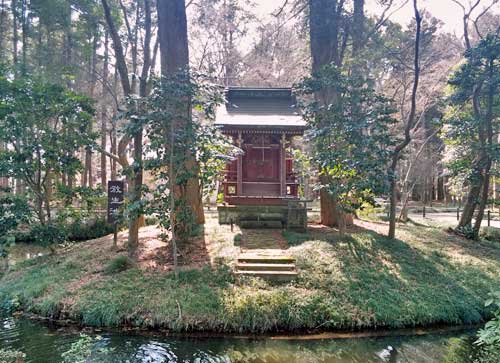 Small shrine at Heirinji Temple, Saitama Prefecture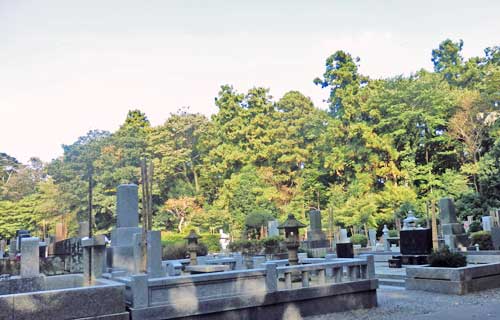 Matsudaira graves surrounded by old forest, Saitama
Heirinji Seasons
While a stroll through the woods of Heirinji Temple is pleasant throughout the year, there are two seasons the temple is famous for.
In February, you can catch the full beauty of the blossoming Japanese plums known as ume, one of the first trees in the year to bloom. Especially the area around the old Matsudaira graves has many ume trees - and they contrast wonderfully with the still blossoming winter camellia (sazanka).
From November to mid-December, the leaves of the many Japanese maples (momiji) growing on the temple grounds turn bright red. The gingko trees turn bright yellow while the conifers stay green as always. The result is a riot of vivid colors against a background of neatly maintained historic temple buildings.
The autumn color season is also the time when Heirinji gets very crowded with masses of camera-toting visitors. Arriving right at the opening time of the temple grounds at 9am might be a good idea if you want to have a serene, quiet walk, enjoying the beauty of the autumn leaves.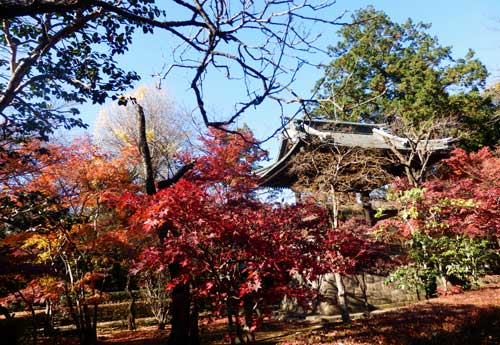 Autumn colors at Heirinji Temple

Food
If you feel hungry after your temple exploration / forest walk, you might want to head over to the Takeyama udon noodle restaurant. It's about a 300 meter walk along the strictly fenced-in perimeter of the temple forest towards central Niiza. Cross the busy street and you will be rewarded with really good udon noodles as well as a variety of other local Japanese dishes.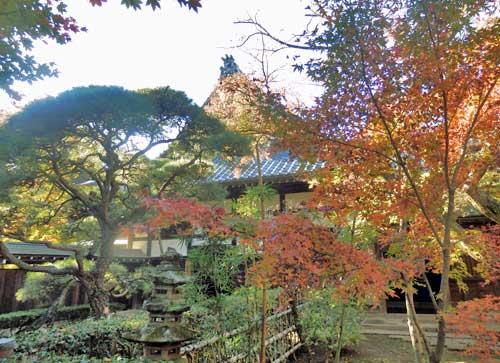 Autumn colors at Heirinji Temple

Access
Heirinji TempleNiiza-shi, Nobidome 3-1-1Tel: 048 477 1242
Opening times: daily 9am to 4.30pm (last admittance at 4pm)
Admission: Adults: 500 yenChildren older than 5 years: 200 yen
Website of Heirinji Temple: www.heirinji.or.jp (in Japanese)
Train/bus from Tokyo
Take the Tobu Toju Line train from Ikebukuro Station to Shiki Station; from the south exit of Shiki Station, take buses 73, 75, 34 or 35 to the Heirinji bus stop right in front of the temple entrance.
Car from Tokyo
Take the Kanetsu Expressway to the Tokorozawa exit, Highway 463 in the direction Saitama city, turn right towards Ikebukuro at the Hanabusa intersection (you need to enter the right lane very early on), enter Highway 254 towards Ikebukuro, turn right at the Niiza Keisatsushomae intersection. From there, you will see the forests of Heirinji Temple to your right.
Temple entrance and parking are another 1 km ahead.
Parking fees: 500 yen per car, 200 yen per motorcycle.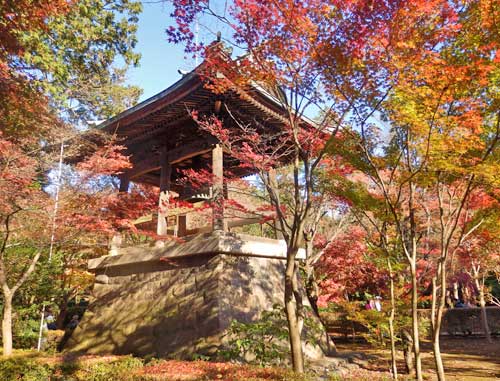 Heirinji Temple bell tower in autumn
Takeyama Udon Restaurant:Niiza-shi, Nobidome 1-23-1Tel: 048 477 3350
Open daily from 11.30am to 9pmParking available
Takeyama restaurant website: www.takeyama.ne.jp (in Japanese)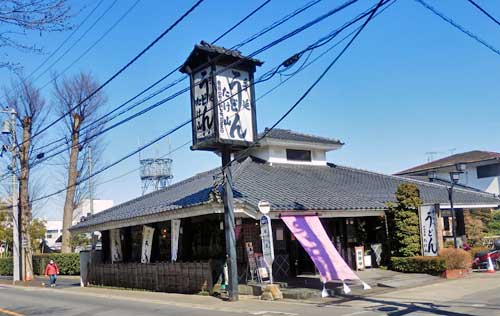 Takeyama udon noodle restaurant

Book Hotel Accommodation in Japan
All the themes of the city