Asahikawa Guide
Asahikawa 旭川市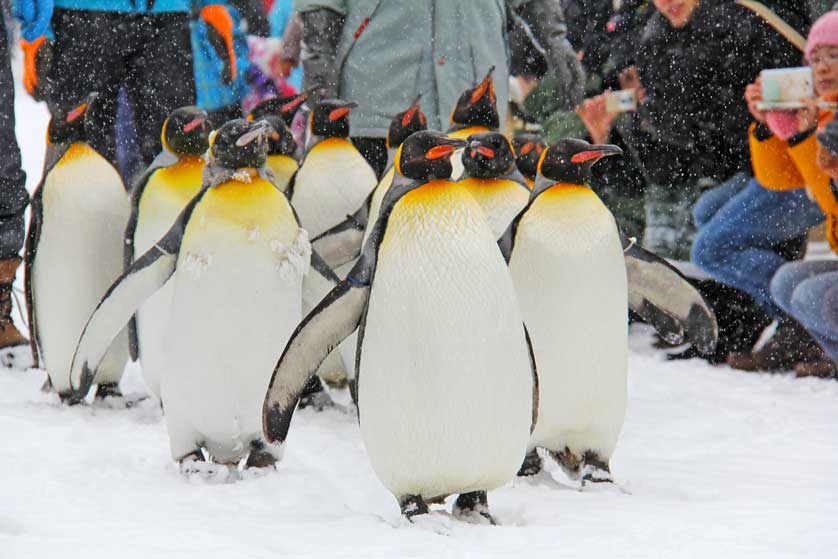 Penguins, Asahikawa Zoo, Asahikawa, Hokkaido
Asahikawa, located in the center of Hokkaido is the island's second largest city after Sapporo with a population over 350,000.
Before the colonization of Hokkaido, Asahikawa was an important center of Ainu culture reflected in its museums and festivals.
Asahikawa was founded in 1922 during the Taisho Period and was developed as an industrial and commercial center based on lumber and sake brewing. During the preceding Meiji Period, the area that became the city of Asahikawa was settled as a tondenhei of militia farmers. Asahikawa has retained its military heritage and a division of the Japanese Self Defense Forces is stationed here.
Hokkaido's first railway was built in 1898 between Sapporo and Asahikawa to link the two towns.
Asahikawa records some of the coldest temperatures in Japan and has the most days with snowfall of any Japanese city.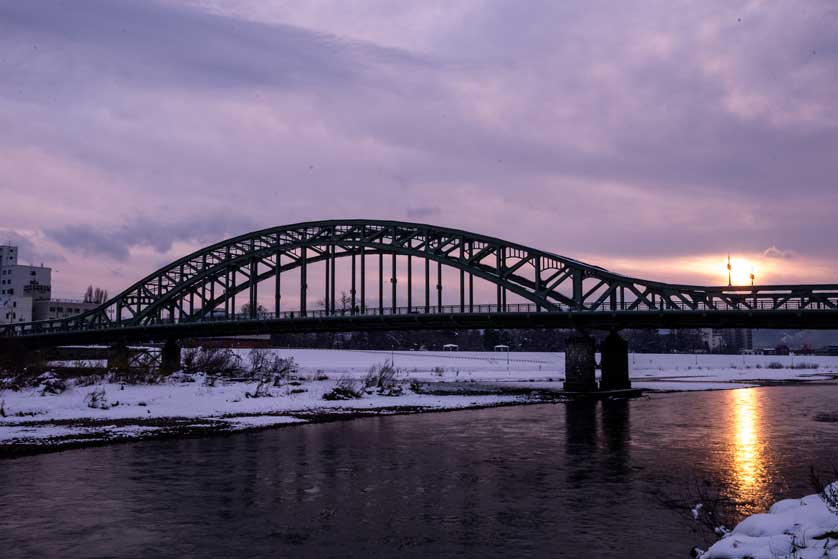 Asahibashi Bridge, Asahikawa, Hokkaido
Asahikawa Attractions
Asahikawa may not be on the main Hokkaido tourist trail but this pleasant and spacious city makes for an excellent base for exploring the nearby Daisetsuzan National Park, Hokkaido's largest National Park, the lavender fields of Furano and Tokachi Onsen.
Asahikawa is a city of water as it sits on the confluences of the Ishikari, Biei, Chubetsu and Ushibetsu rivers. There are over 700 bridges in the city, the most famous of which has become an attraction, the Asahibashi over the Ishikari River, which was completed in 1932.
Asahikawa Zoo, is the main sightseeing spot in the city, and is known for its innovative design which allows visitors to observe the animals from unusual angles and really get up close. The animals that can be seen at Asahikawa Zoo reflect the nature of Hokkaido including wolves, deer, fish owls and cranes.
Other animals on show include polar bears, penguins, seals, apes, giraffes and big cats. There are buses to Asahikawa Zoo from Asahikawa Station which take around 40 minutes. Admission is presently 820 yen for adults.
The Hokkaido Folk Arts & Crafts Village (北海道伝統美術工芸村) is made up of three museums reflecting the culture of Hokkaido's indigenous Ainu people and arts and crafts in general from around the world. A combined ticket allows access to all three museums.
The International Dyeing & Weaving Art Museum (国際染織美術館) exhibits textiles and tapestries from around the world including silk kimono, Ainu wood-bark cloth and European fabrics. The materials are made with natural dyes and animal and plant fibers.
The Yukara Ori Folk Craft Museum (優佳良織工芸館) also has examples of hand-woven Ainu textiles, examples of which can be purchased in the museum shop. You can also watch demonstrations of the fabrics being made on wooden looms or by hand.
The Snow Art Gallery (雪の美術館) is a hall of kitsch modeled on the architecture of a European castle. The Snow Art Gallery is dedicated to snow, snow flakes and ice. There is a walk-in ice cavern filled with icicles and a 200-seater a music hall with a ceiling picture of the sky. Not surprisingly the venue is available for hire for weddings and hosts other events such as music recitals and Halloween parties.
The Hokkaido Folk Arts & Crafts Village is 15 minutes by bus from near Asahikawa Station.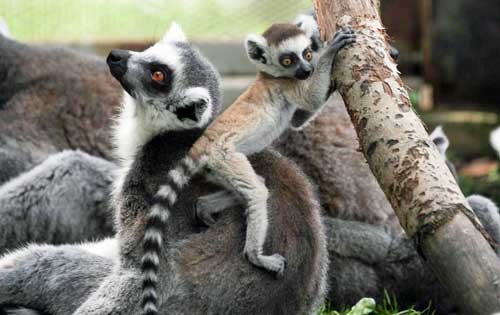 Asahikawa Zoo, Asahikawa, Hokkaido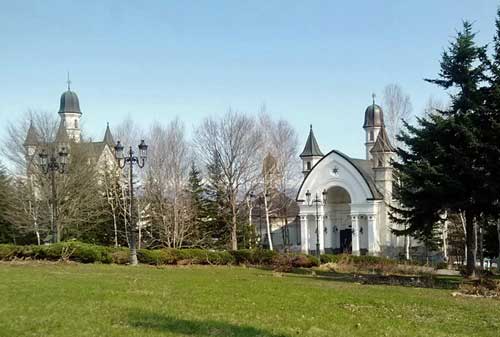 Snow Art Gallery, Asahikawa, Hokkaido
The Asahikawa City Museum has two floors of permanent exhibitions. The upper floor holds a variety of recreated houses including Ainu dwellings and the wooden barracks of the tondenhei settlers. The lower floor has exhibits on the natural history, climate and ecosystems of Asahikawa and the surrounding area.
The Miura Ayako Literature Museum (Tel: 0166 25 5133) is dedicated to the work of the locally born novelist made famous by her debut novel Hyoten (Freezing Point). Miura's works are set in and around Asahikawa, a city she never left. Her Christian-influenced work has been described as similar to contemporary Endo Shusaku.
The Kawamura Kaneto Ainu Memorial Hall (川村カ子トアイヌ記念館) is dedicated to the life of Ainu chief Kaneto who worked as a surveyor on Hokkaido's railways and collected Ainu artifacts including wooden carvings and ritual objects during his life. The museum is now curated by his son and can be reached in 15 minutes by bus #24 from Asahikawa Station. Admission is 500 yen.
The Hokkaido Asahikawa Museum of Art located in Tokiwa Park opened in 1982 and features numerous exhibitions of art of both international and domestic art and crafts. The museum is open from 9.30 am-5 pm and closed on Monday unless Monday is a public holiday.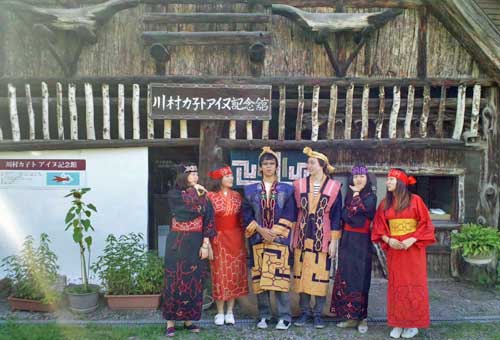 Kawamura Kaneto Ainu Memorial Hall, Asahikawa, Hokkaido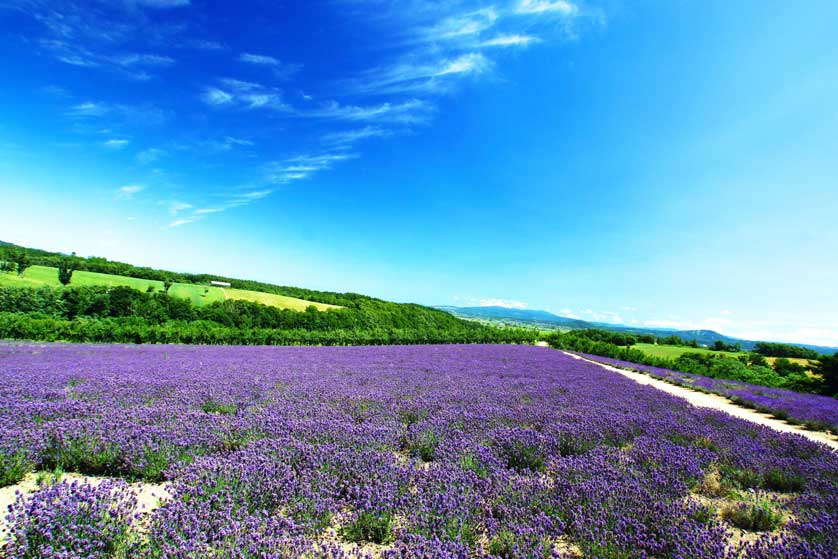 Lavender fields in full bloom, Furano, Hokkaido
Around Asahikawa
Asahikawa is the prefect base to explore Furano to the south and the Daisetsuzan National Park to the south east.
Furano is famous for its flower - particularly lavender - farms, the lavender being in full bloom in July. Furano also has a cheese factory and a wine center, but they are rather, institutionalized tourist-bus traps.
Daisetsuzan National Park (大雪山) covers a vast space of 2,310 square kilometers or 890 square miles and is both Hokkaido's and Japan's largest national park covering an area about the size of Kanagawa Prefecture. Daisetsuzan National Park was established in 1934 and is a raised plateau ringed with sixteen 2,000 meter-plus peaks including Mount Asahi (Asahidake), Hokkaido's highest mountain at 2,290 meters.
Daisetsuzan National Park is home to a variety of wildlife including brown bears and Sika deer and is known for its Alpine flowers in June and July and spectacular fall colors in late August and September. These are also the best times to hike the park.
A mecca for walkers and skiers, Daisetsuzan also has a number of hot springs at Sounkyo, Asahidake and Tenninkyo.
Other popular sights in the park are the Sounkyo Gorge with the cascading Ryusei and Ginga waterfalls. There's a ropeway at Sounkyo and a cable-car at Asahidake for enjoying the views which can get crowded especially at weekends during the autumn.
This area of Japan has the longest ski season which lasts from October until June. Asahidake and Kurodake in Sounkyo are popular ski resorts.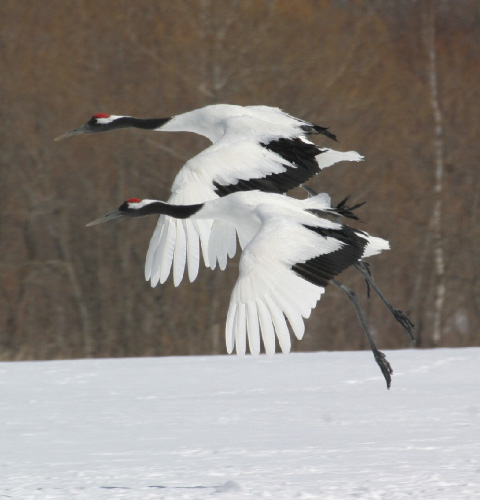 Graceful Red-crowned Cranes are a wonderful presence in the wilder parts of Hokkaido.
Getting Around Asahikawa
Asahikawa is small enough to get around on foot or bicycle, though to get out to Asahikawa Zoo you will need to use a city buses which radiate out from bus stops at Asahikawa Station.
Tourist Information Center
Asahikawa's Tourist Information Center is at Asahikawa Station and has brochures and maps in English and other languages.
Asahikawa Tourist Office (Tel: 0166 22 6704).
Asahikawa Festivals
Asahikawa's big festival is the Asahikawa Winter Festival (旭川冬まつり, Asahikawa Fuyu Matsuri) held in February. Somewhat similar to the Sapporo Snow Festival and held at about the same time it is well-worth making the trip to Asahikawa to see the the snow sculptures in Tokiwa Koen and along Heiwa Dori. The festival holds the record for the largest snow sculpture that was made in 1994.
The Kotan Matsuri in September along the banks of the Ishikari River is an Ainu festival including traditional dances and music.
Food & Drink
Due to its abundance of fresh water, Asahikawa is famous for its sake. It's possible to visit a couple of sake breweries for tastings and tours. These include Otokoyama Sake Brewery & Museum and the Takasago Sake Brewery.
The Otokoyama Sake Brewery & Museum has ukiyoe by Utamaro on display along with sake making equipment, sake flasks and cups. The place also features a Japanese garden to enjoy and relax in. Take any of Dohoku bus numbers #667, #67, #68, #70, #71 or #669 and get off at Nagayama 2-7.
The Takasago Sake Brewery is a 15 minute walk from Asahikawa Station and is housed in a building dating to 1909. There's a gift shop and tasting room and exhibits of antique sake bottles and artifacts. Tours are conducted on the brewing process between November and March. Also in winter the brewery sets up an igloo making ice-drip sake.
Like other towns in Hokkaido, Asahigawa has its own take on ramen. The Asahigawa version has a shoyu (soy sauce) base and is oily with hard, thin and wavy noodles. Asahikawa Ramen Village is a collection of eight restaurants gathered together in the north of the city.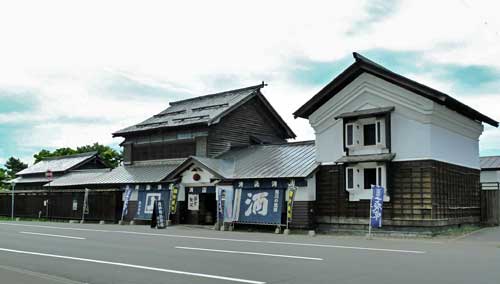 Takasago Sake Brewery, Asahikawa, Hokkaido
Accommodation in Asahikawa
Asahikawa has some excellent hotels, ryokan and minshuku, mostly gathered around the Asahikawa Station area.
Western style hotels in Asahikawa include the three-star Court Hotel, the JR Inn Asahikawa, housed in the actual station building itself, the budget Dormy Inn Asahikawa, the Fujita Kanko Washington Hotel Asahikawa and the Natural Spa Hotel Paco Asahikawa.
For Japanese-style ryokan with tatami-mat rooms and futon try Mimatsuso Ryokan or Toka-en, the latter a good way out of the center. Yado Retro House Ginza has dorm beds for backpackers.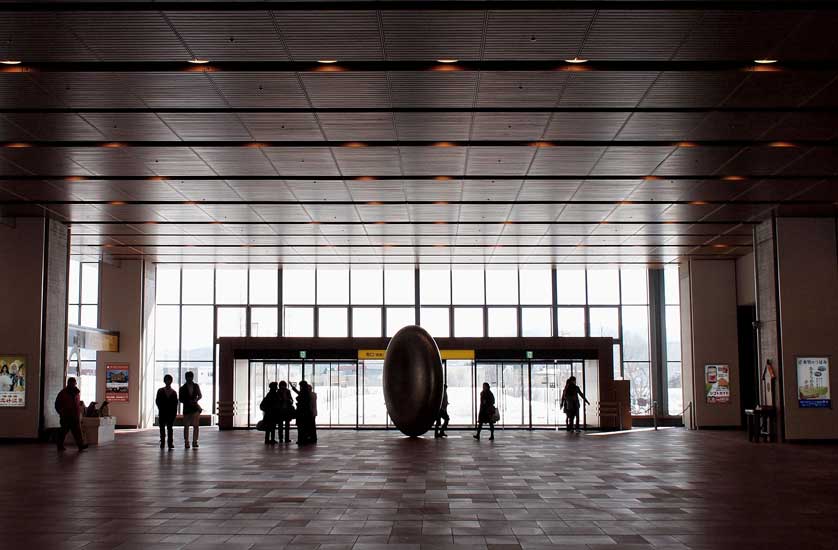 Asahikawa Station, Asahikawa, Hokkaido
Access - Getting To Asahikawa
Train
Asahikawa is easily reached from Sapporo, 136.8km to the west on the Hakodate Main Line from Sapporo Station to Asahikawa Station, taking 1 hour, 30 minutes by Super Kamui Express. From Hakodate Station in Hakodate take the Super Hokuto Express to Sapporo and change.
Traveling from Asahikawa to the ski resort of Niseko would involve changes in Sapporo and Otaru.
There are trains from Asahikawa to Abashiri (3 hours, 45 minutes) and Wakkanai (4 hours).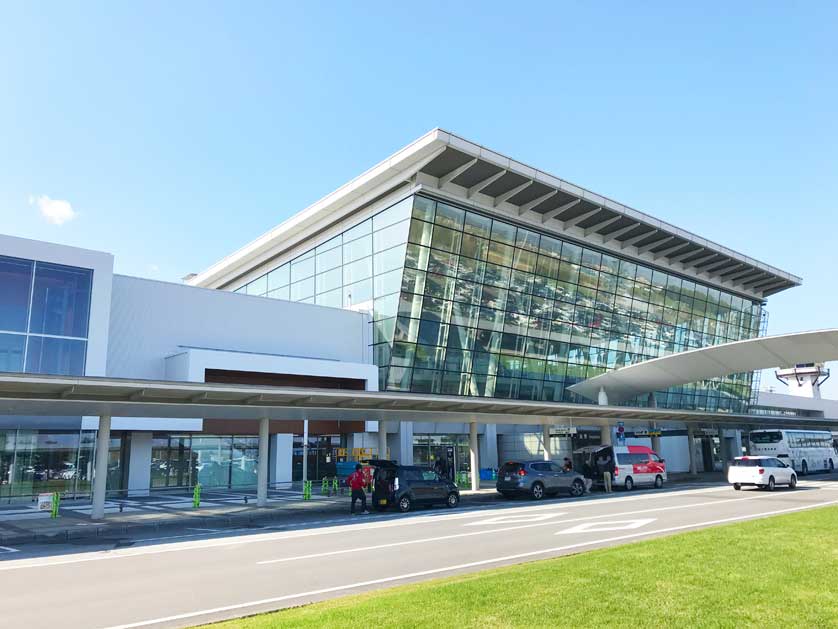 Asahikawa Airport, Hokkaido
Air
Asahikawa Airport (aapb.co.jp AKJ; Tel: 0166 83 3939) is located around 15 km south from Asahikawa Station.
There are domestic flights from Asahikawa Airport with JAL, ANA and Air Do (a subsidiary of ANA) to Haneda Airport in Tokyo (1 hour, 35 minutes) and Chubu International Airport in Nagoya. There are international flights from Asahikawa Airport to Incheon in South Korea with Asiana Airlines, Eva Air and Trans Asia to Taipei and China Eastern to Beijing and Shanghai and Spring Airlines to Shanghai.
At Asahikawa Airport there are rent a car offices or taxis for your onward journey. Buses from the airport connect with Asahikawa Station in about 40 minutes.
Furano has trains to Sapporo Station (2 hours) on the Furano Lavender Express and Asahikawa (1 hour, 10 minutes) on the JR Furano Line. If coming from Sapporo either hire a car in Furano or change trains for JR Kamifurano Station and take a bus or taxi.
Bus
There are regular highway buses from Asahikawa to Sapporo (journey time around 2 hours, 5 minutes) operated by Hokkaido Chuo Bus. The present single fare is 1,310 yen.
Asahikawa Map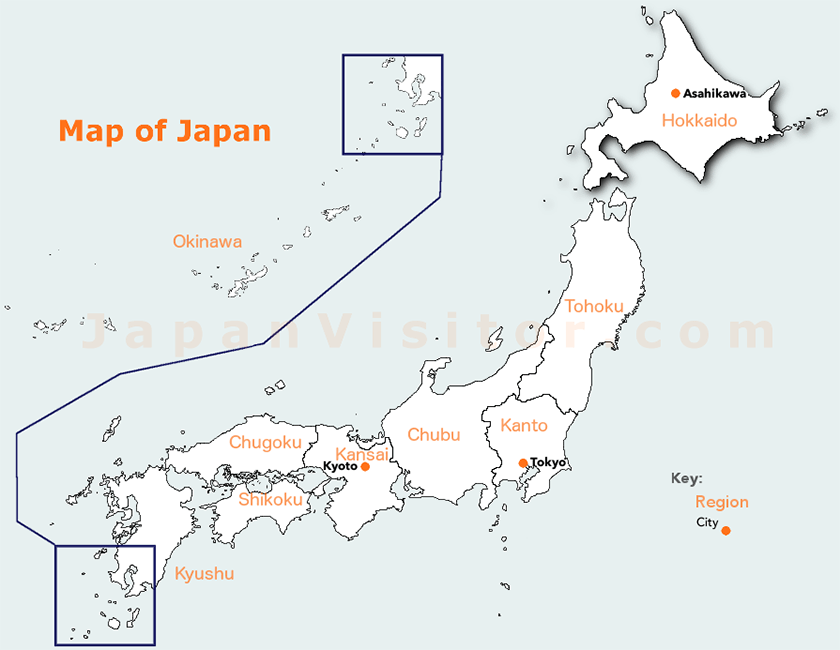 Asahikawa Map
Book Hotel Accommodation in Asahikawa
Asahikawa: read a guide to Asahikawa, Hokkaido's second city and gateway to Daisetsuzan National Park, famous for its fine sake and delicious ramen.
All the themes of the city