Kan Yasuda Bibai
Kan Yasuda: renown Japanese scultptor Kan Yasuda has created a huge and fun sculpture park in his hometown of Bibai in Hokkaido.
Japanese Culture: Kan Yasuda: helping to keep Bibai on the map
Mark Brazil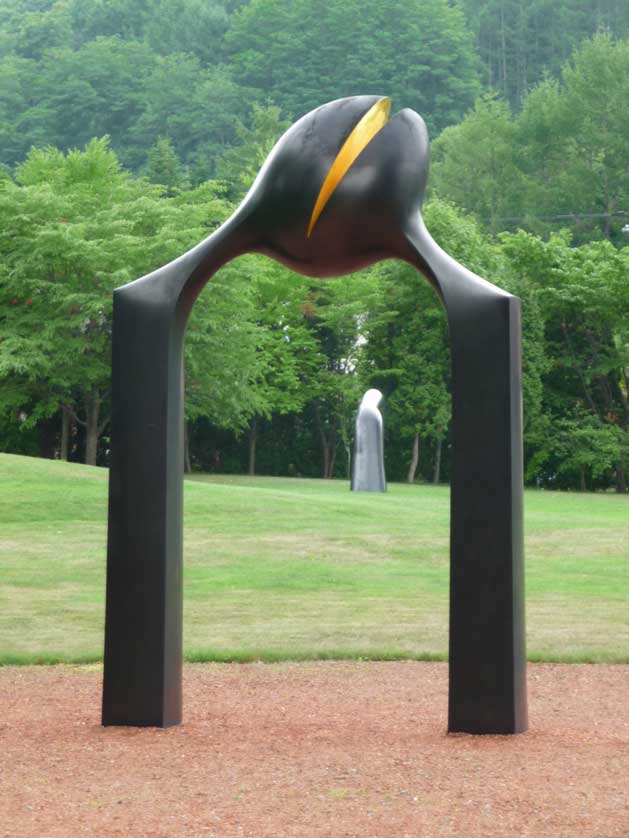 Two words suffice to define Kan Yasuda's artistic aesthetic: minimalism, and animism, according to Antonio Paolucci, former head of the Artistic and Cultural Endowments' Office, and now Director of the Vatican Museums, Italy.
As if a minimalist haiku has been transcribed into marble or bronze, Kan's extraordinary pieces seem to create sacred space around them; the subtlety and the philosophical and metaphysical aspects of his work speak loudly.
They seem totemic, in keeping with animistic Shinto's sacred sites ringed with plaited straw Shimenawa. Landscapes and observers are drawn in to these sculptures, resting on them, posing within them or viewing their surroundings through the structures and their apertures seems entirely natural. It is no coincidence that Kan's pieces, all on large scales, are erected in public places where visitors are not merely viewers but inter-actors. His is truly accessible arte.
White marble and black bronze are the trademark materials for Bibai-born artist/sculpture Kan Yasuda. His works can be found in Australia, the Canary Islands, in Italy, the UK and USA. Although well-represented across Japan (in Tokyo, Yokohama, Hitachi, Kawaguchi, Sakata, Shirakawa, Niigata, Karuizawa, Okazaki, Naoshima and Miyazaki) these sites offer only tantalizing individual insights into his work.
However, since July 1992 this global player has been well represented in Hokkaido in a superb collection of his works at Bibai, a somewhat nowhere town on the Ishikari River plain between Sapporo and Asahikawa.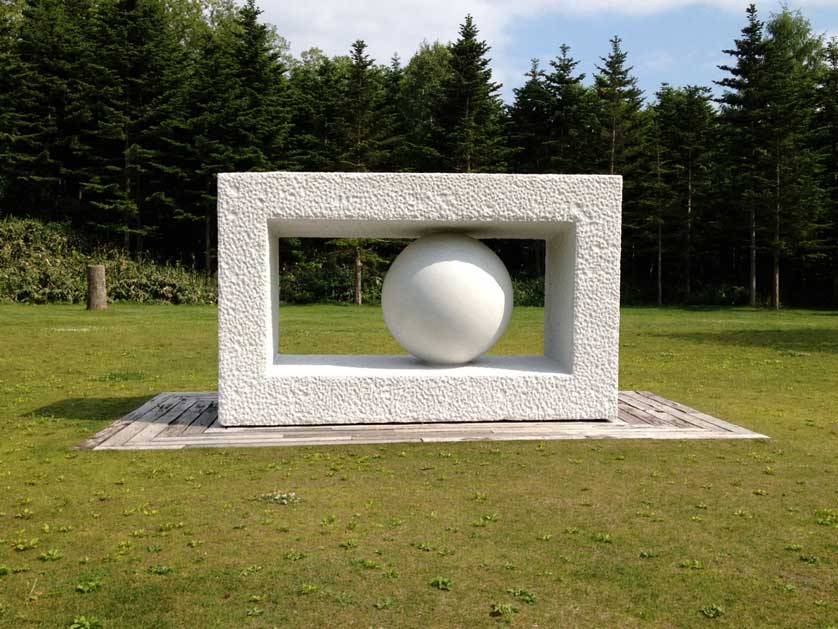 Yasuda's pieces are massive, tactile and mostly marble. The textured rectangle enclosing the smooth sphere invite physical exploration.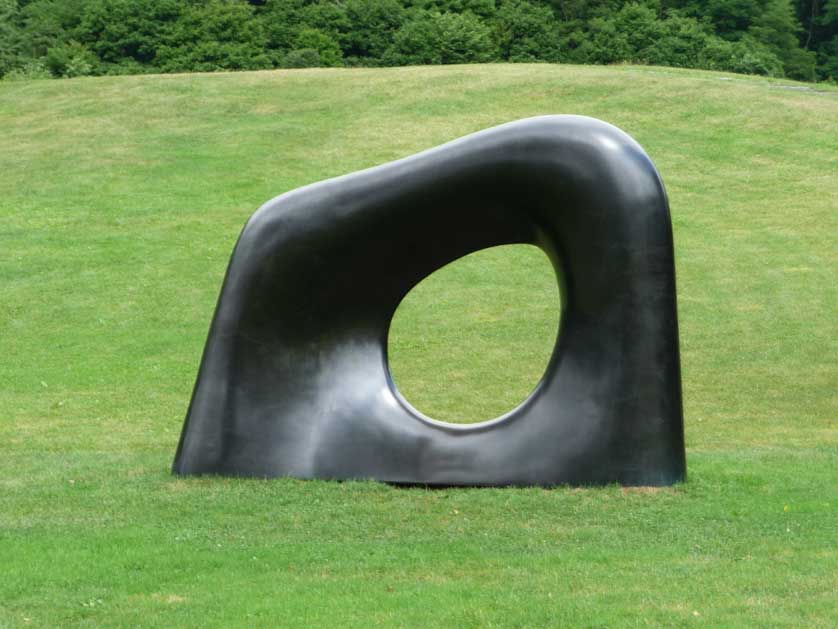 The gentle curves of the metal pieces provide windows onto the world and on sunny days are warm to the touch.
Kan Style
To encounter a Kan piece is to meet a mystery, as each seems nameless. While some are feminine, with gentle curves, others seem essentially masculine, massive, geometric and powerful in form. Their forms entice reflection, not merely on the sculpted entity, but also on the scene and the setting, while their surfaces entice physical connection. Only later, on consulting a catalogue is it clear that names have been ascribed, yet these appear re-used frequently, similar names applying to different sculptures as if teasing the viewer with symbolic names such as: Dragon, Echoes, Interspace, Key to a Dream, Secret of the Sky and Shape of Mind, that merely create an echo of the form and tantalize the viewer.
Kan was born in rural Hokkaido in 1945; he studied for a master's degree in sculpture at Tokyo National University of Fine Arts and Music graduating in 1969. Drawn to fine marble, and there is none finer than in Italy, Kan has lived for several decades in a studio-home at Pietrasanta, northern Tuscany, close to a fine marble source. Though globally represented, and now European-based, the culmination of his life's work is in a superb display in his hometown of Bibai, putting that town firmly on the map amongst outdoor art fans. The collection, at Arte Piazza Bibai, is superb, repaying multiple visits, and has been described justifiably as "a place to find inner peace" by art critic Shibahashi Tomoo.
At Arte Piazza Bibai one finds a well-maintained, old-fashioned wooden school building (Sakae Elementary School) in beautifully kept park-like grounds that simply beckons to passersby. What is more this facility, with its grass lawns and park benches, its pathways and vistas, provides year-round opportunities for strolling or play and picnics, and it is free.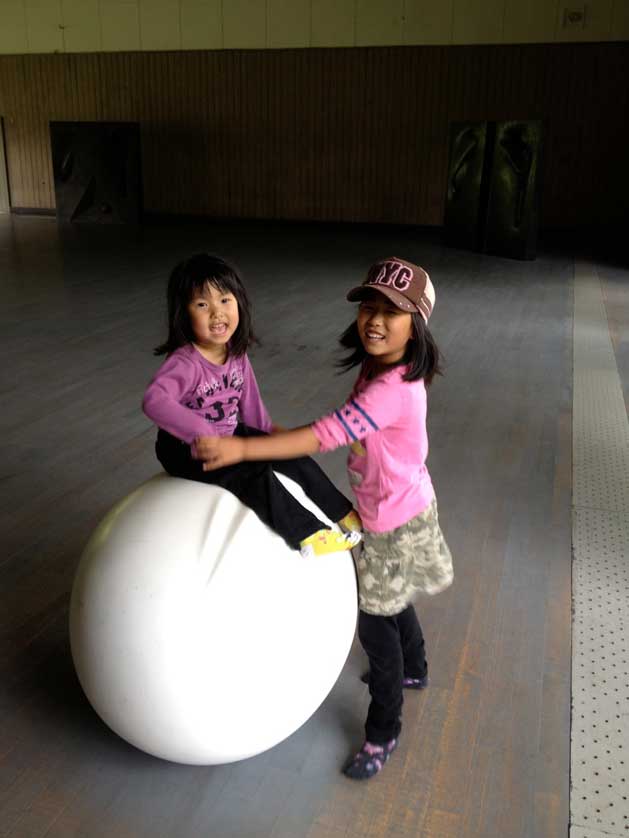 It's hard not to get physical around a Kan Yasuda sculpture; children love to play on them.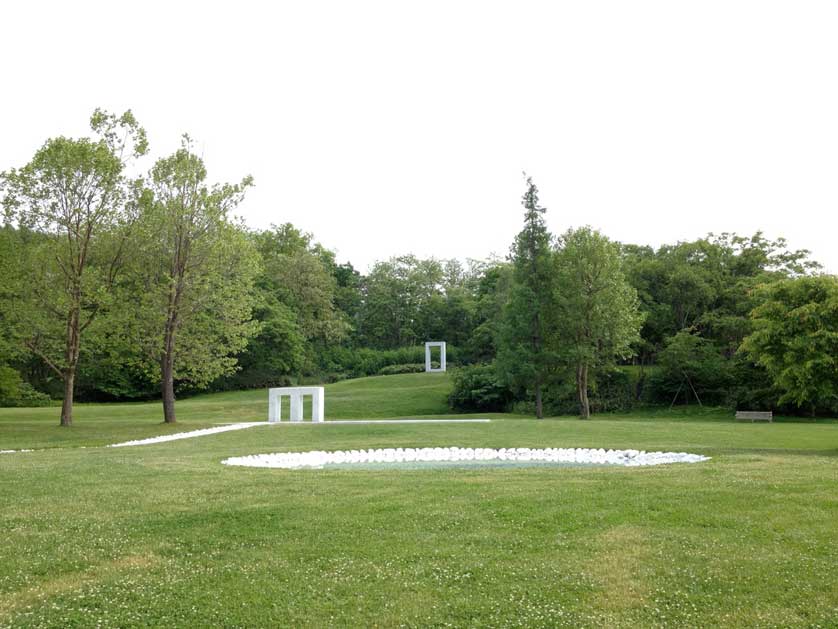 In the grounds eye-teasing white marble sculptures, though massive up close, seem scaled to the landscape.
Unlike Japan's three most famous strolling gardens (Kenroku-en, Kairoku-en and Koraku-en), Arte Piazza Bibai invites unfettered wandering both literally and imaginatively; yes there are trails, but they are not binding.
This is a site with surprises. Certain pathways lead off into woodland bringing surprise encounters with sculptures; others lead out into open lawn spaces from which pieces rise. Cool marbles and warm dark bronze shapes invite visitors to recline and sky gaze. Inside the lovingly maintained old school there are pieces on which children love to climb.
In the outdoor setting, where great, smooth-surfaced marble shapes invite touch, the juxtaposition of artistic pieces and the evolving natural beauty of the surrounding hills and forest invites reflection on the harmonious relationship between the unchanging solidity of the sculptures and the ephemeral seasonal nature of their surroundings.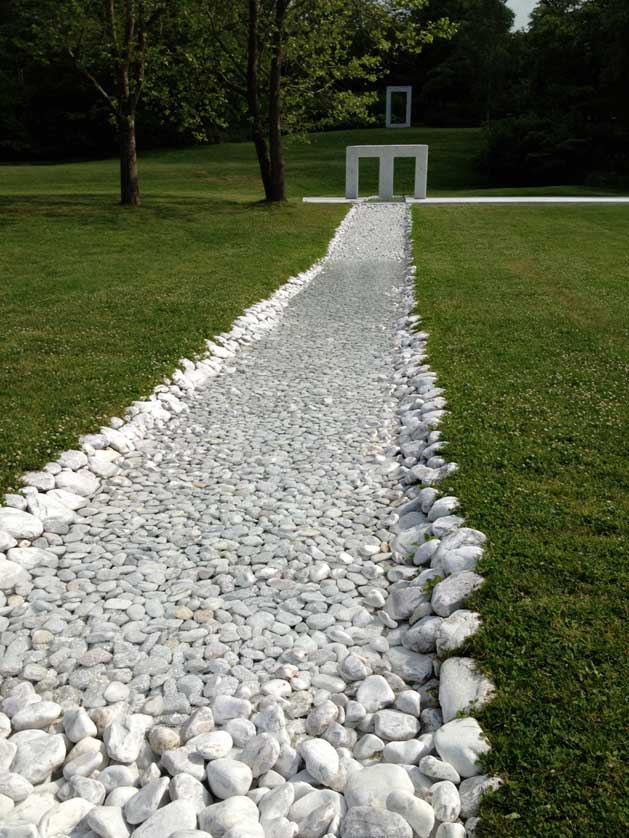 Close your eyes and you here the sounds of a mountain stream
Visiting Arte Piazza Bibai
Take a train from Sapporo to Bibai Station (about 40 minutes), then a taxi (about 15 minutes). By road, the Bibai IC of the Hokkaido Expressway is just five minutes away from the Arte Piazza.
The site has indoor and outdoor areas, a shop, and a coffee shop. Outdoor access is year round, but the opening times of the indoor facilities are limited. For details and timings check the Arte Piazza Bibai website (www.artepiazza.jp), which also offers a virtual visit to the site.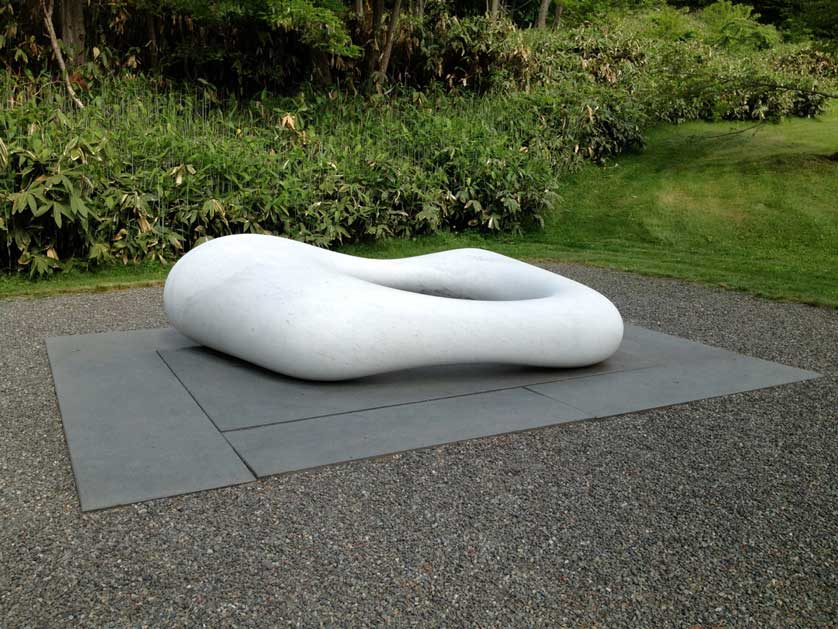 Placed as much to view as to touch; a cool seat on a hot summer's day
Related Japan Articles
Japan SeasonsJapan WeatherJapan's Natural HistoryJapan Rainfall
Rain ChainsJapanese Gardens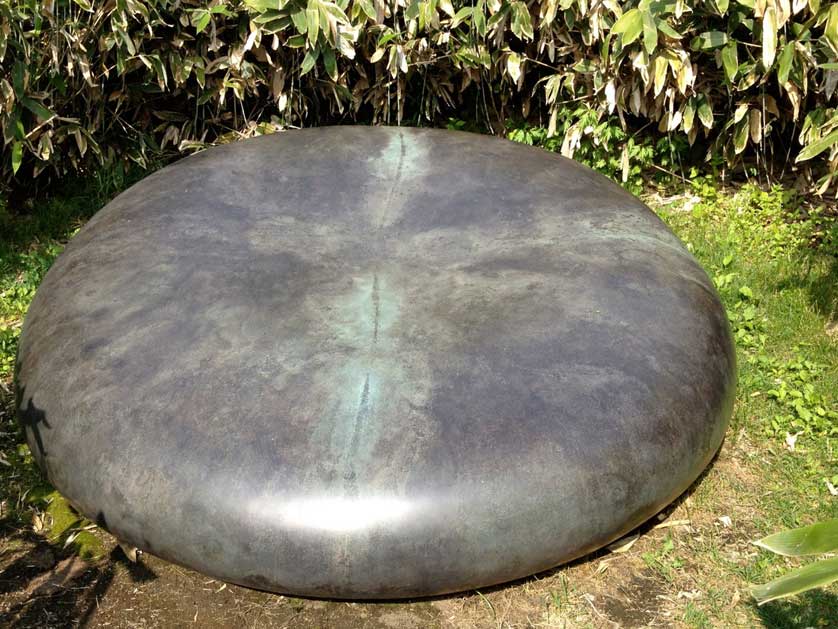 Kan Yasuda sculpture, Bibai, Hokkaido, Japan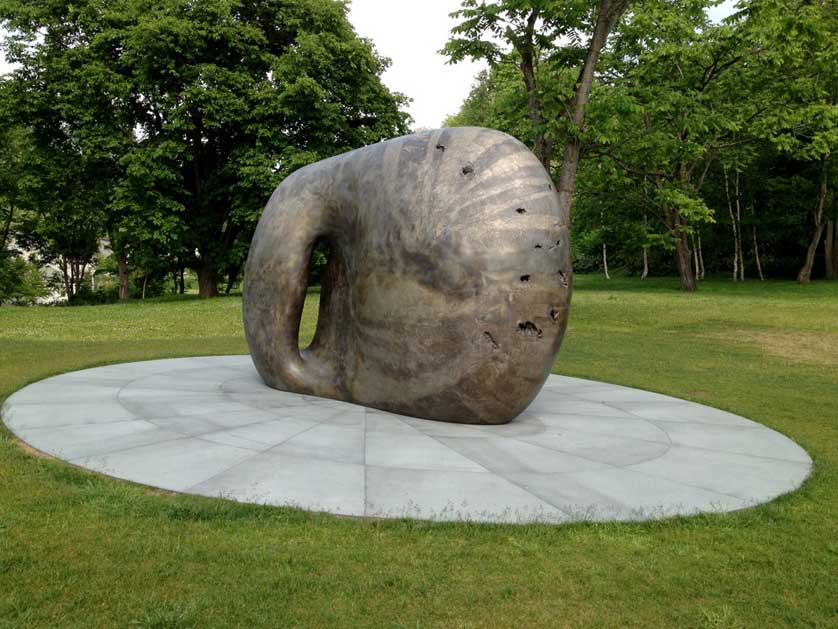 Kan Yasuda sculpture, Bibai, Hokkaido, Japan
All the themes of the city