Zao Snow Trekking
Second Visit to Zao, Yamagata, One of the Japan's Greatest Wonders 蔵王温泉
Greg Goodmacher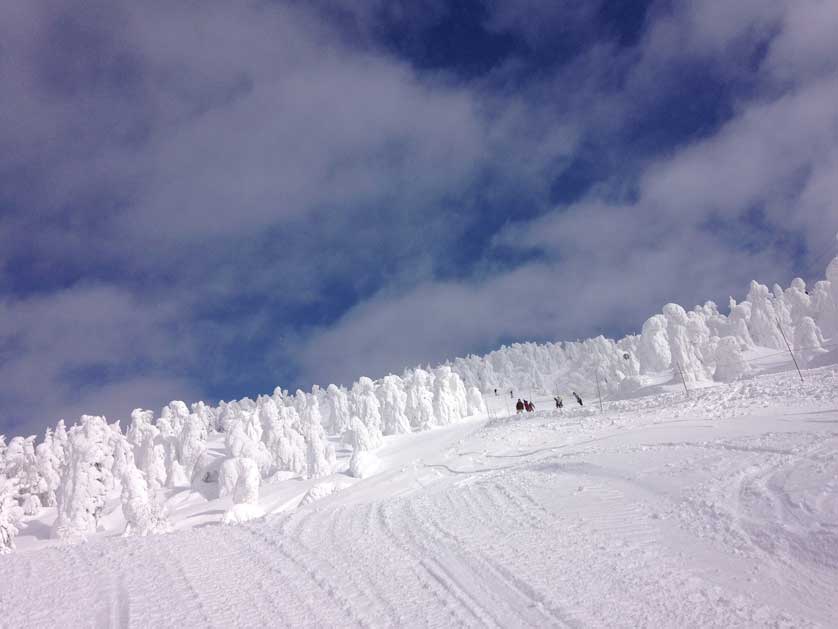 Zao, Yamagata Prefecture
It was shocking and depressing. Just before our planned departure to Zao in early February of this year, I checked the weather report and learned that Zao, in Yamagata Prefecture in the Tohoku region of northern Japan, was being buried by a blizzard of snow.
So much snow was piling up on the ground that all roads to and from Zao were closed. However, my wife and I tried again three weeks later, and the result was one of our greatest mountaineering experiences in Japan.
Driving into Zao in late February, I felt a sense of exhilaration. Mountains lush with snow beckoned us. Finally, after a three-hour drive, we had arrived, and the sky was bright. We had a few hours of sunlight left in the afternoon. Perhaps, we could see the snow monsters that day if we hurried. Snowshoes and stalks clasped in our arms, we rushed to purchase tickets for the next departing gondola. Paralleling the ski slopes, the gondola floated up the mountain. The trees below us held clouds of snow in their branches.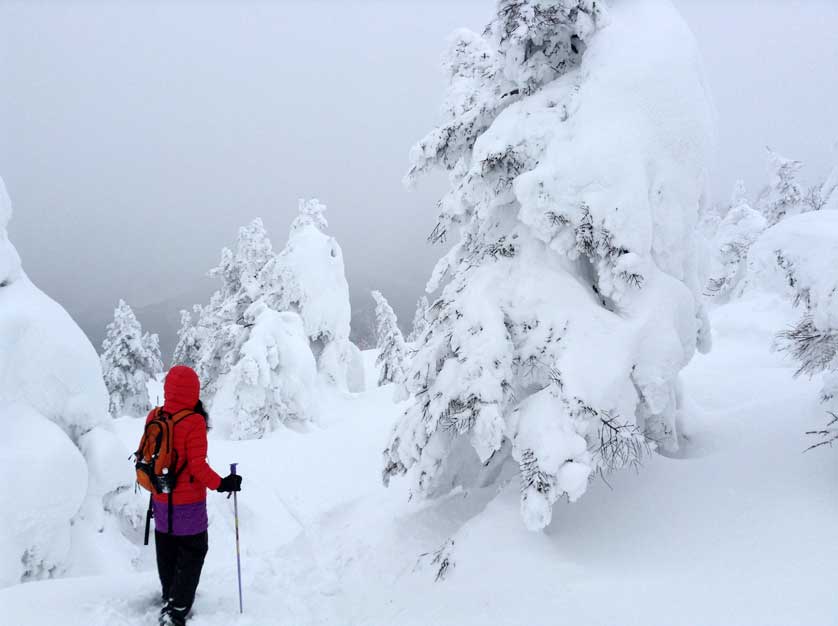 Snowshoe view, Zao, Yamagata Prefecture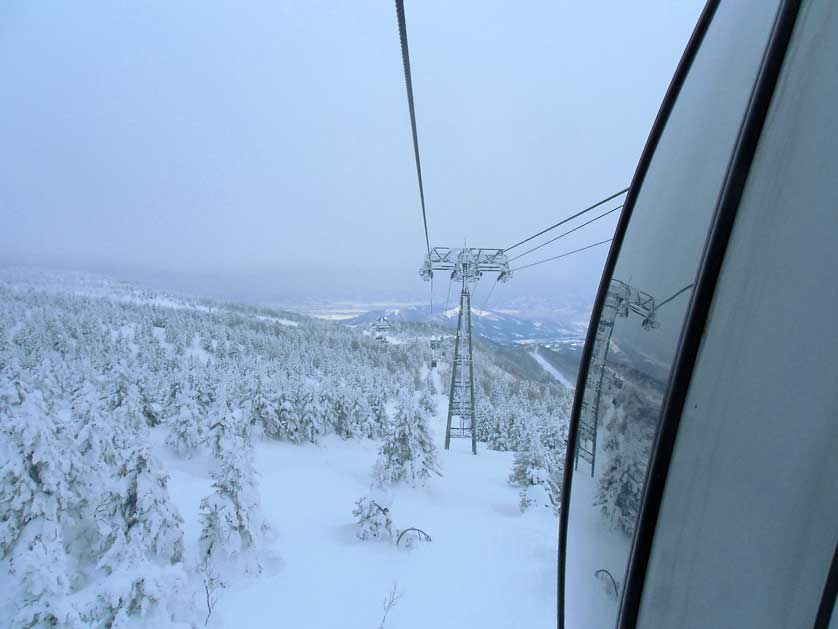 View from the gondola in Zao, Yamagata Prefecture
From where we exited the gondola, we could see the top of the mountain still far above. We followed a ski route downwards to a valley and ascended up the other side. We walked under a moving ski lift and climbed at an angle of forty-five degrees through woods. Another ski route zigzagged downwards, but we went straight up. Sometimes we slipped backwards down the slippery slopes, but we kept heading upwards, drawn like magnets toward the snow monsters.
We walked past snow-laden trees, but these were not yet snow monsters, since these trees still looked like trees. We had to reach an altitude of at least 1,500 meters, an elevation sufficient for trees to evolve into the famous snow creatures of Zao.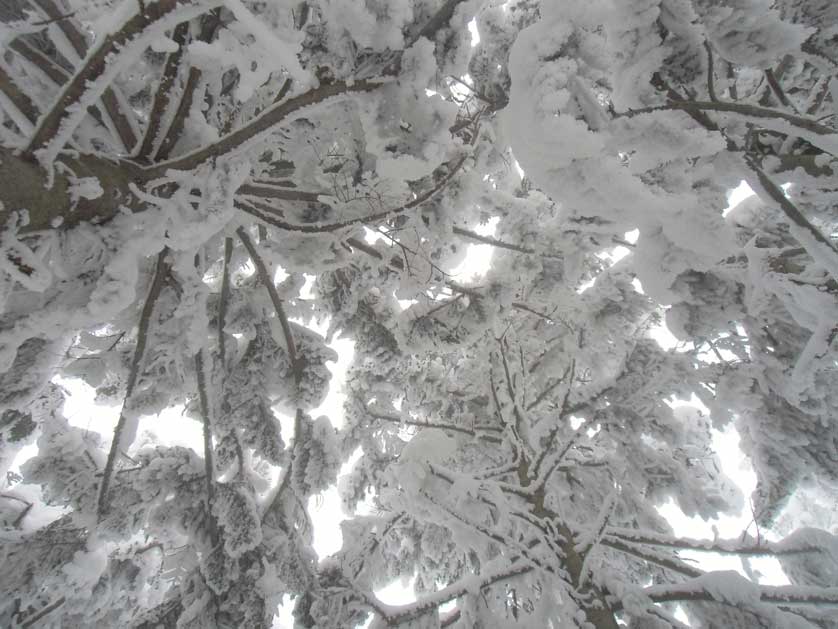 White tree beauty, Zao, Yamagata Prefecture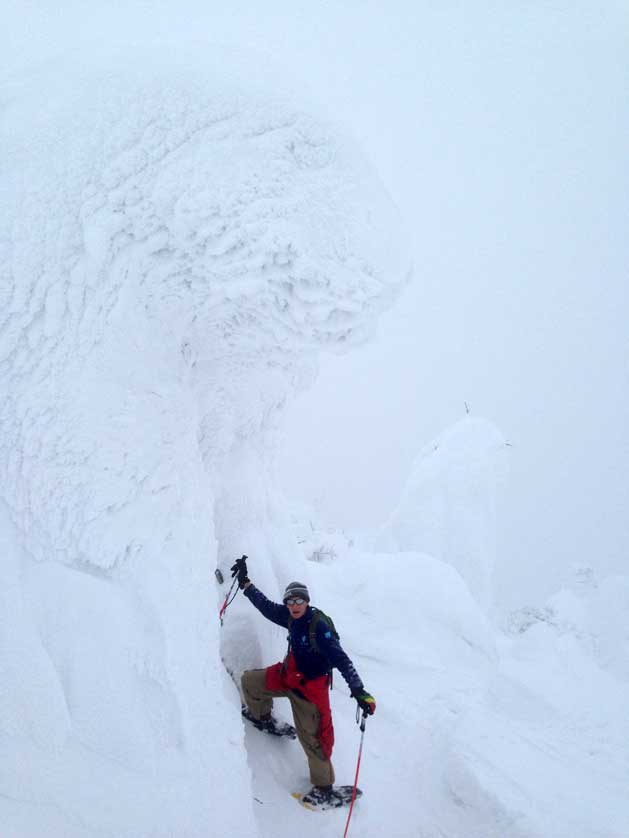 Below a snow dinosaur, Zao, Yamagata Prefecture
As we went up the mountain, the weather changed. Cold winds blew faster. Rolling grey clouds blocked the sun, but we kept going. The forest was becoming more and more enchanted, like a ghostly forest in a fairytale told by Lafcadio Hearn or the Grimm Brothers. My wife and I have trekked on snowshoes and have skied in many prefectures of Japan, but we had never viewed anything that could compare to what we were seeing.
We saw our first snow monsters: strangely shaped beings staring silently at us. Then, there were tens of them. No hundreds. Soon, we were walking in the center of thousands of gorgeously freaky snow monsters. Some looked as if they were characters from science fiction movies, such as Predator or Aliens; horror films, for example, Dracula or Scream; sword and sorcery tales, like Harry Potter or Dragon Slayer; or Japanese monster movies, for instance, Godzilla or Mothra.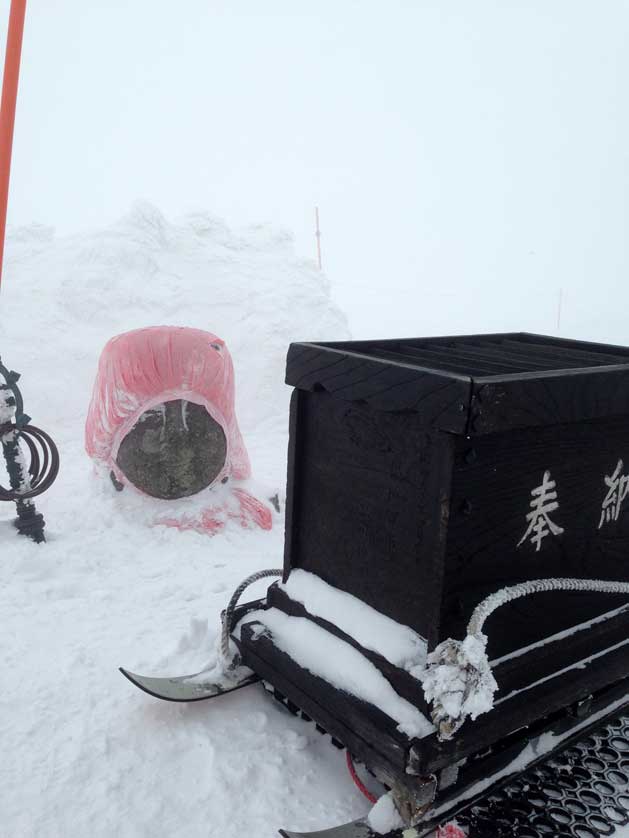 Buddhist Jizo Statue buried in snow
The same forces of nature that had created the wilderness art that we were witnessing were now making our trek more challenging. The wind grew stronger, forcing snow into our faces, and our hands grew numb. Snow flurries, like misty phantoms, raced across the snow and wove between trees. We reached the top of Mt. Jizo.
The elevation was above 1,700 meters. The sky, the crystalized ground, the snow monsters, and the air around us were all foggy white. We nearly missed the famous Jizo statue on Mt. Jizo. It was buried in snow to its shoulders. Visibility was decreasing rapidly, so we decided to return. If it were not for the deep prints of our snowshoes, we would have lost our way.
As we headed down the hill, the stormy wind turned into a breeze and the dark clouds drifted away. When we were almost at the bottom of the mountain, the warm sun and bright blue sky suddenly appeared. I was tempted to go back up again, but night would certainly come before I could go up and safely return. I also wanted to bath in one of Zao's famous hot springs so much that I smelled sulfur.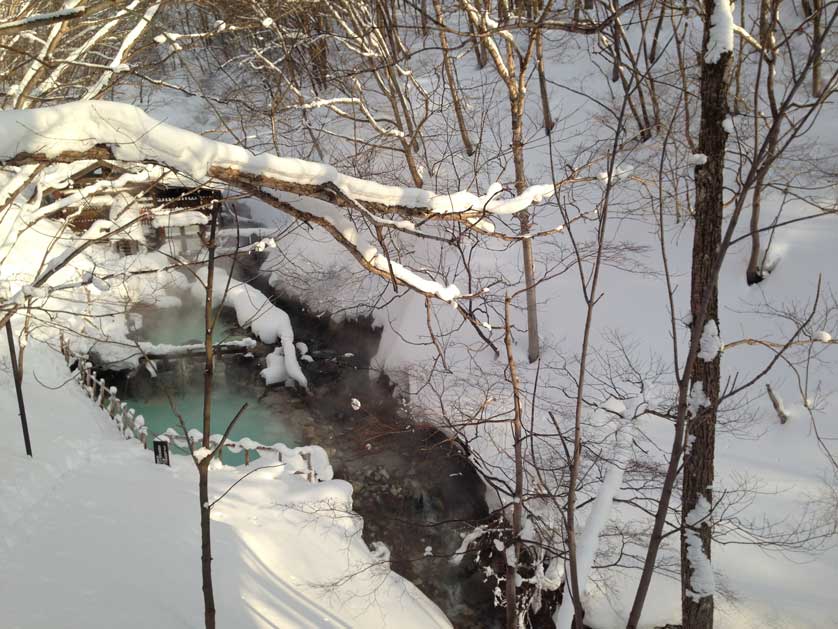 Dairotenburo, the Great Outdoor Hot Spring of Zao
The odor wasn't just in my imagination I realized, looking down into a precipitous ravine. A stream of hot steamy water was flowing out of the earth, into a wood building, and down into a deep pool before gurgling and sliding further down the mountain. Below me, was Zao's most famous hot spring (Dairotenburo, the Great Outdoor Hot Spring), and I had encountered its location by chance.
Town officials restrict entrance each winter from the end of October until the start of April because of deep snow, so we could only snowshoe along its edge. The gorge around it was one of the most beautiful locations for a hot spring that I have ever seen.
An onsen like this is exceptional, so I want, like most foreigners who visit Zao, to return. Despite the recent deteriorating relations between China and Japan, most of the foreign tourists were Chinese. I met over a dozen Chinese members of a photography club, each with a camera and lens that seemed as long as a baseball bat, focusing and clicking away at the skiers. A Chinese woman who was guiding twenty Chinese tourists explained that Oshin had boosted the popularity of Zao and Yamagata among middle-aged Chinese.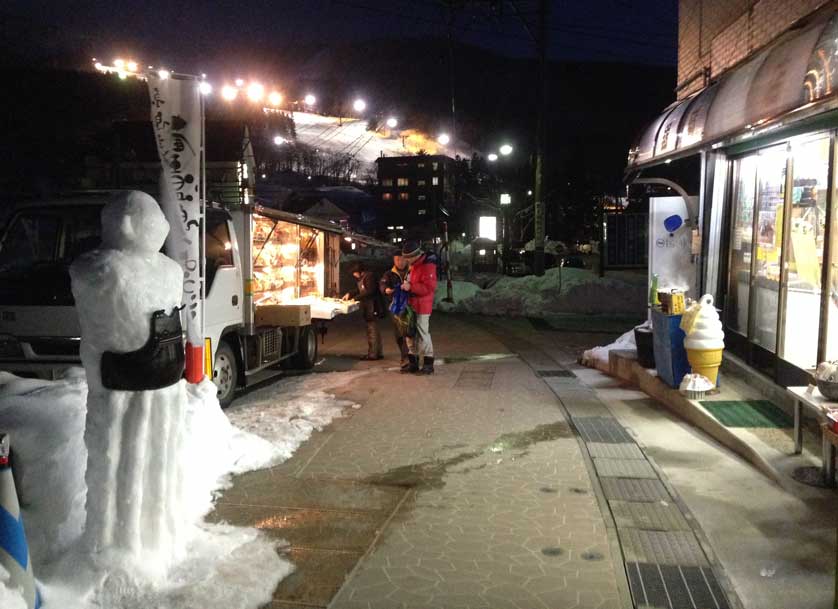 Snowy kendo practice dummy
Oshin is the name of a television drama, first broadcast between 1983 and 1984, about the life of an impoverished young Japanese girl who overcomes poverty, abuse, and other extreme hardships in her life. She eventually becomes the prosperous owner of thriving company with branches across Japan. It was one of the most popular Japanese television programs ever. Audiences in more than fifty countries, including China, watched Oshin on a daily basis. The program introduced Zao and other areas of Yamagata to the world. Last year, Oshin was made into a successful movie.
While we were in Zao, we stayed at the Hotel Zao. Using another coupon from Groupon Japan, we paid about half the normal rate. Some parts of the hotel need renewal, but service was excellent, and our spacious room provided a soothing view of forests and a mountain. While standing in the outdoor hot spring, I could spy the footprints of deer in the snow. Our dinner and breakfast were also fantastic.
After dinner, we meandered around the quiet town. Few people were out on the streets since temperatures are often colder than minus ten degrees Celsius. From a distance, we noticed one man standing in a kendo outfit without moving and staring into a shop. As we got closer, we realized it was a frozen snowman with a kendo outfit. We spoke to the shop owner who explained that her husband had created the snowman for his son to practice striking with his kendo stick.
Zao gave me two wonderful trips, and I am looking forward to returning. Future plans include bathing in the famous the Great Outdoor Hot Spring, trekking to Mt. Goshiki and around Lake Okuma, which is a crater lake whose water changes color depending on the weather, riding horses, and visiting the Zao Botanical Garden, which specializes in alpine plants.
There is one point that I would like to change about Zao: the artificial evening illumination of the snow monsters is repulsive. At night time, the trees are illuminated by powerful colored lights. Many tourists pay 2,500 yen (about $26.00 US) to ride a gondola up to the top of the mountain to see the display. Stars in an unlit sky are much more beautiful. This illumination strikes me as a terrible waste of energy that contributes to global warming. Higher temperatures will prevent the annual creation of the snow monsters, effectively killing the cash cow that brings tourists to Zao.
For more information about Zao, contact the Zao Onsen Tourist Association at (81) 23-694-9328 between nine am to six pm, or go to zao-spa.or.jp. To visit Zao, board a Shinkansen (bullet train) from Tokyo to Yamagata Station. From Yamagata Station, board a bus for Zao. Step off the bus and begin your exploration.
Access - getting to Zao Onsen
From Tokyo Station to Yamagata Station by shinkansen bullet train is around 2 hours and 44 minutes.
From Sendai to Yamagata is 73 minutes on the JR Senzan Line. Buses from Yamagata Station to Zao Onsen take about 40 minutes. There are overnight highway buses to Yamagata from Tokyo. By car, Zao Onsen is 17km from Yamagata Zao IC on the Yamagata Expressway.
The author of this article blogs about Japanese hot springs at hotspringaddict.blogspot.jp.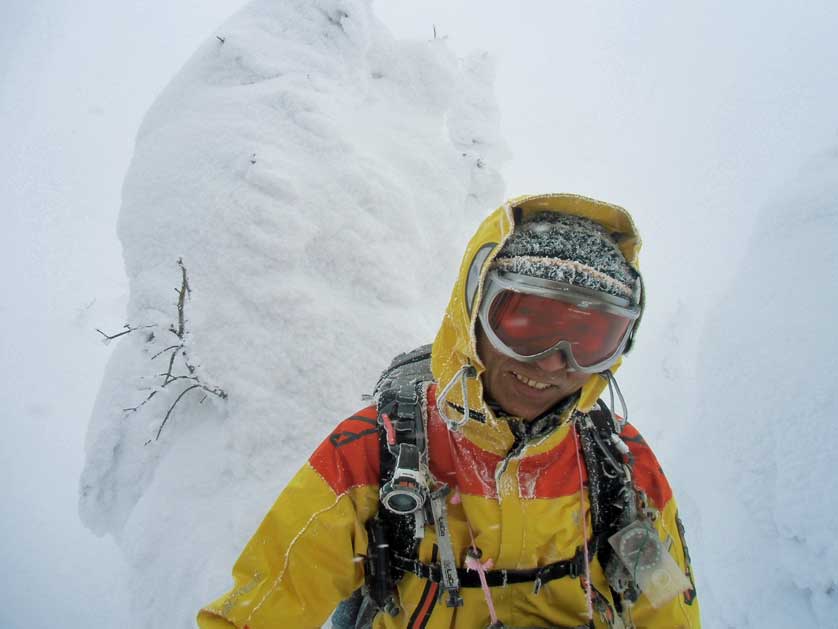 Zao, Yamagata Prefecture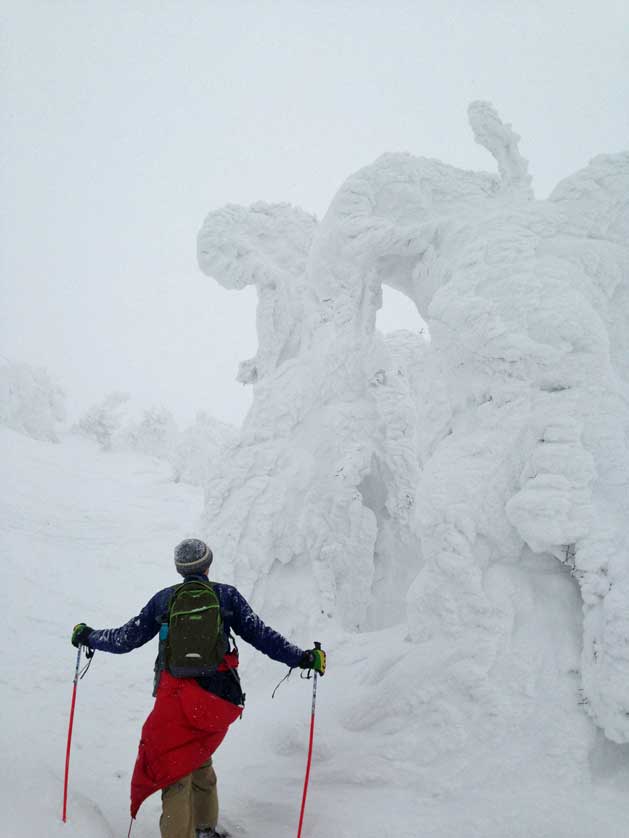 Snow monsters, Zao, Yamagata Prefecture
Zao snow trekking: read about snow shoeing in the snowy mountains at Zao Onsen in Yamagata Prefecture, northern Japan.
All the themes of the city