Sendai
仙台




Local Time 06:45
Symbol : sunny

Temp : 16°C

Date : Today

Symbol : sunny_cloudy

Temp : 15°C

Date : Tomorrow

Symbol : sunny_cloudy

Temp : 17°C

Date : Sunday

Symbol : sunny_cloudy

Temp : 14°C

Date : Monday
Sendai in Japan: A Medieval History Linked to Lord Masamune Date
His helmet decorated with a half-moon, his black horse, his castle: everyone in Sendai knows Date Masamune (1567-1636), the great lord who made ​​this small port town a prosperous and open city, from its founding in 1604. Renowned as angry and vengeful, Masamune was also an esthete, a connoisseur of Noh theater and calligraphy. The history and influence of the "One-Eyed Dragon" (the nickname of Masamune, who lost an eye as a child) can be discovered to the west of Sendai, nestled on Kyogamine Hill.
Its ancient castle, Aobajô , is worth more for the spectacular view it offers than for its few ruins, even if a watchtower conceals beautiful period pieces. There is also the Gokoku Shrine, which is attached to the Yasukuni-jinja shrine in Tokyo. It has a small museum dedicated to the military history of modern Japan.
Things to see and do in Sendai
Sendai is blessed with a cooler climate during Japan's notoriously hot summers, making it a great place for visitors to base themselves for an adventure in Japan's north.
Sendai is the gateway to the Tohoku region of northern Japan with shinkansen bullet train connections to Tokyo to the south and onwards to Aomori and Akita further north.
Things to see and do in and around Sendai include the Sendai City Museum; Masamune's elaborate mausoleum - Zuihoden; Sendai Castle (Aoba Castle) ruins, the sculpture-lined Jozenji street, and the scenic island-dotted bay at Matsushima on the coast as well as beautiful Zao Onsen in the nearby mountains. Both offer hot-springs & great views. Shiroishi Castle is around 50 minutes by train to the south.
Miyagi Stadium in Rifu was a World Cup 2002 venue and is a planned venue for 2020 Olympic football.
Sendai Attractions
Zuihoden is the mausoleum of the powerful daimyo, Masamune Date, (pronounced Dah-teh, 1567-1636, known as the "One-Eyed Dragon"). Zuihoden is reminiscent of the Tokugawa mausoleum in Nikko in its elaborate beauty.
The original, ornate 17th century buildings were destroyed in World War II but completely restored in 1979.
Set at the top of a flight of steep stone steps within a forest, the site also includes the mausoleums of Date Tadamune and Date Tsunamune, the second and third successors to the father of the Date clan.
Sendai Castle, aka Aoba-jo, dated from 1602 but nothing remains today of the buildings except for the impressive stone walls and a reconstructed turret. The castle grounds do have fine views of the city and an iconic statue of Masamune on horseback. The Aoba Castle Exhibition Hall has computer-generated displays of what the castle looked like in its glory days.
The Toshogu Shrine near Toshogu Station on the JR Senzan Line was built by Date Tadamune to honor Ieyasu Tokugawa, the founder of the Tokugawa shogunate, and his great ally.
Rinno-ji Temple has a three story pagoda and a strolling garden, which are the highlights of a visit here. Rinnoji was founded in the 1440s but moved to its present location in the early 17th century. The temple is a family temple of the Date clan.
Osaki Hachimangu Shrine was established by Date Masamune in 1607 and is designated as a National Treasure. The Main Hall is decorated using a distinctive black lacquer and gold leaf. Hachiman is considered a deity of warfare.
Komyoji Temple near Kita-Sendai Station on the Senzan Line contains the grave of Tsunenaga Hasekura (1571-1622), who was Masamune Date's ambassador to Mexico and Spain. Hasekura sailed in the Date Maru to Acapulco via Luzon in The Philippines in 1613 and went on to visit Spain, Switzerland and Rome. Hasekura's vessel of 150-180 men was one of the first Japanese ships to cross the Pacific. Hasekura returned to Japan in 1620 having been baptized a Christian, but by this time Christianity was out of favor with the Tokugawa regime and Hasekura's son (the head priest of Komyoji) and some of his servants were executed for their faith.
North west of Sendai city center adjacent to the Best Western Hotel Sendai and the Sendai Hills Golf Club is a modern statue of Kannon (Goddess of Mercy) standing 100m tall.
Ryuun-in Temple (龍雲院), 5km north west of Sendai Station contains the tomb of Shihei Hayashi (1738-1793), a prominent military scholar whose writings helped to inspire the movement that led to the end of the Shogunate in 1867. There is a statue of Hayashi in Kotodai Park and a plaque commemorating his life in Aoba Castle.
Nishi Park (Sakuragaoka Park) was formerly the residential quarters of the samurai retainers of the Date clan. Tsutsujigaoka Park is known for its ancient cherry trees some of them approaching 300 years of age.
Sendai Shopping & Museum Information
Other sites included on the Loople Sendai bus tour, which departs from the west side of Sendai Station, are Sendai's two major shopping streets of Aoba Dori and Ichibancho and the Bansuisodo - the preserved house of local minor poet and composer, Bansui Doi.
Just north of Sendai Station, the AER Building at 145.5 meters (477 feet) is the tallest building in Sendai and the whole Tohoku region. There's a branch of Maruzen with books in English, a Starbucks, the Tohoku Pokemon Center and up on the 31st floor the The Panorama Terrace, with great views out over Sendai on a clear day.
The Sendai City Museum introduces the history of the city and displays of Date family treasures including Masamune Date's suit of armor and relics from the fascinating journey to Mexico and Europe by his retainer, Hasekura Tsunenaga (1613 - 1620). This epic voyage, Japan's first embassy to the Americas and Europe, is described in Shusako Endo's novel The Samurai.
Other museums in Sendai include the Miyagi Museum of Art and Tohoku University's Museum of Natural History. Of the temples and shrines in the city, Osaki Hachimangu Shrine dates from 1607 and is a good example of Momoyama Period architecture. The shrine houses the guardian deity of the Date family and is the site of the Donto fire festival in January. Nearby Rinnoji Temple has a Japanese-style garden noted for its irises in June.
Sendai Mediatheque is a modern art and film center on Jozenji Dori. Besides its library, Mediatheque hosts exhibitions, film screenings and workshops.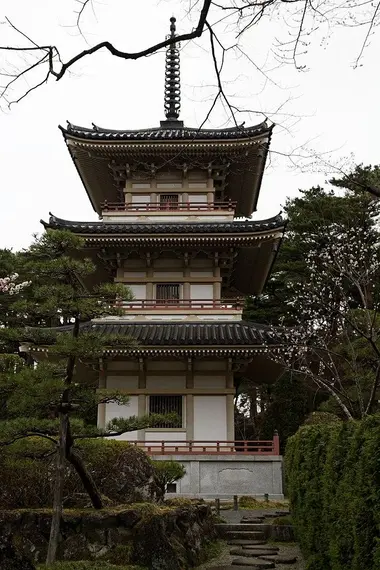 Festivals in Sendai
Sendai's major festivals are the Aoba Festival on the third weekend of May with processions of colorful floats accompanied by people in samurai dress and taiko music. The Saturday is known as Yoi Matsuri and features the colorful "Sparrow Dance" (suzume-odori). Sunday is Hon matsuri and features the main pageant and procession and more "Sparrow Dances."
In August Sendai's Tanabata Festival is one of the biggest matsuri in the Tohoku region drawing thousands of spectators. Bamboo poles are decorated with paper streamers and there are parades along Jozenji Dori and firework displays. The Jozenji Jazz Festival in September sees hundreds of street musicians performing throughout the city.
The Dondo Matsuri at Osaki Hachimangu Shrine takes place on January 14 and is an annual Fire Festival where New Year straw decorations are ceremoniously burnt in a large bonfire.
Sendai Nightlife & Eating Out
The Kokubuncho area in central Sendai is the place to go to sample Sendai's nightlife. There is a variety of good bars, clubs and restaurants and you can sample Sendai's specialties - gyu-tan calf tongue and Matsushima oysters (when in season).
Near Sendai Station is Gyutan dori with lots of restaurants serving the specialty.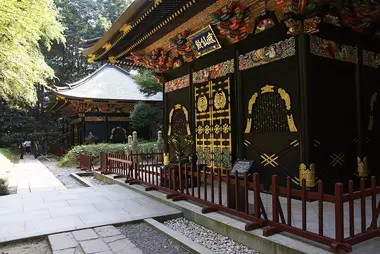 Getting Around Sendai
Sendai has two subway lines, intersecting at Sendai Station. The Namboku Line runs roughly north from Izumi Chuo to Tomizawa in the south. The Tozai Line runs east-west, from Yagiyama Zoological Park in the west to Arai in the east.
The Loople Sendai Tour Bus (630 yen for a one-day pass; 260 yen for a single ride, 920 yen for a One-day Pass for Loople Sendai and Subway) enables visitors to hop on and off on a circular tour of the city's main sites of interest.
The first Loople Sendai bus departing Sendai Station is at 9 am and the last at 4 pm. Buses are every 20 minutes on weekdays every 15 minutes on weekends and public holidays. The circuit of Sendai's tourist attractions takes about 1 hour and 10 minutes in total, comprising 16 stops. Be warned, the bus, while quaint, is far too small for the number of users trying to cram into it on weekdays and public holidays.
The Loople Sendai Bus stops at bus stop no.1 Sendai Station, 2 Aoba-dori/Ichibancho Subway Station, 3 Bansuisodo, a literary museum (near the Sendai City War Reconstruction Memorial Hall), 4 Zuihoden Mausoleum, 5 Sendai City Museum / Sendai International Center (get off here for Tohoku University Botanical Gardens, not at the "Tohoku University Botanical Gardens" bus stop), 6 Site of Sendai Castle (near Aoba Castle Museum), 7 Tohoku University Botanical Gardens (is the name of the bus stop, but the bus stop to get off at for the gardens themselves is actually "5. Sendai City Museum / Sendai International Center"), 8 Aobayama Subway Station (near Tohoku University Aobayama Campus & Miyagi University of Education), 9 Tohoku University Museum of Natural History, 10 International Center Subway Station / Miyagi Museum of Art, 11 Traffic Park / Sankyozawa Water Power Plant (near the Sankyozawa 100 Year Electric Historical Center), 12 Osaki Hachimangu Shrine, 13 Nikoh-Miyagi-ken Bijutsukan-mae (Miyagiken Sendai Daini Koto School & the Miyagi Prefectural Museum of Art), 14 Sendai Mediatheque, 15 Jozenji-dori Ave/Sendai City Hall (near Kotodai Park), 16 Hirose Dori Subway Station and back to 1. Sendai Station.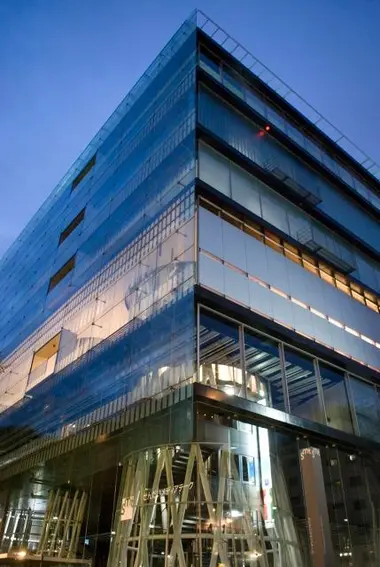 Sendai Access
Flight connections from Tokyo, Osaka, Sapporo, Nagoya, Fukuoka, Beijing, Seoul and other Asian destinations. Sendai Airport is 18km (11 miles) south of the city center and connected by bus (40 minutes) and train (17 minutes by express).
From Tokyo JR Tohoku Shinkansen super-express to Sendai Station (1 hr. 36 min. to 2 hr. 32 min.) is a frequent service running on to Morioka. Sendai is also connected by train with Yamagata, Matsushima and Sendai Airport.
There are day bus services to Shinjuku in Tokyo and Niigata and night buses to Tokyo, Kyoto, Kanazawa and Osaka. Sendai is the major hub for buses in the Tohoku region with departures to most destinations including Morioka, Akita, Aomori and Hachinohe.
Book highway buses to Sendai from Tokyo including the routes Hamamatsucho-Shinjuku-Sendai (day) and Shinjuku-Akihabara-Sendai (night). Book the Sendai to Shinjuku night bus leaving Sendai at 12.10am and arriving in Shinjuku at 5.35am.
There are overnight ferry services to Nagoya and Tomakomai on Hokkaido from Sendai-ko (local JR train to Tagajo station on the Senseki Line then a taxi, bus or 15-20 minute walk) or a bus from Sendai Station. The ferries are operated by Taiheiyo Ferry company. 
Both Sendai Airport and Sendai Port were damaged in the March 2011 earthquake and subsequent tsunami but are both now fully repaired and functioning normally.
---
Visit around Sendai
Sendai is a great place to base to explore the rest of Miyagi Prefecture and also to head north into Tohoku.
Picturesque Matsushima Bay and Oku-Matsushima, the peninsula that separates Matsushima Bay from Ishinomaki Bay, is an easy day or half-day excursion from Sendai. Oku-Matsushima is best known for its imposing craggy Sagakei cliffs that form a memorable contrast with the tranquility of Matsushima Bay. Reasonably priced cruises of the cliffs leave from a jetty on Oku-Matsushima, accessible from Route 27, near the Ohtakamori Kanko Hotel. Oku-Matsushima is reached from Nobiru Station, 15 minutes north from Matsushima on the JR Senseki Line.
Shiroishi to the south has a restored castle and some pretty Edo Period streets to wander.
There are a variety of onsen resorts accessible from Sendai. Naruko Onsen is about one hour by train from Sendai (JR Tohoku Line to Furukawa and then JR Rikuu-Tosen Line to Naruko Onsen). The waters at Naruko are known for their healing properties. Scenic Narujo Gorge is close by and reached by local bus.
Akui Onsen is best reached by bus from Sendai Station and hiking trails from this delightful onsen resort lead to Akui Otaki, a 55m-high waterfall and Futakuchi Gorge. The 1,366 meter (4,481 foot) high Mt. Daito-dake can also be hiked in about 3 hours.
Sakunami has a number of hot springs and is just 38 minutes on the Sanzen Line from Sendai Station.
Hiraizumi is a UNESCO World Heritage Listed site about 120 km (75 miles) north of Sendai. Hiraizumi is known for its beautiful temples and gardens including the incredible Konjikido or Golden Hall. Built in 1124, the 5.5 meter (18 foot) square Buddhist altar with four pillars is coated with black lacquer plated with golf leaf and mother-of-pearl inlay.
Yamadera (Risshaku-ji) in neighboring Yamagata Prefecture dates back to 860 but was in its heyday during the Kamakura Period (1192-1333) of Japanese history. A number of temples and sub-temples lie in a majestic cedar forest on Mt. Hoju. Among the approximately 40 temple buildings, Kompon Chudo Temple supposedly still burns a flame brought from Enryakuji Temple in Kyoto over 1,000 years ago.
Okuno-in is the highest temple on the mountain, a climb of 1,100 steps! Godai-do offers wonderful views over the valley below. The Hihokan is the temple treasury and the admission point (300 yen) up the mountain.
From Sendai Station take a JR Senzan train to Yamadera Station (just under an hour). The haiku master Basho was a famous visitor and composed a famous haiku poem here, which is inscribed in a rock memorial. The Basho Kinenkan (Basho Memorial Museum) is close to Yamadera Station.
All the themes of the city
Interested by Sendai
Discover other cities to explore