Yamagata Prefecture
Japan's Regions: Yamagata 山形県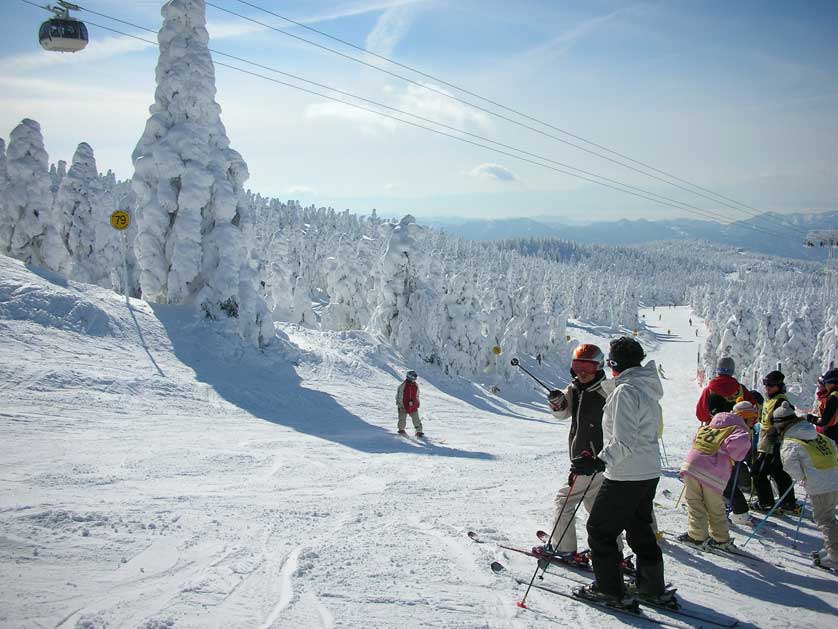 Zao Onsen Ski Resort Yamagata Prefecture
Yamagata Prefecture, located on the north west coast of Honshu is south of Akita Prefecture and also borders Fukushima Prefecture, Niigata Prefecture and Miyagi Prefecture.
Yamagata is a largely rural prefecture with 17% of its area made up of mountainous National Parks: the Bandai-Asahi National Park as well as the Chokai, Kurikoma, and Zao Quasi-National Parks.
Yamagata is Japan's largest producer of cherries and pears and fruit growing is an important part of the area's economy. Apples, grapes, melons, peaches, persimmons and watermelons are all grown in Yamagata, which like neighboring Niigata also has a high reputation for its rice.
Yamagata city is the largest city in Yamagata Prefecture with a population of over 250,000 inhabitants and is the capital of the prefecture.
Other important towns and cities in Yamagata Prefecture are Higashine, Nagai, Sakata, Shinjo, Tendo, Tsuruoka and Yonezawa.
Yamagata has slightly cooler weather in the summers than areas further to the south, though temperatures can still top 30 degrees centigrade (86 degrees Fahrenheit) or more in July and August. Snowfall along the Japan Sea Coast and in the mountains can be heavy in winter.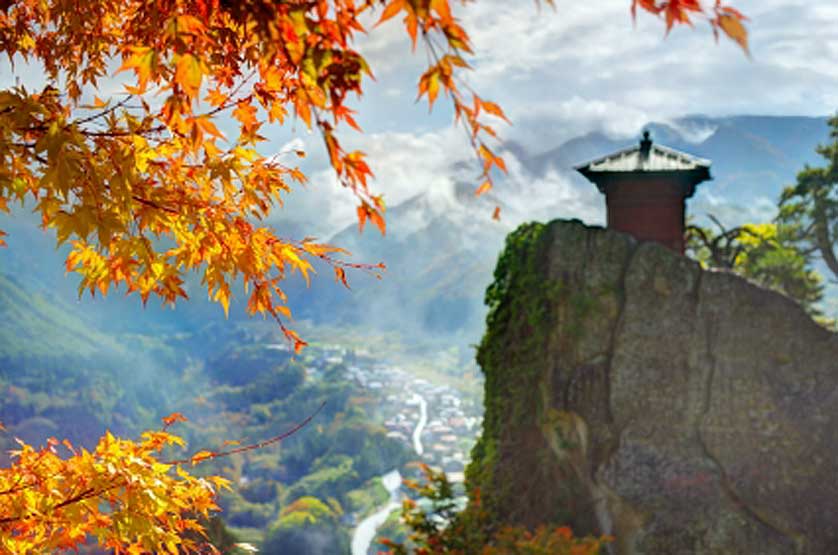 Yamadera, Yamagata Prefecture, Japan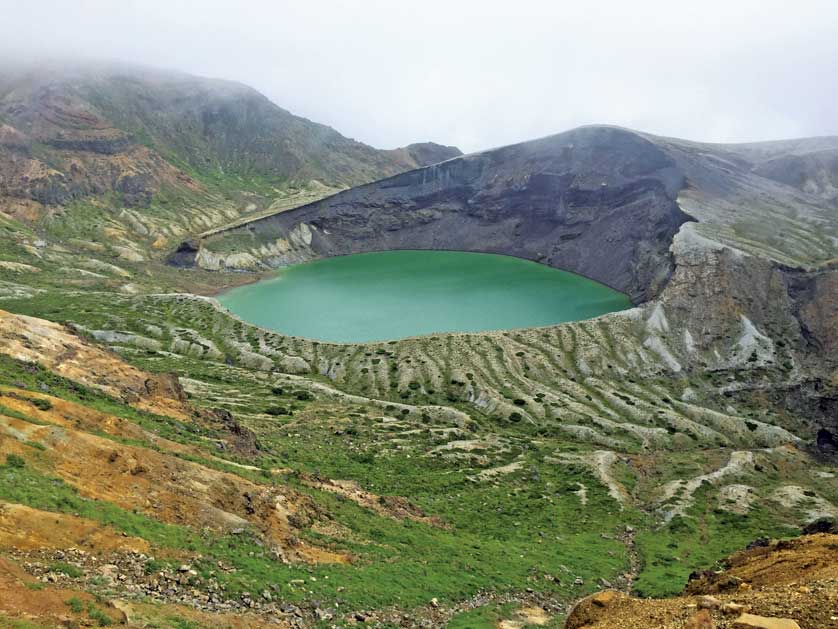 Crater lake at Mt. Zao, Yamagata Prefecture
Yamagata Attractions
Yamagata offers skiing in winter at a number of ski resorts including Mt. Zao, which is also famous for its hot springs (onsen) and Okama crater lake.
Other onsen resorts in Yamagata Prefecture are Ginzan Onsen and Imagami Onsen.
Yamadera, also known as Risshakuji Temple, is Yamagata's most famous temple. Located on a hill close to Yamadera Station, Yamadera Temple dates from 860 and was said to have been founded by the priest Ennin (aka Jikaku Daishi). The temple buildings are built into the sides of the hill and on its summit, giving the Tendai-sect complex a dramatic effect and some stunning views over the valley below.
Dewa Sanzan ("the three mountains of Dewa") are the sacred mountains of Gassan (1980 meters), Haguro (419m) and Yudono (1504m) and are associated with the syncretic, ascetic sect of Shugendo. Dewa Sanzan is best reached by bus from Tsuruoka. The three mountains are associated with birth, death and re-birth.
The town of Tendo is known for its production of shogi (Japanese chess) pieces and shogi boards.
The recently rebuilt Kamo Aquarium on Kamo Port in Tsuruoka City is renowned for offering superb encounters with numerous varieties of jellyfish, and also has a popular sea lion show. Google Map to Kamo Aquarium
Kaikoji Temple displays the mummified remains of two monks who fasted to death in acts of religious devotion.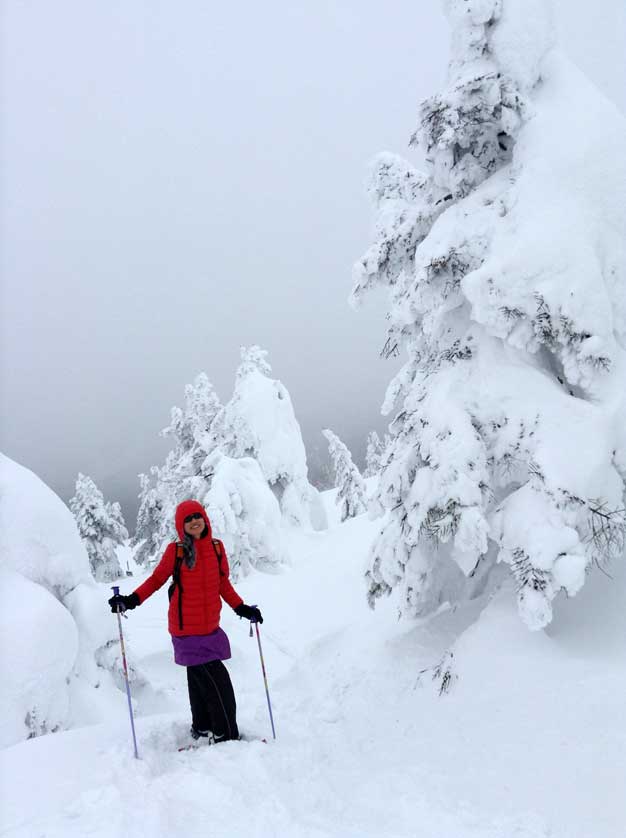 Winter Happiness in Zao, Yamagata Prefecture.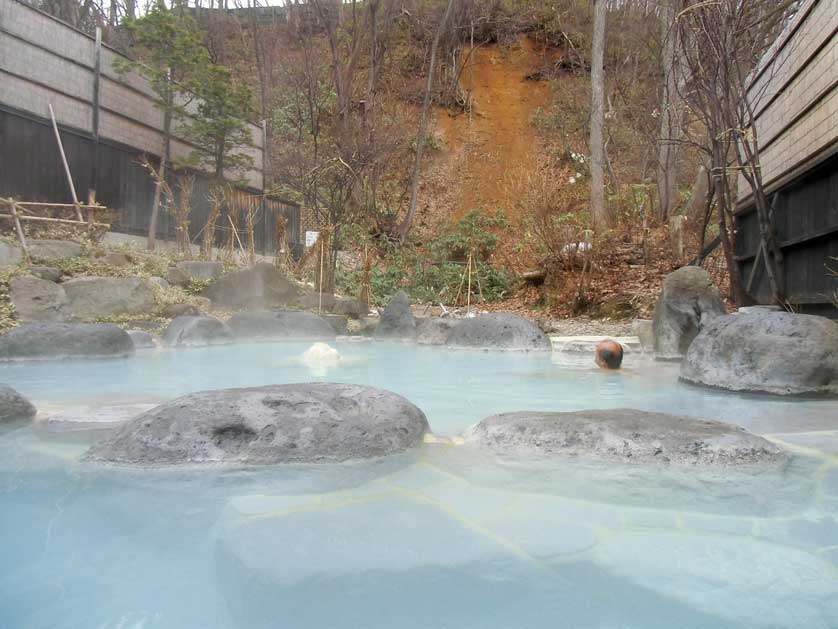 Hot Spring Onsen in Zao, Yamagata Prefecture.
Yamagata History
The early history of what is now Yamagata Prefecture saw the area settled by the Ezo or Ainu people. During the Edo Period the modern-day prefectures of Yamagata and Akita were known as Dewa Province. The ruling clan in the castle town of Yamagata were the Mizuno family.
The haiku master, Basho, wrote about his travels in this remote region in the late 17th century in his work Oku no hoshomichi (The Narrow Road to the Deep North) and composed a famous poem at Yamadera.
Access
Air
Flight connections from Yamagata Airport to Osaka, Sapporo, Nagoya and Fukuoka. Shonai Airport has flights to Tokyo, Osaka and Sapporo. Buses from Yamagata Airport to downtown Yamagata take about 45 minutes.
Train
Yamagata is on the Tohoku Shinkansen Line from Tokyo and Ueno Station via Fukushima to Shinjo. The journey from Tokyo to Yamagata is 2 hours, 47 minutes. There are trains on the JR Senzan Line to Yamadera and Sendai. The JR Ou Line connects Yamagata city with Yonezawa and Omagari in Akita Prefecture with onward trains to Akita city and Tazawa-ko.
Bus
There are highway buses from Yamagata Station to Sendai (1 hour), Niigata (3 hours, 45 minutes) and overnight to Tokyo (6 hours).
Yamagata Prefecture: read a guide to Yamagata Prefecture on the Japan Sea Coast of Japan's northern Tohoku district.
All the themes of the city