Kanzanji Onsen
Japan Guides: Kanzanji Onsen
Kanzanji Onsen かんざんじ温泉
Located on an inlet on the eastern shores of Lake Hamana (Hamanako), north west of Hamamatsu, is Shizuoka Prefecture's largest onsen resort area, Kanzanji Onsen.
Kanzanji is home to a number of hotels and ryokan with hot spring baths, the Hamanako Pal Pal fun park, a ropeway up to Okusayama Sightseeing Platform, Kanzanji Temple, Hamamatsu City Zoo, Hamamatsu Flower Park and lots of places to pick your own fruit in season: mainly strawberries and mandarin oranges.
Kanzanji Onsen also draws wind surfers, sea kayakers and parasailing enthusiasts, especially in summer.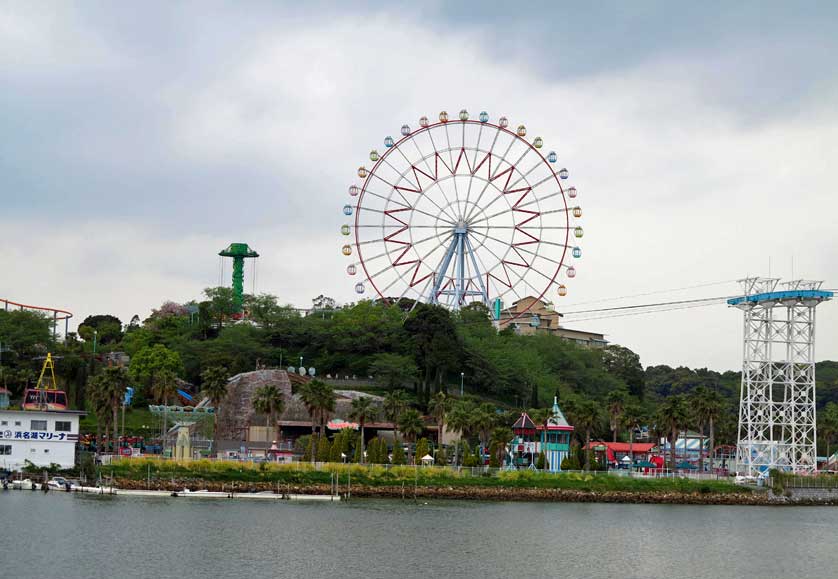 Lake Hamanako at Kanzanji, Hamamatsu, Shizuoka
Kanzanji Onsen Attractions
Kanzanji Onsen as a hot spring resort dates only from the 1950's when a hot spring was discovered and drilled. A number of hotels were subsequently built with grand baths utilizing the hot water, and with beautiful views over Lake Hamanako.
These hotels and ryokan include the truly resort-style Sago Royal Hotel close to Kanzanji Temple, the traditional and very friendly Ryokan Nakaya, the big Hamanako Royal Hotel with its tennis courts, free parking, and 13th floor bar overlooking Lake Hamanako, and the perfectly located Hamanako Kanzanjisou on beautiful grounds overlooking the lake, and offering great Japanese food.
For an upmarket bathing experience try the Hoshino Resort, Kai Enshu, Tel: 050 3786 0099.
The large bath complex Hanasaki-no-Yu, part of the luxury Hotel Wellseason Hamanako, has three baths, a buffet restaurant, relaxation areas and a massage center.
Most of the onsen in Kanzanji are open to day visitors as well as guests staying at their respective hotels and ryokan.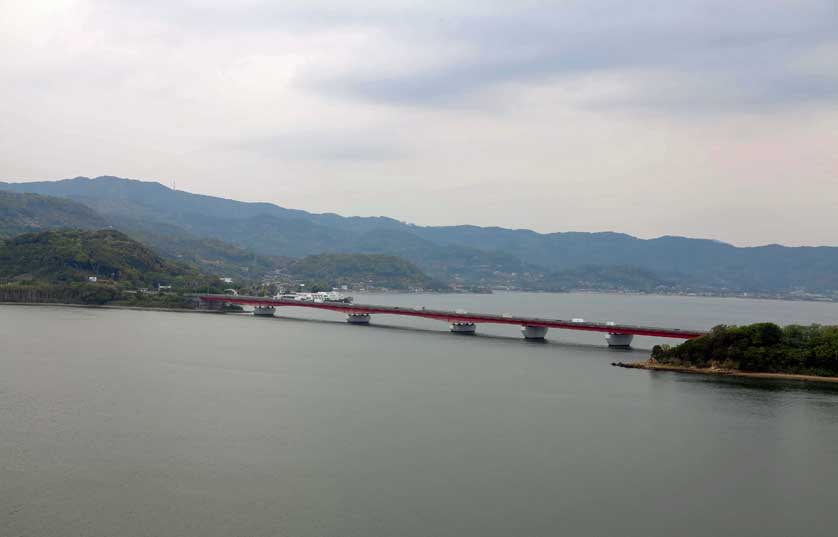 Hamanako Bridge of the Tomei Expressway, Hamamatsu, Shizuoka Prefecture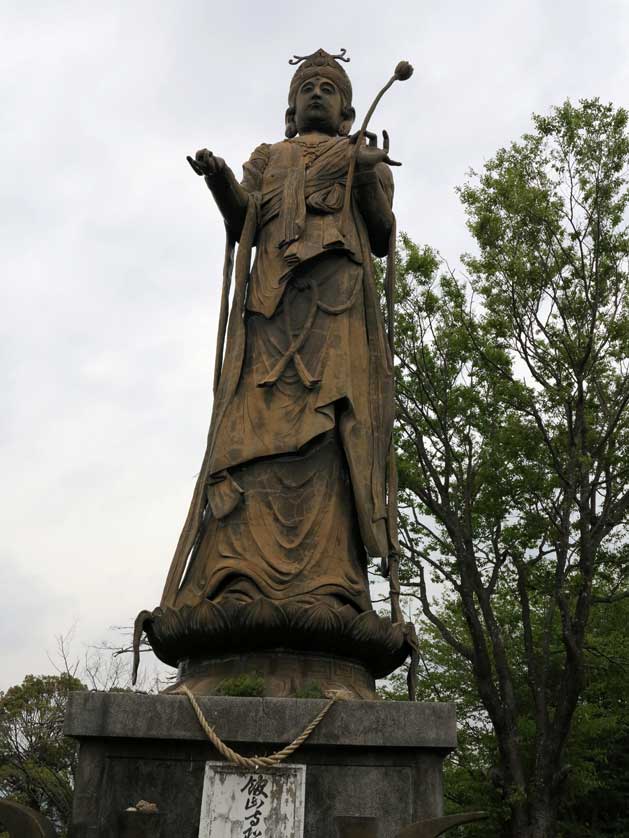 Seikanzeon Bosatsu, Kanzanji Temple, Kanzanji Onsen, Shizuoka
Kanzanji Temple predates the onsen and some say it was founded by the famous priest Kobo Daishi (Kukai) in the 9th century, Kukai's name is associated with hundreds of temples in Japan and it seems incredible that he could have founded all of them!
Kanzanji Temple is a Soto Zen temple located on a small hill (Tateyama) behind the Sago Royal Hotel and the grounds contain a large statue of Kannon the Buddhist Goddess of Mercy, viewing spots over Lake Hamana, and a cave, Ana-Daishi, where prayers can be said for healing of diseases of the eyes.
There are also some small shrines in the complex where supplicants can write ema votive plaques in the hope of finding a spouse or for happy marriage. The temple has an annual fire festival on December 15.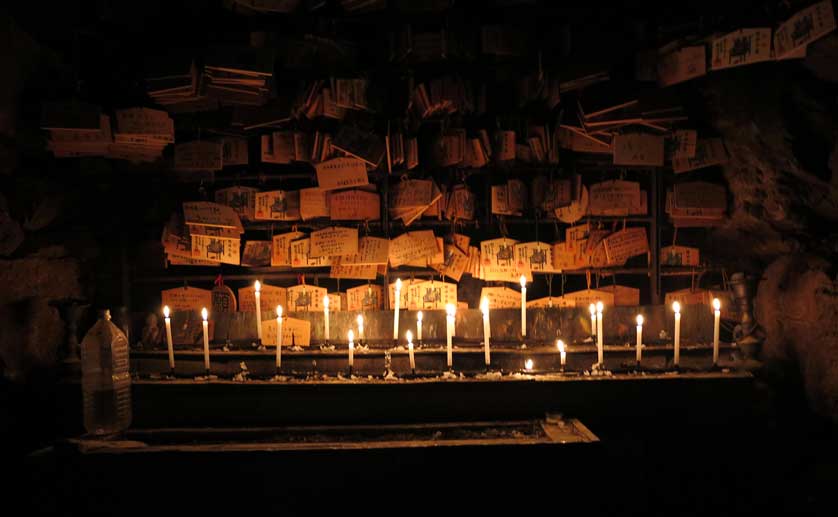 Ana-Daishi Cave, Kanzanji Temple, Kanzanji Onsen, Shizuoka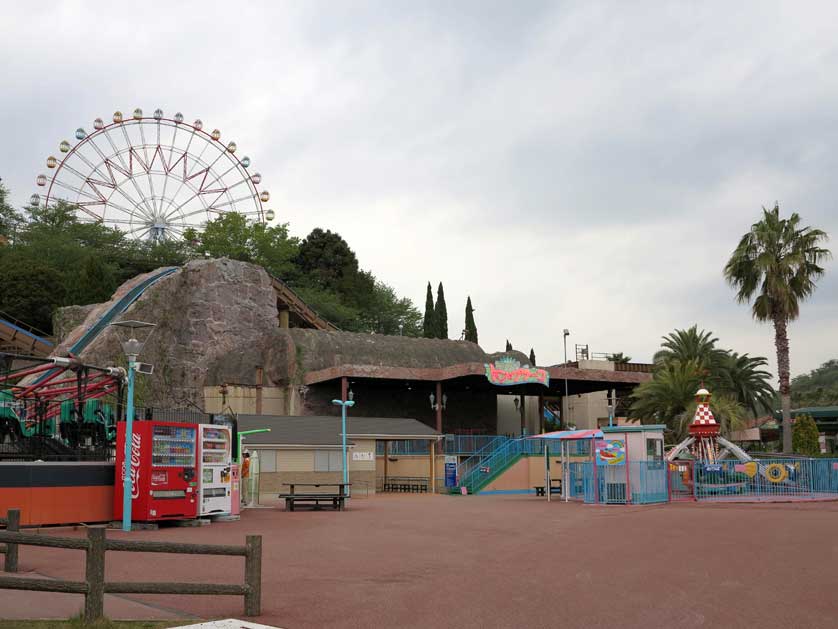 Pal Pal Amusement Park, Kanzanji Onsen, Hamamatsu, Shizuoka Prefecture
Hamanako Pal Pal Amusement Park has a number of fun roller coasters, a Ferris wheel, water rides and merry-go-rounds. There are also stage shows for kids featuring various popular anime characters, seasonal events, pools and a model train. There are 30 minute and one hour cruises on Lake Hamanako from Hamanako Pal Pal, which also pick up from Hamamatsu Flower Park. Visitors can also rent a variety of vessels ranging from paddle boats to speed boats for fun on the water. Basic entrance to Pal Pal is 1,100 yen for adults with the rides extra, or a variety of "Free Passes" with rides included from 3,100 yen to 4,100 yen. Closed Thursday, often closed Tuesday. Weekday hours: 10am-5pm, weekend and public holiday hours longer.
Kanzanji Ropeway runs up to Okusayama Sightseeing Platform and the Hamanako Music Box ("Orgel") Museum from the shores of the lake at Hamanako Pal Pal Amusement Park and affords superb views over the water. Presently round-trip tickets are 820 yen for adults and 410 yen for children (1,450 and 700 yen including entry to the Music Box Museum) and hours of operation are 9am-5.30pm. The Kanzanji Ropeway opened in 1960.
Hamamatsu Flower Park (Tel: 053 487 0511) is a large garden park with flowers in bloom all year round. Altogether there are over 100,000 plants from 3,000 species in the park. Highlights of Hamamatsu Flower Park include a fountain show, a rose garden, lawn areas, a western style garden with glass houses called Crystal Palace, a Balinese-style garden and a Mexican garden with varieties of cactus. In season visitors can see water lilies, higanbana, hydrangea, cherry and plum trees, tulips and chrysanthemum. Admission is presently 800 yen for adults and 400 yen for children. Hamamatsu Flower Park has a large restaurant and flower shop.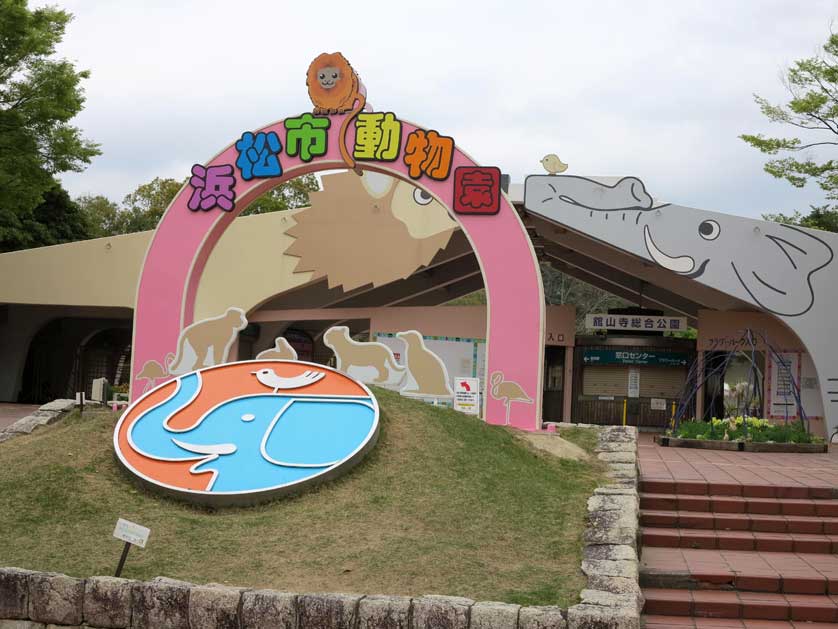 Hamamatsu City Zoo, Kanzanji Onsen, Shizuoka
Hamamatsu City Zoo has over 450 animals from 30 different species including gorillas, orangutan and other monkeys, making the primate collection one of the largest in Japan. Other animals include lions, tigers, elephants, bears and birds. A joint ticket can be purchased for the zoo and the connecting Hamamatsu Flower Park. Admission is presently 410 yen for adults and free for up to junior high school age. Hours: 9am-4.30pm (last entry 4pm).
Kanzanji Onsen abounds with eel (unagi) restaurants, eel being a local delicacy.
Getting to Kanzanji Onsen
To get to Kanzanji Onsen take a number #30 bus from Bay 1 of the Hamamatsu bus terminal outside Hamamatsu Station. The fare is around 580 yen depending where you alight. The journey is a long and winding 40-50 minutes on narrow roads. By car, exit the Tomei Expressway between Nagoya and Tokyo at the Hamamatsu-Nishi Interchange.
There are good rail links to Hamamatsu with Tokyo, Nagoya and Osaka (Shinkansen bullet train). Note that the fastest shinkansen (bullet train), the super-express Nozomi, does not stop in Hamamatsu.
From Tokyo JR Station take a Hikari (express) or Kodama (local) shinkansen train to Hamamatsu. The journey is 89 minutes from Tokyo to Hamamatsu by Hikari shinkansen. From Nagoya the journey is only 29 minutes by Hikari and from Osaka 83 minutes.
Alternatively from Nagoya take a local JR train about 30 minutes to Toyohashi. Toyohashi can be reached by either JR or Meitetsu from Nagoya Station or Kanayama Station. By local JR train from Shizuoka journey time is 72 minutes to Hamamatsu.
The Tenryu Hamanako Railway loops up and around the west of Lake Hamana and north of Hamamatsu from Shinjiohara to Kakegawa to the east of Hamamatsu.
There are highway buses from Hamamatsu to Busta Shinjuku and Shibuya in Tokyo run by Entetsu Highway Bus e-LineR. The company also runs highway buses to Osaka via Kyoto and Yokohama.
Most of the attractions in Kanzanji Onsen can be reached on foot, although bicycle hire is a good option as is the free Flower Go (フラワー号) loop bus which runs along the lake shore from the zoo to Kanzanji Temple in a loop. The Flower Go bus runs from April to June.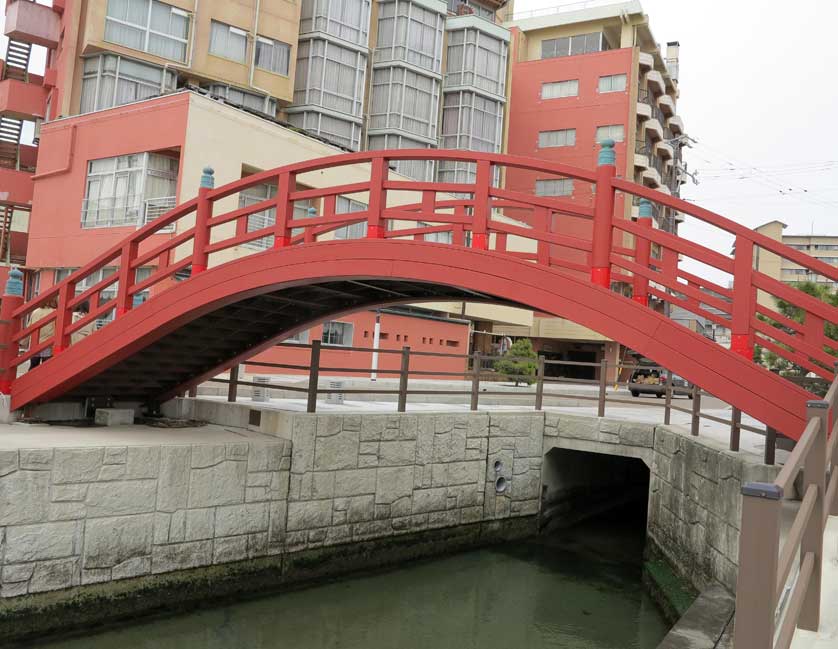 Kanzanji Onsen, Hamanako, Shizuoka
Book Hotel Accommodation in Hamamatsu Shizuoka Prefecture
Kanzanji Onsen: read a guide to Kanzanji Onsen, a resort on the eastern side of Lake Hamana near Hamamatsu in Shizuoka Prefecture.
All the themes of the city