Shodoshima Guide
Shodoshima 小豆島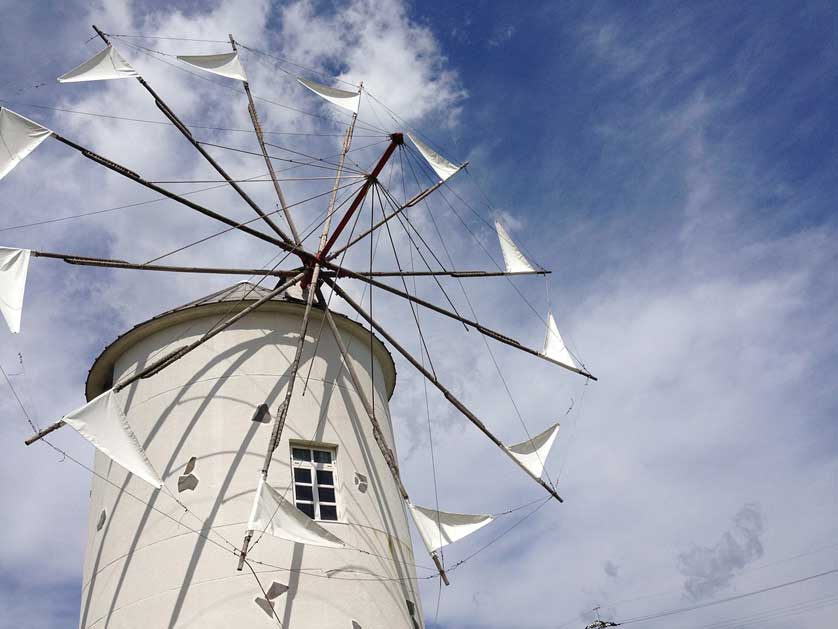 Windmill on Shodoshima
I boarded a ship named the Olive Maru, of the Olive Line Ferry. When we docked, I caught the Olive Liner bus to the town of Nishimura. That is where the olives grow.
On the side of the hill rising out of the bay, stood a Greek-styled fade. In the central atrium, a towering Athena watched busloads of tourists being conducted briskly through her tiny museum, and then, of course, on to the gift shop.
There, they grabbed up olive chocolates, olive soap, olive cosmetics, olive bath salts, black olives in tins and green olives in jars. They eyed the bottles of olive oil suspiciously, asking each other, "Why does it say 'virgin' on the label? What do virgins have to do with olive oil?" They bought them anyway, because they had come to Shodoshima.
The Seto Inland Sea is called Japan's Agean, and little Shodoshima has been dubbed her "Olive Island". (Read about another island in the Seto Inland Sea, Naoshima.)
Passing up a night at the Hotel Olivian, a sprawling complex of spa and sport facilities, ultra luxurious accommodations, and fine restaurants, I slept at the Olive Youth Hostel, and walked along the shores of Olive Beach. Even the city garbage bags were printed with a sketch of olives ripening on the branch.
With all this olive consciousness, you might think that olives, themselves would be a prominent feature of life in Nishimura. Olives are, for example, food. So I imagined some sort of olive cuisine on every restaurant menu in town.
My first challenge was to find the restaurants. The people of Shodoshima are generally friendly and helpful. It would be unusual if you actually had to ask for directions on the island. Just look unsure about where you are going, and there will be someone at your elbow telling you how to get to the nearest sightseeing spot. But even lifelong residents of Nishimura will cock their heads and suck their teeth, dumbfounded, if you ask after a good place for lunch.
The Sun Olive Spa, to the right of the psuedo-greek monument, has a small restuarant inside. At six o'clock they break out the dinner menu: curry rice and bentos. In the center of town there are two noodle shops: one for udon, one for numen. Their menus make no mention of olives.
Olives on Shodoshima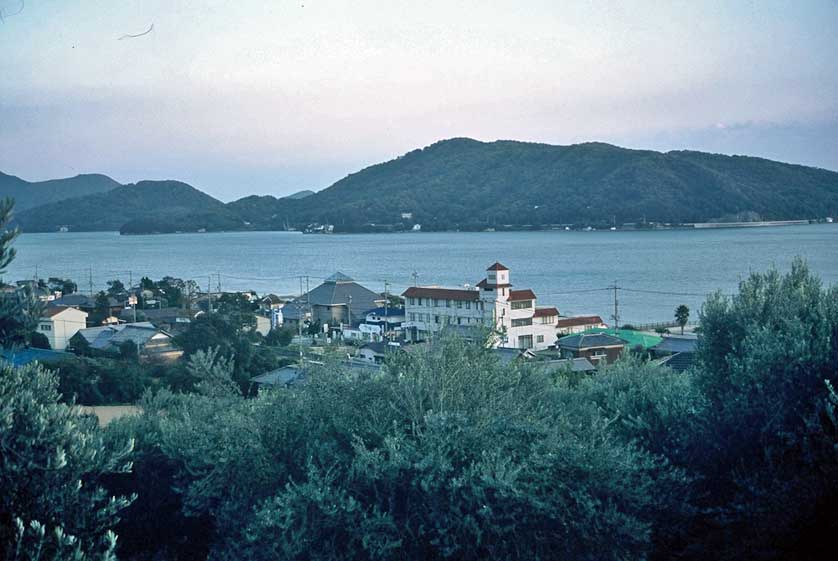 View of Shodoshima from the olive grove in Nishimura
To be fair, olives do show up in the role of accents. The house specialty at Sun Olive Spa included sea bream doused with olive oil. There was one tiny, batter fried manzanilla tucked into the tempura at the numen restaurant. I was chastised by a waiter at the Hotel Olivean because I did not order bread with my dinner. It is served, he explained, with an accompanying dish of olive oil into which one dips the bread instead of spreading it with butter.
"This," he said, as he poured it out, "is virgin olive oil, so you can drink it."
But, outside of the gift shop, it is rare to find an olive that is not growing on a tree. Although there are plenty of those. To the left of the monument, the hill is covered with an olive grove, and it is lovely to walk there. You can look out over the tops of the green and silver leafed trees, and the surface of a clear watered sea, to a horizon bursting with little islands that crowd in on one another as they fade off into the mist. You really get the feeling of being on an archipelago.
During the growing season, you can see the olives in all their colorful stages of ripening, from yellowish green to royal purple to deep, reddish black, but what are they ripening for? Come in the fall, and you will see them fallen, unharvested, to the ground, where they remain to be crushed underfoot until they are swept up by gardeners.
There is a clue at the heart of the grove: an old grandmother of a tree. A stone signpost proclaims her as progenitor of olive trees on the island. If you know your olives (or if you turn around after paying your respects to the First Tree and read the other sign) you will see that the olives in this grove are manzanillas, a hardy variety native to Spain, not Greece.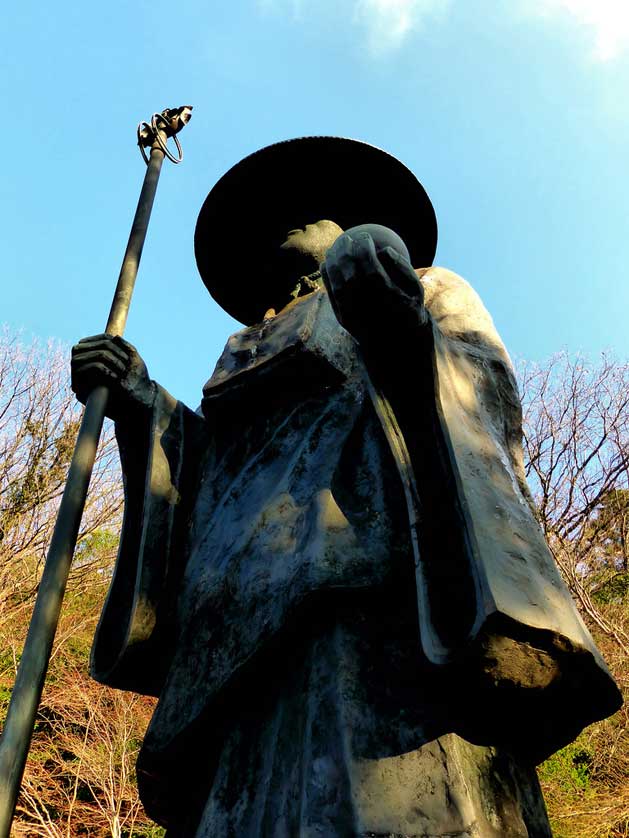 Giant statue of Saint Kobo Daishi at Goishizan Temple, Shodoshima
Olive Oil & The Fishing Industry
If you think there is something fishy here, then you are more right than you may know. Open a tin of sardines and you'll see why. Oil is used to pack fish. It was not for the sake of the palate, nor aesthetics, nor internationalism. It was for its fishing industry that the Japanese government decided, to produce its own oil rather than buy it from other countries.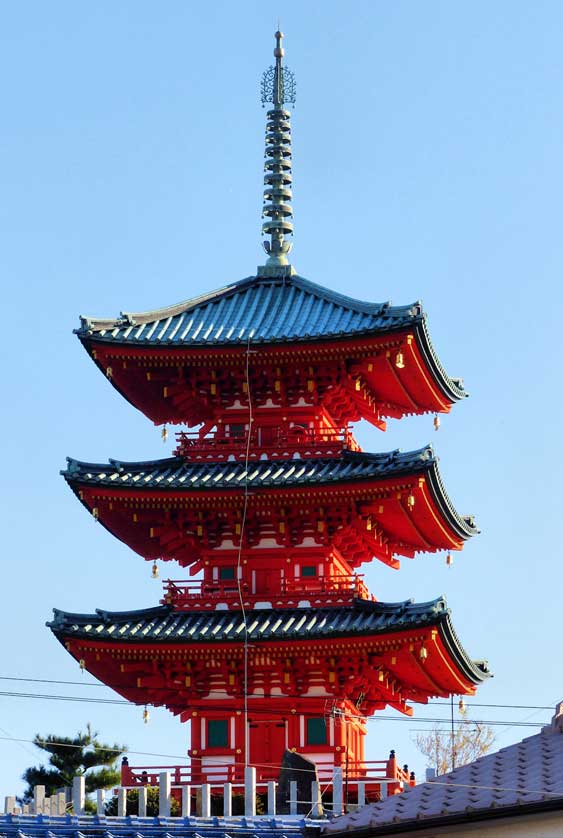 The pagoda at Saikoji Temple in Tonosho, number 58 on the Shodoshima Pilgrimage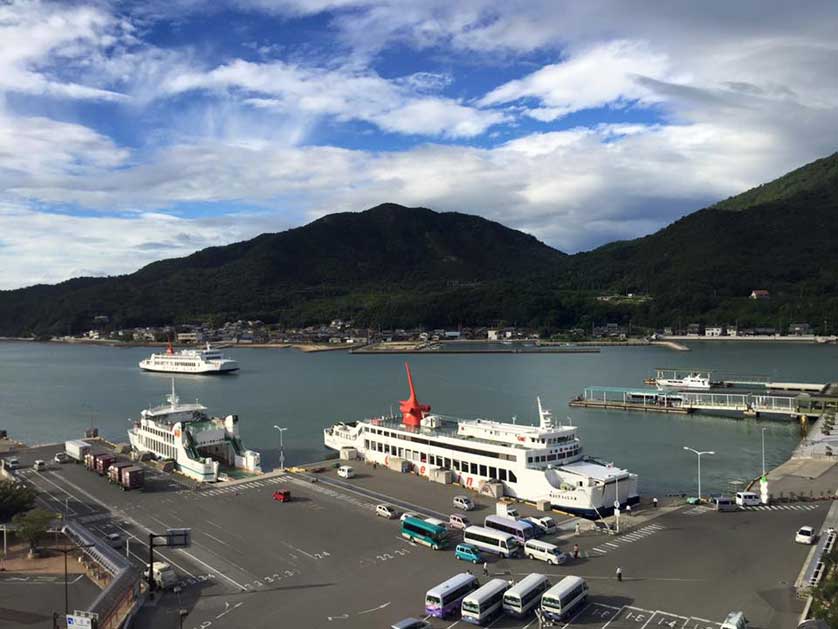 Shodoshima Ferry in Tonosho Port
In 1908, the prefectures of Mie, Kagoshima, and Kagawa were charged with the growing of olives. Only one town, in one prefecture, succeeded. That is how Kagawa Prefecture's Nishimura, on Shodoshima became the olive capital of Japan.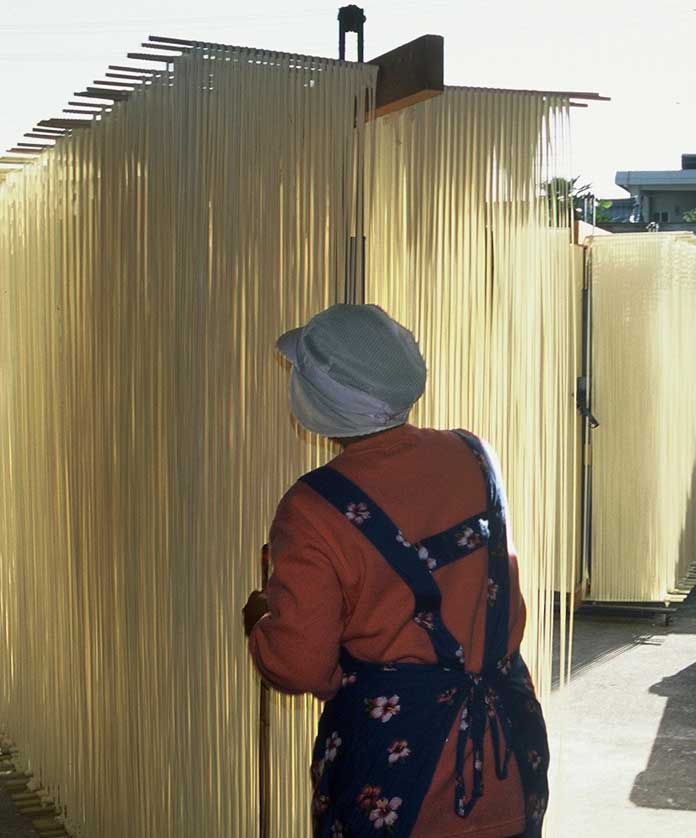 Shodoshima's mild climate is ideal for making somen noodles
Shodoshima is well worth a visit, but she is better appreciated for what comes naturally to her, than for anything that has been imported. At the edge of the olive grove, a small shrine lies deep in the shadows of trees native to Japan. A sign outside the torii gate says there used to be a stage here where the townspeople performed plays, and that they would sometimes make a sumo arena there. Now there are olive trees. This, in microcosm, is the story of Shodoshima.
Shodoshima used to be an island of entertainment. While sport and the performing arts have taken a back seat to the olive hype, traditions that go back through generations before the olives came, have quietly continued. There are two Kabuki theaters that host annual performances. The mild climate is ideal for making soy sauce and somen noodles, and you can reserve free, hands on, tours at several of the firms that produce them.
Soy Sauce
Uematsu Tomoko, third generation owner of the Yamahisa soy sauce company, invited me into her office, after showing me around the brewery, for a steaming cup of olive leaf tea (her latest brainchild). She has lived on Shodoshima all her life, and loves the place.
"We have the ocean and the mountains right together, here," she says, and where they do come together on Shodoshima's coastline, it can be breathtaking.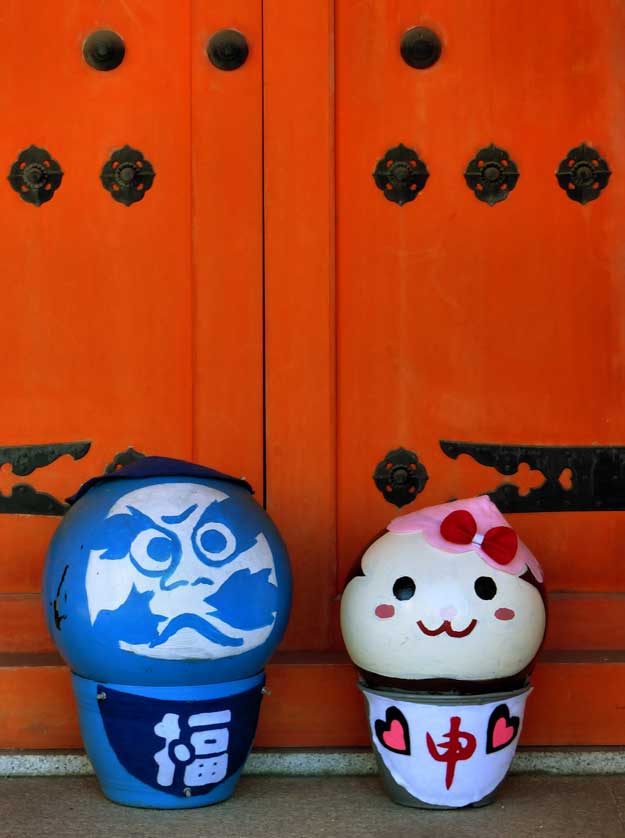 Omukai Jizo, Tonosho, Shodoshima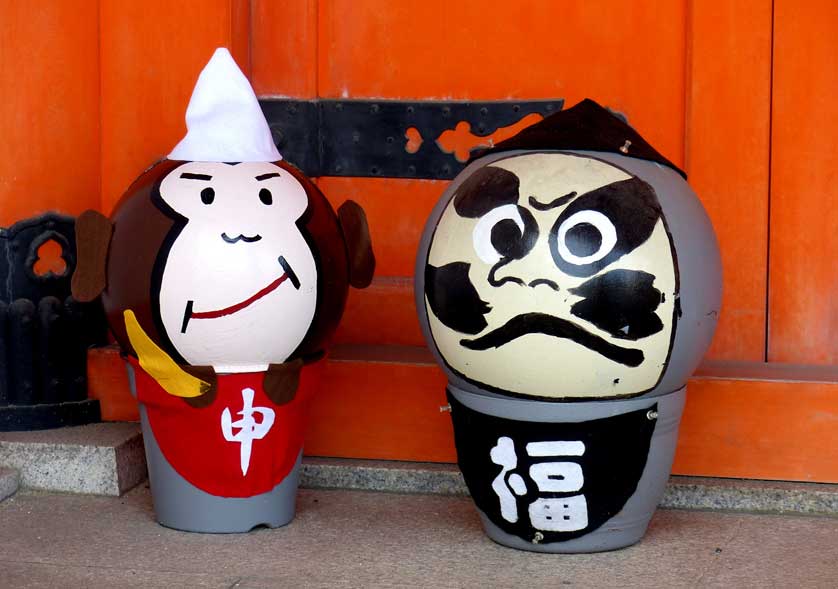 Shodoshima Maze
What is best of all is just the feel of the place. When you step off the ferry from Osaka, Himeji, or Okayama, the change of pace wraps around you like a comfortable, old sweater. No one is in a rush. Bus drivers will spread out timetables and discuss the routes and fares with customers.
When night falls on Shodoshima it is one of pitch blackness that cities never see. You can fall asleep listening to the waves on the shore, the wind in the trees, and you can wake up to see fishing boats cutting across a golden swath of rising sun, splashed over the harbor just outside your door. If you need a break, a weekend away, in a place where you can slow down and hear yourself think, Shodoshima is waiting.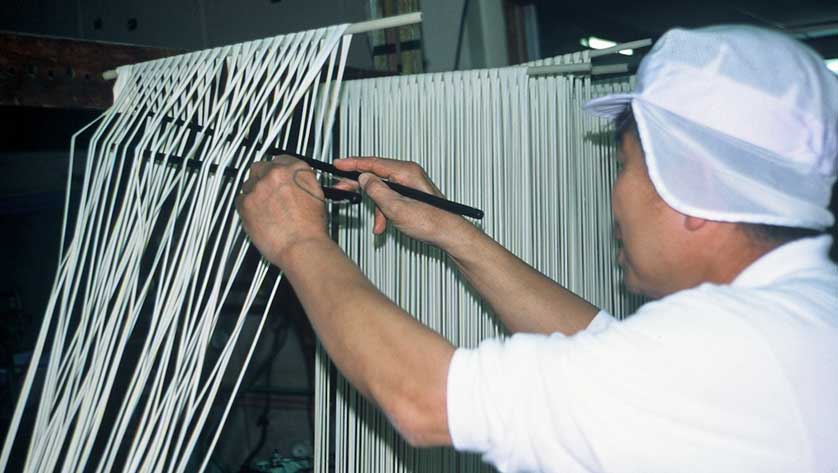 Making noodles on Shodoshima
Access - Getting to Shodoshima
There is no airfield on Shodoshima so access is only by ferry. There are six ports on the island with ferry services, the largest being the main town of the island, Tonosho.
Tonosho has ferries to and from Okayama, Uno and Takamatsu. The car ferry from Shin Okayama Port to Tonosho takes 70 minutes and runs about once an hour during the daytime and is operated by Ryobi Ferry (086 274 1222). Shin Okayama Port is a 35-50 minutes bus journey from Okayama Station.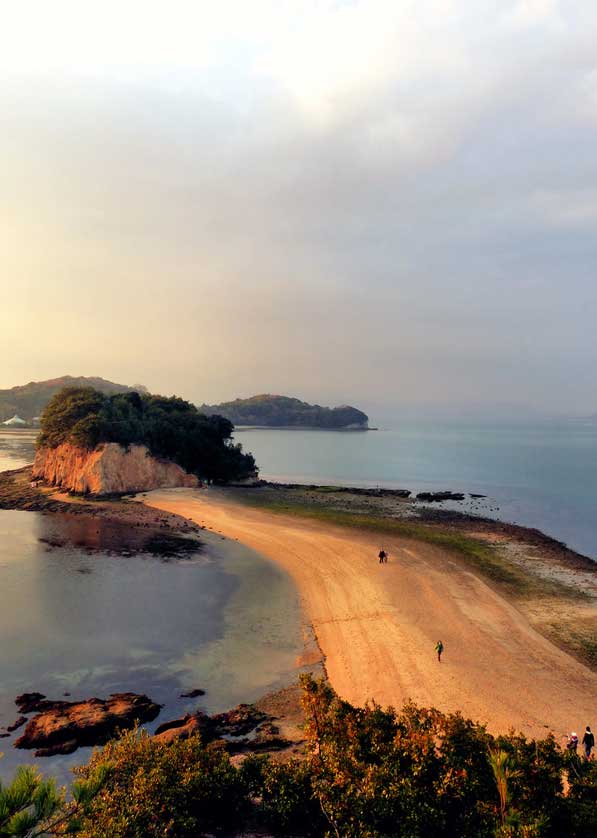 Angel Road from the viewpoint, Tonosho, Shodoshima
There are two ferries from Uno Port on the Okayama coast, a car ferry that takes 90 minutes and a passenger ferry that takes 50 minutes, both stopping at Teshima Island and both operated by Shodoshima Teshima Ferry (087 851 4491) with about 5 services a day. Uno is 50 minutes by train on the JR Uno Line from Okayama.
The Takamatsu-Tonosho service has both a car ferry that takes 60 minutes and a passenger ferry that takes 30 minutes. Both run about once an hour and are provided by Shikoku Ferry (087 851 0131).
Ikeda Port also has a ferry to and from Takamatsu taking 60 minutes operated by International Ferry with 8 ferries a day.
Kusakabe Port has both car ferry and high speed passenger ferry service to and from Takamatsu operated by Uchinomi Ferry (0879 82 1080), taking 60 minutes or 45 minutes respectively 5 times a day, approximately every 3 hours.
Sakate Port, in the southeast corner of the island, has a car ferry service to and from Kobe run by Jumbo Ferry (078 327 3322). The crossing takes a little over 3 hours and runs 3 or 4 times a day. The ferry then carries on to Takamatsu. There is an overnight service that goes first to Takamatsu before stopping at Sakate early next morning.
Fukuda Port on the north coast of the island has a car ferry service to and from Himeji run by Shodoshima Ferry (0879 62 1348). The journey takes 100 minutes and runs 7 times a day.
Obe Port, also on the north coast, has a car ferry to and from Hinase run by Setouchi Kanko Kisen (0869 72 0698). The crossing takes just over an hour and runs 5 times a day. Hinase is on the JR Ako Line and is 70 minutes from Okayama or 50 minutes from Himeji.
There are local buses that connect all the ports on the island with each other and all major sites and hotels.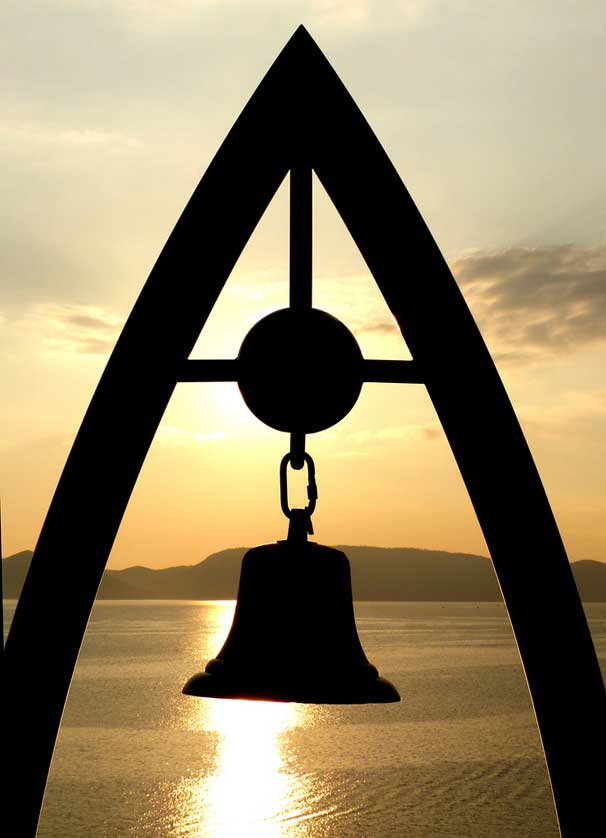 The "Love Bell" at the viewpoint, Tonosho, Shodoshima
Accommodation on Shodoshima
There are a number of accommodation options in Tonosho including the recommended Shodoshima International Hotel, the Resort Hotel Olivean Shodoshima and the Bay Resort Hotel Shodoshima.
Text and some photos by Alan Wiren
Shodoshima Related Articles
Shodoshima Pilgrimage
Shodoshima Temples
Shodoshima Temples II
Shodoshima Daikannon
Maze Town Tonosho
Kankakei Gorge
Angel Road
24 Hours Movie Village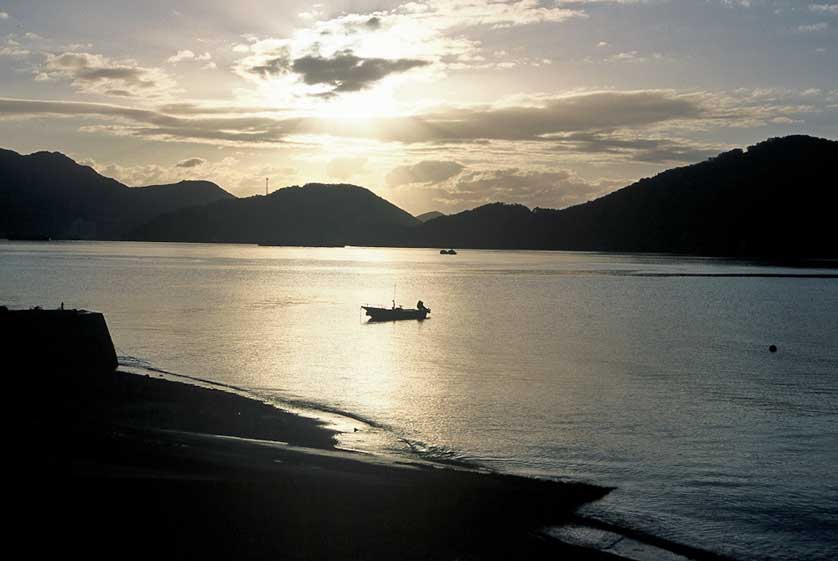 Shodoshima guide: read a travel guide to Shodoshima, Japan's olive-growing center. Shodoshima is a peaceful island getaway from Osaka and Kobe.
All the themes of the city