Tanabe Guide
Tanabe, Wakayama Prefecture - Gateway to the Kumano Kodo, 田辺, 熊野古道
Jake Davies
Tanabe is the second largest city in Wakayama Prefecture and is  situated on the west coast of the Kii Peninsula. Known as "The Gateway to the Kumano Kodo", the city's area actually extends as far as Hongu, one of the Kumano Sanzan, deep in the mountains inland from the coast. As well as being a convenient starting point for an exploration of the Kumano Kodo, Tanabe also has plenty of other interesting sights that are worth a visit.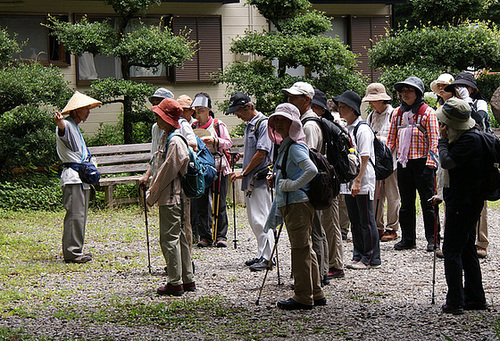 A guide prepares a group for a hike along the Kumano Kodo at Takijiri Oji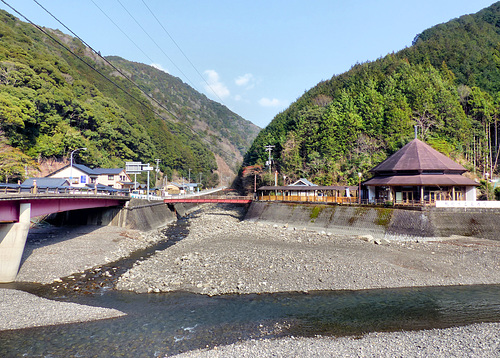 Kumano Kodo Kan at Takijiri Oji
Pilgrimage Routes
The area is part of the UNESCO World Heritage Sacred Sites and Pilgrimage Routes in the Kii Mountain Range. Since ancient times the area has been an important spiritual center, at first focussed on the powerful mountains and waterfall, then later as an important Buddhist site, and over the centuries millions of pilgrims made the arduous journey here.
Travelling by boat from Kyoto down river to Osaka, the royal pilgrims began their land journey and headed down the west coast of what is now Wakayama Prefecture until they reached Tanabe. This section  is known as the Kiiji Route.
Heading south out of Tanabe, down the coast and round the southernmost point of Honshu the Ohechi Route reaches Nachi, and then Shingu, two of the Kumano Sanzan.
The main route, the Nakahechi, heads inland from Tanabe deep into the mountains to Hongu, site of the third Kumano Sanzan. Its a three day walk from Tanabe, but very few people walk the first day nowadays, commonly beginning from Takijiri Oji, a shrine on the riverbank from where the trail starts up into the high country.
The view from Takahara on the Kumano Kodo
Kumano Kodo Kan
Across from where the bus drops you off is the Kumano Kodo Kan, a tourist information office with displays and information about the Kumano Kodo as well as a small cafe. Heian Period costumes can be rented here also. Across the road is the Takijiri Oji Shrine and a small store selling souvenirs and pilgrimage paraphernalia. From here it is a steep couple of hours to reach the picturesque mountain village of Takahara or a full day to reach Chikatsuyu, the most popular spot for overnighting with a variety of traditional accommodations.
Kumano Kodo Kan
1222-1 Kurisugawa, Nakahechi
Tanabe, Wakayama 646-1421
Tel: 0739 64 1470
Hours: 9am to 5pm.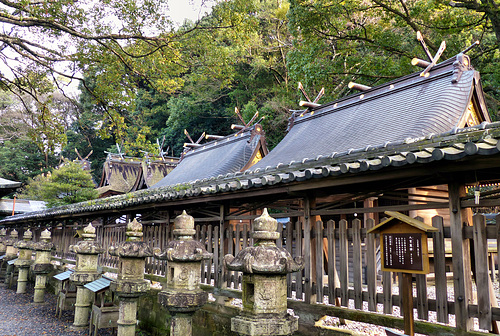 Tokei Shrine, Tanabe, Kumano Kodo, Wakayama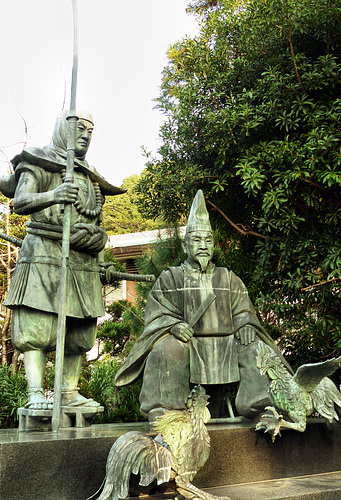 Statue of Benkei & his father with fighting cocks at Tokei Shrine
Benkei
Within Tanabe city center itself there are places to see that are mostly linked to the three famous "sons" of Tanabe: Benkei, Ueshiba Morihei and Minakata Kumagusu.
Benkei, a larger-than-life, legendary character, was a 12th century sohei, a warrior monk, known mostly as the sidekick of Yoshitsune. His exploits have been made into hundreds of stories, kabuki plays and Noh dramas, and continue to be used in contemporary movies and TV programs.
Tanabe is believed to be his birthplace, and several statues of him can be found around the town. There is one at Tokei Shrine, one of the major shrines of the town and a place connected to his family. Tokei mean "fighting rooster" and refers to a story about Benkei's father, set during the time of the Genpei War, the classic struggle for power between the Taira and Minamoto clans.
Asked for military aid from both sides of the conflict, Benkei's father held a series of cock fights between cocks with white feathers and cocks with red feathers, the outcome deciding which side he would support. The cocks with white feathers, representing the Minamoto (Genji), won and so he supported them in the naval Battle of Dannoura. The Benkei Festival is held every year at the end of September with events here at the Tokei Shrine and at other sites.
Tokei Shrine
1-1 Toyo, Tanabe-shi
Wakayama 646-0029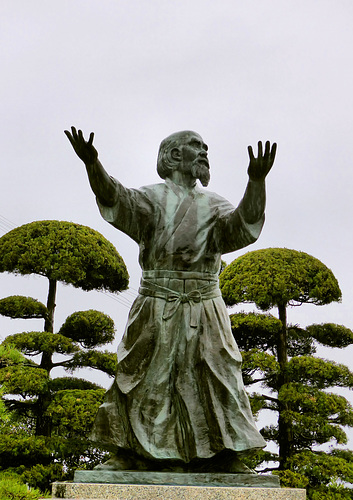 Statue of Aikido founder Ueshiba Morihei at Ogigahama Beach in Tanabe
Ueshiba Morihei
Ueshiba Morihei is a familiar name to millions around the world who practise the martial art of Aikido. Born near Tanabe in 1883, Ueshiba was the only son of a farming family with samurai heritage. He is the founder of this rather unusual form of self defence that focusses on not causing harm to the attacker.
Beginning in the 1950's Aikido began to spread outside Japan and has attracted many quite famous people, the action movie star Steven Seagal being perhaps the most famous. Ueshiba died in 1969 and his ashes are buried in the graveyard at Kozanji Temple in Tanabe. With a nice tower and pleasant landscaping, Kozanji is worth a visit even if you don't want to make a pilgrimage to Ueshiba's grave.
Kozanji Temple
392 Inaricho, Tanabe-shi
Wakayama 646-0051
Tel: 0739 22 0274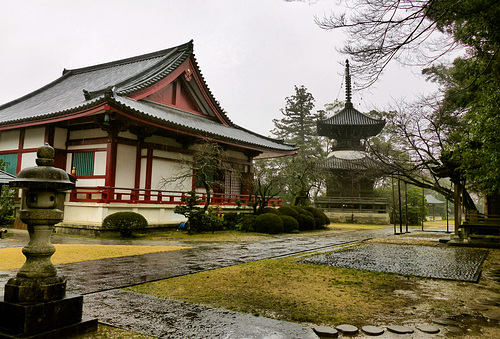 Kozanji Temple, Tanabe, Wakayama Prefecture
Minakata Kumagasu
Also buried at Kozanji Temple is Tanabe's other famous son, Minakata Kumagasu. Probably not a well known name to many foreign visitors, unless of course you happen to have a particular interest in slime mold, the  subject Kumagasu was a leading researcher in during his day.
Born in Wakayama city in 1867, he spent 14 years abroad following his studies and research, most notably at the British Museum in London.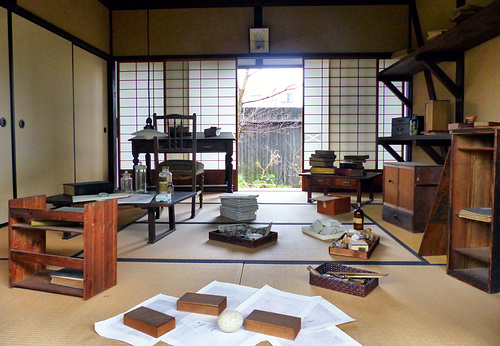 Kumagasu Residence, Tanabe, Wakayama
After returning to Japan he eventually chose to settle in Tanabe where he lived until his death in 1941 after gaining a reputation as an eccentric and maverick researcher covering a wide variety of subjects including folklore and what would now be called environmentalism.
Tanabe has honored him with a museum housing his archives in a very striking building of wood and glass. The archives themselves probably hold little interest for most visitors, but next door his house is open to the public and for a peek at traditional architecture it's worth the entry price of 300 yen. Open from 10am to 5pm, closed Mondays, second and fourth Tuesdays and over the New Year.
Minakata Kumagusu Museum
36 Nakayashikimachi, Tanabe, Wakayama 646-0035
Tel: 0739 26 9909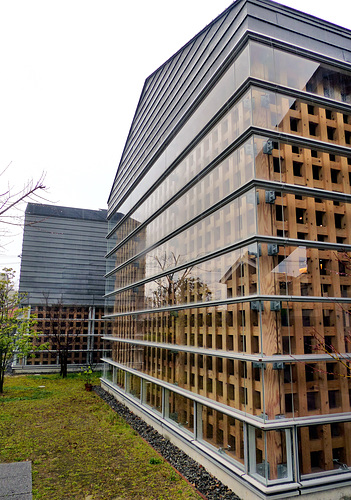 Kumagasu Archives, Tanabe, Wakayama
Tanabe History & Folklore Museum
Not too far from the Kumagasu Archives is the Tanabe History & Folklore Museum inside the large and distinctive Tanabe Culture Center.
Not outstanding in any way, but certainly worth a visit on a rainy day considering there is no entry charge. Open 9.30am to 5pm. Closed Mondays.
Tanabe Culture Center
31-1 Toyo, Tanabe, Wakayama 646-0029
Tel: 0739 25 6644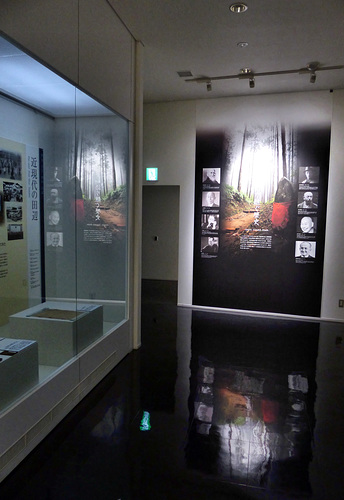 Tanabe History Museum, Tanabe, Wakayama Prefecture
Places to Eat & Drink in Tanabe
If you are spending the night in Tanabe before beginning your walk along the Kumano Kodo, or if you get to Tanabe after finishing your hike, some food and drink will be a high priority, and for this Tanabe is well prepared. 
Ajijoji, the entertainment district next to the station has more than 200 establishments packed into less than a square kilometer of narrow streets. The Tourist Information Office can give you a free guide including those places offering English menus.
Accommodation in Tanabe
There is a wide range of accommodation options in Tanabe and a lot more 15 kilometers away at the major onsen beach resort of Shirahama.
There are various accommodation options in the area for different budgets including traditional Japanese ryokan and minshuku.
Some recommended hotels and ryokan include Buddha Guest House, Miyoshiya Ryokan, Hotel Hanaya and Tentsuku Guest House.
In Shirahama about 5km away, choose from Hotel Kawakyu, Shirahama Onsen Ryuhoen, Shiraraso Grand Hotel, Shirahama Seaside Hotel, and Hotel Hanatemari.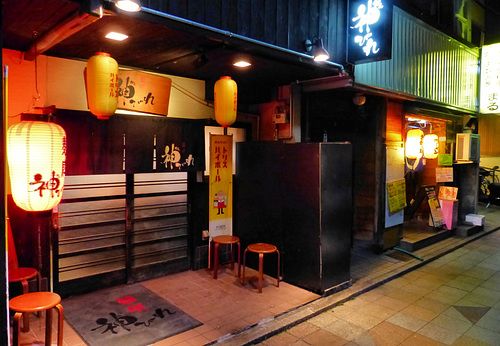 Ajijoji entertainment district, Tanabe, Wakayama
Tanabe Tourism Information
The Tourist Information Office located at Kii-Tanabe Station has masses of information in several languages and a multi-lingual staff. They can provide help not just for the immediate vicinity but also for hiking and walking the Kumano Kodo. There is free wi-fi, bike rentals, and an audio guide in English for use while walking or cycling around the town. The Tourist Information Office is open from 9m to 6pm every day of the year.
Tourist Information Kii-Tanabe Station
727-2 Minato
Tanabe, Wakayama 646-0031
Tel: 0739 34 5599
Access - Getting to Tanabe
The Kumano Kodo is located south of both Osaka and Kyoto, in a rural area easily accessible by train and bus from those two cities as well as Kobe and Nagoya.
The Japan Rail Pass is valid on JR trains in this area.
There are regular flights to Osaka from both Beijing and Shanghai.
The nearest airport to Tanabe is in Shirahama with regular flights from Tokyo Haneda. Kii-Tanabe Station is on the JR Kisei Line, 2 hours 20 mins from Osaka.
Regular buses depart from Tanabe to Hongu stopping at various points along the Kumano Kodo.
Book Hotel Accommodation in Japan
Tanabe: read a travel guide to Tananabe in Wakayama Prefecture - known as the Gateway to Kumano Kodo.
All the themes of the city