Fuji-Q Highland
富士急ハイランド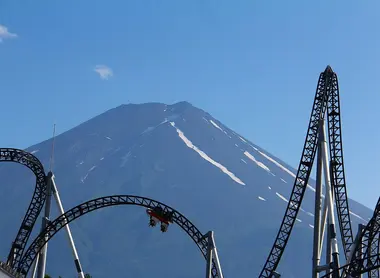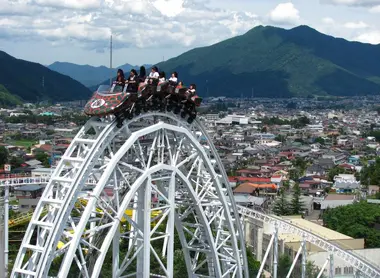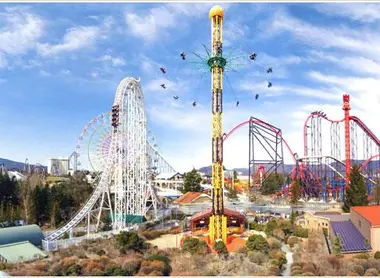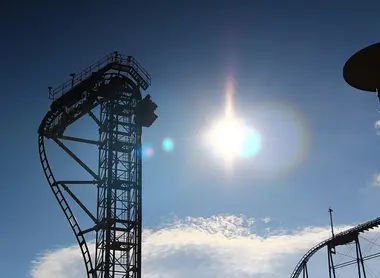 Mountains of thrills
Fuji-Q Highland amusement park, located in Fujiyoshida, will give you mountains of thrills with fabulous attractions, to send you into the air or give you big scares.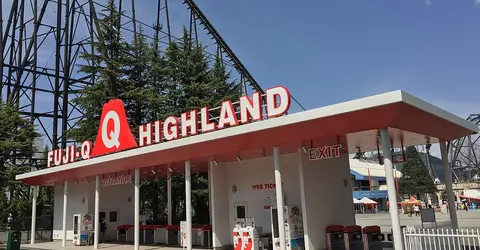 Less than two hours from Tokyo , at the foot of Mount Fuji , the large Fuji-Q Highland amusement park offers around forty activities, including 13 called " zekkyo " to scream with fear! To be reserved for thrill seekers. The park has four roller coaster circuits as impressive as they are dizzying, but guaranteeing you a breathtaking view of Mount Fuji , if you manage to open your eyes!
See also: 5 Japanese amusement parks
The first good news is that since July 14, 2018, the entrance to the Fuji-Q Highland park is completely free , for those who just want to stroll among the rides and just be mere spectators in the middle of the cries of others, or nibble here and there.
At full speed
Every visitor's favorite attraction for twenty years. Otherwise called King of coasters. they are classic roller coasters, but everything is carefully calculated. The maximum speed reaches 130km/h, for a vertical drop of 2045m in 3min36. You can admire the beautiful panorama of Mount Fuji when you are at the highest point at 79m high anyway! This attraction holds 4 Guinness Book records. The sensations are guaranteed because they are equivalent to falling from a 20-storey building .
With the linear motor its acceleration is remarkable. You can reach 100km/h in two seconds , which is faster than a Formula 1 car. This attraction holds the world record for the most curved drop with 121 degrees, which gives the feeling of being thrown into the void . Just before this incredible fall, you stop for a few seconds at the top, so don't forget to admire Mount Fuji before closing your eyes and shouting at the top of your lungs. The 1004m course is done in 2min40.

One of the two four- dimensional roller coaster courses in the world, listed in the Guinness Book of Records because this attraction has the most gravity inversions with 14 times in total. You start in reverse and then the seat itself rotates in all directions. You completely lose your balance. The maximum speed is 126km/h , to travel 1153m in 2min.
Read: Top 10 Disney Park Attractions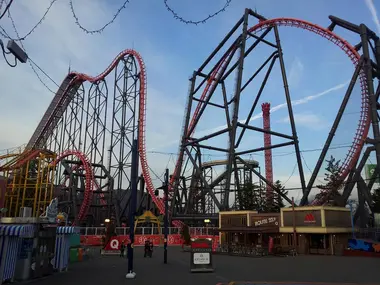 Dodonpa became Dododonpa in 2018 with new products always providing more extreme sensations. This attraction has the record for the most violent acceleration in the world , on which you are projected to 180km/h in 1.56 seconds thanks to a powerful compressed air motor. It is the fastest roller coaster in Japan. 1189m of course in 60 seconds.
A panoply of adventures
A giant rotating swing 59m high . The maximum speed is 51km/h. It's already softer than the rest and as a bonus you have a wonderful view.
Senritu meikyu (super scary labyrinth of fear)
It is one of the largest labyrinth haunted houses in the world. His concept comes in the form of a decommissioned hospital controlled by zombies . You walk through this hospital with a small flashlight like in a horror movie. The stimulation of your five senses is maximum and needless to say that people with heart conditions will have to refrain from becoming part of the zombies very soon! It will take you one hour to make the 900m trip to this haunted house.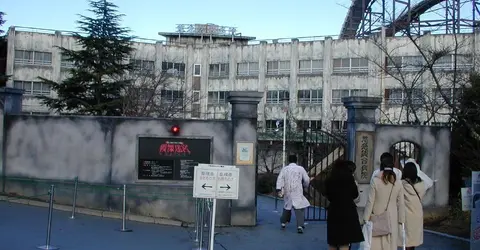 There it is of a prison that you must leave thanks to your logic and your team spirit because you are a group of several people to face an artificial intelligence . Since its opening in 2012, more than 1,800,000 players have tried the attraction, for only 6 groups who managed to beat the machine to get out of this hellish prison.
Tentekomai is a recent attraction in Fuji-Q Highland. This 'walk in the sky' peaks at 32m in height. The originality of this attraction is that you handle it yourself and it comes in the form of a kind of plane that you spin around. If you beat the record, you receive a gift. 1,000 yen multiplied by the number of rounds. The record dates from December 2017 when a person managed to turn his plane 113 times in 3min.
It's your turn !
Small break
If you come with children, they will appreciate the 50m Ferris wheel to savor the panorama. A carousel or cups of tea and even Thomas Land , fifteen attractions in the village of Thomas for the little ones. Something to have fun with parents. Little girls will marvel in the town of Gaspard and Lisa .
See also: Osaka Ferris Wheels
A large souvenir store , Shop Fujiyama, offers a very large selection of original gifts, regional specialties and even good Yamanashi wine.
To eat, there is also a choice with about fifteen restaurants for all tastes. For the little ones, there is a Thomas Land or Gaspard and Lisa restaurant. Note that for the first time in an amusement park, the Starbucks chain will soon inaugurate a café.
To read: A new Starbucks space by Kengo Kuma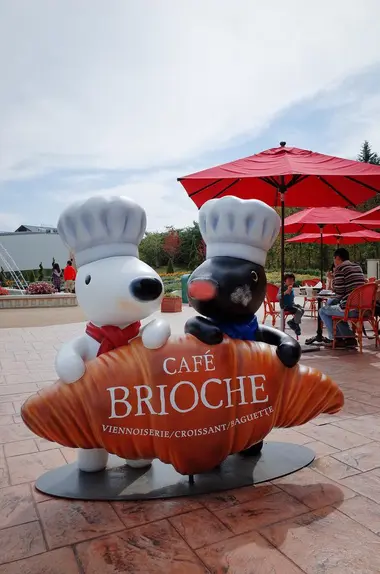 ---
Address, timetable & access
Address

Phone

+81 555-23-2111

Timetable

By train: From JR Shinjuku station, Chûô line to Ôtsuki station (60 min, 1,320 yen). Change to the Fuji kyûkô line get off at Fuji-Q-Highland station (50 mins 1,080 yen). Q Pack: By coach round trip from Shinjuku station (1h40) + ticket included 7,800 yen.

Access

Every day from 9 a.m. to 6 p.m. (8:30 a.m. to 7 p.m. in summer)

Website

http://www.fujiq.jp/en/
All the themes of the city