Ichinomiya Beach
一の宮海岸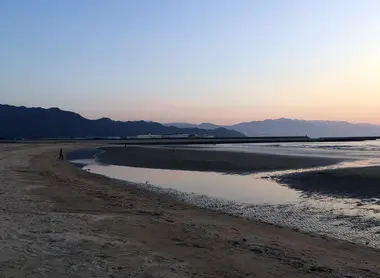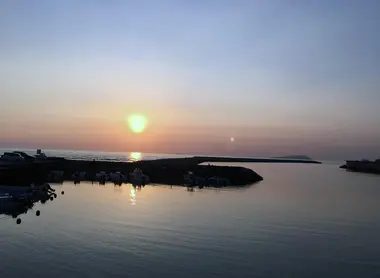 A touch of California
Palm trees, blond sand, street furniture in pop colors. Ichinomiya Beach on the island of Shikoku feels like a stopover on a California coast.
The island of Shikoku is still little visited by travelers. However, it is full of small nuggets such as the wild Iya Valley or the Oboke Gorge and their deep green waters.
Just over an hour's drive from the city of Takamatsu , one of the main entry points to the island, is Ichinomiya Beach. If you can get there by train , thanks to the Yosan line which serves the nearby town of Kan'Onji, it is rather advisable to make the trip by car . First of all because to visit Shikoku, the car is definitely an ally since the island is very little served by the train, but also because it is filled with small roads which wind in the middle of nature and which allow to discover Shikoku in every corner.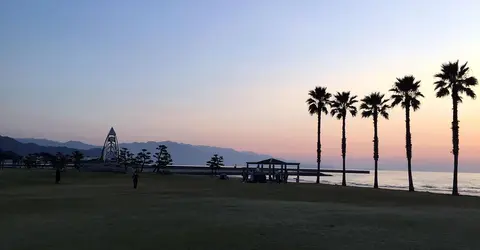 PALM TREES BY THE SEA
After leaving the city of Kan'Onji behind, the road borders the coast and offers motorists both a superb panorama to the right of the sea and to the left of the cultures whose bright green contrasts with the blue of the water. , Ichinomiya Beach finally stands out from the landscape. And she is not surprised to see a row of palm trees a few meters away, along the seaside where locals or passing visitors come to relax. All watching, in the evening, the sunset falling on the sea with the palm trees in the foreground.
GRAPHIC STREET FURNITURE
A little Californian touch further accentuated by street furniture and games for children installed on a large lawn just before the first grains of sand. Multicolored squares, benches with graphic yellow chicks or even little kawaii animals, everything gives the impression of visiting an American seaside, minus the lifeguard huts on the beach.
If we venture a little further on the beach, some young people defy the laws of weightlessness with their skateboards, while others spin their kites in the sea air of Shikoku.
Lovers of idleness can be reassured: in addition to having neat and original surroundings, the beach is ideal for relaxation and swimming . No rocks to report when entering the water and the sand is infinitely soft.
Another good reason to come and visit Shikoku!
See also: Top 10 most beautiful beaches in Japan
---
Address, timetable & access
All the themes of the city