Taking the Train in Japan

Traveling in Japan by train
The practical guide of Japan Experience
Japan has 23,670 kilometers of rail track across the country, making it easy to travel throughout the country. Whilst planning your trip, you will need to know how to reserve a seat, check train schedules and more, which is why Japan Experience offers a practical guide on Japan by train.
Japan's railway network covers almost the entire country, from Hokkaido in the north toKyushu in the south. The Japanese Shinkansen or Bullet Train is among the fastest trains inthe world, connecting major cities throughout the archipelago. The train ride from Tokyo toKyoto takes just 2 hours 20 minutes with a Nozomi Shinkansen or the Hikari Shinkansen (usable with the Japan Rail Pass).
---
---
Detailed map of Japan with main train lines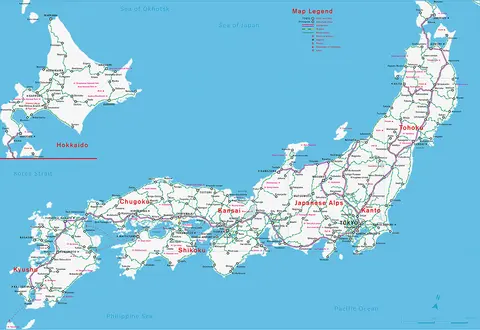 ---
---
How much is the train in Japan?
The train is not the cheapest means of transport in Japan (for example night buses are cheaper) but it is the most convenient and comfortable.
You can find the train fares using Hyperdia, you can see the price of the top left hand side, the total price includes:
The price of the journey, this is fixed.
The seat prices. This depends on the type of seat you choose: 
Unreserved Seat: in Japan there are un-reserved cars (usually the first three cars) for non-reserved seats, this means you can sit where you want in the car. These tickets are the cheapest and if you have a Japan Rail Pass, you can board the train without reserving a seat by going to the window at the platform.
Reserved Seat: these are like the reserved seat tickets in any train, where you have a designated seat. You can make a reservation for these seats in advance at any ticket office.
Green Car Seat: these seats are the equivalent of first class. Here you can recline your seat, enjoy the footrest and a larger space for you and your luggage as well as magazines for trip.
---
Japan Rail Pass, reductions and reduced rates
In Japan, there is no reduced rate except other than for children under 12 years (0-12 years old). Under the age of 6, you do not need to purchase a child's ticket if they sit on your lap, however if you would like them to have a seat of their own, then you will need to purchase a child's ticket.
The solution for a short stay: the Japan Rail Pass
The Japan Rail Pass may lead to a reduction but it depends on the route you will travel, in fact, the Japan Rail Pass is a package (you only pay once for unlimited use of the train) that allows you to take all trains owned by Japan Railway company unlimited for 7, 14 or 21 days.
The latter can be purchased only outside of Japan: you buy an exchange voucher which you then exchange in Japan to receive the Japan Rail Pass (you choose the validity dates that you would like when you exchange the voucher). The Japan Rail Pass is profitable if and only if the total price of your train journeys of 7, 14 or 21 days is higher than the price of the Japan Rail Pass. To calculate the cost and compare it to the price of Japan Rail Pass, visit Hyperdia.com as indicated above.
To find out if a train is owned by Japan Railway or not, you can also find this out on Hyperdia.com.
Here are the steps to follow:
Enter all the details of your trip.
In "More Options", then uncheck the "Nozomi / MIZUHO / HAYABUSA (SHINKANSEN)" box and the "Private Railway" box.
Click Search.If the system does not find anything, then this route is not valid using a Japan Rail Pass. You must then start over without the aforementioned unchecked boxes and so see how much it will cost and to find the route.
Book your Japan Rail Pass now!
---
How to buy a train ticket in Japan?
Buying a train ticket in Japan if you don't have a Japan Rail Pass: go to the station a few days in advance if you plan to travel during a busy period (the cherry blossom period at the end of March, the golden week at the beginning of May or Obon at the beginning of August), just before your departure in normal season, or even a few minutes before departure in low season! 
Go to the Midori no Madoguchi, a counter symbolized by a green logo with a man in white sitting on a seat. There, you can reserve a seat in the "non-reserved / jiyuseki" (you can sit wherever you want) or "reserved / shiteiseki" section. With the latter, you will have a seat with a number and rank assigned to you. The reserved seat is more expensive than the unreserved seat.
Then go through the gates with your ticket and go to the platform!
If you have a Japan Rail Pass, you don't need to buy a ticket or reserve your seat in advance (except during busy periods), you can directly get on the cars dedicated to non-reserved seats. Please note that if there are a lot of people, you may have to travel standing in these areas, especially on local trains, but don't worry, this rarely happens. It is also quite possible to reserve a seat for free with the Japan Rail Pass on a Midori no Madoguchi.

Suica and Pasmo transport cards
For travel on most local trains that do not require seat reservations, it is also possible to travel using a prepaid transport card such as Pasmo or Suica!
Very practical and easy to use, you just need to recharge it at a machine and to beep it at the gates to enter the platforms. You will be debited at the end of your journey according to the distance travelled.
---
Train schedule in Japan
The best tools for building routes and finding train schedules in Japan are Google Maps and Hyperdia. To find the train(s) you need to travel from one point to another, simply enter your departure station, your arrival station and your desired departure time.
Practical guide: how to use Hyperdia?
By clicking on "more options" during your search, you can choose to go through a specific city to reach your destination, avoid certain types of trains and much more...
If your journey is long and tedious enough, the system will suggest an internal flight, if you don't want one, uncheck the 'Airplane' and 'Airport Shuttle Bus' boxes.
If you have a Japan Rail Pass or if you want to know if your journey is eligible for the Japan Rail Pass, uncheck the "Nozomi" and "Private Railway" boxes. You will then have the details of your possible trip with the Japan Rail Pass.
Read also: Hyperdia, the essential application for traveling to Japan
For a worry-free train journey, discover JRP assistance exclusively at Japan Experience. Our Travel Angels living in Japan and our team around the world are at your disposal 24/7 by phone and email to answer your questions and help you if needed!
---
---

Learn more about trains in Japan
How to find your way around Japanese stations?
Japanese train stations can be huge and can be a labyrinth of restaurants and shops. But once you have either booked your ticket (or have a Japan Rail Pass) and are ready to go through the terminals, the hardest part is over.
Signs indicate in English the platform where your train and next trains will depart. Then go to the platform where markings on the ground will tell you in English where to queue. Indeed, in Japan, people queue to get on trains and markings on the ground indicate the exact location of the train stop! For the more local trains, the atmosphere is less disciplined than in the Shinkansen but the principles remain the same. 
The other difficult point is the exit: remember to check beforehand which exit you need to take to get to your hotel or the place you want to visit. Exit signs (always yellow) will then show you the way. You can also ask for help from a ticket inspector or at an information desk where you will find English-speaking staff.
Japanese etiquette - what are the rules to follow on the train in Japan?
Travelling by train in Japan is particularly easy and smooth, but it doesn't come without a bit of discipline: discover the etiquette of Japanese trains!
Special wagons and priority seating
In Japan, there are several types of special cars and priority seats. Do not get on the women's car if you are not a woman (the platform will have a pink marker saying "Boarding point for women only") or on the "electronic off" car with your mobile phone on, as phones interfere with other passengers' pacemakers.
Priority seats are clearly marked with pictograms of a pregnant woman, a person with a small child and an elderly person (picture below). Do not sit on them, even if they are crowded.
The rules of good manners
The three most important principles of good manners to remember are: avoid phoning as much as possible, do not speak too loudly and do not eat.
Another thing to be aware of, especially when using public transport, is that you should not venture out with too much luggage. Don't hesitate to use luggage transport services like Takkyubin. They can move your luggage from one point to another and keep it for a while: for example, let's say you are going to Kanazawa from Tokyo to Kyoto, thanks to Takkyubin you can have your big suitcase delivered to your hotel or house on the day you arrive in Kyoto and leave for Kanazawa with a light heart and a light bag.
The official rule in shinkansen is that each passenger is allowed to have 2 suitcases (maximum weight: 30 kg). The total height, width and depth of the luggage must be less than 250 cm. Note that there is a storage space at the back of the seats at the end of the row so do not hesitate to ask for a seat at the back of the car if you book a seat.
The different Japanese trains
When travelling in Japan you will probably need to take the train for short day trips such as from Kyoto to Nara or from Tokyo to Nikko, Kamakura or even Hakone (Mount Fuji) but the train is also used to travel long distances quickly such as Tokyo/Kyoto or Kyoto/Hiroshima for example.
For both types of travel the rules are the same, but you will have to take several types of train:
the shinkansen is the Japanese high-speed train, 
the limited express called tokkyu goes fast and stops only at the most important stations,
the express train called kyuko goes slower than the limited express and stops at more stations,
rapid trains called kaisoku are to be considered as semi-express and do not stop at all stations,
finally, local trains called futsu stop in all stations.
Most Japanese trains are run by the Japan Railway company. But in some localities other private companies have developed. In the Kanto region there are Tokyu, Odakyu, Keio, Tokyo Metro Keikyu, Sotetsu, Keisein, Seibu and Tobu, which operate most of the underground lines in Tokyo. There are also the Hankyu, Hanshin, Keihan, Kintetsu and Nankai lines in the Kansai region around Kyoto. On the island of Kyushu, there are JR and Nishitetsu trains. In the Chubu region, the Japanese Alps, the only private company is called Meitetsu.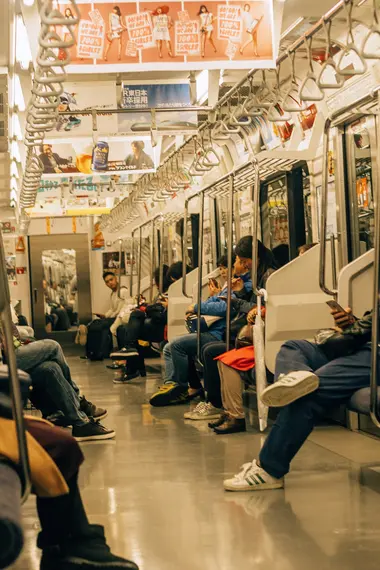 There are other types of trains used by private companies which often operate over very short distances:
semi-special express trains, or "juntokkyu", are in some places limited express (very fast) and express (a little slower),
semi-express trains, or "junkyu", are hybrids between local trains and fast trains, they go quite fast but stop in many stations, 
suburban trains, or "tsukin", are suburban trains that run only during rush hour. Similar to express trains, they are quite fast and stop at many stations. 
These trains, with different speeds, sometimes connect the same points. To get there as quickly as possible, take an express train to your destination and then a local train, which will cost you the same.
It all sounds a bit complex, but that's without counting on the displays in the stations and above the doors, which allow you to cross-reference the different train schedules (the fastest ones being at the top and the slowest ones at the bottom) to take the fastest one at the right time. Station names are shown in Latin letters.

---
---
The train in Japan in video
Discover all our tips about the Japan Rail Pass:
Japan Experience's offer to explore Japan in freedom
We accompany you on your journey and help you to travel the length and breadth of Japan with complete peace of mind
Buy a Japanese travel card!
Pasmo and Suica cards make travelling easy