Kaitenzushi
回転寿司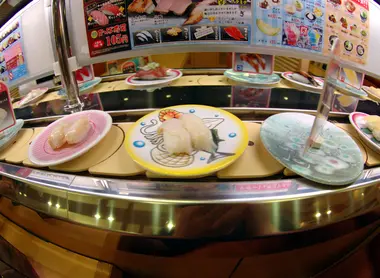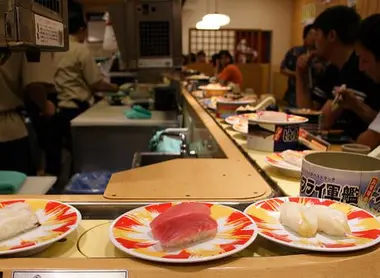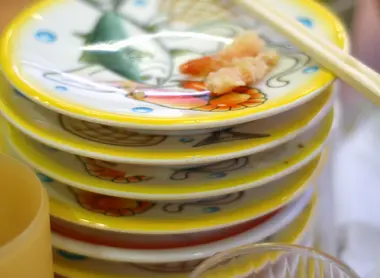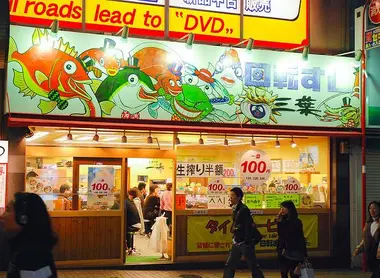 Sushi-go-round
Like sushi? What am I saying, of course you do! We have what you need. Buckle up, we're headed to sushi heaven...
Kaitenzushi - literally, rotating sushi - is a unique type of sushi restaurant. They are run by chefs (or robots) who make the sushi and place it on small plates of different colors, before setting the plates on a conveyor belt that runs through the restaurant alongside a counter where customers are seated. This way, customers can help themselves to whatever sushi catches their eye.
Do it yourself
As soon as you enter, the restaurant staff will greet you with a hearty "Irasshaimase!" as a welcome. Take a seat at the counter, and you'll see the conveyor belt in front of you. Everything you'll need to help you enjoy your sushi is at hand: chopsticks, napkins, pickled ginger, and green tea bags (or powder). Start by making tea using the handy little tap dispensing hot water. Getting hungry? Here comes the long awaited moment: choosing your sushi!
Rotating sushi
Hypnotic, almost psychedelic: plate after plate is paraded before your eyes. Often served in pairs, you'll see fatty tuna sushi... Next, maybe natto maki. There's a type of sushi for everyone!
If the conveyor belt comes full circle and you still haven't seen the sushi of your dreams - no problem! Be brave, and call out your order to the chef, if there is one - they will be happy to prepare you the sushi of your choice on the spot. Sometimes a tablet or touch screen is available instead, so you can place a more impersonal order.
Have you noticed the different colored plates? The lack of servers cleaning away your leftovers? No, it's not poor service. Each color corresponds to a price that can vary from 100 to 500 yen (or more). Once you've eaten the sushi, it is important to keep and stack the empty plates, because they are counted to determine the bill. Please note that the VAT is usually added at the end.
Kaitenzushi is fast, friendly, and fun!
For the record, the first kaitenzushi restaurant appeared in Osaka in 1958, when the manager of a sushi restaurant (Yoshiaki Shiraishi, 白石義 明) decided to install a conveyor belt in his restaurant to help his employees work faster and reduce costs. He was inspired by a visit to a brewery, where the beer was bottled in an automatic line. Enjoying the sole rights to the idea granted by its patent, the restaurant chain grew rapidly throughout the country without any competition. It was in 1978, when the sole rights expired, that the idea was soon copied by other companies. Today, the ten largest kaitenzushi chains own more than 2,000 restaurants combined!
We won't lie, kaitenzushi is essentially raw fish, fast food style. Inevitably, it's very different from sushi prepared by a highly qualified master according to strict rules, in a timeless setting. But the bill isn't the same either! Kaitenzushi lets you enjoy pretty decent sushi in a very unique atmosphere, with no need to mortgage your house to afford it! It's an experience possible for every budget.
Some Addresses:
Kyoto - Musashi Sushi
A cheap kaitenzushi restaurant, but the food is very fresh.
440 Ebisucho, Nakagyo-ku, Kyoto 604-8005 (Kawaramachi Sanjo stop, on bus lines 5, 32 11 57, 17 and 10)
Tokyo - Numazuko
Refined, tasty sushi in a room in the heart of the Japanese capital.
3-34-16 Shinjuku 1F Ikeda Plaza Bldg, Shinjuku 160-0022 (Shinjuku Station)
By the way, did you know that there are kaitenzushi where the conveyor belt is replaced by a mini rail track? And guess what delivers your sushi? Yes, the shinkansen!
All the themes of the city