Tonkatsu, Japanese breaded pork
豚カツ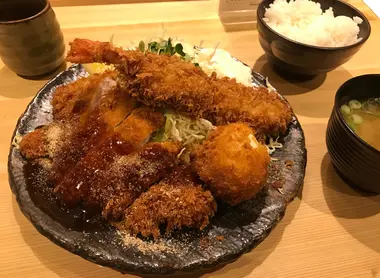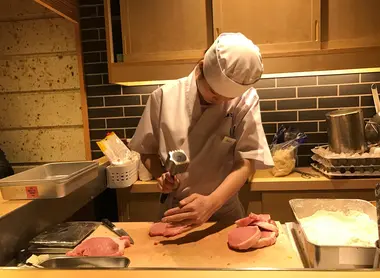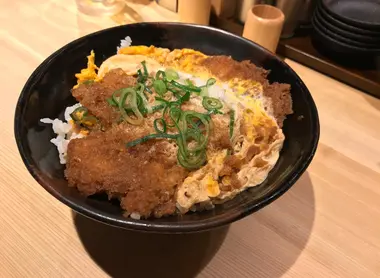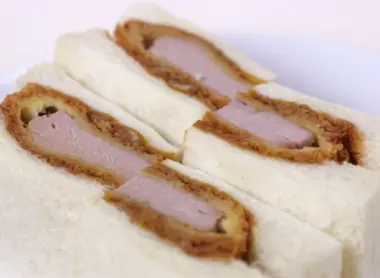 Tonkatsu, a popular Japanese specialty
Tonkatsu, a Japanese culinary specialty, is a very common Japanese dish, which consists of a piece of fried breaded pork. It is found in different forms in all types of restaurants. Learn more about this specialty, which is just as popular as ramen!
How to do tonkatsu? The secrets of the Japanese recipe
Ton means "pork", and katsu is short for katsuretsu, "chop". The name literally means "pork chop", but you can also prepare tonkatsu with pork tenderloin.
The slice of meat is first tenderized with a mallet, then brushed with the beaten egg with a little water. It is then covered with panko (Japanese breadcrumbs) before plunging it into a hot fat bath, for a longer or shorter time depending on the techniques. The frying is then drained before serving.
The piece of pork is then cut into strips about 2 to 3 centimeters thick to be served on a plate. Tonkatsu is traditionally accompanied by a fermented sweet and sour sauce, simply called " tonkatsu sauce" (similar to a Worcestershire sauce), and served with shredded cabbage and Japanese mustard, karashi. It is always served with a small slice of lemon accompanied with a bowl of white rice and miso soup.
The different tonkatsu recipes
There are, however, several other ways to enjoy tonkatsu. Served on a bowl of rice and covered with eggs and spring onions, it becomes katsudon, literally "bowl of katsu", an example of donburi, delicious! With curry, it becomes katsukare. This dish is also served with rice. Finally, in a sandwich, it is then a katsusando, which you will find in many konbinis. There are also tonkatsu skewers, the kushikatsu.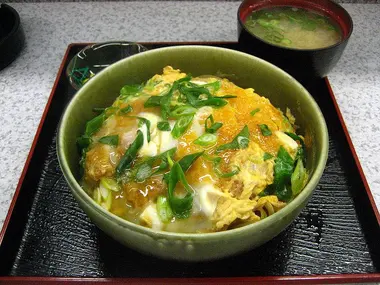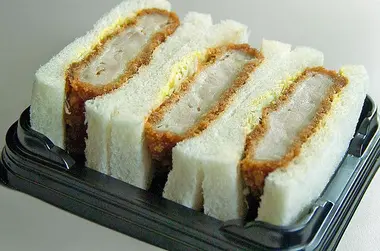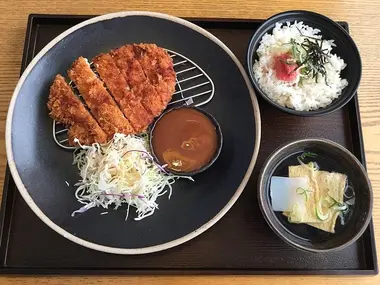 Variations of frying, along with other ingredients, are also popular in Japan.
We find chicken katsu (chikin katsu), or ground beef (menchikatsu), a variety of unique dishes that have emerged from using the original technique of tonkatsu.
Where does tonkatsu come from?
It's unclear where tonkatsu came from in Japan, but everyone agrees that this dish is inspired by Western cuisine. Some say it was born at the end of the 19th century, in a small restaurant in Tokyo famous for serving dishes inspired by the West. Tonkatsu was then still called "Pork katsuretsu".
Western influence was encouraged during the Meiji era by Emperor Meiji (1867-1912), who wished to mark the opening of his country. So it was around this time that Western cuisine began to strongly influence Japan.
We notice a resemblance of tonkatsu with German schnitzel or Milanese schnitzel. However, tonkatsu has been completely adopted and integrated by Japanese culture, if only because of the use of panko, but also because it is still served today with rice and miso soup.!
Our choices to eat tonkatsu in Tokyo
Here are three addresses of restaurants known for their tonkatsu in the capital:
It is THE benchmark for tonkatsu in Tokyo. Not far from the Nezu museum, this restaurant located in a small traditional house uses only very high-quality pork. The chef has mastered the perfect cooking of the meat, which is more tender and thicker than elsewhere. To consume without moderation!
Address: 2 Chome-24-9 Nishiazabu, Minato City, Tokyo 106-0031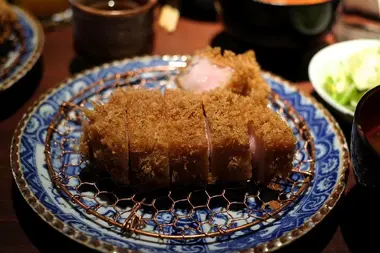 Another fine establishment, near Akihabara, is renowned among other things for its unique sauce, and its slower cooking technique at lower temperatures. We recommend taking a seat at the counter, to view all the preparation live in action before your eyes! 
Address: 1-8-14 Sotokanda, Chiyoda-ku, Tokyo, 101-0021
A warm and friendly place is recommended in the 2019 Michelin guide. Rosu katsu (which uses a fatter part of the pork) is their best seller. However, be prepared to wait in line to taste their particularly juicy pork, accompanied by cabbage, rice, and miso soup.
Address: 2-8 Kanda Ogawamachi, 1F Ogi Bldg., Chiyoda 101-0052
All the themes of the city