Makishi Market
牧志公設市場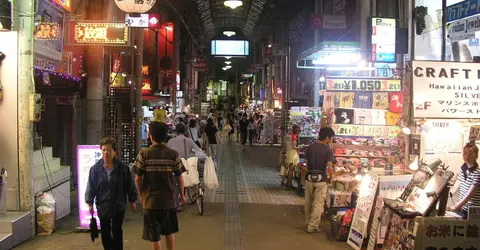 The cuisine of Naha
The main food market of the island's capital, Naha, Makishi is located south of Kokusai-dori Street. It offers a huge variety of fish and other products of the sea.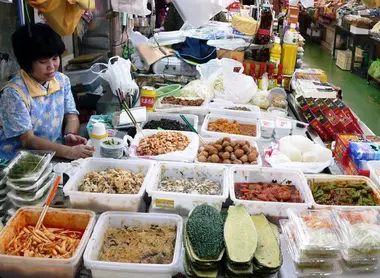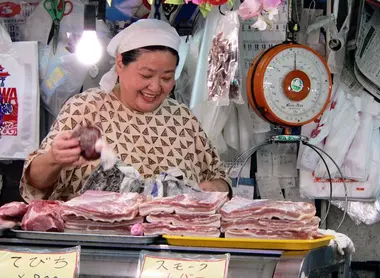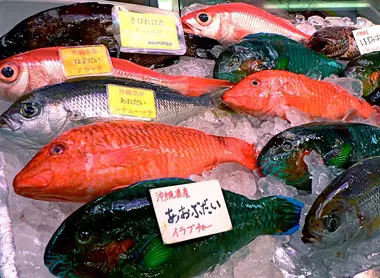 Among the market stalls
The must-see place and trading center of the Okinawa capital, Makishi public market, or makishi kosetsu ichiba, is an opportunity for a glimpse into the daily life of the people of Naha. Less well-known than Tsukiji market in Tokyo, Makishi still surprises visitors with its colorful stalls.
Don't miss the small restaurants located on the market floors, where you'll be served quality cuisine made with fresh produce! You can even buy your fish on the first floor, and then have it cooked on the second floor for a reasonable price (500 yen for all three fish). For those who prefer to eat something other than fish or seafood, the "food court" also offers other options (Chinese and Okinawan dishes).
Ryukyu cuisine
Among the culinary specialties of Okinawa, and older Ryukyu cuisine, you'll be able to try smoked irabu snake. Much more venomous than the Okinawan snake, habu, it has been eaten since the time of the Ryukyu Kingdom (15th-19th centuries). Rather expensive, you can certainly find it at Makishi market should you be feeling adventurous. In addition to snake, pig's head and trotters are also local specialties, as well as local vegetables such as goya, a kind of bitter cucumber much appreciated by Okinawans.
Shopping in Makishi
Established in the 1970s, Makishi market has about 150 stalls. After walking around the first floor, where the shops are, and perhaps enjoying lunch at the food court, take advantage of the chance to buy some interesting souvenirs. Condiments and other packaged local products are great to take home with you! Around the 18th of every month is "market day", during which special promotions mean you can buy many goods at lower prices.
Read : Kuromon Market in Osaka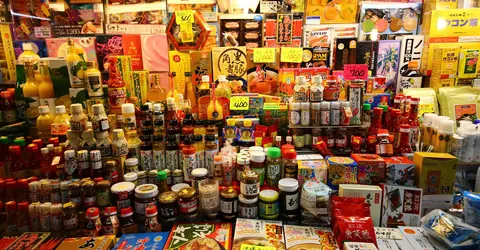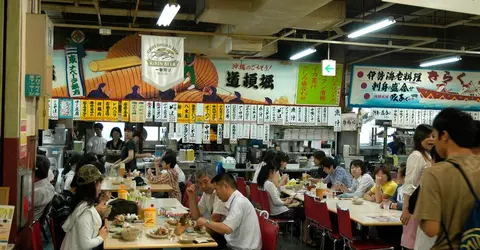 All the themes of the city