Hakata Ramen
博多ラーメン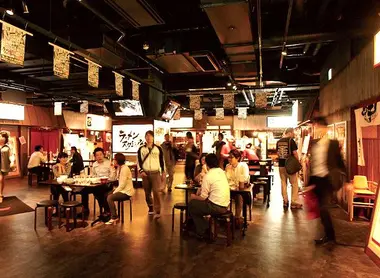 <span>Les nouilles venues d'ailleurs</span><br>
De fines nouilles, une consistance crémeuse, un savoureux goût de porc... Pas de doute, il s'agit du célèbre bouillon de Fukuoka.
It's the pride of Fukuoka: Kyushu ramen, otherwise known as Hakata ramen (the former name of the capital of Kyushu, Hakata), which is said to be the most delicious in Japan! The special feature: a broth made with pork bones! This soup is called tonkotsu, and is renowned throughout the country.
Made in China
For some, Fukuoka would even be called the birthplace of Japanese ramen. Its proximity to other Asian countries would have first allowed the introduction of the famous noodle to Japan, through the foreign influence of Chinese visitors. But then purists point out that it is in Kurume - a small town south of Fukuoka - where the first ramen restaurant in the area actually opened.
A hugely popular dish in Japan, ramen has dozens of local variations. In other cities on Kyushu, you can enjoy various bowls of tonkotsu ramen, with more or less meat, or soy sauce added (Kumamoto, Kagoshima). And further afield, the two greatest rival recipes are from Sapporo (and its miso ramen) and Tokyo (with shio ramen, seasoned with salt).
Nests noodles
On the 5th floor of Canal City ,a huge shopping centre in Fukuoka, the hungriest of travelers can have a noodle feast at the eight ramen restaurants in Ramen Stadium.
Downtown Fukuoka (the Hakata and Tenjin districts) is full of other places, but the best place to enjoy real Hakata ramen is still at the famous yatai, mobile food stalls that can easily be found along the banks of the Nakasu River in the evenings.
In Tokyo, the chain Akanoren has offered famous tonkotsu noodles since 1946.
All the themes of the city