Sumo tournament in Japan: a guide to witnessing the fights
本場所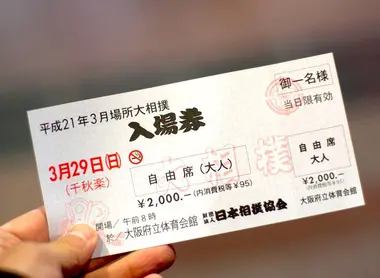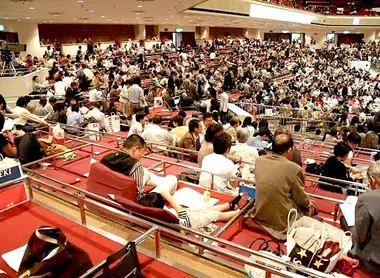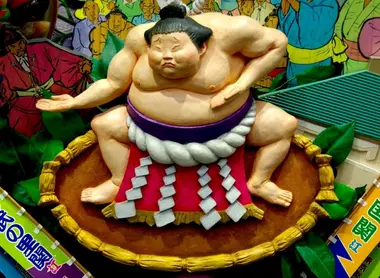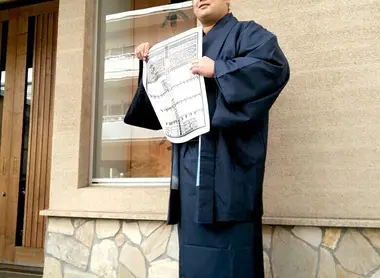 XXL show
Sumo is a rare spectacle: six tournaments are organized each year in four cities of the country. Here's a little guide for those interested in watching the match live.
Organization of sumo tournaments in Japan: dates, places, and times of fights
Hon-basho, the official sumo tournaments, are held in odd-numbered months. The competition lasts 15 days, the last being reserved for the most prestigious bouts. During a day of competition, the matches of the junior wrestlers start around 9 am, those of the more experienced and confirmed wrestlers around 3 pm.
Sumo tournaments are held in four cities in Japan:
Tokyo, in January, May, and September, at Kokugikan Sumo Hall.

Osaka, in March (2nd to 4th Sunday), at Furitsu Taiikukaikan.

Nagoya, in July (2nd to 4th Sunday), at Aichi ken Taiikukan.

Fukuoka, in November (2nd to 4th Sunday), at the Kokusai Center.
For more information and tournament dates: Sumo
Choosing the right place in a sumo match
Most seats for sumo matches are individualized and available on balconies, but masu, small square boxes for 4 people with tables and cushions are the premier seatings. You can also be close to the action, from the ground floor seats, located just outside the "dohyo" where the match occurs (similar to ringside tickets), but be aware: wrestlers falling off dohyo towards the spectators is a frequent occurrence...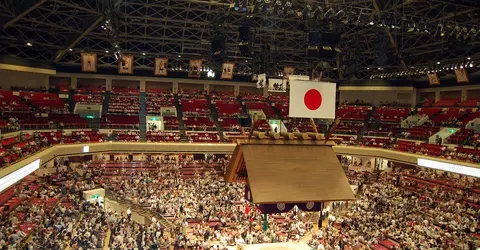 How do I book tickets for a sumo tournament?
In principle, tickets can only be purchased in Japan, except on the Ticket Oosumo site (in English). Seats without reservation (the least well placed) are on sale each day of the tournament (350-400 seats), from 8 a.m. or 9 a.m., directly at the stadium and limited to one per person per ticket.
But the majority are by reservation: they can be done by phone, directly at the stadium, or on the Internet (at Oosumo, Lawson, or e-plus ), generally one month before the start of the tournament.
You will also find tickets at Ticket Pia, these machines that sell all kinds of show tickets (one problem: everything is in Japanese). For example for Tokyo: in Shinjuku (in front of Isetan or Keio department stores) or Ikebukuro (in front of Tobu department store).
The easiest way is perhaps to buy your tickets in a konbini since you can find them everywhere (at Lawson, FamilyMart, and Seven Eleven).
How much does a seat cost for a sumo match?
Count 2,000 yen ($18/€16) for a seat without a reservation, and between 3,000 and 9,000 yen ($26/€ 24 and $79/70) for a reserved individual seat. The box seats, offer several prices, between 15,000 and 40,000 yen ($132/117 and 312€) per person.
The "15 days" ticket allows you to attend the entire tournament, on sale (20,000 yen - $176/150 €) at the stadium.
You can of course reserve a tasty bento for the show, from 3,000 to 10,000 yen ($26/23 and 80 €), by reservation.
Please note: a reservation fee is generally added to the price of the ticket (1000 yen $9/8 €) in general.
---
All the themes of the city
Comments
Réponse à Clara I was assuming they were for blind people to know where they were