Onsens in Kyushu
The Hot Springs of Kyushu 九州の温泉
Joe Sinclair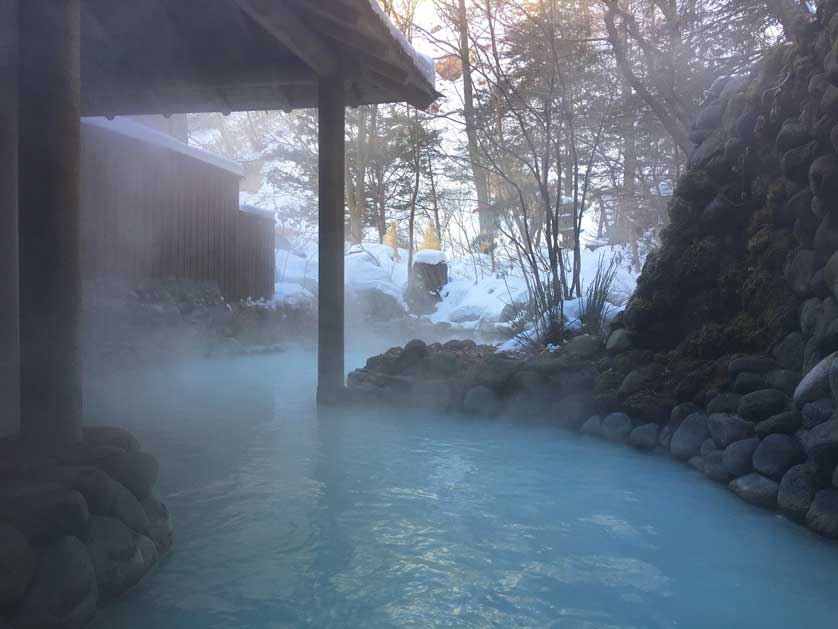 A trip to one of Japan's onsen (hot spring baths) can be a daunting experience for a first time foreigner.
Finding the right entrance, washing before you bathe, and what to do with your (surprisingly small) towel - it might feel as if you have landed in a more metaphorical kind of hot water.
But before you leave with your towel between your legs, remember that the baths are meant for relaxing.
As the saying (almost) goes, "When in Roman baths.." So do as the Japanese do and you can't go far wrong.
Just remember the baths are not for washing - you must have a thorough scrub down at the showers before getting in the various pools.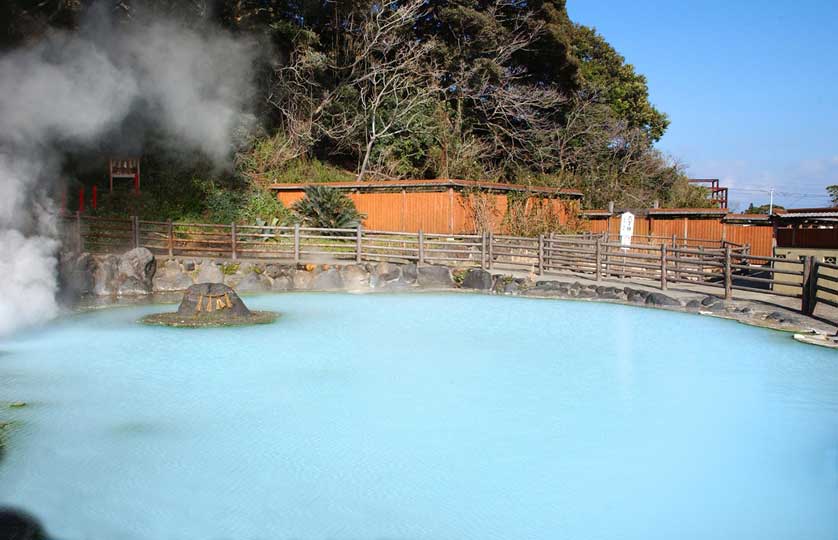 Beppu Onsen, Oita Prefecture, Kyushu, Japan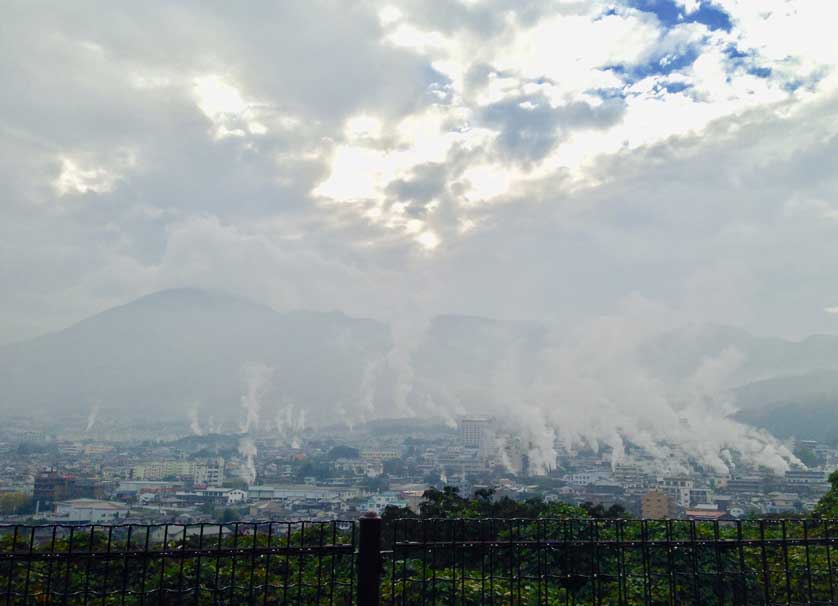 Beppu Onsen, Oita Prefecture
For those of us who have developed a real taste for onsens (not literally of course - the sulphurous water isn't so healthy internally), Kyushu - the southern most of Japan's four main islands - offers whole new depths of bathing. Sand baths, mud baths, baths in caves or secluded pools up mountain streams, Kyushu has whole towns dedicated to bathing pleasure.
Last spring my two brothers and sister-in-law came to visit me in Japan. Different onsens offer very different experiences, so before reaching Kyushu we decided to try a few out.
Types of Onsen
Onsens may have originated as natural mountain rock pools, thermally-heated and pungent with the smell of sulphur. But modern Japan also offers up-market purpose-built spas.
Spas will usually include both indoor and outdoor baths (rotemburo), often with an electronic temperature gauge (reading between 40 and 44 degrees Celsius). The place we went to had a Jacuzzi and you could even watch Japanese baseball on a television in the sauna.
If you want to splash out it's a good idea to try a good ryokan (Japanese-style hotel). After a traditional meal and a glass of beer - prepared, served and poured by your own maid - you can relax in your private hot tub. Unlike western-style lie-down baths, the tubs are designed to sit in. You will be fully immersed and totally relaxed.
Public Baths
Most towns will have a sento (public bath), a cheap and basic place to wash, bathe and relax. Originally, people who didn't have their own bath at home would go to the sento, which became a place to meet and socialize with your community. It's still a great place to meet local Japanese people, but the number of sentos is on the decline.
The sento we went to was a bit of a shock. As soon as I dipped my foot into the bath my toes started to tingle. As my leg went in further my foot clenched up and my calf went into a violent spasm. I pulled my leg out quickly but the Japanese man in the next door bath was laughing. He pointed to the sign on the wall and I realized this was the electric pool, a kind of painful pain reliever for bad backs.
Other than the shock pool everything had gone swimmingly. We were feeling confident about our mastery of bathing etiquette and we were looking forward to Kyushu.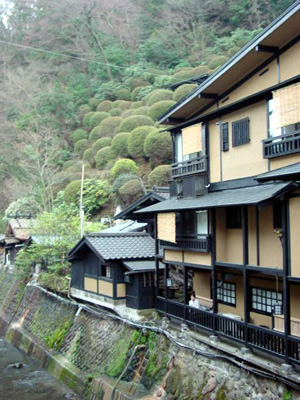 Kurokawa Onsen is one of Kyushu's most picturesque spots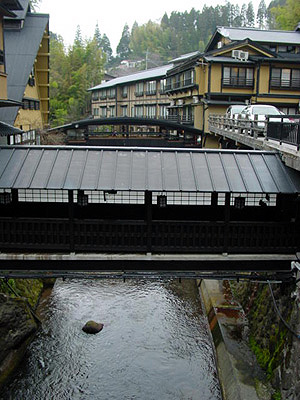 Kurokawa Onsen has a variety of hot spring bathing possibilities
Kurokawa Onsen
Kurokawa onsen is a quaint village built along a steep valley river in central Kyushu. Kurokawa, which means "black river", is famous for its rotenburo (outdoor baths) and - like Zen gardens or bonsai trees - the baths here are a beautiful example of the Japanese both incorporating nature and shaping it to their tastes.
The village consists almost exclusively of ryokan and onsen, and people come here with the sole purpose of bathing. Tourists wander from bathhouse to bathhouse along the narrow cobbled streets in their yukata (informal cotton kimono). Kurokawa's secluded locale emphasizes the idea of otherworldliness inherent in Japanese onsen - a world cut off from workaday stress, where your worries can drift away with the steam.
We decided to explore the cave pools. So we three brothers waved goodbye to my sister-in-law, found the male entrance and stripped off. The caves were carved out of the rock by hand. The low ceilings were dripping, as if they were sweating in the steamy heat.
We couldn't find the washing area but after a heated discussion about what to do we checked no-one was looking and slipped into the water behind a veil of steam. We soon noticed that the Japanese were getting in without washing as well. It seems even the must-wash-first rule could be flouted in some circumstances.
Meanwhile, my sister-in-law had settled into a large bath, surprised to have it all to herself. After a relaxing few minutes she looked up to see someone else getting in. Hang on, those legs are a bit hairy fora lady! The old man looked at her with an expression somewhere between confusion and delight. It turned out she had walked into the family bathing area. She got up, covered up with her tiny towel and made as dignified an exit as she could muster.
Beppu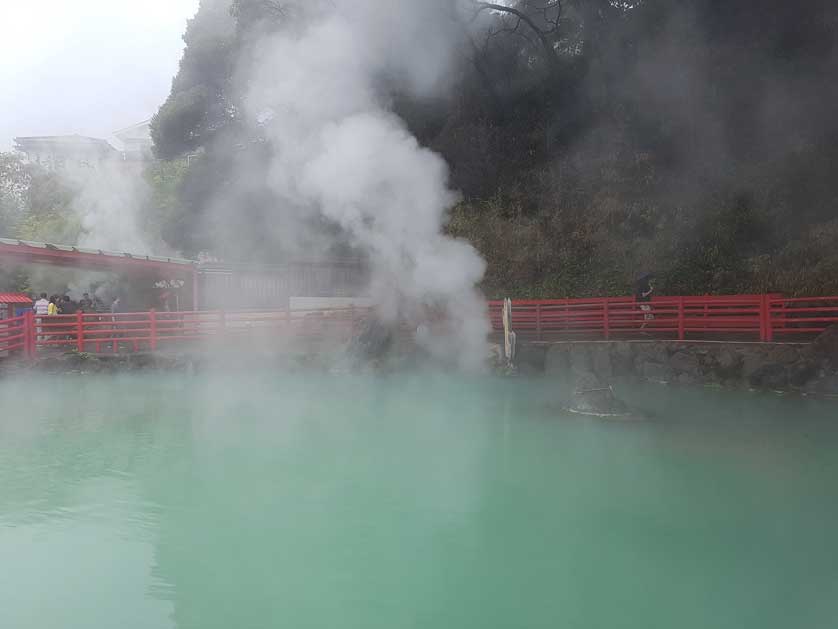 Beppu Onsen, Oita Prefecture, Kyushu
Our next port of call was the holiday resort town of Beppu on Kyushu's east coast. With its beachfront, hotels, izakayas (Japanese pub-restaurants), seedy hostess bars, tourist groups and kitsch, this is very much a holiday town. But the main attraction is the baths, which offer more than a conventional soak.
Once when I fell asleep on a beach in Spain I awoke to find that my mates had buried me in sand. At Beppu's sand baths you can pay for a very similar experience. But instead of your friends, a troop of old ladies are on hand to heap the hot black sand onto your naked body.
Ten minutes in your sandy cocoon is very relaxing, a bit like a skin-tight sauna. And once you wriggle free of the heavy sand you're left feeling refreshed (and ready for another wash to get the sand off).
Mud Baths

But of all the baths in Japan, the real highlight for me was the self-proclaimed "Mud-filled Paradise" of the mud baths, "An unforgettable sensation, as if you are entering right into hell." A Japanese author was quoted: "The way the mud clings to me reeks of primordial bestiality". I couldn't wait.
I lay back in one of the baths and was surprised to find that I could float. The mud was rising up through the water, holding me in suspension like some great slimy hand.
There were several different kinds of mud bath, indoor and out, each with its own consistency. With thoughts of the film "Predator" running through my mind, I lathered myself in mud so that only the whites of my eyes were showing through a full-body camouflage, and sat up on one of the bath-side rocks.
A group of Japanese tourists slithered into the muddy waters, unaware that they had company. They looked up startled as I slipped from my rock into the water and made a worried and hurried exit. Obviously my primordial bestiality was too much for them.
In fact, onsens can be a great place to meet Japanese at their most relaxed and free. Going for a communal bath is not just about undressing your clothes. You also undress your worries and remove social boundaries. There are no white collars or blue collars, so it's an easy environment to start up a conversation.
On our return to Tokyo we told one of my Japanese friends about all the baths we had been to. "Ah yes!" he announced, "You are now experts in bathing."
The river walk at Kurokawa Onsen, Kyushu
Japan Articles by Joe Sinclair
Interview with a Kabuki Actor
Hitch-Hiking in Japan
Japan Travel Tips: Missing the last train in Tokyo
Tokyo Story - Movie Review
Memoirs of a Geisha - Movie Review
Twilight Samurai - Movie Review
Fear And Trembling (Stupeur et Tremblements) - Movie Review
The Fog of War - Movie Review
Zatoichi - Movie Review
Interview with David Mitchell, author of "Cloud Atlas"
Japanese hot-springs in Kyushu: Read a guide to onsen - hot spring baths in Kyushu, southern Japan.
All the themes of the city