Take a taxi
タクシー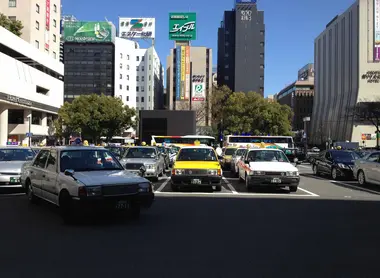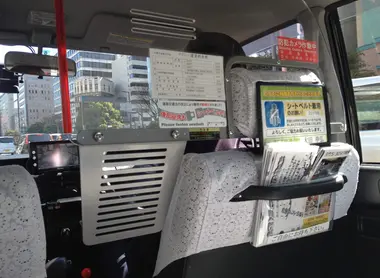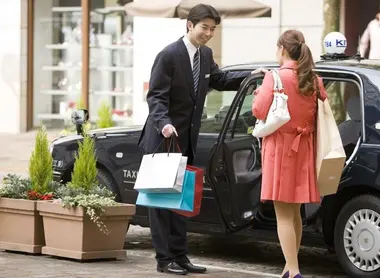 10 things to know
In Japan, taxis are expensive, yet very useful when you've got heavy luggage or you missed the last train!
Recognize
They feature a green plate and a neon sign on the roof (lit at night if the taxi is available). The drivers usually wear white gloves and pilot a Toyota Crown, yellow or black.
Find
In the street, hail a cab by raising your hands. Near a train station, go to the taxi area. The easiest way may be to apply from your home or hotel, or book by phone (English available with Nihon Kotsu or Taxi Service in Tokyo).
Free or busy
A free taxi ("空車" - Kusha) features a small red sign at the bottom right of the windshield. It turns green ("賃 走" chinsô or "実 車" jussha) when a customer is in the taxi.
Automatic doors
The driver is responsible for opening and closing the door with a control near the steering wheel. Do not slam the door on your way out.
English vs Japanese
It is rare to come across an English-speaking driver. Also, if you do not speak Japanese, consider having someone write the name of your destination on a small piece of paper, or specify precisely in the guide or on a map.
Up to four
Taxis accept up to 4 passengers at a time: that means a 4 way split of the cost of the trip!
Rates
The price includes a fee of about 700 yen for the first two kilometers (410 yen for the first kilometer in Tokyo), which then adds a per kilometer (about 400 yen). Both vary slightly depending on the company and city. Warning: the nightly rate, between 10 pm and 5 am, might cost about 20% more.
Card or cash
In general, cash is better in Japan. More and more taxis are accepting credit cards, but make sure that the logo of your card appears on the window of the taxi, and ask about a minimum amount (5000 yen in general).
Estimate
To estimate the price of a trip in the big cities, you can go on the site Taxi Auto Fare, which also has a version for mobile devices.
Prohibited
Smoking, negotiating the price, and leaving a tip.
All the themes of the city