Tokyo by bike
自転車で東京散歩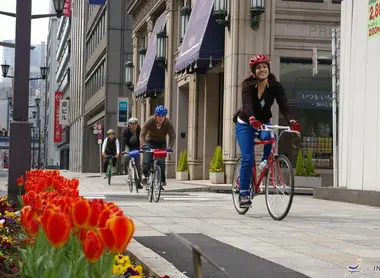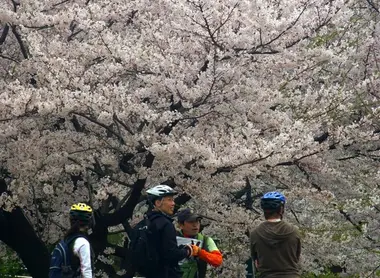 To Tokyo by bike
Renting a bike in Tokyo can be a good idea to discover the city in a different way!
Discover Tokyo by pedaling
You certainly imagine Tokyo as a capital where cars reign supreme, often suffering from pollution and massive traffic jams. However, in recent years, reality has slowly changed since the city has made it a point of honor to develop its public transport network but also cycle paths . So, rather than rushing into a subway or having to look for a taxi on rush hour, why not hire a bike to explore the Japanese capital at your own pace?
Explore the capital by bike with Voyagin .
Prepare your itinerary
When you arrive in Tokyo, start with a tour of the tourist office . There you can pick up maps of the city on which the cycle paths are indicated. Some routes to visit the most famous monuments of the city are also mentioned. Several routes take you outside Tokyo, following the course of the Edo or Tama rivers. These excursions are ideal for familiarizing yourself with the geography of the place.
Where to rent a bike in Tokyo?
Tokyo does not currently have a self-service bicycle system, as is the case in Paris and in many French cities. You will therefore have to stop at small specialized kiosks, offering very low prices, generally around 200 円 per day. Your identity document will be required as well as a deposit in most cases.
Rent or buy?
If you are in Japan for several weeks, it may be more profitable to buy a used bike if you plan to use it every day. You shouldn't have too many problems parking, as Tokyo is equipped with several gigantic bike parking lots.
Activité au Japon : Explorez Tokyo à vélo
All the themes of the city