Tokyo Facts
Tokyo facts: Read a selection of facts about Tokyo, Tokyo geography, demographics, weather, features, and more.
Tokyo Facts 東京基本情報
Facts about Tokyo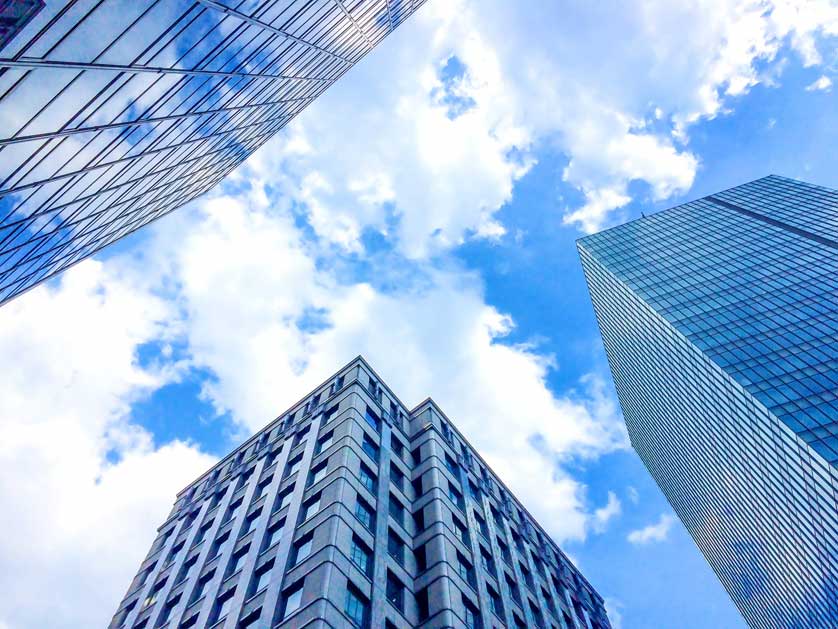 Tokyo is a vast metropolis, and it would take more than a lifetime to properly get to know it. Here is a collection of basic facts about Tokyo for a 5-minute overview of Japan's capital city.
Unless otherwise stated, all statistics are as of 2015.
Tokyo geography
Tokyo is the capital city of Japan, and the biggest city in Japan in terms of population and area. Tokyo is located roughly in the middle of the Japanese archipelago facing the Pacific Ocean. Tokyo is on the Kanto plain, bordering Tokyo Bay, 35 degrees 41 minutes north latitude and 139 degrees 46 minutes east longitude.
The Tokyo Megalopolis Region, or Greater Tokyo Area (Shutoen 首都圏), comprises Tokyo and the three adjacent prefectures of Chiba, Saitama, and Kanagawa. The Tokyo region contains about 26% of Japan's total population. Another definition of "Shutoen" is, in English, the National Capital Region and comprises Tokyo and seven surrounding prefectures: Chiba, Saitama, Kanagawa, Gunma, Tochigi, Yamanashi, and Ibaraki.
Two major rivers flow through Tokyo: the Sumida River, running north-to-south into Tokyo Bay, and the Tama River, running west-to-east, and forming the border between Tokyo and Kawasaki. The other major rivers are the Edo, Arakawa, and Kanda rivers.
Tokyo has a total land area of 2187.42 square km (about 845 square miles) and is home to about 10% of the population of Japan. Including the neighboring prefectures of Saitama, Chiba and Kanagawa, the Tokyo conurbation has a total population of over 37 million inhabitants, one of the largest population agglomerations in the world.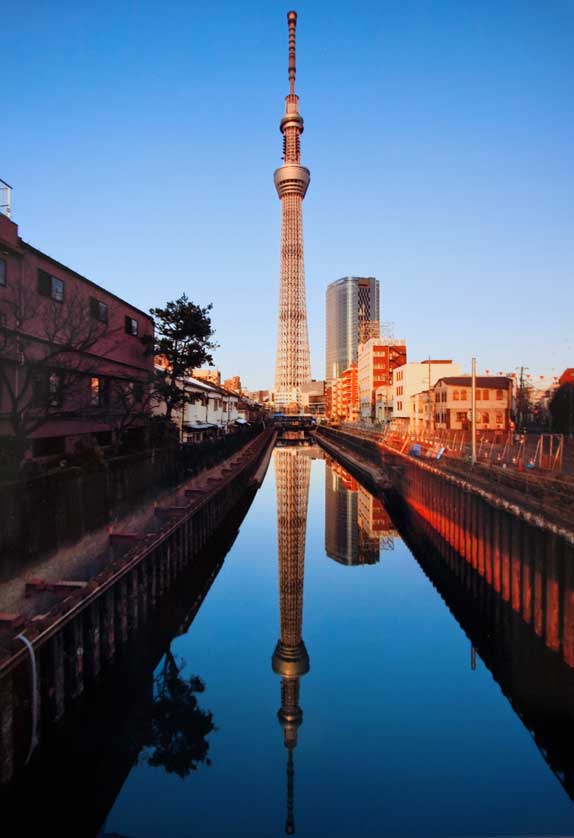 The Tokyo Sky Tree is Tokyo's and Japan's tallest structure at 634 meters
Tokyo climate and weather
Tokyo has an average temperature of about 16.5 degrees Celsius (62 degrees F), an average minimum temperature of about 13 degrees Celsius (55 degrees F), and an average maximum temperature of about 20 degrees Celsius (68 degrees F). Average humidity is about 60%.
January and February are the coldest months in Tokyo with an average of 5 degrees Celsius (41 degrees F) and average humidity of 44%. January is the sunniest month, with an average of 55% sunshine hours.
Summer in Tokyo is sweltering: very hot and humid. July is the hottest month in Tokyo with an average of about 26 degrees Celsius (79 degrees F) and average humidity of 74%. Daytime temperatures in summer in Tokyo are typically in the lower 30 degrees Celsius (86 - 95 degrees Fahrenheit). July is also the cloudiest month in Tokyo, with an average of 13% sunshine hours.
Tokyo's total rainfall in 2018 was 1651.5 mm. September and October often form the wettest period, with April not far behind. February is often the driest month.
Tokyo time
Tokyo's time zone is 9 hours ahead of Greenwich Mean Time. Tokyo does not have daylight saving.
Tokyo earthquakes
Tokyo experiences numerous earthquakes. Before the March 11 2011 Tohoku earthquake, 2005 was the year when Tokyo had had the most earthquakes of over 1 on the Richter scale, with 85 earthquakes. The Tohoku earthquake was an upper 5 on the Japan Meteorological Agency (JMA) scale and the aftershocks over the next two months were innumerable. The yearly average for earthquakes over 1 on the Richter scale in Tokyo is about 50.
Tokyo history and politics
Tokyo is the seat of the Emperor of Japan, the figurehead of Japan's constitutional monarchy, who lives in the Imperial Palace (Kohkyo) in the heart of Tokyo.
Tokyo became a major city, and one of the world's most populous, from the beginning of the 17th century, when the city was called Edo, founded in the 12th century. In 1603, the warrior leader Tokugawa Ieyasu made it the seat of his feudal government. Tokyo became the capital of Japan (at the expense of Kyoto), and had its name changed from "Edo" to "Tokyo," in 1868 with the modernizing Meiji Restoration.
In 1964, Tokyo hosted the summer Olympic Games and will stage the Olympics again in 2020.
Tokyo symbols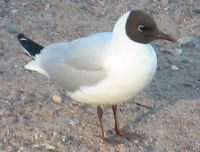 Black-headed Gull
Tokyo's flower: Somei Yoshino (Yoshino cherry blossom, Prunus × yedoensis)
Tokyo's tree: Gingko (Ichoh in Japanese, Ginkgo biloba)
Tokyo's bird: Black-headed Gull (Chroicocephalus ridibundus)
Tokyo's official symbol, adopted in June 1989, comprises three green arcs forming the letter T in the shape of a ginkgo leaf. It is a symbol of Tokyo's growth, its prosperity, and tranquility.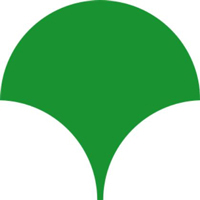 Gingko leaf logo
Tokyo government and administration
Tokyo's status is on a par with the prefectures that make up Japan, but is known as a metropolis, or to (都), rather than a prefecture, or ken (県).
Tokyo consists of 62 municipalities: 23 wards, 26 cities, 5 towns, and 8 villages, the villages mostly consisting of the Izu Islands and the Ogasawara Islands off the coast of Tokyo, the furthest being 354 km away from the Tokyo Metropolitan government headquarters. The area of Tokyo to the west is known as the Tama Region.
The present governor of Tokyo, elected in 2016 is Yuriko Koike (b.1952), the first woman to hold the office. The Governor is elected by direct citizen vote, and represents the Metropolis of Tokyo for a renewable term of 4 years.
The former Governor of Tokyo was Yoichi Masuzoe (b.1948), a famous politician even before his election to Tokyo governor, a renowned political economist and expert on the problem of Japan's aging society. He was once a Diet member for the Liberal Democratic Party. Masuzoe resigned in June 2016 for misusing public funds.
Tokyo is administered by the Tokyo Metropolitan Government, which has its headquarters, known in Japanese as Tocho, in Shinjuku ward, west of Shinjuku Station. It is governed by the Tokyo Metropolitan Assembly (Tokyo-to gikai 東京都議会) made up of 127 members directly elected by Tokyo citizens to serve a term of four years.
As of April 1, 2015, the Tokyo Metropolitan Government employed a total of 167,914 persons.
In fiscal year 2015, the Tokyo Metropolitan Government's budget made up approximately 6.9% of the total budget of all the local bodies in Japan.
Tokyo Tourist Information Center locations
Main Office at Tokyo Metropolitan Government Building2-8-1 Nishi-Shinjuku, Shinjuku-ku (1st floor of TMG building No.1)Open year-round: 9:30 a.m. to 6:30 p.m. (except the year-end and New Year holiday period)Tel: 03-5321-3077
Haneda Airport Office (Terminal 1)3-3-2 Haneda Kuko, Ota-kuOpen year-round: 9:00 a.m. to 10:00 p.m.Tel: 03-5757-9345
Keisei Ueno Office1-60 Ueno Koen, Taito-ku (in front of the ticket gate of Keisei Ueno Station)Open year round: 9:30 a.m. to 6:30 p.m.Tel: 03-3836-3471
Tokyo Tourist Information Websites
JapanVisitor's Tokyo Area Guide
www.tourism.metro.tokyo.jp/english (English Top Page)www.tourism.metro.tokyo.jp (Language Selection Page) Choose from Japanese, English, Chinese (simplified and traditional), Korean, German, Spanish, Italian, and French)www.kanko.metro.tokyo.jp/ (Japanese Top Page)
The 23 wards of Tokyo
The 23 wards of Tokyo are:Adachi-ku (足立区), Arakawa-ku (荒川区), Bunkyo-ku (文京区), Chiyoda-ku (千代田区), Chuo-ku (中央区), Edogawa-ku (江戸川区), Itabashi-ku (板橋区), Katsushika-ku (葛飾区), Kita-ku (北区), Koto-ku (江東区), Meguro-ku (目黒区), Minato-ku (港区), Nakano-ku (中野区), Nerima-ku (練馬区), Ota-ku (大田区), Setagaya-ku (世田谷区), Shibuya-ku (渋谷区), Shinagawa-ku (品川区), Shinjuku-ku (新宿区), Suginami-ku (杉並区), Sumida-ku (墨田区), Taito-ku (台東区), Toshima-ku (豊島区)
Complete list of place names and postcodes
The 23 wards at the center of Tokyo make up about 28% of the area of the metropolis (i.e. 621.81 km2 of 2187.42 km2), and are home to about three-quarters of its population, i.e. about 8.65 million residents, with an average population density of 13,913 people per km2.
Tokyo's working population in 2017 numbered approximately 7.9 million, about 3.44 million of whom were women. Tokyo's unemployment rate in 2017 was 2.9%.
Tokyo's largest ward in terms of area is Ota ward with 59.46 square km. Tokyo's smallest ward in terms of area is Taito ward with 10.08 square km.
The Tokyo ward with the most inhabitants is Setagawa ward, with 850,576 people. The Tokyo ward with the fewest inhabitants is the largely business- and administrative-related Chiyoda ward, with 43,124 people.
The 26 cities of Tokyo
The 26 cities of Tokyo are: Akiruno-shi, Akishima-shi, Chofu-shi, Fuchu-shi, Fussa-shi, Hachioji-shi, Hamura-shi, Higashikurume-shi, Higashimurayama-shi, Higashiyamato-shi, Hino-shi, Inagi-shi, Kiyose-shi, Kodaira-shi, Koganei-shi, Kokubunji-shi, Komae-shi, Kunitachi-shi, Machida-shi, Mitaka-shi, Musashimurayama-shi, Musashino-shi, Nishitokyo-shi, Ome-shi, Tachikawa-shi, Tama-shi
Tokyo's largest city is Hachioji city with 186.31 square km. Tokyo's smallest city is Komae city with only 6.39 square km.
Tokyo's most populous city is Hachioji city with 563,077 people. Tokyo's least populous city is Hamura city, with 56,808 people.
The 5 towns of Tokyo
The 5 towns of Tokyo are:Hinode-machi, Mizuho-machi, Okutama-machi, Hachijo-machi, Ohshima-machi
The 8 villages of Tokyo
The 8 villages of Tokyo are:Aogashima-mura, Hinohara-mura, Kouzushima-mura, Mikurajima-mura, Miyake-mura, Niijima-mura, Ogasawara-mura, Toshima-mura
The largest island in Tokyo is Oshima-shicho with 141.82 square km. It also has the largest island population, at 14,166. The Tokyo island with the smallest population is Aogashima with only 212 people (and only 77 of them women!)
Tokyo population and demographics
The population of Tokyo is about 13.8 million (2019), with an average population density of 6,316 people per square km. After a decade of slight year-on-year decline, Tokyo's population has been expanding since 1996. The rate of annual population increase since the year 2000 has been just under 1%, i.e., an annual increase of about 100,000 people. Tokyo's population in 1907, one hundred years before, was 2,585,300. The biggest fluctuation in Tokyo's population happened in 1945, the last year of the Pacific War, when it dropped by 3,782,717 people, or minus 52%.
Tokyo's daytime population is about 14.978 million people, and its nighttime population about 12.416 million, a difference of 2.562 million people. The most extreme example is the three wards of Minato, Chiyoda, and Chuo with a daytime population of 2.41 million and a nighttime population of 326,000.
Tokyo's largest foreign community is Chinese, with 126,498 people, followed by Korean with 109,824 people, then Filipino with 31,365, and USA Americans with 18,409. Shinjuku ward has the largest foreign population, with 30,337, almost half of them Korean and about a third of them Chinese.
Tokyo social statistics
The number of marriages in Tokyo per 1000 people is in general decline, with 12.8 in 1966, 8.8 in 1976, 6.8 in 1986, 7.3 in 1996, and 7.2 in 2006.
The number of divorces in Tokyo per 1000 people is generally increasing, with 0.93 in 1966, 1.3 in 1976, 1.55 in 1986, 1.92 in 1996, and 2.12 in 2006.
The average lifespan of Tokyoites in 2005 was 79.02 years for males, and 85.53 for females.
Tokyo has over 100 universities and colleges, hundreds of museums and over 200 parks and gardens.
Tokyo's most notorious nightlife district is Kabukicho in Shinjuku ward. Roppongi ward is known for its more glamorous nightlife and large numbers of foreigners. Shinjuku Ni-chome in Shinjuku ward is known for its gay quarter.
Tokyo internationally
Tokyo has twelve sister cities/states: New York City (since February 29, 1960), Beijing (since March 14, 1979), Paris (since July 14, 1982), New South Wales (since May 9, 1984), Seoul (since September 3, 1988), Jakarta (since October 23, 1989), Sao Paulo State (since June 13, 1990), Cairo (since October 23, 1990), Moscow (since July 16, 1991), Berlin (since May 14, 1994), Rome (since July 5, 1996), and London (since October 14, 2015).
Tokyo transportation
Tokyo is linked to the rest of Japan by road, rail, and air.
Tokyo's major airports are Haneda Airport in Ota ward, and Narita International Airport in neighboring Chiba prefecture, 60 km from downtown Tokyo.
The high speed railway shinkansen (bullet train) network is an alternative to flying that generally takes no longer than by air. Tokyo is served by numerous train, subway and bus lines. The most efficient way to move around the 23 wards is by the JR East train lines and the subway lines.
The main Japan Rail East lines in Tokyo are:
the Yamanote Line (green trains), a loop line that is the best known of all Tokyo lines
the Chuo Rapid line (orange trains), also very well known, running east-west through the Yamanote line, linking Tokyo and Shinjuku stations and extending west
the Chuo-Sobu line (yellow trains), running parallel to most of the Chuo Rapid line and stopping at more stations
the Keihin Tohoku Line (silver trains with a light blue stripe), running parallel to the eastern half of the Yamanote line, and extending down to Yokohama and beyond
the Saikyo-Rinkai Line (silver trains with a dark green stripe), technically two lines that converge at Osaki station, the Saikyo line running parallel to the western half of the Yamanote line and the Rinkai line continuing to the east of Tokyo south of, then east of, the Yamanote Line.
the Nambu Line connects Tachikawa Station in Tachikawa with Kawasaki Station in Kawasaki, Kanagawa Prefecture.
the Nippori-Toneri Liner, an automated train system serving the north-eastern part of greater Tokyo.
Tokyo has two subway companies, the Toei Subway with 4 lines with a total of 107 km (66.5 miles), and the Tokyo Metro with 9 lines with a total length of 195.4 km (121.4 miles), a grand total Tokyo subway length of 302.4 km (187.9 miles). They serve mainly the area inside the Yamanote line.
Toei lines are the Asakusa line (pink), the Mita line (navy blue), the Shinjuku line (bright green), the Oedo line (purple).
Tokyo Metro lines are the Ginza line (bright orange), the Marunouchi line (red), the Hibiya line (gray), the Tozai line (bright blue), the Chiyoda line (dark green), the Yurakucho line (yellow), the Hanzomon line (purple), the Namboku line (teal), the Fukutoshin line (dark orange).
Private railway companies in Tokyo are:
Tokyu Railways: serving south-western Tokyo and Kanagawa prefecture
Tobu Railways: linking Tokyo with Saitama and Tochigi prefectures, including Nikko
Seibu Railways: linking Tokyo to the Tama Region (i.e. west of Tokyo) and Saitama prefecture
Keio Railways: linking Tokyo's central and Tama (western) regions
Odakyu Railways: linking Tokyo to Kanagawa prefecture, including Hakone
Keisei Railways: linking Tokyo to Chiba prefecture, including Narita International Airport
Keikyu Railways: linking Tokyo to Kanagawa prefecture, as well as going to Haneda Airport
Tsukuba Express: linking Akihabara with Tsukuba City in Ibaraki prefecture.
Tokyo has six monorail systems, 3 in Tokyo proper: Yurikamome Waterfront Line, Tokyo Waterfront Area Rapid Transit (AKA Rinkai Line), and the Tokyo Monorail; and 3 in Greater Tokyo: Chiba Monorail, Tama Intercity Monorail, Shonan Monorail.
Tokyo is also served by an extensive bus network, and numerous taxi companies.
In 2005, the average speed of cars in travelling in the Tokyo 23-ward area during peak hours was 18.8 km/h (11.5 mph).
Tokyo money and economy
The currency of Tokyo is the Japanese yen. Tokyo, like the rest of the Japan, is mainly a cash environment, and credit cards are not accepted quite as widely as they are in other developed countries.
For the 14 years between 1992 and 2006 Tokyo was rated at the city with the highest cost of living in the world.
Tokyo's gross domestic product is the largest of any city in the world. It was 85.2 trillion (85,200,000,000,000) yen in 2010, down from a 2007 peak of 94 trillion yen.
Tokyo electricity
Tokyo electricity: 100 volts AC, 50Hz (as is the whole of eastern Japan, and 60Hz in western Japan). Plugs are flat two-pin.More about electricity in Japan.
All the themes of the city