Sumida River
隅田川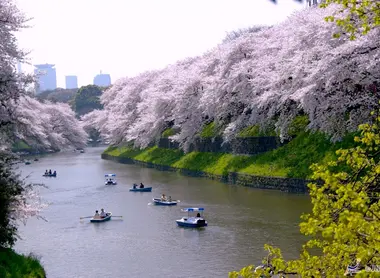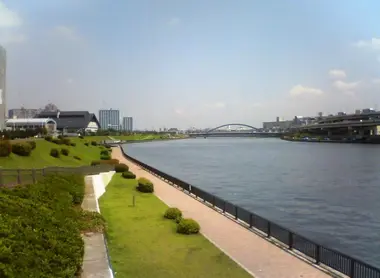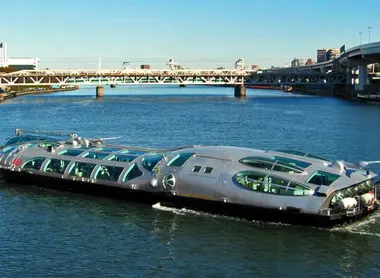 The unbearable lightness of water
"In the moonlight, flow the ocher waters of the Sumida River, but in the soft sunlight, they become as dark as mud. [...] On a clear day we can see the Tsukuba Mountains and Fuji. What a strange and wonderful sight!"
Yasunari Kawabata in the Chronicles of Asakusa
According to Soeda Azenbo (1872-1944), a critic of social matters, a visit to the district of Asakusa, "the heart of Tokyo", is not complete without a stroll along the river that runs through Tokyo, the Sumida. As a river is often defined by its bridges, the first image you have of the Sumida is the three colorful crossings. 
The most upstream bridge, the Azuma, is characterized by its red color. It is the shortest path to get from Sensoji to the Asahi Tower. Its two neighbors, the Kamagata Bridge and the Umaya Bridge, respectively blue and green, color the scenery of these quays of the Sumida, which have become very urban. Don't be put off by the elevated expressways that dot the landscape, as the river banks do still retain their original charm. The smells of the old port remains, and the lapping of the water against the barges adds to the tranquility of the place. Apart from the area around the Tokyo Sky Tree, the banks of the Sumida are uncrowded and many spots are good for a picnic, or a stop to contemplate the scenery. The walk is much more enjoyable on summer evenings when the darkness hides the many urban elements, and when the song of cicadas blends with the croaking of frogs.
Another nice itinerary, is a boat trip on the river aboard a futuristic boat designed by Leiji Matsumoto, the creator of Captain Harlock, to get a better understanding of the particular architecture of the new districts affixed to the old buildings. The cruise from historical Asakusa to technological Odaiba takes about 40 minutes.
---
Address, timetable & access
All the themes of the city