Tokyo Museums
Tokyo Area Guide: Tokyo Museums & Galleries
Tokyo Museums
See a listing of museums and art galleries in the Tokyo metropolitan area. Find a description of each museum in Tokyo, including telephone number and directions on how to get there.
Any visit to Tokyo and Japan should include a visit to at least a few of the many excellent museums and galleries in the country.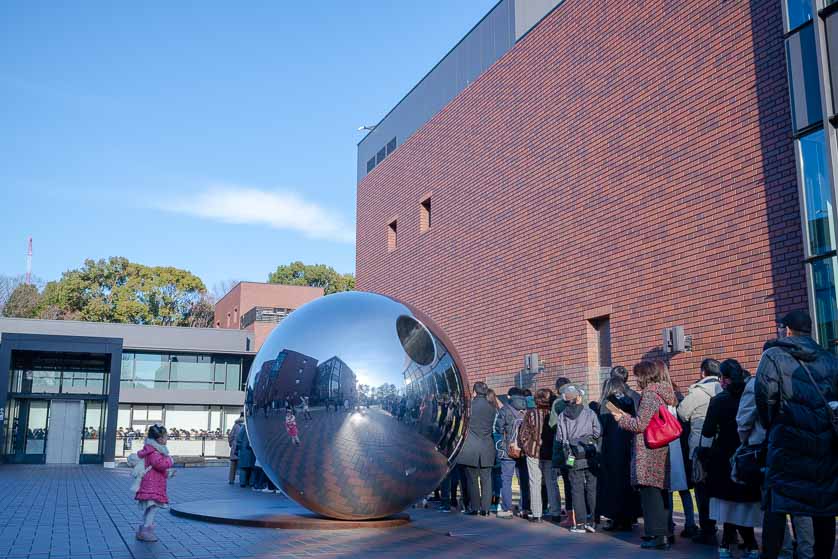 Tokyo Metropolitan Museum of Art, Ueno Park, Tokyo
Advertising Museum Tokyo

The Advertising Museum Tokyo (ADMT) is located in the Caretta Shiodome Building near Shimbashi and features displays of outstanding Japanese and overseas advertising in various formats from the mid-18th century onwards.
Admission: Free
Hours: 11 am-6.30 pm weekdays; 11 am-4.30 pm weekends and national holidays; closed Mondays or on Tuesday if Monday is a national holiday. Advertising Museum Tokyo is located in B1 and B2 of Caretta Shiodome.
Asakura Sculpture Museum

The Asakura Sculpture Museum, in Tokyo's beautiful Yanaka area is the former residence and studio of the sculptor Fumio Asakura (1883-1964). The building is a balance of a Japanese-style residential wing and a Western-style studio wing and, together with its elegant garden, the building is as big an attraction as the exhibits themselves. Asakura was a prolific sculptor in bronze, and his works depicting humans and animals can be seen throughout, together with his extensive library, collected ceramics, and other curios. This (by Japanese standards) sprawling property makes for a memorable encounter with Japanese history, artistic creativity and natural beauty.
The Artizon Museum
Founded in 1952 by Ishibashi Shojiro (1889-1976), the founder of the Bridgestone Corporation, as the Bridgestone Museum of Art, the Artizon Museum (which changed its name in 2020) is devoted to Impressionism and other modern European art. The Artizon Museum is located in the headquarters of the Bridgestone Corporation, only 200m from Tokyo Station. The Museum features works by Cezanne, Gauguin, Van Gogh, Matisse, Picasso, Roualt, and Klee in its permanent collection.
The two-story Museum has an information desk, museum shop, and tea room on the first floor, and ten exhibition rooms, plus a sculpture gallery, on the second floor.
Hours: Tuesday Saturday: 10 am 8 pm, Sunday, public holidays: 10 am - 6 pm (admission till 5.30 pm)
800 yen for adults, 500 yen for students with ID, free for under-15s.
See what's on now
5 minute walk from Tokyo Station (Yaesu Central Exit)
1 minute walk from Kyobashi Station (Meiji-ya Exit) or Nihonbashi Station (Takashimaya Exit)
1-10-1, Kyobashi, Chuo-ku,Tokyo 104-0031, Japan.
Tel: 03 5777 8600
Google Map to the Bridgestone Museum of Art
Bunkyo Historical Museum

The Bunkyo Historical Museum (Bunkyo Furusato Rekishikan) has two floors of exhibits ranging from pottery and other artifacts from the Jomon and Yayoi periods of Japanese history to post-war electronics and assorted household items from 1950's and 1960's Tokyo.
Crafts Gallery

The Crafts Gallery, in Kitanomaru Koen Park, is an annex of the National Museum of Modern Art, Tokyo (MOMAT). Housed in a red-brick Neo Gothic building dating from 1910, it was originally the headquarters of the Imperial Guard.
The museum exhibits Japanese and foreign crafts from the Meiji Period to the present day, including bamboo, ceramics, dolls, glassware, lacquer, textiles, wood and metal work, as well as industrial and graphic design. Open Tue-Sun 10 am-5 pm (admission till 4.30 pm): www.momat.go.jp
The museum is a short walk from either Takebashi or Kudanshita Station. Tel: (03) 5777 8600.
Communications Museum
The Tei Park Communications Museum near Tokyo Station was dedicated to information and telecommunications and had interesting exhibitions on Japan's postal and telephone utilities. This eclectic museum had a number of highlights including wood-block prints by such artists as Hiroshige, the first postage stamp vending machine produced in Japan in 1904, paintings related to telephones and communications and the original Morse telegraph presented by Commodore Perry to the Tokugawa shogunate in 1854. The nearest station to Tei Park is Otemachi just a 1 minute walk from Exit A4 or A5 or a 1 minute walk from the the Marunouchi North Exit. Tei Park is close to the Oazo Building. Tei Park Communications Museum Is Now Closed. The postal museum has now been transferred to the Tokyo SkyTree Solamachi.
Daimyo Clock Museum

The Daimyo Clock Museum, located close to Nezu Shrine, contains a private collection of traditional Japanese clocks or wa-dokei. The museum is so-called as only feudal lords or daimyo were allowed to keep these clocks and had the means to maintain them. Japanese clocks were based on an early western clock presented to a feudal lord in Yamaguchi Prefecture by Francis Xavier. In Edo Period Japan time corresponded to the position of the sun and a day was divided into 12 time periods: 6 for the daytime and six for nighttime. The system obviously varied with the seasons and the six daytime time periods were not the same length as the six night periods - except at the equinoxes when they are equal. The 12 periods were named after animals of the Zodiac. In Yanaka, Taito ward, Tokyo.
Edo Shitamachi Traditional Crafts Museum

Edo Shitamachi Traditional Crafts Museum is a small but worthwhile traditional crafts museum in the Asakusa district of Taito ward, Tokyo. Run by Taito ward office, this museum showcases the work of crafts people in Taito ward, and includes a huge variety of beautifully handmade traditional Japanese artifacts and decorations. Demonstrations of their art by crafts people happen every weekend, and there are handcrafted goods on sale which make very special souvenirs. Open every day. Free entry. A very short walk from the famous Sensoji Temple.
Edo-Tokyo Museum

Edo Tokyo Museum has permanent exhibitions about almost every aspect of Tokyo life through the ages, as well as special exhibitions held periodically. This is an outstanding, modern, English-friendly museum with over 2,500 original prints, scrolls, kimonos, and maps. The displays and exhibits take advantage of modern technology -much of it interactive - to deliver their message memorably. Take the JR Sobu Line (local train) to Ryogoku Station. From the west exit of the station follow the signs. The massive six-story Edo-Tokyo Museum is about a 3-minute walk. Admission: 600 yen for adults, 480 yen for college students, 300 yen for junior high school & high school students and seniors.
Edo-Tokyo Open Air Architectural Museum

The Edo-Tokyo Open Air Architectural Museum is a part of the excellent Edo-Tokyo Museum in the Ryogoku area of Tokyo. Like Meiji Mura in Aichi Prefecture and other such culture parks in Japan, the Edo-Tokyo Open Air Architectural Museum is a collection of historic buildings, mainly from the Tokyo area, brought to a new location for preservation.
Fire Museum

The Fire Museum, dedicated to the history of fire-fighting in the city, is housed in the fortress-like Yotsuya Fire Station in Shinjuku Ward. The museum offers a vivid introduction to both past and current fire-fighting efforts. Admission is free and most exhibits come with English-language explanations.
Intermediatheque

Intermediatheque in the Kitte building next to Tokyo Station is a cutting-edge 21st century museum displaying a wealth of rare and fascinating artifacts, human and natural. This multidisciplinary collection contributed to by the prestigious University of Tokyo takes a new approach to thematic presentation, encouraging the viewer to see the relationship between form and function in everything.
Nihon Mingeikan (The Japan Folk Crafts Museum)
The Japan Folk Crafts Museum has frequent exhibits on textiles, Japanese lacquerware, and more. Open 10 am to 5 pm. Closed Mondays. 1000 yen for adults, 500 yen for university and high school students, and 200 yen for elementary and junior high school students. The Japan Folk Crafts Museum is located 5 minutes from the Komaba Todai Mae Station on the Inokashira Line. Take the west exit.
Tel: 03 3467 4527
Ghibli Museum

The Ghibli Museum in Mitaka in western Tokyo presents the works of Studio Ghibli, Japan's most famous animation studio and its premier animator, Hayao Miyazaki, responsible for such classics as of My Neighbor Totoro, Castle in the Sky, Princess Momonoke and Spirited Away. Ghibli Museum is in Inokashira Park in Mitaka, 20 minutes on the Chuo Line from Shinjuku Station, then catch a bus or a 15 minute walk.
1-1-83 Simorenjaku, Mitaka-shi, Tokyo 181-0013
Hara Museum of Contemporary Art

The Hara Museum of Contemporary Art is among the first museums dedicated to modern art in Japan, having been established in 1979 in Tokyo's Shinagawa ward. It is a quietly imposing art deco presence on a quiet street, some way from the nearest station. The museum was built as a private house in 1938, designed by the architect Jin Watanabe (who also designed the Tokyo National Museum in Ueno). The Museum's collection comprises about 1,000 paintings, photographs, sculptures, videos and installations representing a wide range of artists from around the world active from the 1950's to the present. It is open during exhibitions only. The Hara Museum of Contemporary Art includes a sculpture garden and a Cafe d'Art that overlooks it. The Hara Museum of Contemporary Art has a sister gallery, the Hara Museum ARC, in Shibukawa City, Gunma Prefecture. See what's on now at the Hara Museum of Contemporary Art.
4-7-25 Kitashinagawa, Shinagawa-ku, Tokyo 140-0001
Tel: 03 3445 0651 Fax: 03 3473 0104. Google Map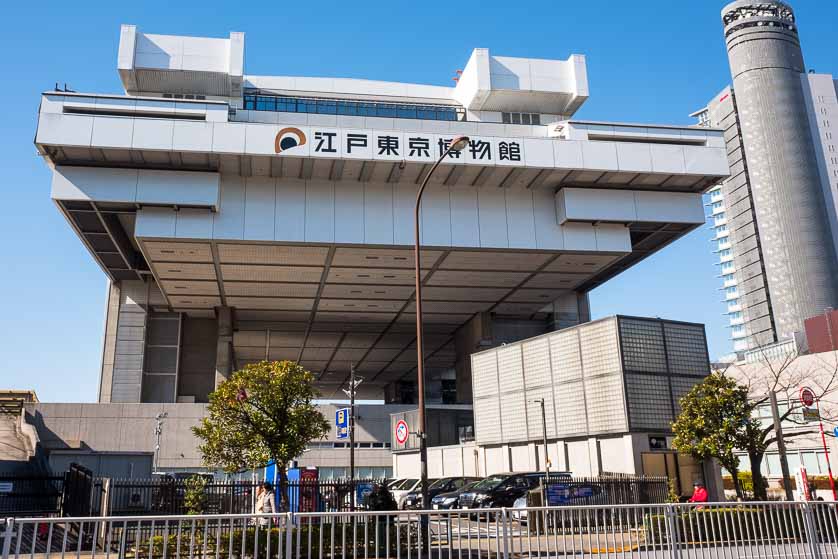 Edo-Tokyo Museum, Ryogoku, Sumida ward, Tokyo
Hokusai Museum
The Hokusai Museum, in the east end of Tokyo, in Kamezawa, Sumida ward, is a striking, ultra-modern stainless steel-clad structure that houses the works of the late-Edo period artist Katsushika Hokusai (1760-1849), who dominated the Japanese art scene in the nineteenth century, and whose works have become intimately identified with the image of Japanese art in general. A must-visit for lovers of both Japanese art and architecture.
JCII Camera Museum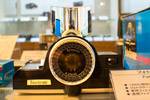 The JCII Camera Museum is a small but comprehensive museum on the western flank of the Imperial Palace that will delight camera enthusiasts and even enlighten and interest the casual visitor. The permanent exhibition spans the full history of cameras from Japan and around the world, from the mid-19th to 21st centuries, and is accompanied by a regularly changing special exhibition.
Hours: 10 am - 5 pm (last entry 4.30 pm). Closed Mondays, but open if Monday falls on a national holiday, in which case closed the next day, Tuesday. Free entry photo gallery next door.
Access: Hanzomon or Kojimachi subway stations.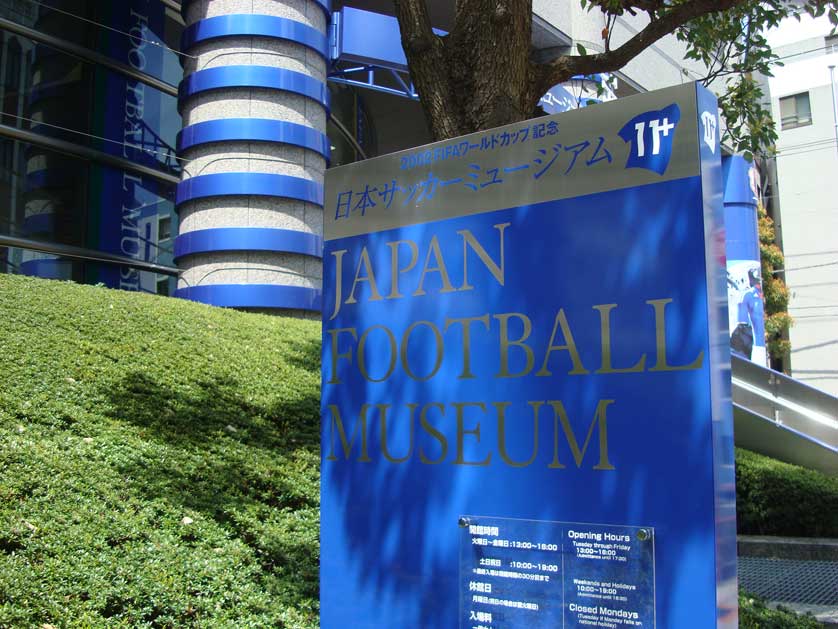 Japan Football Museum, Tokyo
Japan Football Museum
The Japan Football Museum opened in 2003 and is dedicated to the 2002 World Cup held jointly in Japan and Korea, the history of Japanese soccer and the country's premier professional soccer competition - the J-League.
JFA House, Soccer Dori Avenue, 3-10-15 Hongo, Bunkyo-ku, Tokyo 113-8311
Tel: 03 3830 2002
Japan Stationery Museum

The Japan Stationery Museum (Nihon Bungu Shiryokan) is a small repository of things to do with writing - in the broadest sense of the word - in the Yanagibashi district of Taito ward, Tokyo.
The museum occupies the first floor of the Tokyo Bungu Hanbai Kenpo Kaikan (The Tokyo Stationers' Insurance Hall), and covers a lot in quite a small space.
Japanese Sword Museum

The Japanese Sword Museum, next to the sumo-related district of Ryogoku in eastern Tokyo, showcases the history and technology of swordmaking in Japan. Thematic periodic exhibits show swords both ancient and modern in an architecturally avante garde museum building alongside a picturesque traditional walled Japanese garden. Come face-to-face with the fearsomely beautiful weapons that gave Japan's old samurai warrior class its decisive clout. Entrance to most of the Museum, including the roof garden, is free - only the main exhibition hall requires a ticket.
The Kite Museum
The Kite Museum is located on the fifth floor of the Taimeiken Building. 1-12-10 Nihonbashi. It is two blocks from Coreda away from Tokyo Station.
Open 11 am to 5 pm. Closed Sundays and holidays. 200 yen.
Tel: 03 3271-2465
Kodaira Furusato Mura

The Kodaira Furisato Mura is a collection of historic buildings that have been reassembled in Kodaira in western Tokyo. The Furusato Mura is arranged like a real old village. Admission to the Kodaira Furusato Mura is free. Just walk in and have a look. Opening times: 10 am to 4 pm. Closed on Monday and the third Tuesday in the month. If those days fall on a public holiday, the village will be closed on the next day. Closed also over the New Year Holidays (December 27th - January 5th).
Meguro Parasitological Museum

The Meguro Parasitological Museum is the only museum of its kind in the world, a museum dedicated to bugs, parasites and other creatures that live in or on other organisms.
Established in 1953, the museum has two floors of specimens stored in jars of formaldehyde; don't miss the 9m long tape-worm and the other fascinating exhibits.
The museum shop sells tape worm t-shirts and parasite key chains. Contact us if you would like us to purchase them for you. 10 am-5 pm; closed Monday. Tel: 03 3716 1264
Tokyo Metropolitan Museum of Photography
The Tokyo Metropolitan Museum of Photography in Tokyo's Ebisu district is a 4-story archive and display space dedicated to photography and video - the only museum of its kind in Japan. It has a permanent collection of over 24,000 works, and three exhibition halls and a movie hall to display them in. The library on the 4th floor has over 60,000 volumes. The Museum was founded in 1995 and forms part of the Ebisu Garden Place complex.
Hours: 10 am - 6 pm (until 8 pm on Wednesdays and Fridays). Last entry 30 minutes before closing time.
Closed Mondays except when Monday is a public holidays, when it closes Tuesday.)
Entrance fees vary with exhibition and performance.
Ebisu Garden Place, 1-13-3 Mita, Meguro-ku, Tokyo 153-0062. Tel: 03 3280-0099
7 minutes from the East Exit of JR Ebisu Station (using the moving walkway)
Google Map
See what's on now at the Tokyo Metropolitan Museum of Photography.
Miraikan

Miraikan (National Museum of Emerging Science & Innovation) in Odaiba is a large, innovative science museum established by Japan's Science and Technology Agency.
Mitsubishi Ichigokan Museum

The Mitsubishi Ichigokan Museum is a faithful reconstruction of the late 19th century building designed by British architect Josiah Conder and includes a pleasant outdoor garden and the 1894 restaurant.
Mitsui Memorial Museum

The Mitsui Memorial Museum in Nihonbashi contains the private collections of the Mitsui family assembled over three hundred years and including priceless tea ceremony utensils, paintings and Noh masks.
Mori Art Museum
The Mori Art Museum is one of the jewels in the Roppongi Hills complex. Located on the 53rd floor of Roppongi Hills Mori Tower. Cutting edge exhibits, the very first of which, "Happiness," took the Tokyo art world by storm, drawing 700,000 visitors in three months. See what's on now at the Mori Art Museum.
Nearest station Roppongi (Roppongi Hills exit). Tel: (03) 5777 8600.
Museum of Contemporary Art, Tokyo

The Museum of Contemporary Art Tokyo houses international and Japanese post-war modern art. Opened in 1995, it is Tokyo's first public art gallery devoted to modern art. As well as its permanent collection (entrance fee 500 yen) it has regular special exhibitions (usually about 800-1,000 yen).
The permanent collection has around 4,000 works, about 100 of which are on display at any one time. It includes works by Andy Warhol (including his Marilyn Monroe (1967)), Roy Lichtenstein (including his Girl with Hair Ribbon (1965)), David Hockney, Gerhard Richter, Julian Schnabel, Frank Stella, and Sandro Chia.
The Museum has free internet access (directly across from the entrance that you use when approaching from Kiba Park), a restaurant on the B2 floor (open11 am-6 pm), a museum shop, an art library, an art information gallery, an observation deck, and indoor parking but for only 50 cars (access by other than car recommended).
Open: 10 am-6 pm (tickets on sale until 5.30 pm). Closed Monday, except if Monday is a national or substitute holiday, in which case it closes Tuesday.
Access: 9 min walk from Kiyosumi-shirakawa subway station, exit B2, on the Hanzomon Line. 13 min walk from Kiyosumi-shirakawa subway station, exit A3, on the Toei Oedo Line. 15 min walk from Kiba subway station, exit 3, on the Tozai Line.
15 min walk foot from Kikukawa subway station, exit A4, on the Toei Shinjuku Line.
The Museum of Contemporary Art Tokyo
4-1-1 Miyoshi, Koto-ku, Tokyo 135-0022
Tel: 03 5245-4111
National Art Center, Tokyo

The vast National Art Center, Tokyo opened at the beginning of 2007. The National Art Center Tokyo is a short walk from Roppongi Hills. Designed by Kisho Kurokawa, the gleaming glass structure is Japan's largest exhibition space. Dedicated to special exhibitions, it has no permanent collection of its own.
The National Art Center Tokyo is open 10 am - 6 pm, closed on Tuesdays with late opening on Fridays until 8 pm.
Nearest stations: Roppongi on the Hibiya and Oedo Lines or Nogi-zaka station (Exit 6) on the Chiyoda Line. Tel: 03 6812 9900.
See what's on now at the National Art Center Tokyo
National Film Archive of Japan (NFAJ)

The National Film Archive of Japan (NFAJ), previously the National Film Center, in Kyobashi has a permanent exhibition dedicated to the history of Japanese film-making on the 7th floor, a film collection of around 19,000 movies as well as a film library of books, two cinemas (the Nagase Memorial Theatre OZU and the B1 Theate) showing movies and periodicals on Japanese cinema.
National Museum of Nature and Science

The National Museum of Nature and Science is in Ueno Park. Exhibits include the evolution of living things, the flora and fauna of Japan, and the solar system. You can also learn about the history of the human habitation of Japan. There are frequent special exhibitions. An English guidebook is available at the front desk. Permanent exhibitions are 620 yen for adults, free for up to high school age.
Read more about the National Museum of Nature and Science here
Nearest station Ueno (Park exit). Tel: 03 3822 0111. www.kahaku.go.jp
National Museum Of Modern Art, Tokyo
The National Museum of Modern Art, Tokyo, reopened fully refurbished in 2002, and specializes in contemporary Japanese art from the Meiji Period (1868-1912) onwards. Permanent exhibits include both Japanese and Western-style painting, drawings, prints, and sculpture. The museum also hosts regular international exhibitions.
Open Tue-Sun 10 am-5 pm (Admission till 4.30 pm); Late night opening (Museum only) on Fridays till 8 pm (Admission till 7.30 pm): www.momat.go.jp
Nearest station Takebashi (Tozai Line), exit 1B. Tel: (03) 5777 8600.
National Museum of Western Art

The National Museum of Western Art was designed by Le Corbusier and opened in 1959. The National Museum of Western Art's collection covers Western paintings and drawings from the 15th - 20th centuries. Located in Ueno Park.
7-7 Ueno-koen, Taito-ku, Tokyo, 110-0007
Tel: 03 3828 5131
Fax 03 3828 5135
Nikon Museum

Nikon Museum in Shinagawa showcases the 100-year history of the Nikon brand that has been producing cameras, lenses, binoculars and other optical equipment since 1917. The high-tech facility is free to enter and has a number of hands-on exhibits.
Old Shimbashi Station

Old Shimbashi Station in the Shiodome district of Tokyo near Shimbashi is a reconstruction of one of Japan's first railway stations. The original Shimbashi Station was a terminal station on the Shimbashi to Yokohama Line which opened in 1872.
Origami House Gallery
Origami House Gallery is a small museum that is part of a larger commercial enterprise and has origami exhibits that feature dinosaurs, insects, masks, fantasy, and many more. Origami House is open from noon to 3 pm, Monday-Friday, and 10 am to 6 pm Saturday, Sunday and public holidays. Closed over New Year. Free admission. On the 2nd floor of the Asahi Hakusan Mansion building, across the road from the 7/11 convenience store that is near Exit 1 of Hakusan Station on the Mita Line.
1-33-8-216 Hakusan, Bunkyo-ku, Tokyo 113-0001
Tel: 03 5684 6040
Panasonic Center

Panasonic Center in Tokyo's Odaiba district showcases the company's new products and technologies. It's RiSuPia is a popular museum for children focused on the laws of mathematics seen in nature.
Printing Museum Tokyo

Printing Museum Tokyo in Tokyo's Bunkyo-ward features artifacts detailing the development of printing worldwide. This ranges from ancient Assyrian and Egyptian stamps and stone tablets to wood carvings and copper plate engravings to movable type printing.
Opening times: 10 am to 6 pm (last admission at 5.30 pm). Closed on Monday, if Monday is a public holiday, the museum will be closed on the next day.
Railway Museum

The Railway Museum is a large, modern museum of railway technology and culture, located in Saitama City, Saitama Prefecture, about 20km north of central Tokyo.
The Museum is divided into zones: principally History and Learning. The History Zone has over thirty actual railway cars and engines representing eight different categories and periods, and, upstairs, a history time line; the Learning Zone has a Train Laboratory, showing the workings and construction of trains in detail, and a huge, two-floor "Principles and Workings" array of hands-on displays, including train driving simulators (500 yen extra). There is also the Entrance Zone with a Simulator Hall, Model Railway Georama, Kids' Space, shop, and a viewing deck for observing the shinkansen whizzing directly by; a Collection Zone, with railway-related printed and electronic resources; a Park Zone, and an outdoor area with a mini train and tram, and historical trains, displayed on tracks. There is a calendar of special events at the Museum, guaranteeing a slightly different experience each time. Translations of displays are available in English, Chinese, and Korean.
Hours: 10 am-6 pm (last admission 5:30 pm). Closed Tuesdays and Dec. 29 - Jan. 1.
Ryogoku Fireworks Museum

Ryogoku Fireworks Museum in the Ryogoku area of Tokyo, close to the Sumida River, the Edo-Tokyo Museum and Eko-in Temple, is a free facility dedicated to the history of fireworks in Japan and the many spectacular fireworks festivals held throughout the year. The Ryogoku Firework Museum exhibits a number of original Japanese cylindrical fireworks, launchers, the happi coats traditionally worn by Japanese pyrotechnicians, newspaper clippings, and posters celebrating the major Japanese fireworks festivals.
Samurai Museum

The Samurai Museum in Kabukicho, Shinjuku is a fun museum where the young and young-at-heart can enjoy samurai sword demonstrations and try on samurai armor and kimono.
Science Museum

Tokyo's other Science Museum, an attractive white concrete lattice-work structure located in Kitanomarukoen, is aimed mainly at children. The Science Museum is good fun and educational for all the family. Opened in 1964, the Science Museum has many interactive exhibits, including features on computers and communications, raw materials and energy, light, space, engines and motors and electricity. The Science Museum short walk from either Takebashi (on the Tokyo Metro Tozai Line) or Kudanshita Stations (also on the Tozai Line).
Open daily 9.00 am - 4.50 pm. Tel: (03) 3212 2440.
www.jsf.or.jp
Sewerage Museum
The Sewerage Museum in Kodaira, western Tokyo, looks at the sewer and waste water management system in Tokyo from the Edo Period to the present day. Visitors can view a modern sewer and learn about waste water management and what not to put down the toilet.
Shinjuku Historical Museum

Shinjuku Historical Museum in Shinjuku ward, Tokyo, recounts the history of this ward - one of Tokyo's most important - since the beginnings of its human habitation tens of thousands of years ago up to before the Second World War. This small, but interactive, modern, and memorable museum has enough English to recommend it to those who do not read Japanese, and adjoins a beautiful sunken garden.
Shin-Yokohama Ramen Museum

Shin-Yokohama Ramen Museum located just a short walk from Shin-Yokohama Station in Yokohama, calls itself a "food-themed amusement park". That is a very fitting description even though the whole setting is situated on three floors of one building, two of them deep underground. The underground section of the Ramen Museum is a replica of a more or less typical train station neighborhood in 1958, the year when Momofuku Ando invented Instant Ramen. The station name is fictional and at the time, public plazas like the one below might not have existed but other than that, much attention to detail is given.
Shitamachi Museum

The Shitamachi Museum near Ueno Park preserves some of the flavor of the the east Tokyo area's life in the Taisho Era (roughly the 1910's and 1920's).
2-1 Ueno Koen, Taito-ku, Tokyo 110-0007
Tel: 03 3823 7451/7461
Tokyo Subway Museum

The Tokyo Subway Museum is located in Kasai in eastern Tokyo. The museum features a number of historic train carriages, video displays, poster exhibitions, model train layouts and hands-on simulation games. The Tokyo Subway Museum is an excellent stop for train-mad children and their parents.
Tel: 03 3878 5011
Admission: Adults 210 yen, children 100 yen
Access: Take the Tozai Line from Otemachi Station to Kasai station. Otemachi Station can be reached by underground passage from Tokyo Station or take the Marunouchi Line one stop from Tokyo Station.
Suntory Museum of Art

Suntory Museum of Art in the Tokyo Midtown building in Roppongi offers changing exhibitions showcasing the collection of traditional Japanese art of the Suntory corporation. The Suntory Museum of Art was founded in 1961 in the Marunouchi district of Tokyo, moved to Akasaka Mitsuke in 1975 and relocated again in 2007. The Suntory Museum of Art presents a series of changing exhibitions showcasing the core collection of exquisite paintings, glass, fabrics, accessories, scrolls, screens and ceramics. In Roppongi Hills Gardenside. Hours 10 am to 6 pm (to 8 pm on Fridays and Saturdays).
teamLab Borderless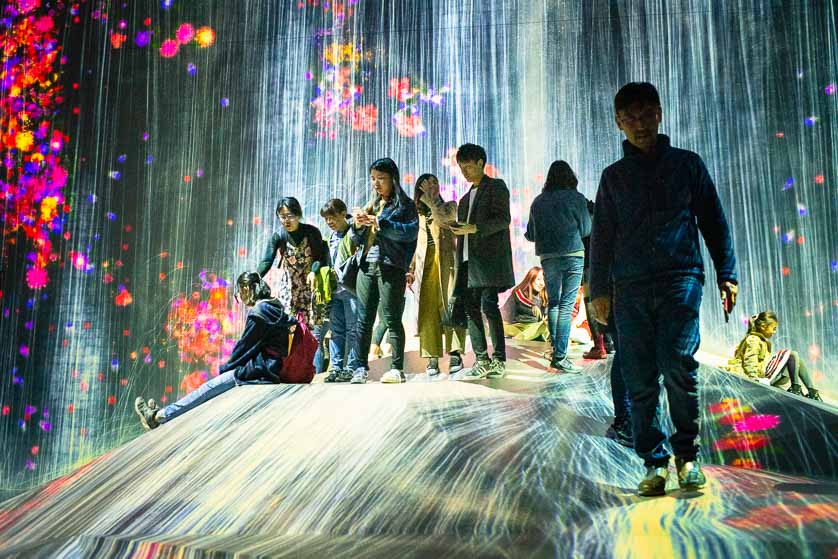 TeamLab Borderless, Odaiba, Tokyo
teamLab Borderless, in Odaiba, is one of two body immersive museums in Tokyo showcasing the highly imaginative and adventurous interactive art of the teamLab digital art collective. teamLab Borderless has a great number of regularly changing exhibits that the visitor enters and interacts with.
teamLab Planets
Inside teamLab Planets Tokyo
teamLab Planets, in Toyosu, is one of two body immersive museums in Tokyo showcasing the highly imaginative and adventurous interactive art of the teamLab digital art collective. teamLab Planets has seven installations that the visitor goes right through and gets right inside of. teamLab Planets is literally an immersive experience in that two of the works involve walking through (shallow) water.
Tokyo Teien Metropolitan Museum

Located in Meguro, Tokyo Teien Metropolitan Museum is an Art Deco masterpiece built in 1933. It was formerly the residence of Prince Asaka and houses many period pieces. The grounds are also lovely. It is a 6-7 minute walk from Meguro Station on the Yamanote Line. Admission to the garden for adults is presently 200 yen, seniors 100 yen, college & university students 160 yen, high school & junior high school 100 yen. Admission for special exhibits will cost more. See what's on now at the Tokyo Teien Metropolitan Museum.
For information: (03) 3443 0201.
Tobacco and Salt Museum

The quirky Tobacco and Salt Museum moved from its previous location near the Tobu Hotel not far from Shibuya Station to a new site in Sumida-ku not far from the Tokyo Skytree in April 2015. The Tobacco and Salt Museum takes a look at the various uses of tobacco and salt throughout history, both of which were government monopolies in Japan until recently. Cigarette packets, pipes and smoking paraphernalia from around the globe. Special exhibitions on a variety of themes.
Hours: 10 am to 6 pm (last entry 5.30 pm.; closed Mondays.
Tel: 03 3476 2041
Access: Shibuya Station on the JR, Ginza and Toyoko Lines.
Tokyo Metropolitan Police Museum
The Tokyo Metropolitan Police Museum in Yurakucho is dedicated to the history of the Japanese capital's police force from Edo times to now.
There's a police helicopter, police motorbike, police uniforms, police car simulators, wall panels and quizzes for kids. Close to Kyobashi Station on the Ginza Line. Near to the Mercure Hotel Ginza.
10 am-6 pm; closed Monday
Tel: 03 3581 4321
Google Map of Tokyo Metropolitan Police Museum
Tokyo National Museum

The massive Tokyo National Museum (Tokyo Kokuritsu Hakubutsukan) which opened in 1938 is a short walk from Ueno Station or Uguisudani Station on the Yamanote Line. Tokyo National Museum houses the largest collection of Japanese art in the world: calligraphy, ceramics, statuary, swords, paintings and Buddhist treasures from Horyuji Temple in Nara. There are also extensive collections from Korea, China, India, Central Asia, and Egypt. Admission is 620 for adults, 410 for college students.
Read more about the Tokyo National Museum
Nearest station Ueno (Park exit). Tel: 03 3822 1111.
TUS Museum of Science

The TUS (Tokyo University of Science) Museum of Science on the university's Kagurazaka campus is a free-entry, two-floor retro-tech haven packed with exhibits showcasing the history of computing, calculating, audio recording typing/wordprocessing technology, as well as some vintage telecommunications and computer gaming-related. In a grand, faux-antique building near the chic Kagurazaka shopping and dining district.
Hours: 10 am-4 pm Tuesday-Saturday. Closed Sunday, Monday, and university holidays, including the summer and winter breaks.
Tel: 03 5228 8224
Access: JR Iidabashi Station or Iidabashi subway station.
Tokyo Water Science Museum

The Tokyo Water Science Museum (Mizu no Kagakukan) in Ariake is a free-entry, fun and friendly educational resource about water and its supply, provided by the Tokyo Metropolitan Government's Bureau of Waterworks. The Aqua Tour, a half-hour tour (10 am to 4.15 pm, every 15 minutes) is of the Ariake water supply station that occupies the three basement floors. Lots of audience participation. (Japanese only). A huge range of fun, interactive, hands-on displays, experiments, quiz games, demonstrations, etc. fill the three spacious floors above ground. Virtual white water rafting.
Tokyo Waterworks Historical Museum

The Tokyo Waterworks Historical Museum is a small, modern, two-floor multifarious presentation of the history of Tokyo's public water supply, which dates from the 16th century.
2-7-1 Hongo, Bunkyo-ku, Tokyo 113-0033
Tel: 03 5802 9040
Yayoi Kusama Museum

The Yayoi Kusama Museum is dedicated to the distinctive, vivid, often polka-dot themed and always unforgettable art of the great dame of pop-art in Japan, Yayoi Kusama (b.1929). Admission is by online prebooking only.
Yebisu Beer Museum

The Museum of Yebisu Beer is located in Yebisu Garden Place, in the Ebisu district of Tokyo. The Museum of Yebisu Beer opened in 2010 to celebrate 120 years of the history of the brand. Visitors can enjoy a tour of the museum which includes two complimentary beers.
Yushukan War Memorial Museum

A shrine for the Japanese right-wing, the recently tastefully refurbished Yushukan War Memorial Museum is located in the grounds of the Yasukuni Shrine and is dedicated to Japanese war dead, among whom Hideki Tojo is the most notorious. Annual visits by some Japanese prime ministers to worship - and shore up their political right - assure swift denunciations from China and South Korea. There are interesting exhibitions of soldiers' personal effects from 1894 to the end of World War II, as well as aircraft (including a kamikaze flying bomb), artillery pieces, a tank and a suicide attack submarine (kaiten), along with well-presented panel displays and videos extolling Japan's military adventures.
Hours: 9 am - 5 pm, every day. Closed for a few days in late June and late December.
Access: Take the Hanzomon or Tozai subway lines, or the Toeishinjuku Line to Kudanshita Station. A revisionist take on the War.
3-1-1 Kudankita, Chiyoda-ku, Tokyo 102-8246. Tel: 03 3261 8326
More about Yasukuni Shrine
Zoshigaya Missionary Museum

Zoshigaya Missionary Museum, located in Toshima, is a beautifully preserved, early 20th century, wooden building, built for the American missionary J. M. McCaleb. McCaleb came to Japan in 1892 and built the house in 1907. McCaleb's missionary work included starting a Sunday school and a kindergarten. Both floors of the residence are open to visitors. On the first floor are the living room, dining room and the church office room. The second floor has the bedrooms, bathroom and study. There are photographs, books and magazines from the Meiji, Taisho and Showa periods detailing McCaleb's work in Japan.
Grutt Pass
Grutt Pass (pronounced 'goo-ROO-to,' - Japanese onomatopoeia for 'going around').
Museum-going in Tokyo just got a little easier. For only 2000 yen, the Grutt Pass enables the holder entry to the permanent exhibitions of 78 Tokyo museums, as well as the Ueno Zoo and Tama Zoo, and discounts off the entry fee at 18 more. All of the city's major museums are listed, from the national galleries in Ueno to facilities as far west as Tama. (Note that special exhibitions may not be covered by the Grutt Pass.) The Grutt Pass is good for two months from the date of purchase and can be purchased at all of the participating institutions, Lawson convenience stores, JTB travel agency, Kinki Japan Tourist, and Ticket Pia (0570 02 9999).
Go here for a list of Tokyo museums and other attractions that accept the Grutt Pass.
Eat and Drink
Tokyo has every kind of restaurant, bar and cafe imaginable and some more. Restaurants in Tokyo range from the ultra expensive and exclusive to down-to-earth noodle joints. After dark, Tokyo offers some of the best and most exciting bars, cafes and clubs on the planet to relax and unwind.
Book Hotel Accommodation in Tokyo Japan
Tokyo Museums & Galleries: view a listing of Tokyo's Tokyo Museums & Art Galleries, how to get there and what there is to see.
All the themes of the city