Yukata and jinbei: dressing for summer
浴衣と甚平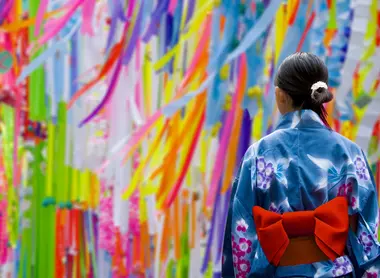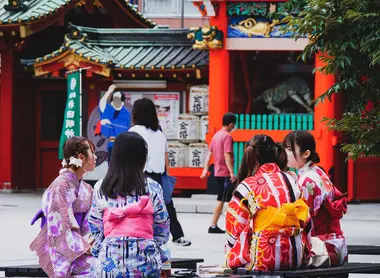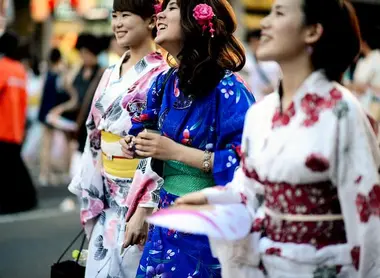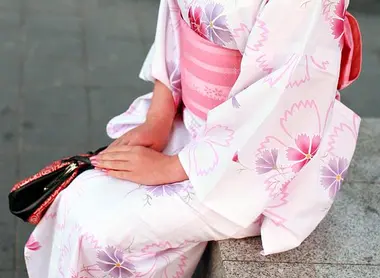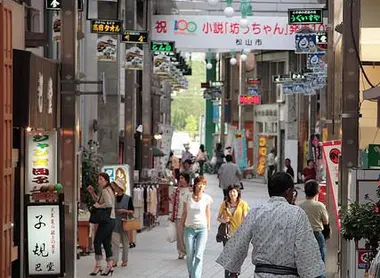 The yukata, the Japanese outfit you must have
For several years now, we have seen many Japanese women, but also foreigners from all over the world, strolling through Japanese cities in summer in a yukata. Previously reserved for summer parties, this outfit has become popular summer wear and a gift. Here's everything you need to know about yukata and jinbei!
What is a yukata?
Yukata translates to "bathing cloth". Indeed, the yukata was originally a bathrobe! Born during the Heian period (794-1185) and named yukatabira, it was a cotton or linen bathrobe after a bath. It has kept this function in traditional inns, Ryokan, and even in modern hotels where it serves as both a bathrobe and loungewear. In spa towns, it is not uncommon to see visitors strolling the streets in their hotel yukata. It is even more common to see them wearing this outfit during meals. However, some establishments prohibit the wearing of the yukata in their restaurants, reminding their customers of the primary function of this light garment and its somewhat neglected appearance!
A more sophisticated version of the original yukata
The other version of the yukata, made of a slightly thicker cotton and with more elaborate patterns, associated with an obi for women, is worn in summer, especially for festivals and fireworks. Lighter than the traditional kimono, it is also much more convenient and less expensive. 
This garment is also easier to wear since the heavy and complex obi (belt) of the kimonos gives way to a light obi, closed with a simple knot. Some obi already have a knot ready-made.
The cut of the yukata is similar to that of the kimono: five rectangular pieces assembled. It is therefore the patterns or the dye that give it its originality. Nowadays, most of these garments have industrial designs and are made in bright colors, especially the ones intended for children, which display floral or seasonal designs: bouquets of fireworks, dragonflies, goldfish. ...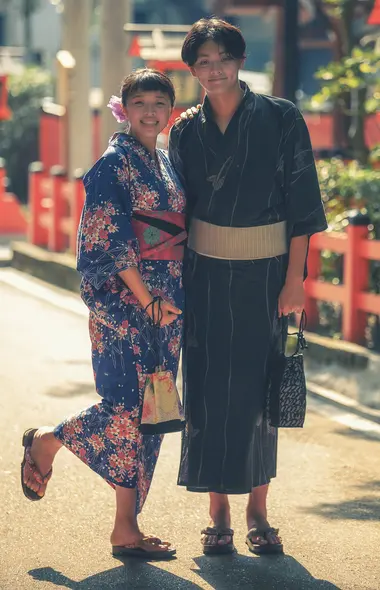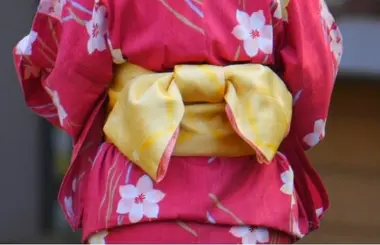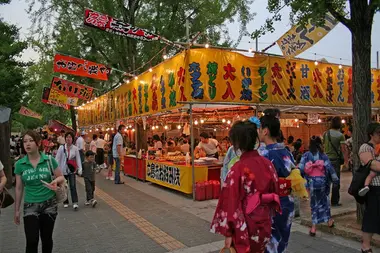 How to put on a yukata?
The yukata is worn over an undergarment, such as an undershirt. Once you've put on the yukata, first wrap the right side around your left hip, then wrap the left side over your right. This is important: it is always the left side of the kimono that must close on the right (because the body of the deceased is covered with a white yukata whose sides are crossed oppositely). Keeping the yukata closed, wrap the belt around, two to three times and tie a knot. Make sure that the panels are at the right height: the bottom of the garment must be at ankle level and be of the same length on both sides.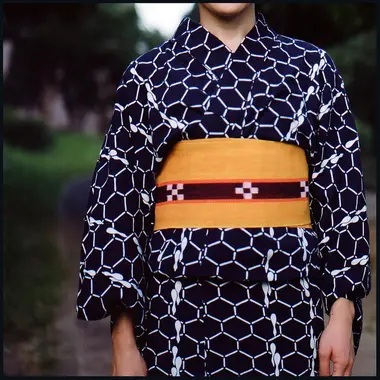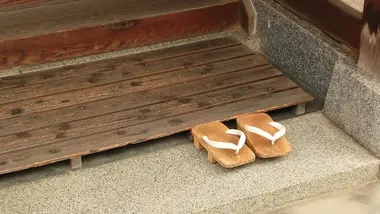 For women, if you have an obi, place it over the belt which should be attached at waist level. Men must fasten the belt at the hips. They can wear the knot in the front or pass it through the back.
The yukata is generally worn with geta, wooden shoes, but it is not uncommon to see people wearing sandals! Young girls complete this outfit with a kinchaku, a pretty little bag often made of wicker and fabric.
Where to find a yukata in Japan?
The yukata can be found in every department store and now most ready-to-wear brands, like Uniqlo, are launching their collections with an attempt to attract foreign customers to a nice souvenir without paying the hefty price of a real kimono, which is too troublesome for most to wear and maintain. Count between 4,000 ($35/31 €) and 7,000 yen ($61/53€) for a nice yukata.
Do not hesitate to shop in second-hand or vintage clothing stores (some specialize in recycling kimonos, yukata, and obi) or in flea markets.
Given the craze for this outfit, rental shops have flourished in many towns and cities. We rent a yukata and all the accessories for the day, sometimes extending into the evening (during festivals). These stores will even help you get dressed! Stroll through the streets in an authentic look!
Here is an article on where to rent a yukata in Kyoto where you can complement this activity with a night walk.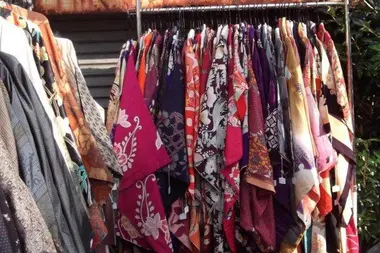 And to continue your Japanese adventure, why not rent a traditional house in the ancient imperial capital of Japan: rental houses in Kyoto.
Want to rent one in Kamakura? No problem as there are establishments available for rentals.
Jinbei two-piece suit
The jinbei is much less well known than the yukata. It is an indoor garment worn mainly by men made of two pieces of cotton, which can also be worn in summer. This garment consists of short pants and a matching short-sleeved jacket, sometimes a set of jackets, long pants, and shorts, also matching, all in cotton or hemp.
The jacket, which has the same cut as a kimono, closes on the side with two knots, one inside and the other outside. The short sleeves are separated from the rest of the jacket by a very loose seam that serves as ventilation. The jinbei is generally sober in color, often indigo blue with stripes.
Female versions also exist. The feminine jinbei is more colorful and has patterns often similar to those of the yukata.
It is a garment dedicated to relaxation: it is worn at home, as an indoor garment or pajamas, but spread outdoors as people began to wear it in their neighborhood or to go to a matsuri.
Also worn by children, it is extremely comfortable and pleasant to wear. There are versions for infants that are nice and light gifts to bring back.
The adult models can also be used as pajamas if you decide to take home in your suitcases. Visitors will find it in the summer in department stores or sometimes in Japanese souvenir shops, between 2,000 (16 €) and 10,000 yen ($61/53€) depending on the quality.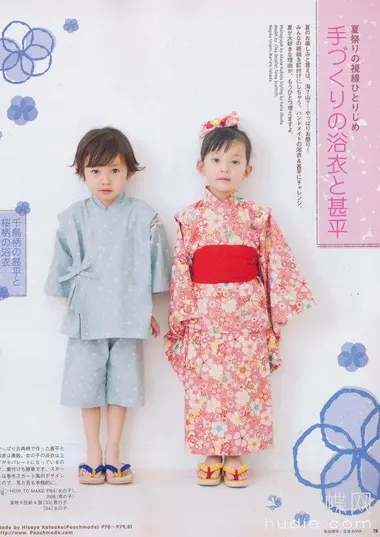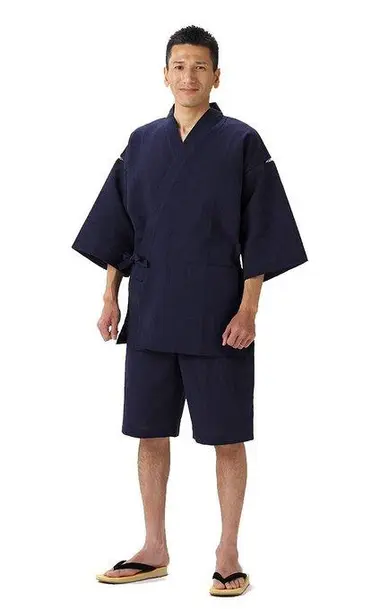 All the themes of the city