Japanese dolls
人形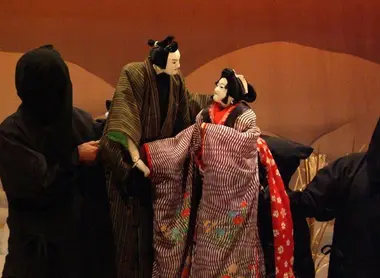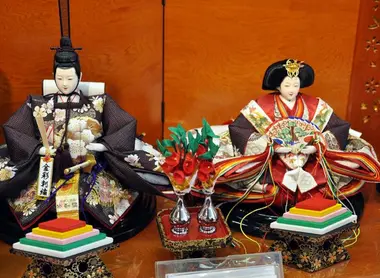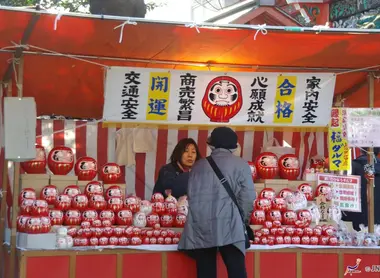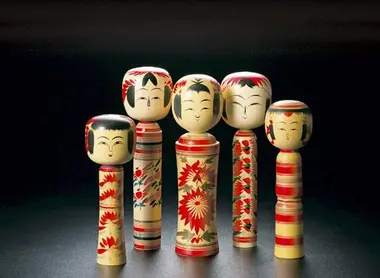 Oh oh pretty dolls
Heroes of mythology, members of the imperial court, or stars of theater, Japanese dolls are precious objects with ancient symbols.
The hina transmitted from mother to daughter, are traditionally bought on the occasion of the feast of girls, Hina Matsuri , on 3 March. Is then exposed these richly dressed dolls (they include the imperial couple) in homes to ward off evil spirits. Today we can still find copies made ​​entirely by hand, silk kimono porcelain their faces, Tokyo (store-museum Yoshitoku at Asakusabashi).
Must doll red , spherical, white eyes, become a memory required to report of Japan. It represents Bodhidharma, founder of the Chan school (Chinese ancestor of Zen Buddhism) and, like him, is deprived of arms and legs (the poor monk would have lost its membership after nine years of uninterrupted meditation). Custom dictates that you draw a black eye in the orbit Daruma by making a vow before drawing the other eye if so requested (or goal) is achieved.
Shown from village to village by showmen in the Heian period (784-1185), these large puppets are behind the theater Bunraku . Handling and execution of movements requires three masters of bunraku, who dressed in black, become invisible to let the whole place to dolls, animated art. The different characters of puppet theater are generally distinguished by their wigs and makeup faces retouched before each performance.
These ingenious mechanical dolls have several uses: Butai Karakuri are used in theater, Zashiki Karakuri decorate the houses, and the Dashi Karakuri are used during festivals (the Takayama Matsuri example). Built between the 17th and 20th century, these controllers were used to reconstruct the Japanese myths or scenes from everyday life.
Karakuri doll Hideki Higashino, Matthew Allard.
From the northern Tohoku (Aomori, Akita, Morioka) this wooden doll demonstrates the poverty of a cold, mountainous region, where the small craft was a winter extra income. The kokeshi doll appeared there in the early nineteenth century. A rudimentary succeeded and elegant (though contemporary models exist), its origins are uncertain, but its shape is reminiscent of statues of Jizo, protector of missing children ... A Hakone , the shop -Kobo Rokuro-Katase perpetuates the tradition of traditional Kokeshi with a wide range of models.
All the themes of the city