Jingu-Mae Station Nagoya
神宮前駅 名古屋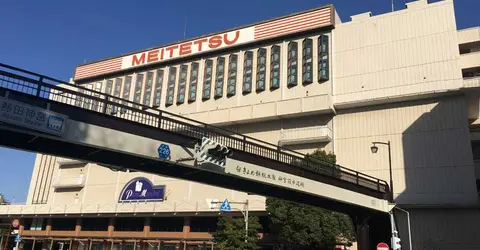 Jingu-Mae Station: read a guide to Jingu-Mae Station in Nagoya, a major Meitetsu Line connecting station.
Jingu-Mae Station in Nagoya is the third most important station on the Meitetsu network in Nagoya city after Nagoya Station and Kanayama Station as all Meitetsu express trains stop at this station. Jingu Mae has four platforms and is a favorite of train-spotters.
Jingu Mae is an intersection for the Meitetsu Airport Line for Tokoname and Chubu International Airport (Centrair) and the Meitetsu Nagoya Line connecting Inuyama, Gifu and Nagoya with Higashi-Okazaki (for Okazaki Castle) and Toyohashi.
So if you are traveling from Chubu International Airport (Centrair) to Toyohashi or Okazaki, you will need to change at Jingu-Mae Station.and has a large taxi rank outside. There are two car parks nearby with spaces for over 350 cars.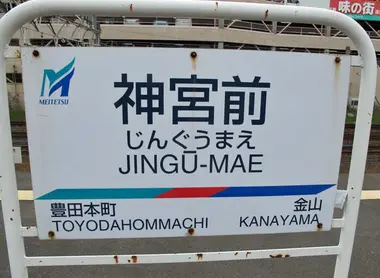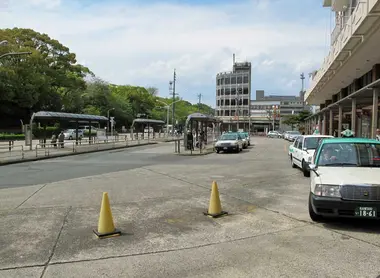 The nearest station on the Nagoya subway system is Jingu Nishi on the circular Meijo Line which involves walking through Atsuta Jingu.
The nearest JR station is Atsuta on the JR Tokaido Line.
Jingu Mae Station is also a terminus for local buses in the area
Things To See Near Jingu-Mae Station
The station concourse has a branch of the the Meitetsu-owned Pare Marche supermarket, a number of shops, cafes, restaurants and convenience stores.
Jingu Mae Station is convenient for Atsuta Jingu, Shirotori Park and Jingu Higashi Park.
All the themes of the city