Kumamoto Station
熊本駅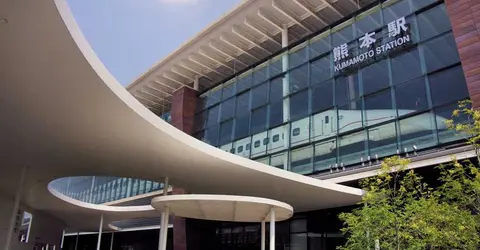 Kumamoto Station, in Kumamoto city, Kyushu, is on the Kyushu Shinkansen to Hakata, the Hohi Line and JR Kagoshima Main Line.
The Kagoshima Main Line runs from Kagoshima-Chuo Station to Mojiko in Kitakyushu via Kagoshima Station, Sendai, Yatsuhiro, Kumamoto, Arao, Kurume, Tosu, Hakata and Kokura.
Hohi Line
The Hohi Main Line connects Kumamoto city with Oita in Oita Prefecture along the east coast of Kyushu.
The full list of stations and connections on the Hohi Line is as follows: Kumamoto (Kagoshima Main Line, Kyushu Shinkansen), Heisei, Minami Kumamoto, Shin Suizenji (Suizenji-Ekidori Station), Suizenji, Tokai Gakuen-mae, Tatsutaguchi, Musashizuka, Hikari no Mori, Sanrigi, Haramizu, Higo Ozu, Seta, Tateno (Minami Aso Railway, Takamori Line), Akamizu, Uchinomaki, Aso, Ikoi no Mura, Miyaji, Namino, Takimizu, Bungo-Ogi, Tamarai, Bungo-Taketa, Asaji, Ogata, Bungo-Kiyokawa, Miemachi, Sugao, Inukai, Takenaka, Nakahanda, Oita-Daigaku-mae, Shikido, Takio, and Oita Station (Nippo Main Line and Kyudai Main Line).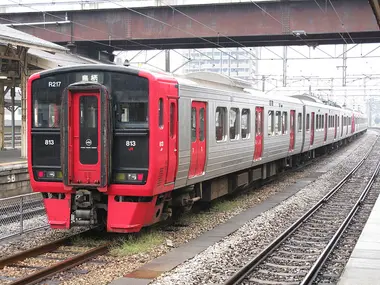 Tourist Information Offices
The Tourist Information Office is within the station. It can provide information, maps and brochures in several languages (Japanese. English, Chinese, Korean etc) and also help with finding accommodation and booking city tours.
Facilities
The station has four sets of coin lockers with over 260 lockers altogether. Two are at the west entrance and two at the east entrance to the train platforms. The easiest to find set of lockers is right next to the Tourist Information Office.
There is a Midori no Madoguchi Ticket Office within the station. Here passengers can book JR train and bus tickets up to 30 days in advance.
Inside the station building are several restaurants including a branch of Yoshinoya, as well as ramen and curry eateries. Local Kumamoto souvenirs are on sale in the station, too.
Kumamoto trams (Line B), local and highway buses as well as taxis leave from the Shirakawa (East Exit); taxis also leave from the Shinkansen (West Exit).
The area around the West Exit is mainly residential whereas the East Exit has many more shops, cafes and restaurants to explore.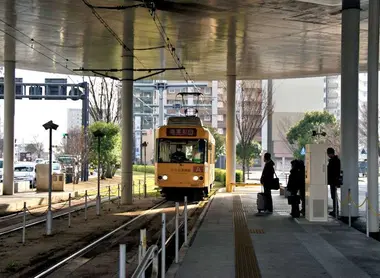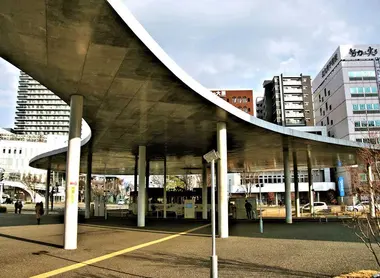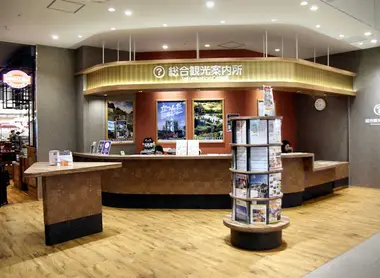 Hotel Accommodation near Kumamoto Station
The station has both East & West exits. There are car hire outlets and a number of hotels nearby.
Hotels within walking distance of the station include the Kumamoto Station Hotel, the three star JR Kyushu Hotel Kumamoto and the four star Hotel New Otani Kumamoto. All are good, business style accommodations with excellent facilities.
In Kumamoto as a whole choose from the Toyoko Inn Kumamoto Ekimae, the Hotel Shirogane and Hotel New Otani Kumamoto.
Close to Suizenji Garden are the Extol Inn Kumamoto-Suizenji, the Suizenji Comfort Hotel and the Hotel Anesso Matsuya.
Hotels near Kumamoto Castle include the Hotel Sunroute Kumamoto, the Castle Hotel Kumamoto, and the Ark Hotel Kumamoto.
All the themes of the city