Nagoya Meitetsu Station
Nagoya Meitetsu Station 名古屋名鉄駅
Nagoya Meitetsu Station is adjacent to Nagoya JR Station in the JR Central Towers in the Meieki area of Nagoya and next door to Nagoya Kintetsu Station.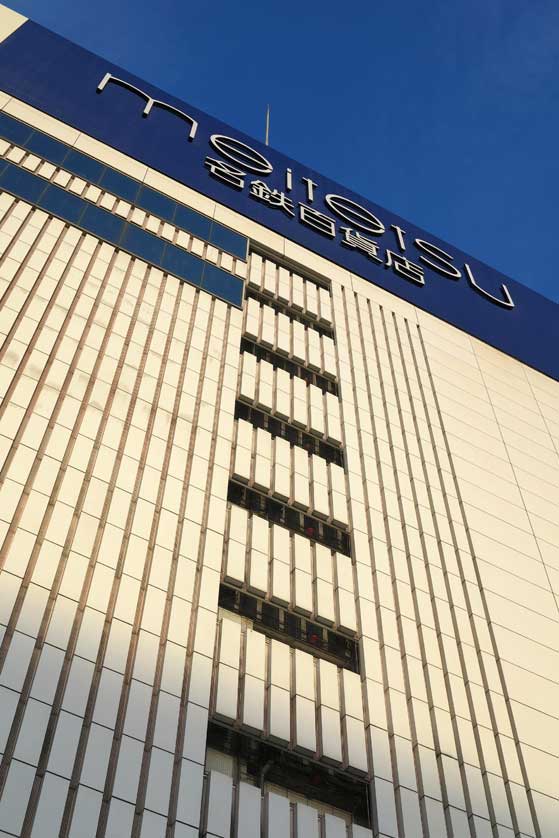 Meitetsu Station & Department Store, Nagoya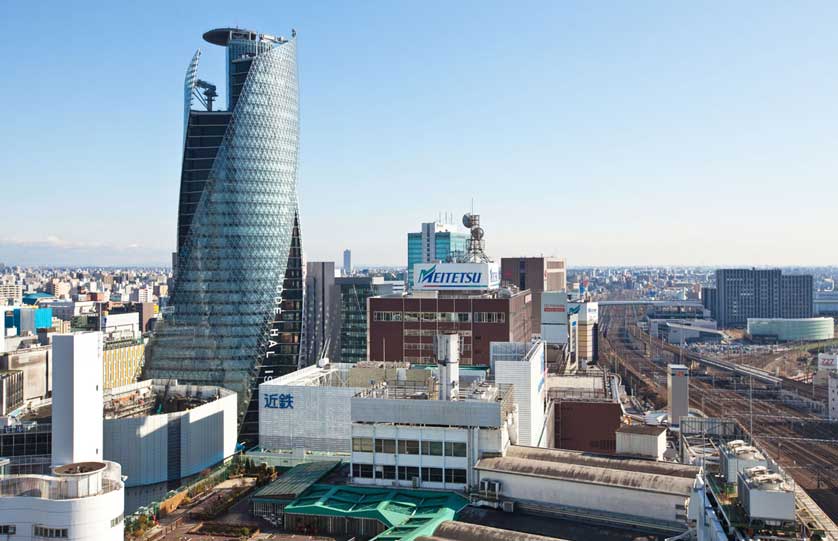 View of Nagoya showing the 170m-tall Mode Gakuen Spiral Towers and the Kintetsu & Meitetsu Stations
Meitetsu Trains
Nagoya Railroad company (Meitetsu Railways) is a major railway network in the Chubu region of central Japan.
Meitetsu connects Nagoya with Inuyama, Gifu, Mitake, Okazaki, Toyokawa Inari, Gamagori, Toyohashi, the Chita Peninsula and Chubu International Airport via Kanayama Station.
The Meitetsu Airport Rapid Limited Express "μ-SKY" runs between Chubu International Airport south of Nagoya and Nagoya Meitetsu Station, Gifu, Shin-Unama and Gifu. The journey takes 28 minutes and costs 850 yen plus 350 yen for the μ-ticket, total 1200 yen.
Meitetsu also runs trains to various suburbs of Nagoya including Arimatsu, Chiryu, Tsushima, Hekinan and Toyota city.
Meitetsu Railways has about 445km of track and the Meitetsu Group of around 170 associated companies has diversified into department stores, supermarkets, real estate, bus, ferry and taxi firms and travel agencies. The Meiji Mura historical park near Inuyama is also run by Meitetsu.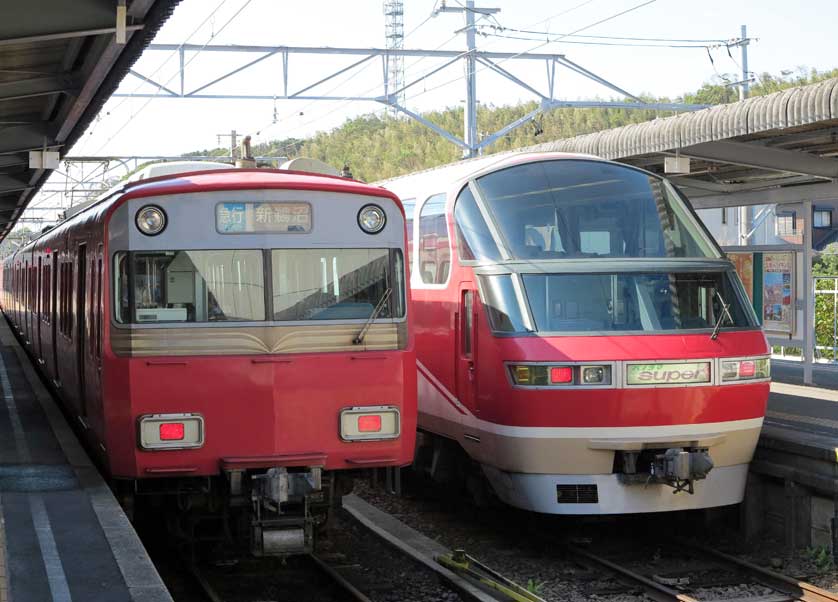 Panorama Super Express and local Meitetsu train
Meitetsu Station Building & Department Store
The Meitetsu Station building includes the Meitetsu department store with men's and mostly women's fashion outlets and the Meitetsu Grand Hotel. Outside the store is the giant Nana-chan statue, which is a popular meeting point and a Nagoya icon - big, bold and brash.
The roof top of the Meitetsu department store also has a popular beer garden in summer.
Just past the Meitetsu Bus Station at the crossroads of Meieki dori and Hirokoji dori is the Yamada Denki Labi electronics store and facing it on the other side of the street is the Meitetsu Lejac building which contains the Wellbe spa and capsule hotel, a McDonalds fast food restaurant, Doutor cafe, Pronto and a bowling alley.
Meitetsu Buses
Next door to the Meitetsu Station building in the Men's Building of Meitetsu department store is the Meitetsu bus station (Tel: 052 582 0489). Meitetsu runs both local and regional long-distance buses to Gujo Hachiman, Shirakawa-go, Toyota, Takayama (9 buses a day; 2900 yen single; 5000 yen return), Kanazawa (10 buses a day; 2900 yen single; 5000 yen return), Kobe, Nara, Tokushima, Awaji Island, Kochi, Matsuyama, Fukuoka, Nagasaki, Beppu, Kumamoto, Sendai, Shinjuku, Fuji Goko, Nagano, Matsumoto, Ina & Minowa, Iida, Hirugami Onsen, Toyama, Fukui and Kyoto.
There is also a Meitetsu limousine bus from Meitetsu Bus Center 3F calling at various hotels in Fushimi and Sakae before traveling to Centrair International Airport. The bus starts at Meitetsu Bus Center and calls at the Hilton Nagoya near Fushimi subway station, Nagoya Kanko Hotel, Nishiki Dori Honmachi, Oasis 21 bus center and Nagoya Tokyu Hotel before continuing to Centrair. The journey takes about 50 minutes to 1 hour, 15 minutes and costs 1,200 yen.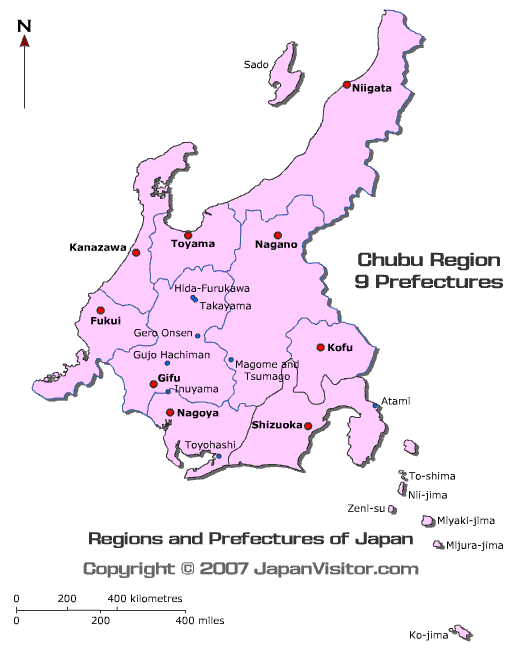 Map of Chubu area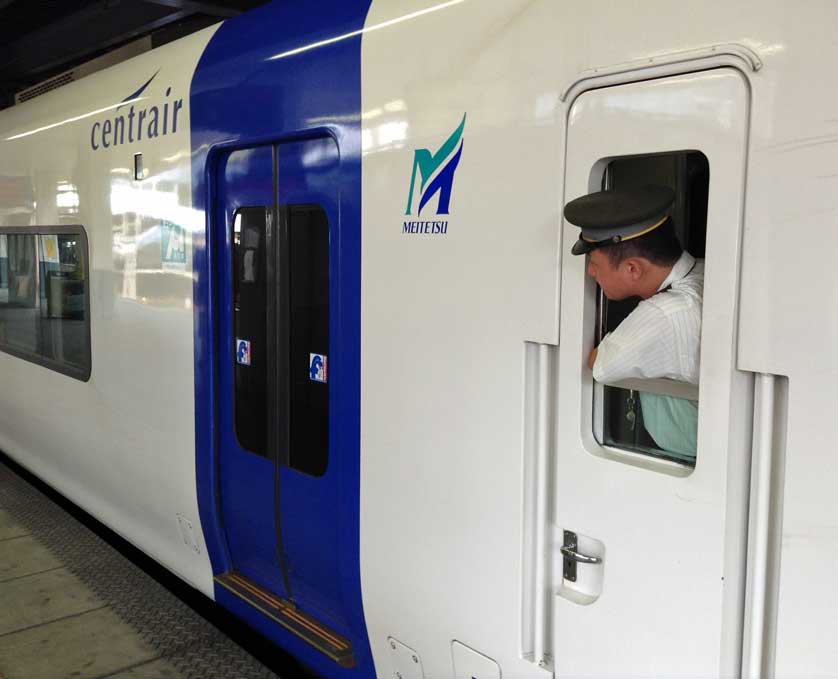 Meitetsu Airport Rapid Limited Express "μ-SKY" runs between Chubu International Airport south of Nagoya and Nagoya Meitetsu Station, Gifu and Shin-Unama
Hotels near Nagoya Meitetsu Station
Recommended hotels in the Nagoya Station Meiki area include the luxury Nagoya Marriott Associa in the JR Central Towers, the 3-star Hotel Resol Nagoya, the Meitetsu Grand Hotel, the Castle Plaza Hotel, the Chisun Inn, the budget Toyoko Inn Nagoya-eki Shinkansen-guchi, the Meitetsu Inn Nagoya Eki-mae, the large Daiwa Roynet Hotel Nagoya Eki Mae, the basic and cheap Eco Hotel Nagoya and the Royal Park Hotel.
Nagoya Meitetsu Station
1-2-4 Meieki, Nakamura-ku, Nagoya, Aichi 450-0002
Nagoya Station Area Map
Meitetsu Trains
Nagoya Meitetsu Station: read a guide to Nagoya Meitetsu Station as well as Meitetsu train services and Meitetsu buses.
All the themes of the city