Shirakawa-go Guide
Shirakawa-go & Gokayama: read a guide to the UNESCO World Heritage listed villages of Ogimachi, Suganuma and Ainokura in Gifu and Toyama prefectures.
Shirakawa-go 白川郷
Shirakawa-go
UNESCO World Heritage site
Shirakawa-go known for its gassho ("praying hands") style of architecture
Ogimachi, Suganuma & Ainokura are the main villages
Located on the Sho-kawa River
Easy to navigate on foot or rental bicycle
Places can get very crowded with visitors
Several small museums
Possible day trip from Nagoya, easier from Takayama and Kanazawa
Shirakawa-go Attractions
The remote, mountainous areas of Shirakawa-go and Gokayama lie between Takayama and Kanazawa in north, central Japan. The villages of Ogimachi (Gifu Prefecture) and Ainokura and Suganuma (both in Toyama Prefecture) make up a UNESCO World Heritage site, famous for its many thatched A-frame buildings, built in a style of rustic architecture known as gassho-zukuri ("praying hands").
The area of Shirakawa-go, according to legend, was one of the places the defeated Taira (Heike) clan fled to after their defeat at the hands of the Minamoto (Genji) clan at the Battle of Dannoura (1185) off the coast of Shimonoseki. Gokanosho in Kyushu is another such Taira bolt hole.
Following the construction of the giant Miboro Dam over the Shokawa River in the 1960's, which was to flood a number of local villages, many of the gassho farmhouses were assembled in Ogimachi for preservation and some moved to other parts of Japan including the Gassho Village in Gero Onsen.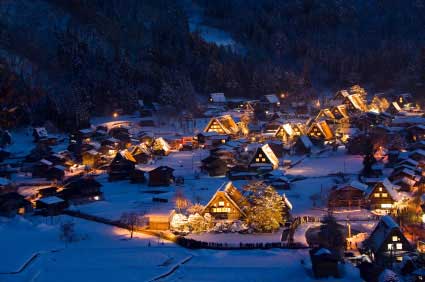 Shirakawa-go houses lit up at night under snow, Ogimachi, Japan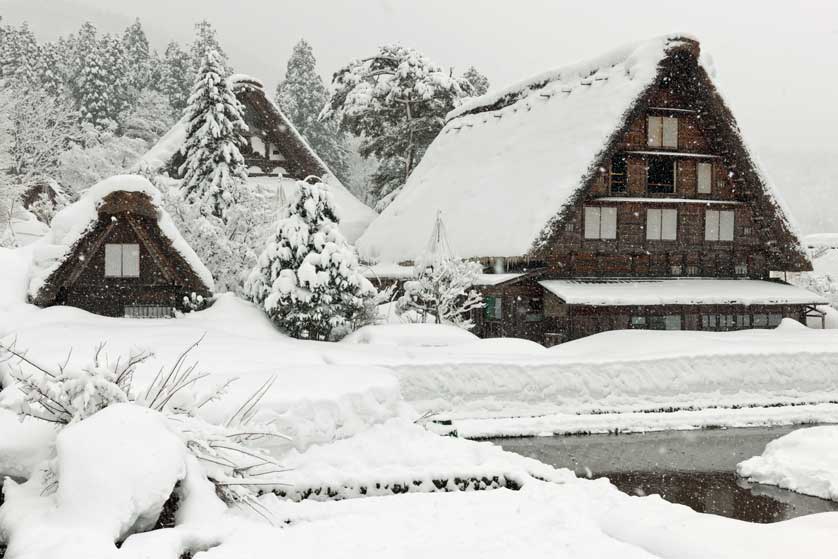 Shirakawa-go in winter under snow
Ogimachi can get very busy with day-trippers especially at weekends so it is advised to come during the week or spend the night in one of the town's ryokan or minshuku. The village of Ogimachi is particularly beautiful in the winter snow and at cherry blossom (sakura) season in early spring. Summer is cooler here in the mountains and the autumn colors are also lovely to see.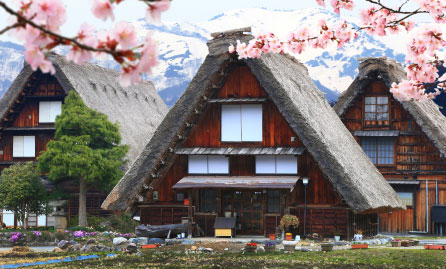 Shirakawa-go houses with cherry blossom under snow-capped mountain peaks, Ogimachi, Japan
Gassho Zukuri Minka-en Shirakawa-go 合掌造り民家園
Ogimachi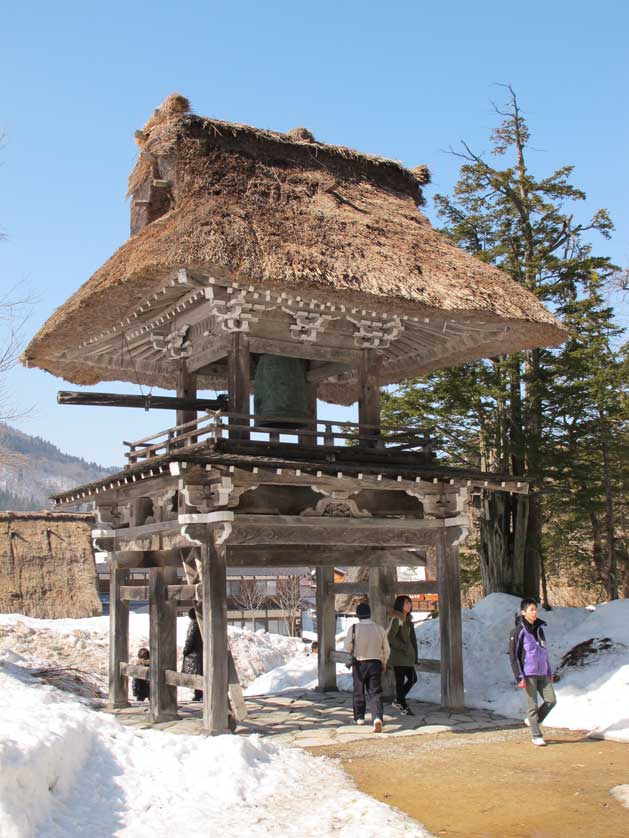 Ogimachi's attractions include the Gassho Zukuri Minka-en with 25 relocated gassho-zukuri buildings assembled in pleasant countryside, some of which have demonstrations of local handicrafts.
Set up in the late 1960's following a mass exodus of villagers to the cities, the Gassho-Zukuri Minka-en or Folklore Park contains family residences, a Shinto shrine, a horse stable, storage sheds for tools and produce, mills, a fire watchtower, traditional gates, barns, a Buddhist temple and other buildings. A description in both Japanese and and English explains the background to each building, many of which can be entered (you may need to remove your shoes). Local handicrafts, tools, photographs and stuffed animals of the area are on display.
Crossing the Deai-bashi suspension bridge to the village proper brings the visitor to the thatched Myozenji Temple and the Myozenji Museum next door displaying traditional items from rural life including silk cultivation.
To the right is the Shirakawa Hachiman Shrine and the Doburoku Matsuri Exhibition Hall (open April-November), which is dedicated to the annual doburoku festival held October 14-15, where sake in its earliest, milky stage is drunk accompanied by dancing.
Walking back northwards are several gassho houses that are open as museums including Nagase-ke (Tel: 05769 6 1047; admission 300 yen), Kanda-ke (Tel: 05769 6 1072; admission 300 yen) and Wada-ke (Tel: 05769 6 1058; admission 300 yen).
Nagase-ke was the home of doctors to the Maeda feudal lords in Ishikawa Prefecture and the house/museum has displays of herbal medicine and sericulture. Wada-ke is the largest gassho house in the village and is a designated National Treasure. The property once belonged to a wealthy family of silk traders and there are exhibits of lacquerware and other household items. Kande-ke has a huge 36 tatami-mat living room and offers good views of the village from its top floor.
Walking up the hill past Wada-ke brings you to the Shirakawa Tenbodai (Viewing Point) which has excellent views of the village below and was the site of a small castle.There is a restaurant and food stalls here as well as a car park: there is beer, sake and warming soba or udon noodles on offer.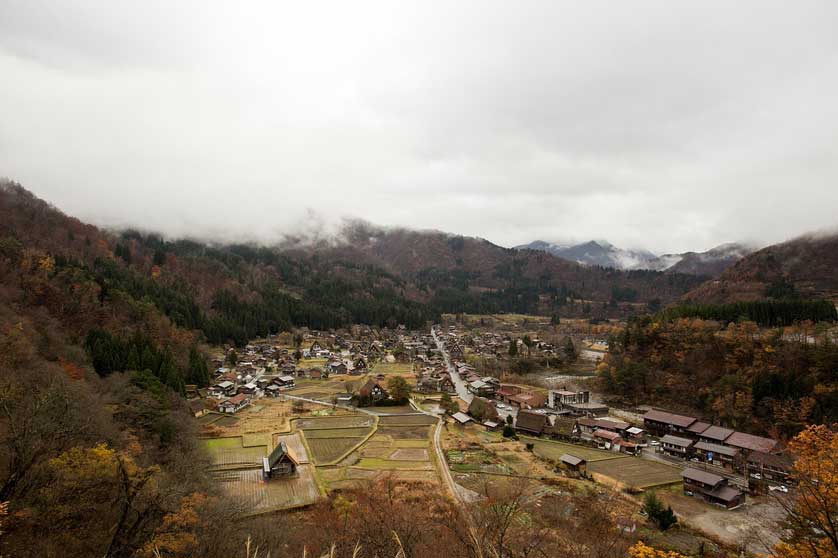 Gokayama
Further up the Shokawa River are more villages with gassho-zukuri architecture in the Gokayama district of Toyama Prefecture. Suganuma, 15km north of Ogimachi, has a beautiful location near a bend in the river and has two museums: Gokayama Minzoku-kan (Tel: 0763 67 3652; admission 210 yen) and Ensho no Yakata (Tel: 0763 67 3662; admission 210 yen), which has displays of the secret gunpowder production that took place here. A joint admission ticket for the two museums costs 300 yen.
Nearby Kaminashi has a very old gassho-zukuri farmhouse dating from 1578, the Murakami-ke.
Ainokura, 4km north of Kaminashi, is another beautifully located village with a folk museum the Ainokura Minzoku-kan (Tel: 0763 66 2732; admission 200 yen) dedicated to the area's hand-made washi paper production and local toys.
Tourist Information
The main Tourist Information Center (Tel: 05769 6 1013) is in the center of the village and there is a smaller information office near the bus station across the road from the Gassho Zukuri Minka-en. Bus tickets can be bought here too.
Shirakawa-go is known for its fine nigori sake, tsukemono (pickles) and basket ware items.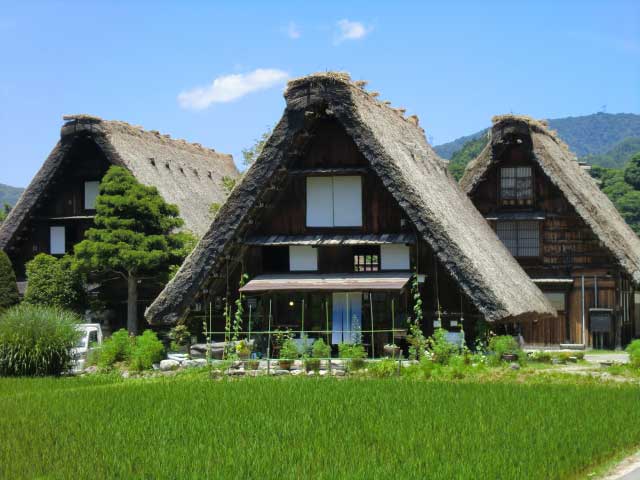 Shirakawa-go in summer, Japan
Shirakawa-go & Gokayama Accommodation
All the villages offer a variety of minshuku lodgings where it is possible to spend the night in a tradition gassho-zukuri farmhouse, complete with sleeping in a futon on a tatami floor and dining around an open fireplace or irori. Charges include breakfast and evening meal. Some recommended minshuku in Ogimachi include Furusato (Tel: 05769 6 1033), Magoemon (Tel: 05769 6 1167), and Koemon (Tel: 05769 6 1446).
Access - how to get to Shirakawa-go
Ogimachi is best reached by bus. Nohi Bus has services to and from both Takayama and Kanazawa which are more regular from April to November. There are also buses to Nagoya Meitetsu Bus Station (3 hours, 30 minutes) with a regular service April to November and at weekends at other times.
Buses from Kanazawa leave for Shirakawa-go at 8.10 am, 8.40 am, 9.05 am, 10.50 am, 12.45 pm, 1.15 pm, 2.40 pm and 4 pm. The journey takes 1 hour and 15 minutes. Nohi Bus offers a daily bus tour to Shirakawa-go from Takayama with an English-speaking guide leaving Takayama Bus Terminal at 8.30 am and returning to Takayama at 3.10 pm (6,690 yen for adults).
Nohi Bus information in English
Buses from Takayama to Shirakawa-go leave at 7.50 am, 8.50 am, 9.50 am, 10.50 am, 11.25 am, 11.50 am, 12.50 pm, 1.50 pm, 2.50 pm and 4.30 pm. The journey takes 50 minutes.
There are two buses from Nagoya Meitetsu Bus Center at Nagoya Meitetsu Station to Shirakawa-go at 9 am and 11 am. The 9 am bus calls at Gujo Hachiman on the way and arrives at 11.53 am. The 11 am bus arrives in Shirakawa-go at 1.31 pm. Return buses from Shirakawa-go to Nagoya leave at 3 pm and 4 pm. The fare is 3,600 yen (2014).
From Gero Station in Gero Onsen there is one bus a day to Shirakawa-go leaving at 9.30 am and arriving at 11.40 am (3,090 yen one way). The return bus leaves Shirakawa-go at 1.15 pm arriving back in Gero at 3.40 pm.
By car, exit the Hokuriku Expressway at the Shokawa I.C.
Getting Around Ogimachi
Ogimachi is easy enough to get around on foot or bicycle.
Shirakawa-go Video
Book Hotel Accommodation in Gifu & Ogimachi
All the themes of the city