Yanagawa
Yanagawa: read a guide to Yanagawa in Fukuoka Prefecture famed for its canals & delicious river eel.
Yanagawa Guide 柳川
Peaceful canal town 70 km south west of Fukuoka.
Famed for its delicious river eel.
Population around 75,000.
Located in the deep south of Kyushu.
Ruled by the Tachibana clan for centuries.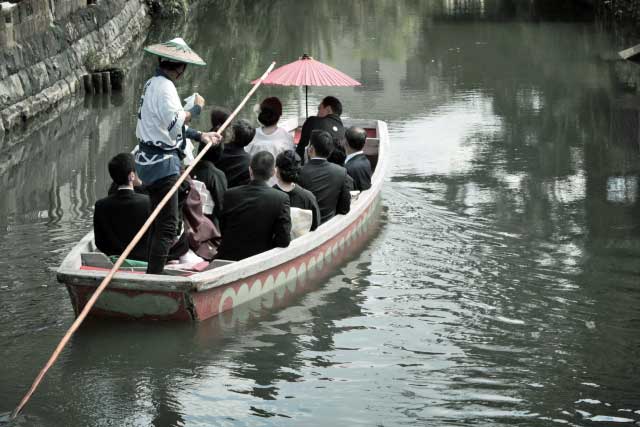 Yanagawa canal trip, Kyushu

Things to see and do in Yanagawa
Yanagawa is known primarily for its hundreds of kilometers of canals, and this is what pulls in the tourists.
Yanagawa was originally a farming village, and the canals were built hundreds of years ago for irrigation. They have since been restored and today are plied by donkobune--low flat boats powered by a man with a pole--that take tourists on short cruises known as kawakudari (going down the river) around the town.
The Kawakudari boat rides cost 1,500 yen for adults, 800 for elementary school age children. The ride lasts 70 minutes, though a 30-minute course is also available.
Also of interest is the Yanagawa Ohana (pictured below), the villa of the Tachibana family, which ruled Yanagawa from roughly 1600 - 1868.
The building pictured is a western annex known as Seiyokan and was completed at the beginning of the 20th century.
Yanagawa Ohana is a massive Western style mansion intended to impress. Directly behind it is a Japanese structure that looks out onto a koi (carp) pond and the lovely Shotoen garden. Tel: 0944-73-2189.
After the canals and Seiyokan, Yanagawa is known for Hakushu Kitahara, a local writer. Hakushu Kitahara was a poet and writer of children's songs who grew up and spent his life in the town.
The signature dish of Yanagawa is eel, which is eaten as a pick-me-up, especially in summer. There are several well-known eel restaurants in Yanagawa.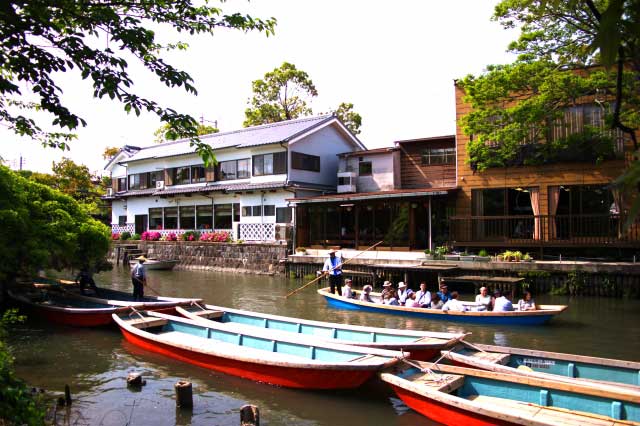 Yanagawa canal boats, Kyushu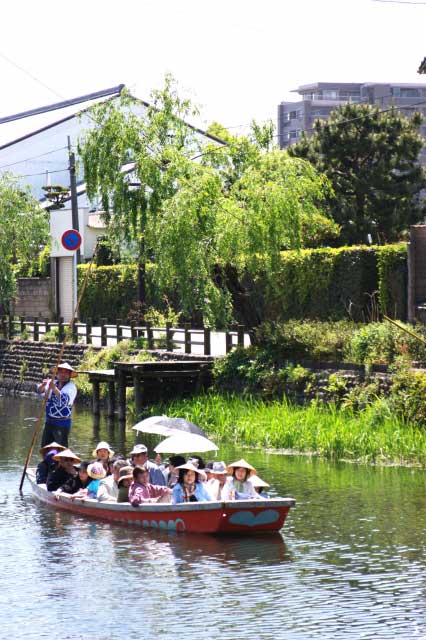 On the water in Yanagawa, Kyushu
Kitahara's home, Hakushu, is now a museum that displays his writings and drawings.
Tel: 0944 72 6773. The fee for adults is 400 yen.
Hakushu is built in the local style, with cross-hatching on the walls for a beautiful patterned effect.
Hot springs can be found in Yanagawa. Like most of Kyushu, the town is blessed with the healing waters. One discovered in 1965 contains sodium bicarbonate and salt, which is said to beautify the skin and be good for neuralgia.
Information on hot springs can be found at the Yanagawa tourist information center: Tel: 0944 73 2145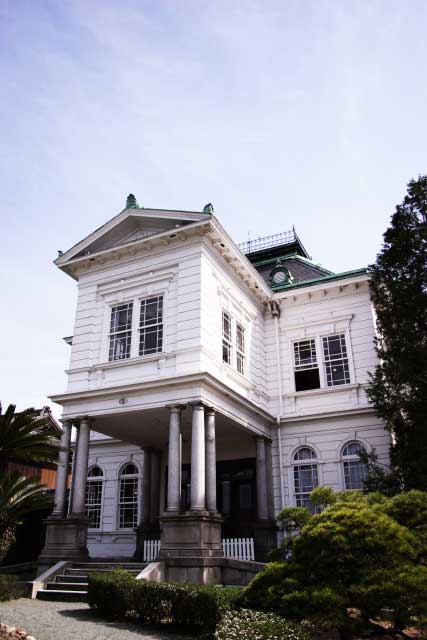 Seiyokan, Yanagawa, Kyushu

River boats, Yanagawa, Kyushu

Yanagawa Festivals
Yanagawa City also has a strong sense of seasonal change, which is marked by its many festivals.
January: Celebration of the Birth of Hakushu Kitahara
February: Setsubun Festival at Hiyoshi Shrine
March: Doll's Festival (pictured above right)
April: Nakayama Wisteria Festival
May 3-5: Okinohata Suitengu Shrine Festival
July: Nakashima Gion Festival, Requiem Service for Eel, Sunflower Festival
August: Ariake Sea Fireworks Festival
September: Dan Kazuo Literature Festival
October: Minashira Shrine Onigie
November: Hakushu Festival
December: Tofu Memorial Service for Hase Ken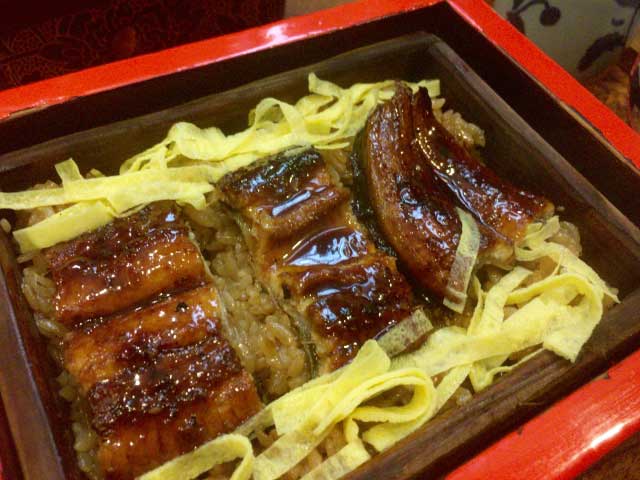 Eel is a local delicacy in Yanagawa, Kyushu
Yanagawa Access - getting to Yanagawa
Air
Fukuoka International Airport is perhaps the most easily accessed airport of any of Japan's major airports. It is 10 minutes from the center of downtown via subway.
Politicians are now considering expanding and therefore moving it to a bigger location, but for now you will be at your hotel in no time. Direct flights arrive from Australia, South Korea, China, Thailand, Hong Kong, and all over Japan.
Access From the Airport to Yanagawa, the easiest way to get to Yanagawa is on the train. Take the subway to Tenjin Station. Walk three minutes to Nishitetsu Fukuoka Station, and then take the train 46 minutes to Yanagawa.
Rail
From Fukuoka City, take the Nishitetsu train from Nishitetsu Fukuoka Station to Yanagawa Station. The ride takes 46 minutes. There are also Nishitetsu trains from Dazaigu (40 minutes) and Omuta (15 minutes). Nishitetsu Fukuoka Station is six minutes on the Fukuoka subway from Hakata Station.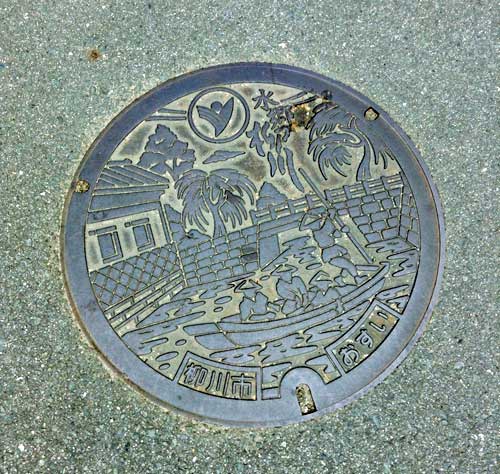 Yanagawa manhole showing a boat, the canals and a bridge

Bus
There is a regular bus service to Yanagawa from Saga Station (52 minutes) with the first bus at 6.35 am and the last bus at 8.30 pm on weekdays.
Map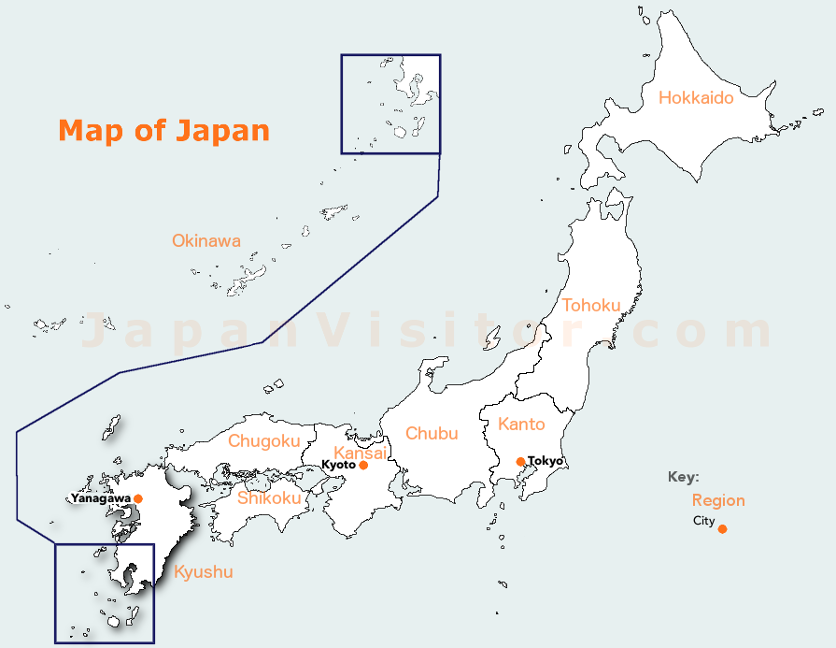 Yanagawa Map
Book Hotel Accommodation in Fukuoka Japan
All the themes of the city