Momochi Seaside Park Fukuoka
Momochi Seaside Park (シーサイドももち) in Fukuoka is is a series of beaches and seaside facilities located right underneath the New Fukuoka Tower.
Momochi Seaside Park シーサイドももち
Jake Davies
Momochi Seaside Park (Seaside Momochi) is a series of beaches and seaside facilities located right underneath the New Fukuoka Tower in Fukuoka city.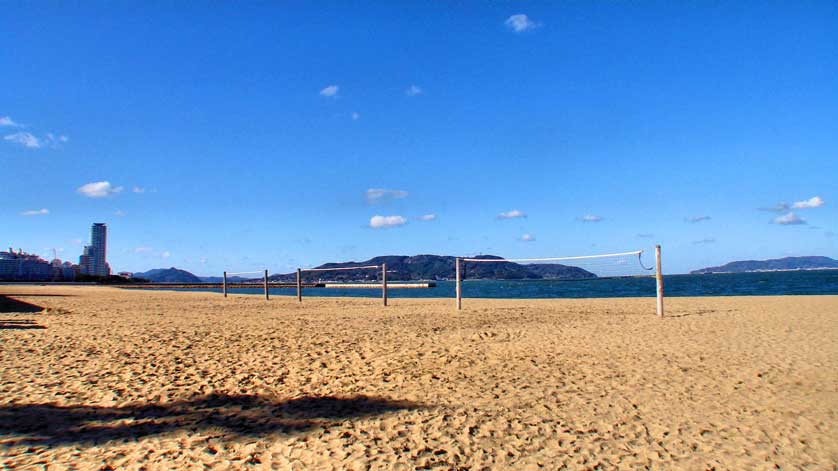 Momochi Beach, a popular spot for playing beach volleyball and other beach sports

Beaches
There are actually three beaches, with the main one, Momochi Beach, in the center and where all the facilities are located.
A little to the east, in front of the Fukuoka Dome, is Jigyo Beach, connected to Momochi Beach by a pedestrian bridge.
To the west is the larger Atago Beach, but it is not easily accessible from Momochi. All three beaches are man-made and are of a fine, golden sand. The beaches are protected by breakwaters and so there are no waves and are suitable for swimming and wading even for young children.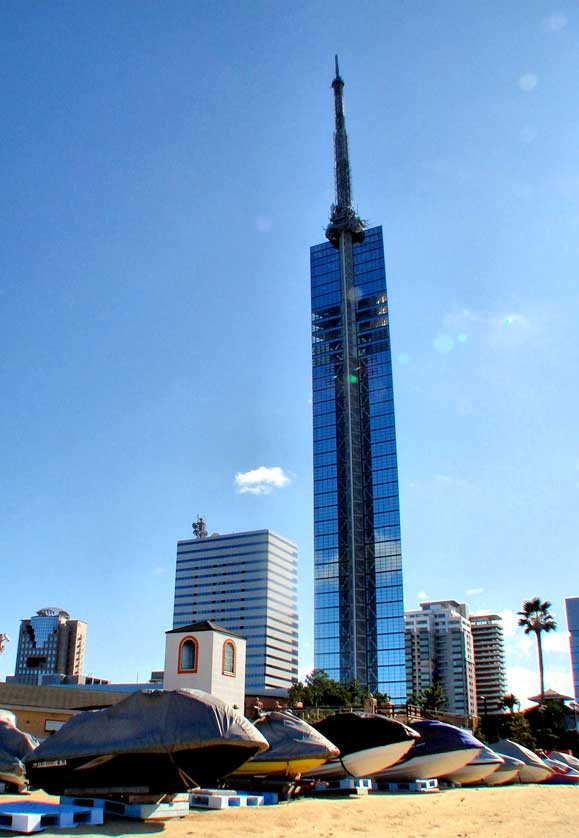 Jet skis lined up on Momochi Beach in front of the New Fukuoka Tower
Attractions
There are numerous beach and water sports available with different areas reserved for certain activities. Beach volleyball is very popular. For waters ports there are jet-skis, windsurfing, and paddle-boarding. In the summer there is a free cold water shower, or hot water showers for 100 yen.
In the center of Momochi Beach are a cluster of shops, restaurants, and cafes where you can get ice creams, drinks, and a variety of food including oysters. There are also outdoor and water sports equipment rental and sales and classes in some sports.
In front of these is Marizon, a pier that is primarily a venue for weddings but also has restaurants and shops.
Just off the beach around the New Fukuoka Tower are numerous convenience stores and fast food restaurants as well.
A ferry runs across the bay to Uminonakamichi Seaside Park and the aquarium (Marine World) and other attractions around it. The same company operates the ferry from Hakata to Uminonakamichi so you can return on that route.
Outside of the summer bathing season the area is a pleasant spot for walking and enjoying the sunset
There is plenty to see and do in the area around the beaches, with the New Fukuoka Tower being an obvious choice. However, there is also the Fukuoka City Museum, a large, modern museum focusing on history.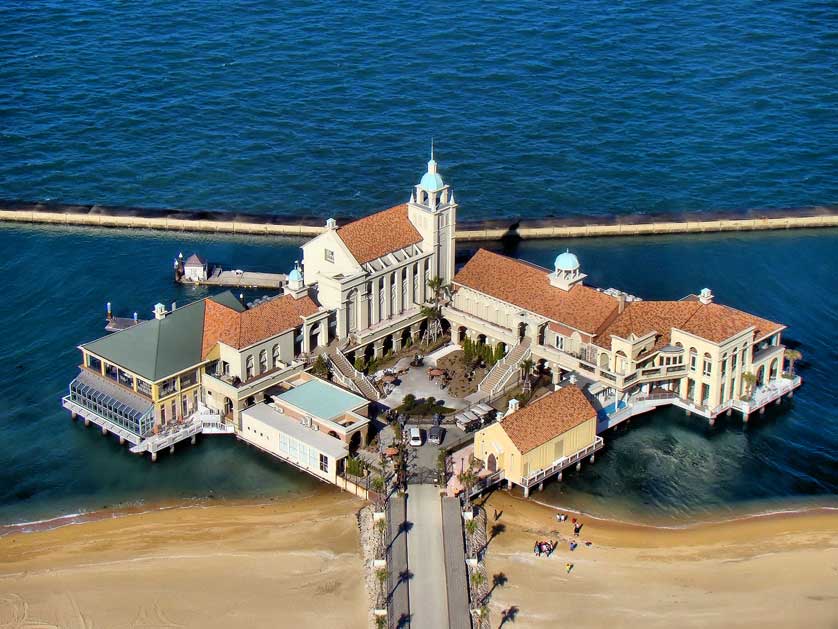 Marizon, a wedding venue on the pier at Momochi Beach in Fukuoka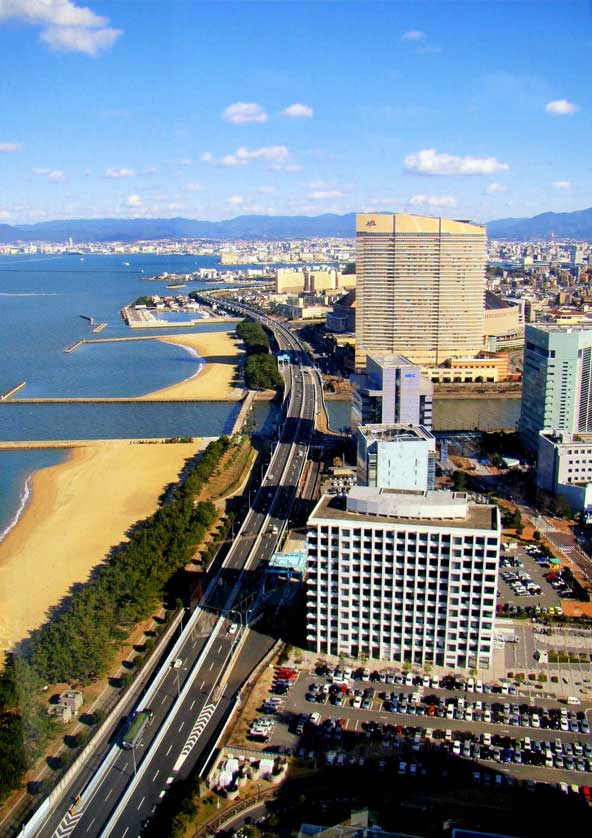 View from the observation deck of the New Fukuoka Tower looking down on Momochi Beach and Jigyo Beach beyond

Access
2-chome-90-1 MomochihamaSawara-ku, Fukuoka-shiFukuoka Prefecture 814-0001Tel: 0928 22 8141
From Hakata Station take a Nishitetsu bus #306. There are also buses from Tenjin and from Nishijin subway station which is 1.5 kilometers south of the beach.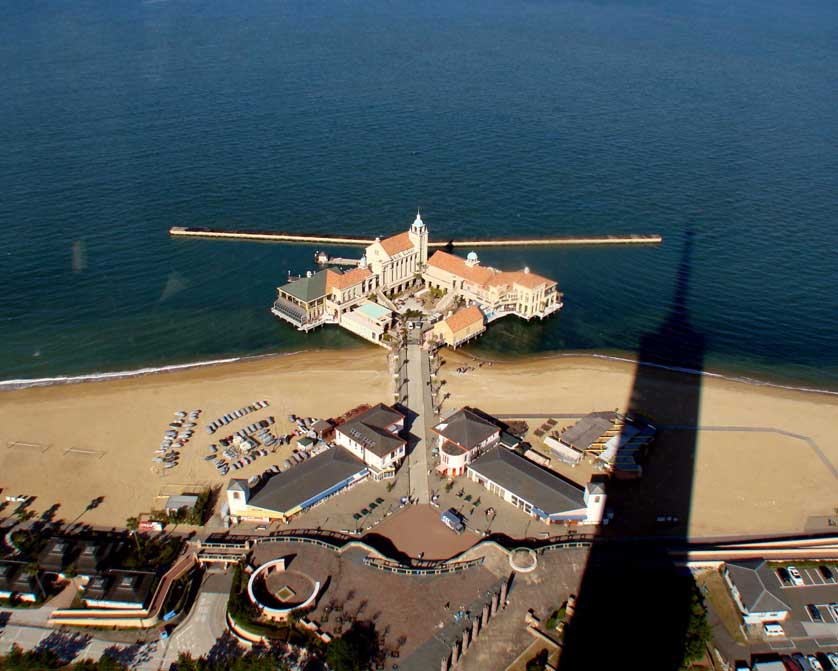 Looking directly down on Momochi Seaside Park from the New Fukuoka Tower

Other Fukuoka Attractions
Book Hotel & Hostel Accommodation in Fukuoka, Japan
All the themes of the city