Hiroshima-jo
広島城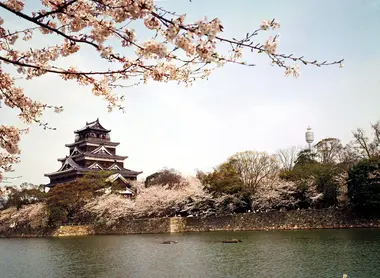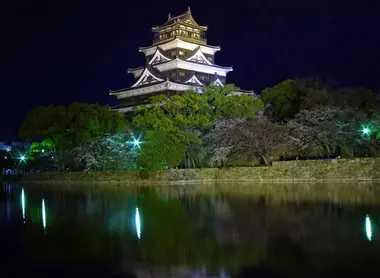 Le château qui a régné
Dans le Japon médiéval, chaque province était dirigée par un seigneur féodal : le daimyô. A la fin du XVIe siècle, ces dirigeants furent pris d'une folie des forteresses et beaucoup d'entre eux firent construire de magnifiques citadelles. Né de cet engouement, le château de Hiroshima (Hiroshima-jô) devenu musée ouvre ses portes pour vous faire découvrir l'histoire de la ville.
The nickname "the castle of carp" comes from the black color of its exterior walls that evoke the image of fish scales. Hiroshima-jo is organized according to the classical scheme of fortresses in medieval Japan: two successive walls, interspersed with moats, leading to a high fort of five floors. This lovely historic getaway takes you to the Middle Ages, when power struggles were par for the coarse.
The building was constructed in 1590 on the grounds of what is today Hiroshima city by the order of Daimyo MORI Terumoto (1553-1625). He reigned supreme in a region that extended all the way to Okayama Kita-Kyushu. After the defeat other lords in this province, the castle became a unique center of land and sea traffic.  The city we know now as Hiroshima was born. The castle was destroyed in the atomic bombing of August 6, 1945, but rebuilt identically in 1958, losing none of its charm.
Today, the building is not only a monument, but inside, the castle museum presents the history of the city throughout the centuries. Many documents inform visitors about the development of the city through maps and models that show the rise of the city and this fortress. A beautiful immersion into a Japan since disappeared but never forgotten.
---
Address, timetable & access
All the themes of the city