Iga Ueno
Japan City Guides: Iga-Ueno, Mie Prefecture 伊賀上野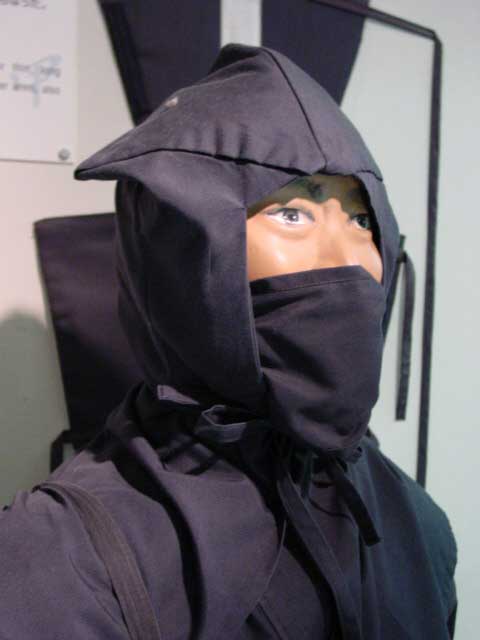 Iga-Ueno is an area of Iga City in Mie prefecture, at the top of the Kii Peninsula. Iga-Ueno is famous as the birthplace of the haiku poet, Basho, for being one of the two foremost places in Japan where ninja were trained, and for its beautifully reconstructed Ueno Castle.
It is referred to as "Iga-Ueno" to differentiate the town from Ueno in Tokyo.
Iga-Ueno and Ninja
Ninjutsu is the art of stealth, and the students of ninjutsu, known as ninja, were farmer/warrior clans who dealt mostly in assassination, espionage and intelligence gathering. As such they were the forerunners of today's special forces such as the SAS, Spetznaz and Green Berets. Iga ninjutsu and Koga ninjutsu, the latter based in nearby Shiga Prefecture, were Japan's two foremost schools of ninja during the almost constant warfare of the Azuchi-Momoyama Period (1573-1603).
A testament to the ninja's awesome combat power came in 1580 when a samurai army of 10,000 men under the command of warlord Oda Nobunaga's son, Nobukatsu, was decimated by a few hundred highly-skilled ninja warriors.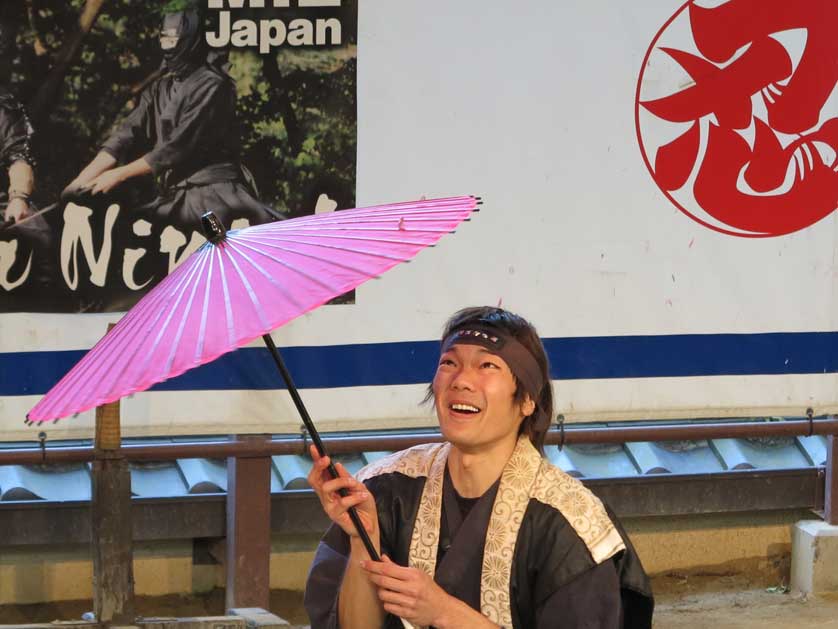 Ninja Show, Ueno Castle Park, Iga Ueno
Most of Iga-Ueno's attractions are in, or very near, Ueno Park, a short walk from Iga-shi Station on the Kintetsu Iga Line. These include the Ninja Museum of Iga-ryu, Ueno Castle, the Basho Memorial Museum and, also dedicated to Basho, the Haiseiden. Just outside the park, at its south-east corner, is the Danjiri Museum in the imposing, traditionally styled Danjiri Kaikan Hall, full of displays showcasing the town's Danjiri Festival. The Danjiri Kaikan also incorporates a tourist information office.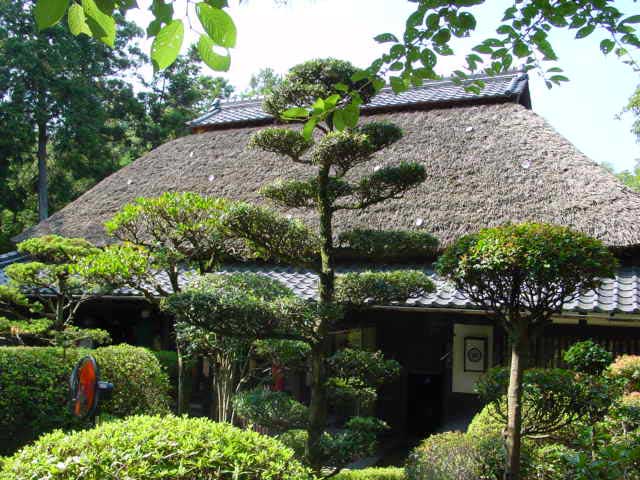 Iga Ueno Ninja house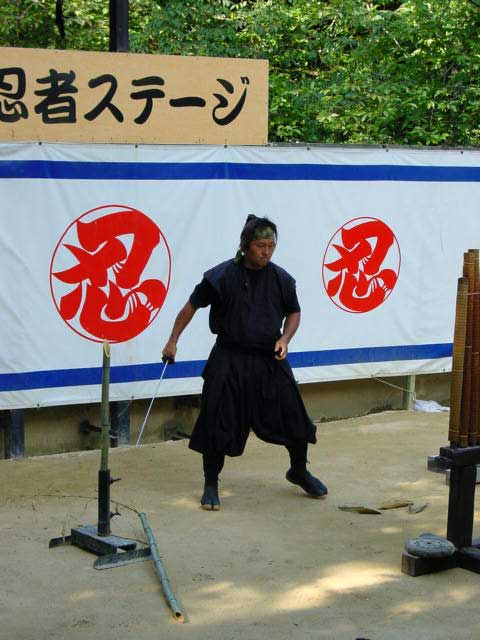 Iga Ueno ninja sword demonstration
Ninja Museum of Iga-ryu
The outstanding Ninja Museum of Iga-ryu (Tel: 0595 23 0311) has an original ninja residence complete with trapdoors, concealed weapons, secret passageways and revolving walls. A pink- or camouflage-clad female ninja talks visitors through the house's many surprising secrets.
The Iga-ryu Ninja Museum has two further exhibition halls. The first uses audio-visual displays to demonstrate ninja techniques as well as displays of ninja weaponry (including shuriken - projectiles such as throwing stars and knives), armor and espionage tools.
The second hall displays objects from the ninja's lifestyle and culture including implements and techniques used in encryption, concealment and disguise. Ninja, for example, always slept with their left side to the ground to avoid being stabbed in the heart during a surprise attack at night and spoke in a special argot to keep their communications secret.
Listen to the sounds of the Ninja Demonstration
The highlight of the Ninja Museum tour is the hourly ninja demonstration where present-day inheritors of the ninja tradition show off their fearsome skills in an action-packed and entertaining display of combat using real weapons: straight ninja swords, shuriken and sickles. These guys are for real and it shows, though the performances also includes a fair amount of Japanese variety entertainment as well as martial arts.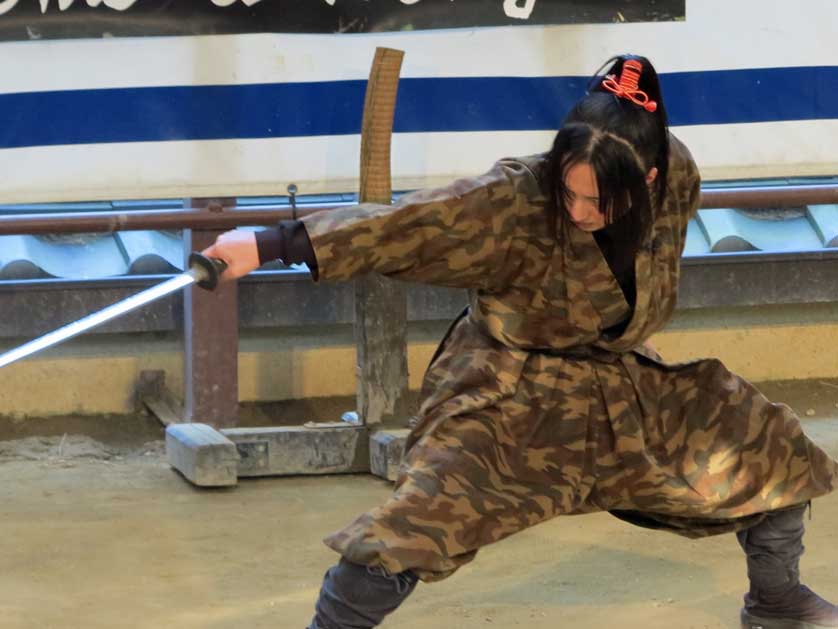 Ninja Demonstration, Ueno Castle Park, Iga Ueno
Ueno Park & Iga Ueno Castle
Ueno Park is also the site of the impressive, moated Iga Ueno Castle which was reconstructed in 1953 as an exact replica of the 1611 original using wood rather than concrete. Inside the castle are displays of armor, dolls, lacquerware and ceramics relating to the history of the castle. There are views over the city from the top floor.
Ueno Park also includes a museum, the Matsuo Basho Memorial Museum, in honor of Iga's most famous son, the haiku poet Basho. There are scrolls and original manuscripts from the Edo Period of Basho's work and an electronic board showing the poet's wanderings in Japan. Some of the titles of Basho's anthologies are delightful: Records of a Weather Exposed Skeleton and the Records of a Travel Worn Satchel are favorites.
The Haiseiden Poet's Memorial Hall, a two-tiered wooden pavilion close to the Iga Ninja Museum also celebrates the life and work of Japan's most famous poet and was constructed in 1942 commemorating the 300th anniversary of the poet's birth. The shape of the pavilion mirrors the traveling poet's outfit, particularly the cypress bark roof, which captures his hat. Inside is a ceramic statue of the great man, but which can be viewed only during the annual Basho Festival.
Igagoe Museum
Just west of Ueno Park is Kagiya no Tsuji Park, the site of the Iga Vendetta where in 1634 Watanabe Kazuma avenged the death of his brother in Okayama on his murderer Kawai Matagoro. The Igagoe Museum has samurai-related artifacts on show and tells the story of this epic revenge story. The reconstructed Kazuma Teahouse is where the assassins, Watanabe and master swordsman Araki Mataemon lay in wait for Matagoro. Both a bunraku and kabuki play are based on this story as well as a number of much later samurai movies.
Basho
Just east of the park is Basho's ancestral home, where he lived until he was 29 years of age. The interior has been restored and stocked with Edo Period artefacts which give some idea how the poet spent the early part of his life in Iga-Ueno.
A twenty minute walk south of the station is Minomushian ("Bagworm Hermitage")- the only one of the poet's five retreats still in existence today. A Basho Festival is held annually in the town on October 12th. There is (no doubt locally fuelled!) speculation that Basho himself was a ninja and a spy for the Tokugawa, and that his long, wandering poetic journeys were a cover for intelligence gathering for the regime. However, no real evidence exists for this.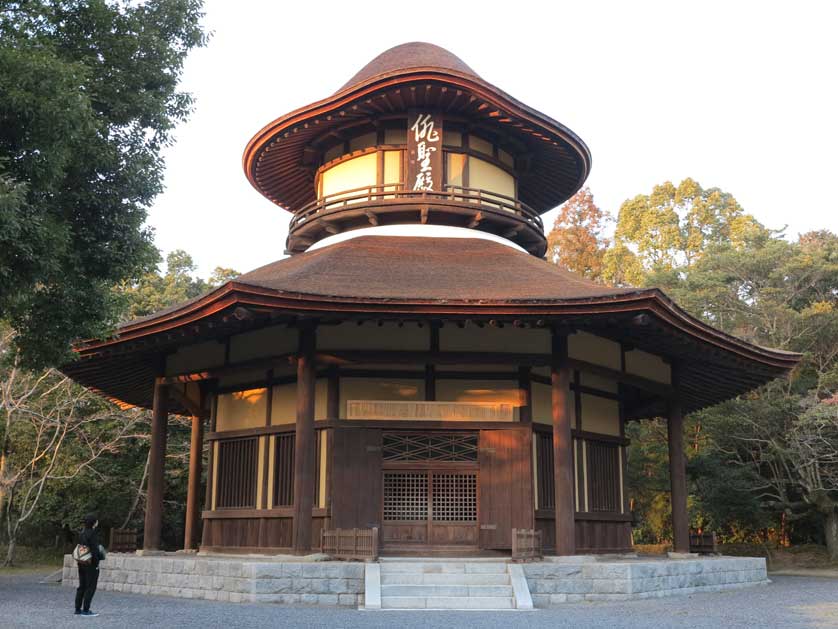 Haiseiden, Ueno Castle Park, Iga Ueno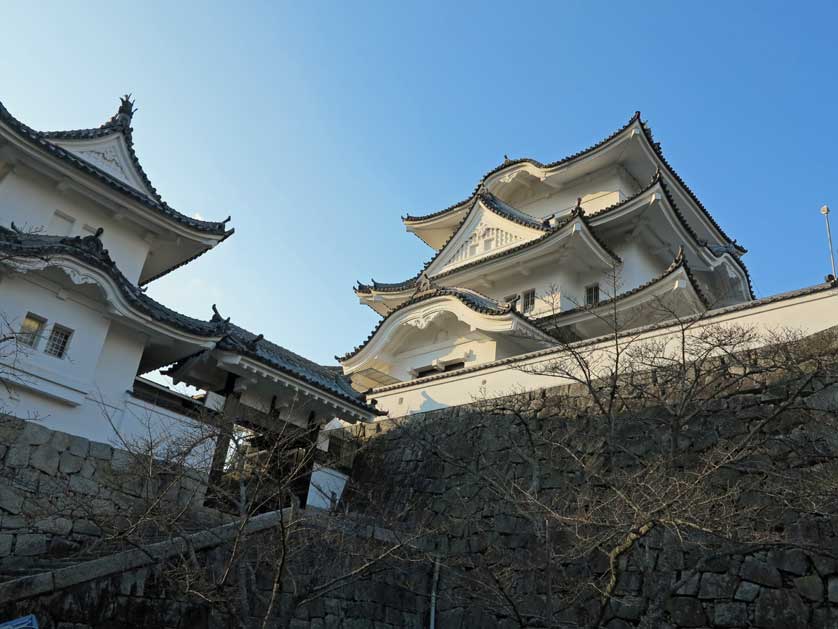 Ueno Castle (White Phoenix Castle)
Two historic schools have been preserved as museums in Iga: the Former Sukudo, a school for local samurai, which opened in 1821, and the Old Ota Elementary School, the oldest existing elementary school in Mie Prefecture dating from 1881. So within the space of sixty years, education went from being the preserve of the offspring of the elite to something required for all.
Iga-Ueno Temples
The Teramachi area south of Hirokoji Station has seven temples located close to each other including Jyogoji Temple, Myoshoji and Daichoji.
Ninja Cosplay
Visiting kids can dress up as ninja for the day. Costumes can be hired at various places around town, such as the Danjiri Museum, Iga Ninja Store, Murai Bankoen Ninja Cafe, the Iga Aoyama Garden Hotel, Palm de Yume and Costume Rental Mitashin.
Local Products
As for local food delicacies and crafts, Iga-Ueno is known for its rice, ceramics, tender beef, fine sake and kumihimo (silk-braiding), which you can try for yourself at the Iga Ueno Braiding Center (Kumi-no-Sato), not too far from Kuwamachi Station.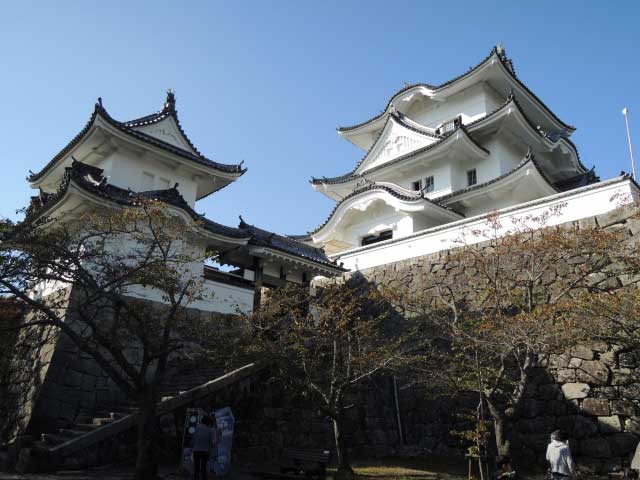 Ueno Castle
Iga-Ueno Festivals
Iga-Ueno has a number of interesting festivals and events. A Ninja Festival is held in April, there are performances of Noh in Ueno Castle's grounds in September and October, a Basho Festival is held on October 12th, but the town's main festival is the Tenjin Matsuri held from October 23rd-25th and featuring a parade of locals dressed as ogres and another procession of decorated, wheeled floats known as Danjiri.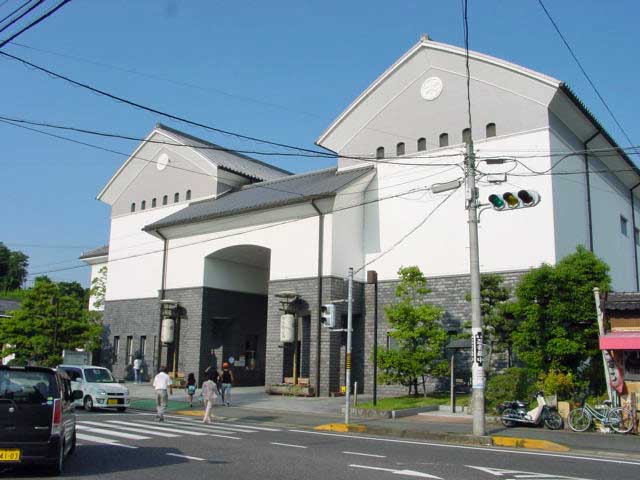 Danjiri Museum, Iga Ueno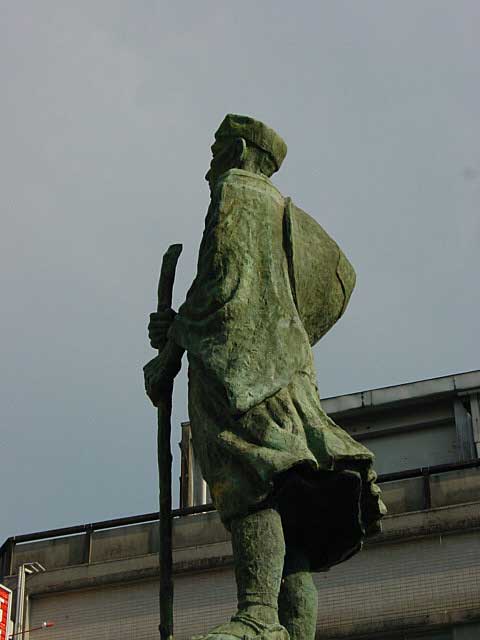 Statue of Basho, Iga Ueno
Tourist Information Offices
Iga-Ueno Tourist Information Office (Tel: 0595 26 7788) is just outside the station, inside the Haitopia Iga Building, in front of the bus stops, and has good information available in brochures in Japanese and English.
The Danjiri Kaikan, an imposing, traditionally-styled concrete building just across from the south-east corner of Ueno Park, also has a tourist information office inside.
Accommodation
The following are recommended hotels in Iga.
Iga Ueno City Hotel is an ideally located and reasonably priced hotel only 10 minutes' walk from Ueno Park and Iga-Ueno's other attractions, as well as Nishiote and Hirokoji stations on the Iga Line. Clean and comfortable, with friendly, English-speaking staff, free coffee in the lobby, and free parking on site. Nice quiet location, and close to numerous restaurants.
Route Inn Grantia Igaueno Wakuranoyado is a smart, modern hotel with something of a Japanese touch, very near Nishiote Station on the Iga Line and to Iga-Ueno's attractions. Good range of in-room facilities, including wired internet and Wi-Fi, with an on-site Japanese restaurant and public onsen baths. Free coffee in the lobby from afternoon to evening.
Hotel Route-Inn Igaueno is a budget hotel about 5 minutes' drive from JR Igaueno Train Station. Each room has en suite bathroom, green-tea-making facilities, flat-screen TV, wired internet, fridge and desk. Public bath on-site, plus coin launderette. Good breakfast buffet.
Iga Access - Getting to Iga
Air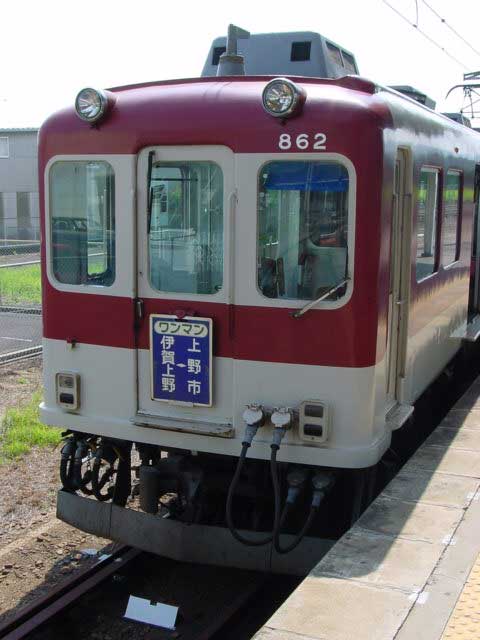 Kintetsu Iga train
Chubu International Airport and Kansai International Airport are the nearest international airports to Iga-Ueno. There are direct connecting trains on the Meitetsu Centrair service to Nagoya Station. From Kansai International Airport there are connecting trains to Tennoji Station with onward Kintetsu connections to Iga-Ueno.
Rail
The nearest station to Ueno Park and the Ninja Museum is Kintetsu Ueno-shi Station. As befits a center of espionage and secrecy, Iga-Ueno is a long journey from the nearest urban centers and can be visited only after a fairly lengthy trek by JR and Kintetsu Railways.
From Nagoya there are two routes to Ueno-shi Station both taking over two hours. Travel by JR Kansai Line and change at Kameyama to Iga-Ueno Station and then Kintetsu Iga Line to Ueno-shi Station.
By Kintetsu Line from Nagoya Station change at Ise Nakagawa for Iga Kanbe, then transfer to the Kintetsu Iga Line and on to Ueno-shi Station.
From Osaka the journey is around 90 minutes. From Tsuruhashi Kintetsu Station take an Express train to Iga Kanbe, then transfer to the Kintetsu Iga Line and on to Ueno-shi Station.
Alternatively from Osaka JR Station take a train to JR Nara Station in Nara and then transfer to a Kansai Main Line train to Iga-Ueno Station and then Kintetsu Iga Line to Ueno-shi Station.
From Kyoto take the JR Nara Line to Kizu, then the JR Kansai Line from Kizu to Kamo then local train from Kamo to Iga-Ueno, then transfer to the Kintetsu Iga Line and on to Ueno-shi Station. Journey time is over two hours.
By Tokaido Shinkansen, Nagoya is 52 minutes from Osaka and 1 hour 40 minutes from Tokyo.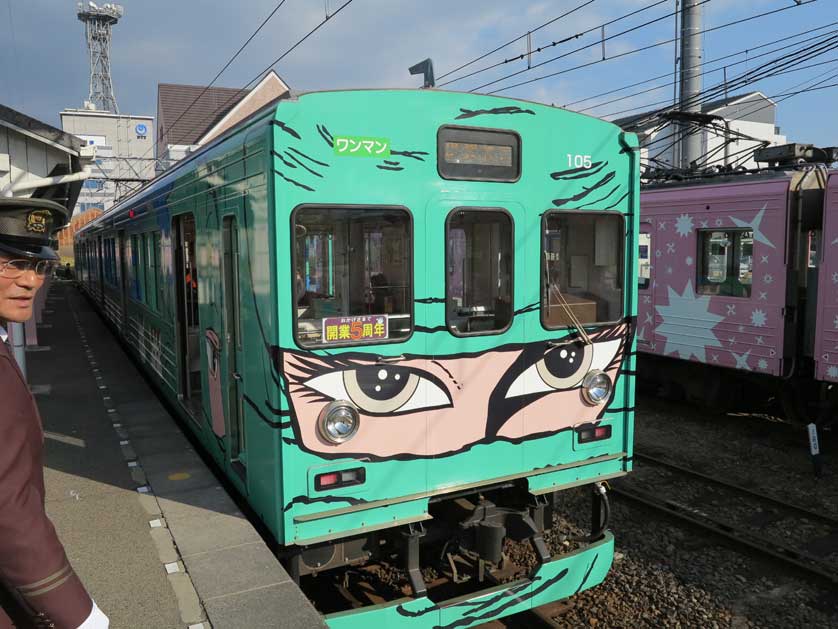 Ninja-style train, Iga Ueno, Mie
Bus/Car
There are long distance bus services from Osaka (90 minutes), Nagoya Meitetsu Bus Station (90 minutes), and Tokyo (8 hours) to Iga-Ueno.
There is also a direct bus from the Hachijoguchi Exit (south side) of Kyoto Station to Iga-Ueno from the bus stop outside the Hotel Keihan. The bus runs from April 1 to September 30 and takes 90 minutes. The fare is 4,100 yen for an adult one-way or 5,300 yen return. The bus fare includes a discount on entry to the Ninja Museum.
If you are driving from Nagoya exit the Meihan National Highway at the Nakase Interchange; from Osaka exit the Meihan National Highway at the Ueno Interchange.
Getting Around
Iga-Ueno is easily explored on foot or by bicycle. There is cycle rental in the main square where the station is located.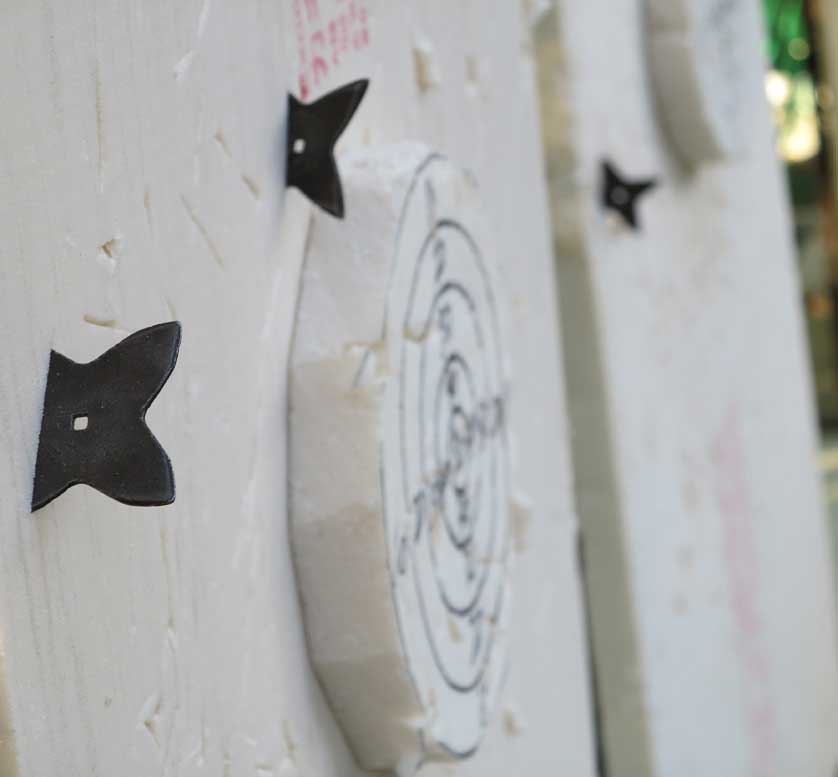 Shuriken Contest, Iga Ueno
Iga-Ueno Map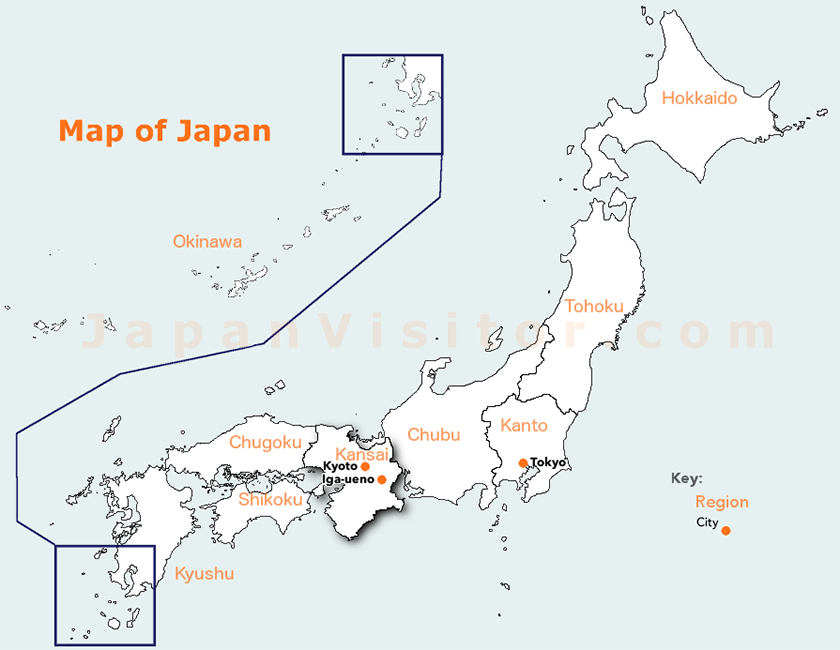 Iga-Ueno Map
Book Hotel Accommodation in Mie Japan
Iga-Ueno in Mie Prefecture is known for its ninja connections, with a Ninja Museum, beautifully restored Iga Ueno Castle, and Basho's birthplace.
All the themes of the city