Bon On Shya
梵恩舎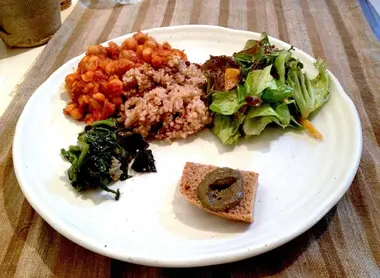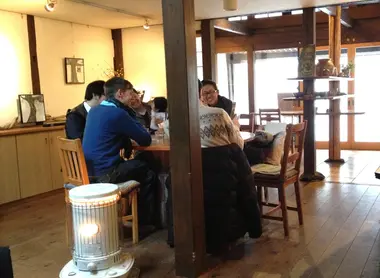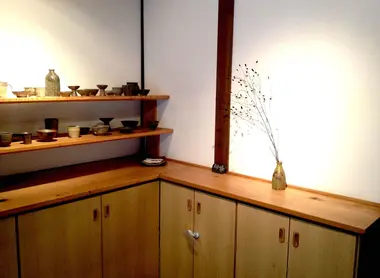 Bon accueil
Une cuisine végétarienne, du thé et du café, des expositions de céramiques... Et en plus on y parle quatre langues !
Behind the counter, Takeshi goes from French to English, then to Japanese, to welcome customers. An advantage here on the sacred mountain of Koya, which receives thousands of Japanese and foreign tourists every year. And a habit for the owner, who lived in Paris and traveled in Europe before settling here with his French wife, in the main street that winds its way between the many temples in Koyasan.
And as in all of the temples, the menu at Bon On Shya is 100% veggie: they serve shojin-Ryôri (Buddhist vegetarian cuisine) that is hearty and tasty, and at affordable prices. Brown rice (always) fricassee and ratatouille vegetables (chickpeas, tomatoes) tofu of course (this is the specialty of Koyasan), freshly prepared tsukemono (marinated vegetables), that is the daily menu.
It also offers good Shya a selection of teas (black, chai, herbal) and coffee (espresso, latte, cappuccino) to warm the brave visitors who have attended dawn prayers, and an "afternoon tea" with delicious homemade cakes.
Displayed and sold in the dining room: paintings by Véronique and beautiful ceramics from the furnaces of Koyasan. For example, unique pieces by Yoshinori Mitsuboshi, a local craftsman who has been shaping and baking the earth of the sacred mountain for 30 years.
---
Address, timetable & access
All the themes of the city