The Five Peaks of Mount Aso
阿蘇山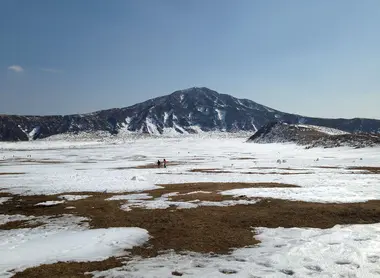 Hiking in Japan
Several marked trails wind along the slopes of Mount Aso, for novice walkers and fans of beautiful panoramas.
Of the five peaks surrounding the Mount Aso volcanic depression (Naka, Neko, Taka, Eboshi and Kishima), it is on the western flank of the massif that we can find the most marked and the most popular hiking trails. Whatever the season and climate, some precautions are needed: pay attention to the harsh temperatures at 1 300m, even in the spring, and to the emission of toxic gases depending on the direction of the wind.
Walkers usually leave from the volcano museum and from the Kusasenri Plain, an extinct crater of Eboshi (access by bus from Aso Station, but the brave can also attempt the journey on foot). Heading south, you can reach Mount Eboshi (1 337 m) in one hour (it is then possible to head for the spa towns of Tarutamaand Jigoku Onsen).
To the north you can climb to the summit of Kishima, and if possible make a detour to the east to the Furumi-ike crater lakes.
There is no "official" track to the pretty Komezuka (a small peak of 954 m) or Ojodake (1 238 m), but unless there is a clear warning sign, walkers are welcome.
Here, it is the Naka-dake crater ("the center peak") that dominates the landscape, but beware, few roads lead here, and recent eruptive episodes may restrict or prohibit access to within a radius of 1 km. 
A lovely path leads to the Kusasenri Plain and the Aso-san cable car (which takes you to the Naka crater, which can however be reached in 45 minutes on foot).
A difficult trail, reserved for experienced walkers, which links Sensuikyo Valley - famous for its rhododendrons - and Mount Naka, via Takadake, the highest point of the massif (1 592 m). Beware of the 600m difference in level! Access to Sensuikyo from JR Miyaji Station, on foot or by taxi (¥ 2,000).
All the themes of the city