Kiso Valley Guide
Kiso Valley: read a guide to the Kiso Valley in Nagano Prefecture famous for its beautiful, forested hills traversed by the historic Nakasendo Highway.
Kiso Valley 木曽路
The Kiso River runs 193 km south through Nagano Prefecture, Gifu Prefecture, Aichi Prefecture and Mie Prefecture before it meets the sea in Ise Bay (Ise-wan) near Nagoya.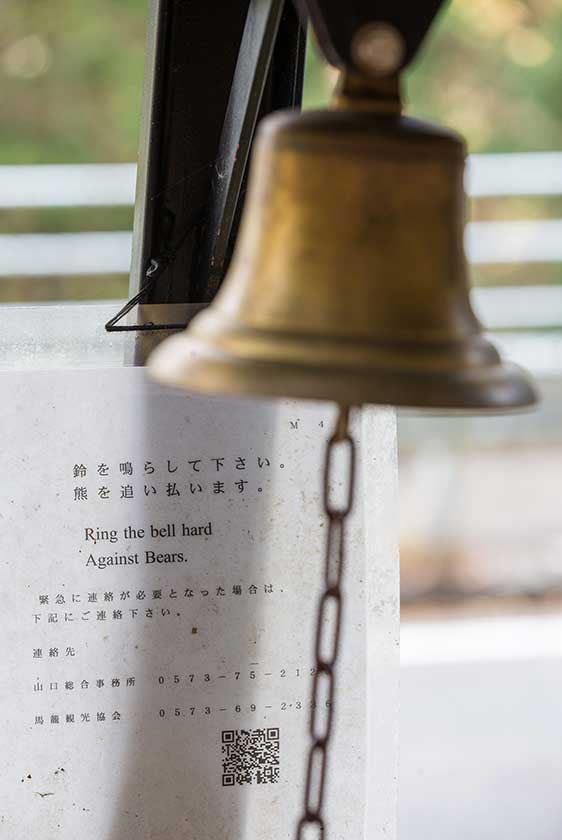 Bear bell on the Nakasendo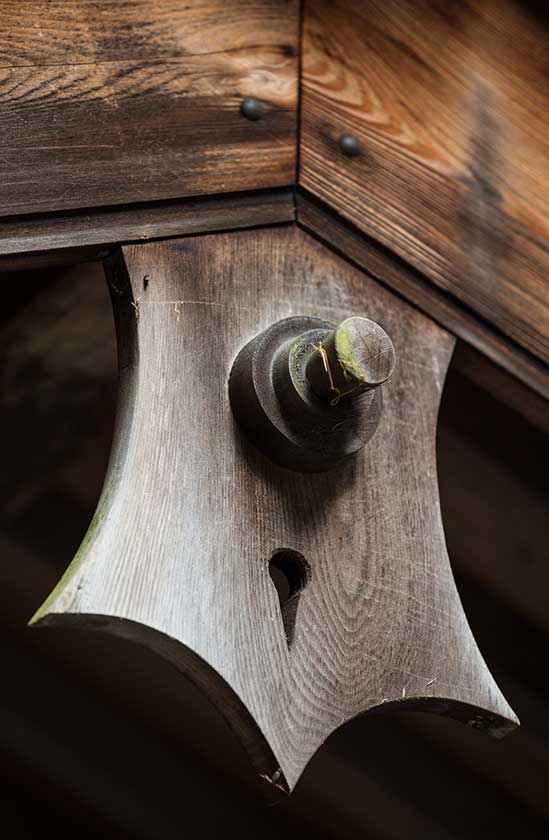 Nakasendo architecture
The area of the Kiso River between Minokamo in Gifu and Inuyama in Aichi has been called the "Japan Rhine" and pleasure boats once made the journey to see the rapids and impressive cliffs.
It is the upper part of the river valley in Gifu and Nagano prefectures that is the most visited. Known as the Kiso Valley (Kisoji) - a district famous for its hiking trails and picturesque towns and villages on the historic Edo Period Nakasendo highway between Kyoto and Edo (Tokyo).
High peaks in the Kiso Valley include Mt. Ontake (3,063m) and Mt. Komagatake (2,956m).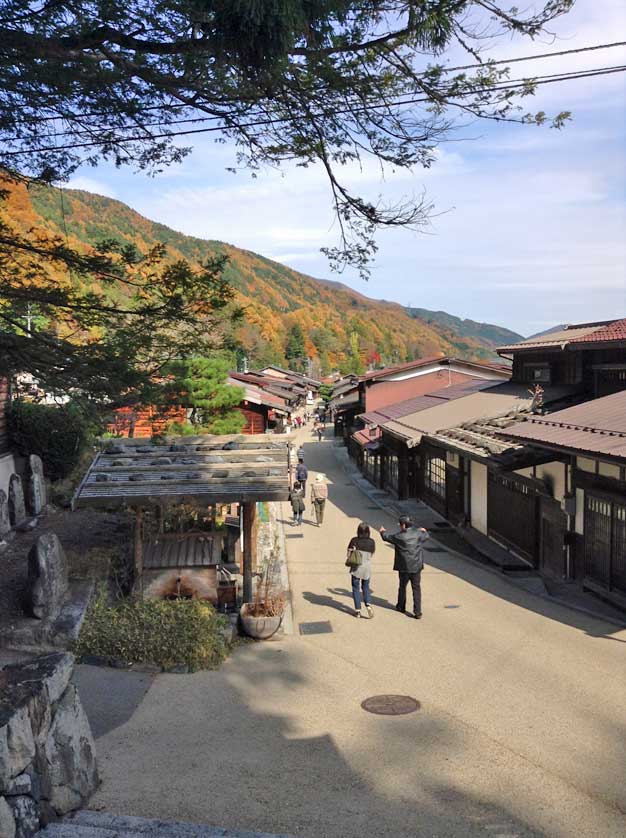 Autumn leaves, Narai-juku on the Nakasendo, Nagano Prefecture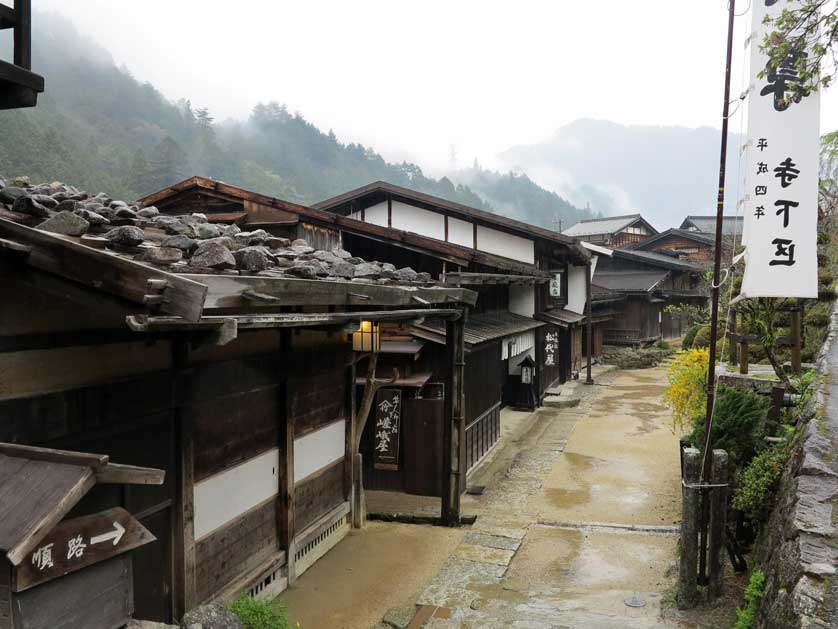 Tsumago-juku, Kiso Valley, Nagano Prefecture
Kiso Valley Attractions
The Nakasendo is popular with hikers and can be walked from Ena, to Nakatsugawa, Ochiai, Magome & Tsumago on to Kiso-Fukushima, Miyanokoshi, Yabuhara, Narai, Kiso-Hirosawa and up to Matsumoto.
These post-towns provided accommodation and lodging for travelers on the old highway and now after being preserved and renovated since the 1960's serve a mix of walkers and day trippers on bus tours. Some of the post-towns, such as Tsumago, have preserved their honjin and waki-honjin, high class ryokan reserved for daimyo (feudal lords) and other high-ranking officials.
Kiso-Fukushima still has its barrier station or seki, where travelers on the Nakasendo had their travel passes checked by the authorities and were searched for firearms.
Other features of the ancient highway that have been preserved or recreated are kosatsuba noticeboards and joyato stone lanterns. The trails also have scores of stone Jizo statues, a Buddhist protector of travelers and dosojin, which are Shinto guardians providing the same function.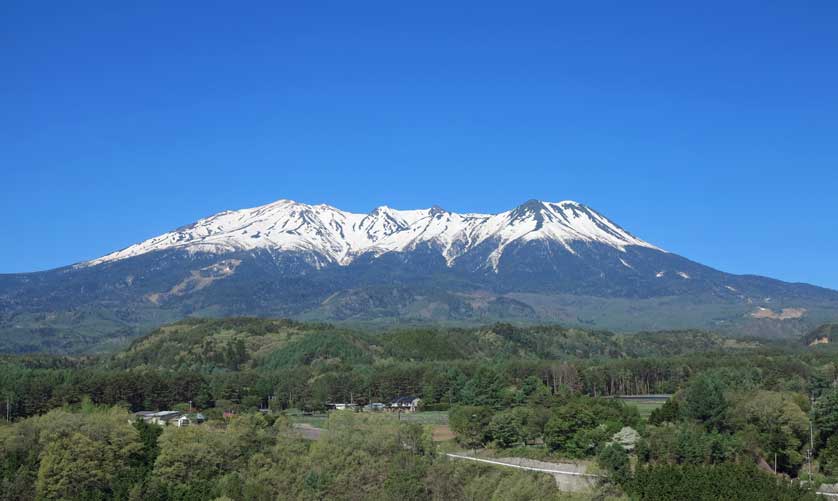 Mt Ontake in June
A number of ichirizuka have also been recreated - these are distance markers for one ri, about 3.9 km, and are mounds with either a tree or stone marking the spot.
The Kiso Valley has long been treasured for the quality of its timber reserves, especially cypress or hinoki trees, which were used to rebuild the shrines in Ise. Indeed, it was a capital offence to remove trees from the forests during Tokugawa times.
Lacquer was another important product and quality lacquer ware, such as bowls and trays, can be purchased in Kiso-Hirosawa and Kiso-Fukushima.
The Kiso Valley is also known for its excellent cuisine which can include such exotic fare as wild boar, river crabs, ayu sweetfish, crickets and mountain vegetables. A staple of the area found everywhere is soba noodles.
The mountain grown rice is also delicious as is the local sake - with the brand Nanawarai (Seven Smiles) being a popular local brew.
Post towns such as Magome and Tsumago have souvenir shops and crafts galleries selling local wood carvings, indigo-dyed clothes and bags, combs, lacquer and other local goods.
The Kiso Horse a short, sturdy horse was bred in the region for use both as a mount for samurai warriors and as a pack animal up and down the passes of the Nakasendo.
The Ateragawa is a tributary of the Kisogawa and the picturesque Atera Valley is known for its clear, emerald green water, numerous waterfalls and fall colors.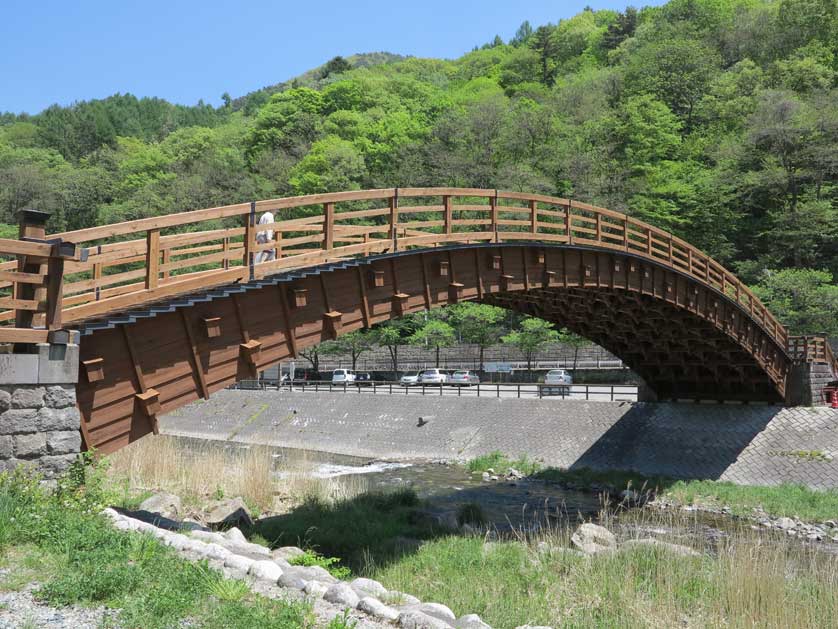 Kiso Ohashi, Narai-juku, Nagano Prefecture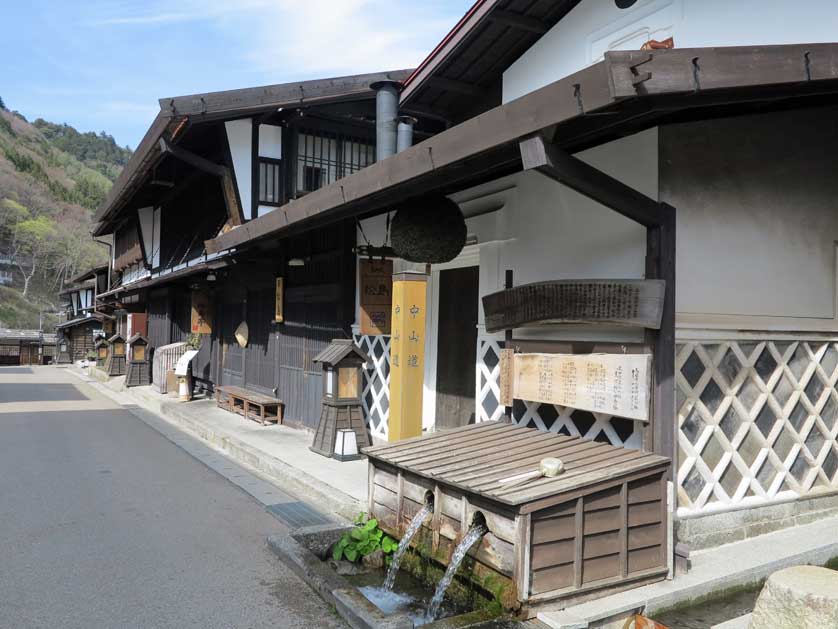 Kiso Fukushima, Nagano Prefecture
Hiking The Nakasendo in the Kiso Valley
The main point of access to the Kiso Valley region is from Nagoya Station. Here visitors can take a JR train to Ena, Nakatsugawa or up to Kiso-Fukushima or Narai along the Kiso Valley to begin their hikes. The Kiso Valley is particularly beautiful in the fall when the autumn foliage can be spectacular.
A popular day hike is from Magome to Tsumago or further on to Nagiso. Visitors can take a bus from Nakatsugawa Station to Magome, walk over Magome Pass to Tsumago (about 2 hours) and then walk a further 90 minutes to Nagiso to take the train back to Nagoya. Buses also make the journey between Magome, Tsumago and Nagiso and back. See our Nakatsugawa guide for times.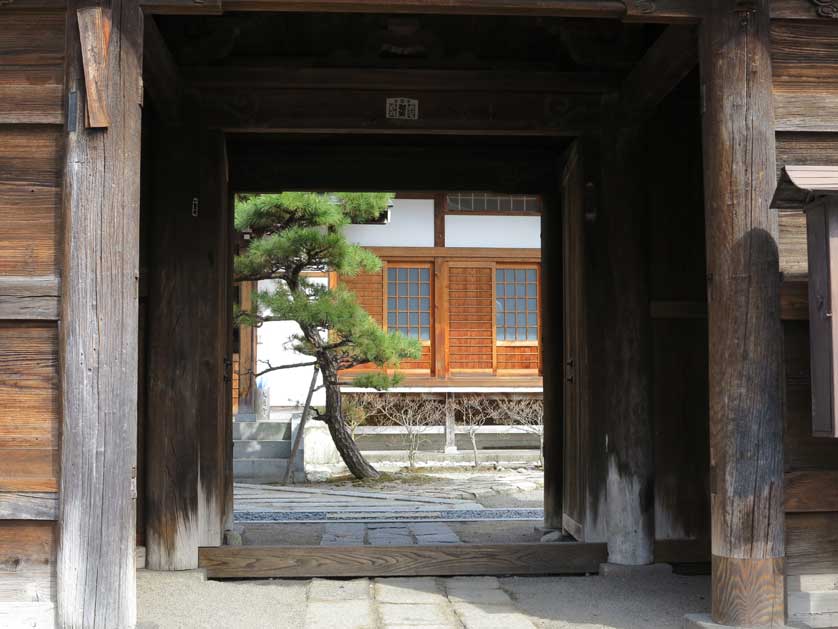 Daitsuji Temple entrance gate, Kiso-Fukushima, Nagano Prefecture
Accommodation in the Kiso Valley
The Kiso Valley has a number of traditional ryokan inns and minshuku as well as a number of more western-style resort hotels often with onsen.
Recommended is the Iseya Inn (Tel: 0264 34 3051; 伊勢屋) in Narai and the Kisojino-yado Iwaya Inn in Kiso-Fukushima. Magome and Tsumago have a number of places to stay including The Shinchaya minshuku located in a tranquil valley, 2km from Magome.Shinchaya 5110 Magome, Nakatsugawa-shi, Gifu 508-0502. Tel/Fax 057 369 2619.
Tajimaya is an inn with over 100 years of history in central Magome Tel: 057 369 2048. All the rooms have Wi-Fi access.
In Tsumago, the historic Maruya Inn is right on the Nakasendo and has tatami-style rooms and excellent food.Maruya Inn, Tsumago, Minami Kiso-machi, Nagano, Tel: 0264 57 3117; Fax: 0264 57 2591.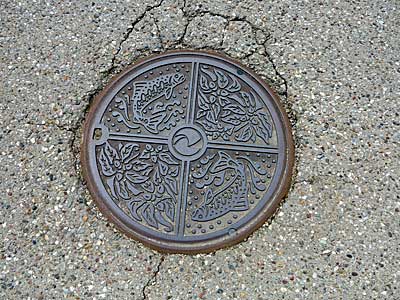 Narai manhole cover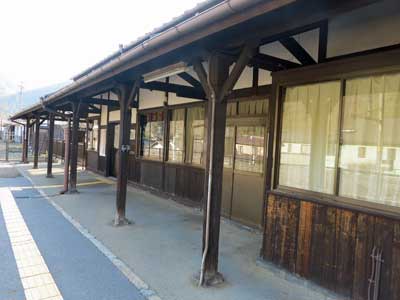 Narai railway station
Kiso Valley Access
Air
Chubu International Airport is the most convenient international airport airport for an onward journey to the Kiso Valley. There are direct connecting trains on the Meitetsu Centrair service to Nagoya Station and Kanayama Station for JR trains to Nakatsugawa and then change to a local train for Narai or some direct Shinano Express trains from Nagoya stop at Kiso-Fukushima. If you are traveling from Osaka take the Shinkansen to Nagoya and change.
Narai-juku on the Nakasendo, Nagano Prefecture
Rail
There are Shinano Express and local trains from Nagoya via Nakatsugawa to Narai taking 117 minutes for the 154km journey. Change at Kiso-Fukushima if traveling from Nagoya or if coming from Nagano change at Shiojiri. The line also connects to Matsumoto to the north, where visitors can change to the Shinano Express to Nagano and then the Azuma Shinkansen to Karuizawa and Tokyo. Journey time from Matsumoto to Nagano is 50 minutes on the Shinano and 33 minutes on the Shinkansen to Karuizawa. From Nagano to Tokyo by Shinkansen is 1 hour, 40 minutes.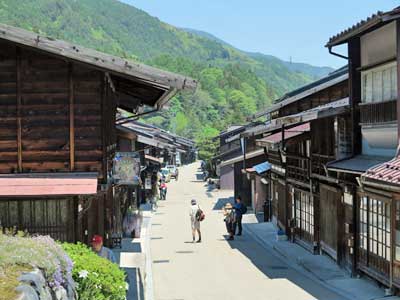 Narai-juku main street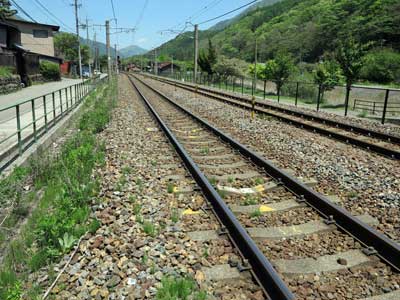 Nagano-Nagoya railway line
Car/Bus
National Highway 361 passes close to the Kiso Valley. Alternatively take the 153 route or the Chuo Expressway via Nakatsugawa and Iida from Nagoya.
Nakasendo Tours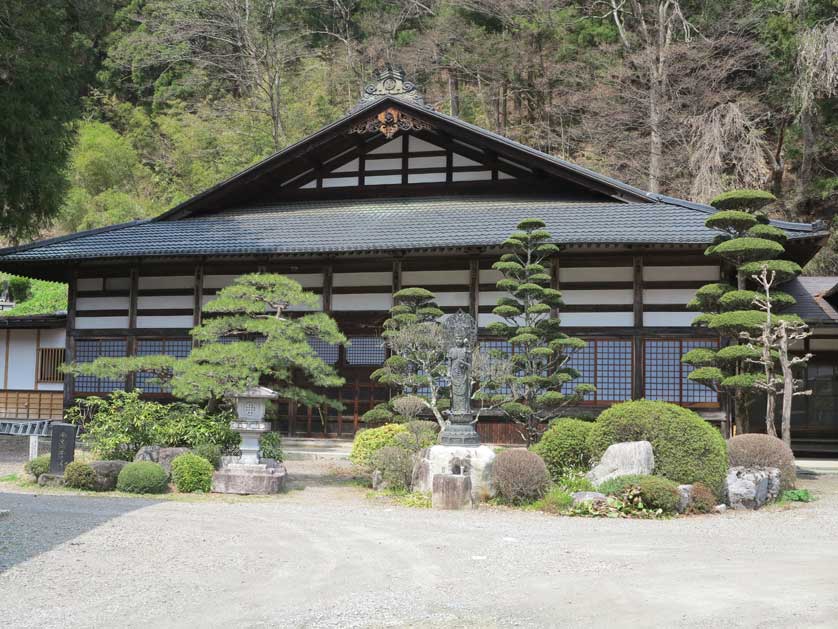 Chozenji Temple, Nagano Prefecture, Japan
Kiso Valley Map
Book Hotel Accommodation in Nagano Prefecture Japan
All the themes of the city