Magome Tsumago Kiso Valley
Kiso Valley: Magome Tsumago 馬籠&妻籠
Magome and Tsumago are two restored and preserved Edo-period way stations on the Nakasendo highway in the Kiso Valley. The valley straddles two prefectures, with Magome in Gifu Prefecture and Tsumago in Nagano Prefecture.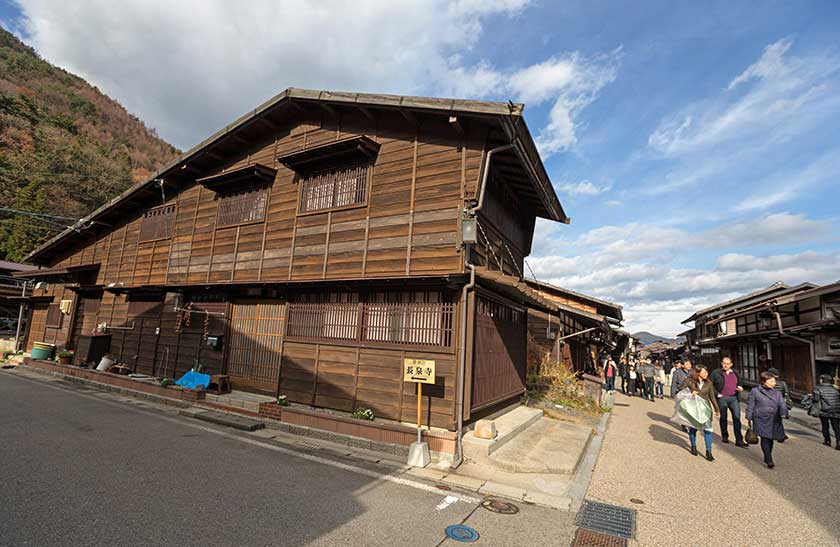 Magome, Nakasendo
Counting from the Shogun's capital of Edo (modern-day Tokyo), Tsumago was the forty-second and Magome the forty-third of the Nakasendo's sixty-nine post towns on the way to the Imperial capital of Kyoto.
Magome and Tsumago have put their history to use, and are known for their preserved feudal-era wooden and plaster buildings, inns and hot springs. In the early 1970s, both towns closed their main streets to cars and, restored several dozen old houses and, as much as possible, hid their power lines. A trail connecting the two towns makes for an easy hike between them.
The Nakasendo, like the more well-known Tokaido to the south (i.e., the route now largely followed by the Tokaido Shinkansen) was a road connecting Kyoto with Edo (present-day Tokyo).
The Nakasendo Highway was favored as the route to Edo by important daimyo (feudal lords) and their families, as the coastal Tokaido along the Pacific Coast, although about 25 km shorter, involved crossing many wide rivers and was therefore considered more dangerous.
Walking the historic Nakasendo highway between the two historic, former post towns takes between 2 and 2 1/2 hours, from Magome in the south to Tsumago further north. You can cut the walking time and avoid the steep hill from Magome to Magome Pass by catching a local bus.
Magome and Tsumago are best visited on weekdays, as weekends can get very crowded with tourists.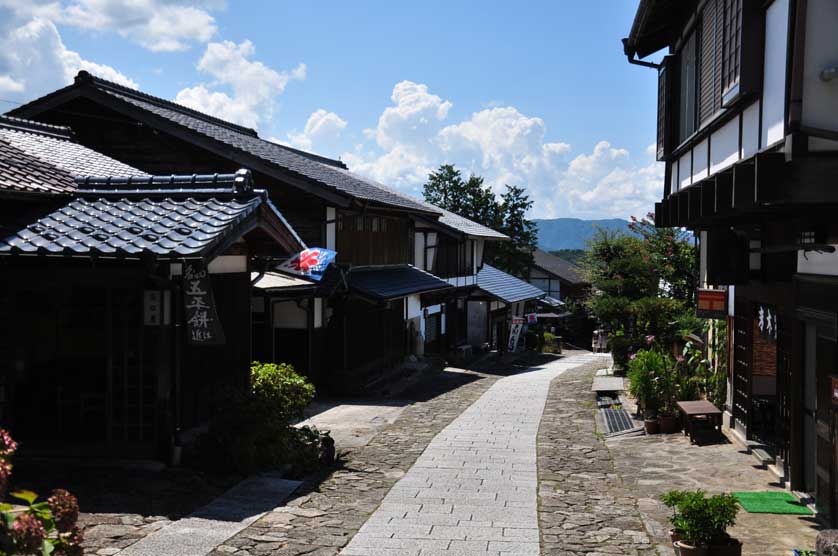 Magome main street, Nakasendo
Magome
Magome has the more touristy feel of the two places with more souvenir and food stalls on its steep main street and can get pretty busy on weekends and national holidays.
Magome, transliterated, means "horse basket" and Tsumago, "wife basket"; however, these are examples of ateji, i.e., the assigning of kanji for their pronunciation alone, not their meaning. Both names are corruptions stemming from the verb "tsumeru/tsumaru" (to stick/get stuck) and essentially expresss the mountain remoteness of their locations.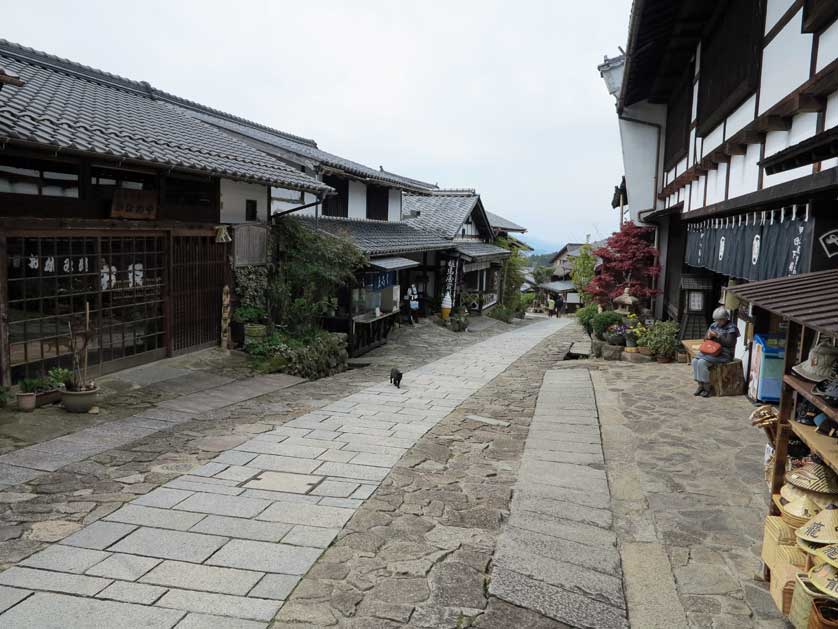 Nakasendo Highway, Magome, Gifu Prefecture
Historic wooden buildings, Magome, Gifu Prefecture
Magome's main street is lined with wood and plaster Edo-style buildings, most of which date from the 20th century as the originals fell into disrepair or were burnt down in the frequent fires that affected both towns. Look out for the stones which hold down some of the wooden roofs.
A wooden watch tower guards the entrance to Magome and there is a reproduction of a Tokugawa shogunate notice board (kosatsuba), which lays down the law for approaching visitors. Among the rules and regulations posted on kosatsuba by the Tokugawa authorities were prohibitions against Christianity and rewards for turning in practicing Christians.
The death penalty was enforced for cutting down any of the area's cypress (hinoki) trees, which were used for building the regime's castles and are still used for rebuilding Ise Jingu shrine every 20 years.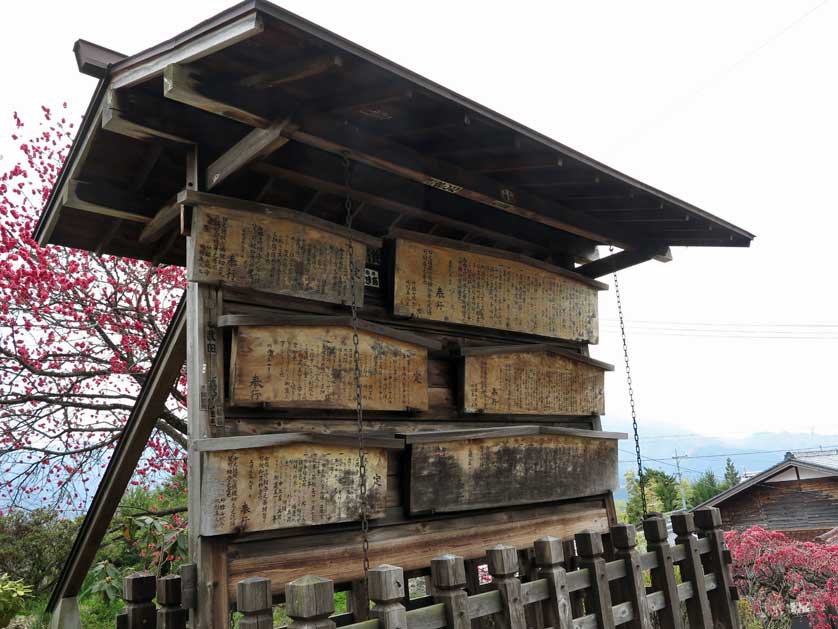 Kosatsuba, Magome, Gifu Prefecture
Magome's most famous son is the novelist Toson Shimazaki (1872-1943), whose works include Yoake Mae (Before The Dawn) and Ie (The Family), novels that chart the history of people in the Kiso region as the area's importance and wealth declined in the Meiji Period.
The Toson Kinenkan is a small museum in the center of Magome dedicated to Shimazaki and his life, whose grave can be visited just off the main street along with Eishoji Temple, which is mentioned in the author's novels. The Toson Kinenkan is within the former Honjin of Magome - the Honjin being the principal inn in a post-town used by major feudal lords and Shogunate officials.
Follow the signs in the graveyard of Eishoji Temple to find the author Shimazaki's grave. Eishoji also offers accommodation with an evening meal of shojin ryori - a vegetarian dinner with no animal protein. Guests can also experience Zen meditation at Eihoji. Bookings must be made at least three days in advance.
The Magome Wakihonjin Museum - the Wakihonjin was the secondary inn in a post town and used for accommodating minor feudal lords and rich merchants. A small museum on the history of the Nakasendo and Magome can be viewed inside.
Two other small museums are the Tsuchimaya Shiryokan and Shimizuya Shiryokan.
The main street in Magome has a number of souvenir shops selling baskets, wicker ware, straw farmer's hats, chopsticks, locally-produced sake and beer and other regional crafts. Small food stalls offer roasted chestnuts and other local delicacies.
Tsumago
Sign post to Tsumago on the Nakasendo
Tsumago, about 8km north of Magome, feels the more "authentic" of the two post towns (juku) as it suffered less from fire and began to be protected by the Japanese government in the mid-1970s after restoration efforts by the town's citizens in the 1960s, becoming a model for preservation projects in other areas of Japan.
The delightful main street of Tsumago, which is closed to traffic, is lined with a variety of wooden and plaster Edo-period style inns, houses, temples and shrines, with the surrounding, forested mountains as a spectacular backdrop.
Tsumago has a number of wooden craft shops, noodle restaurants, Japanese confectionery shops and historic inns or hatago. Walking along the main street visitors can see the different ranges of accommodation that were on offer for Edo period wayfarers, from plain wooden floors, to tatami mats to the grandiose Honjin and Waka-honjin. The uma-ya, or stables, have also been renovated and restored. Tsumago's main temple is Kotoku-ji, which is believed to date originally from 1500.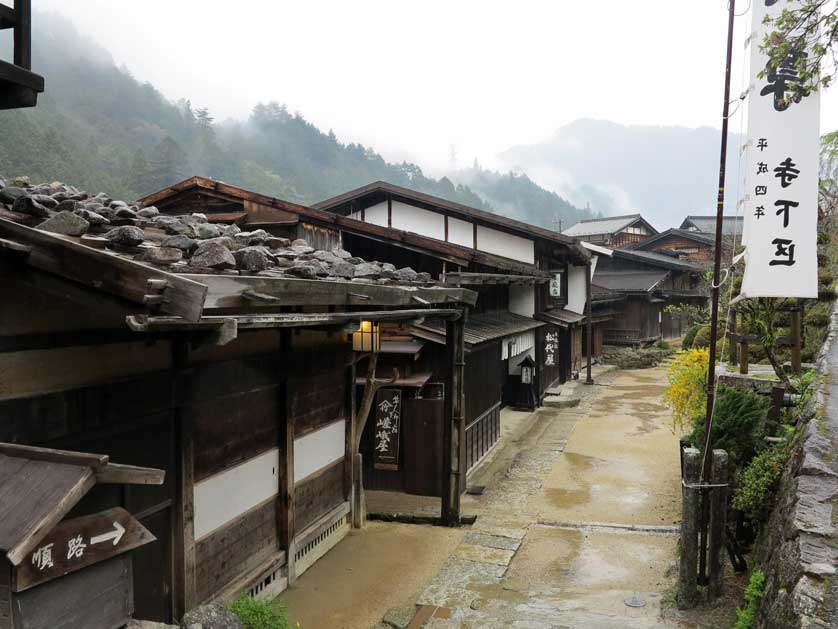 Tsumago-juku, Kiso Valley, Nagano Prefecture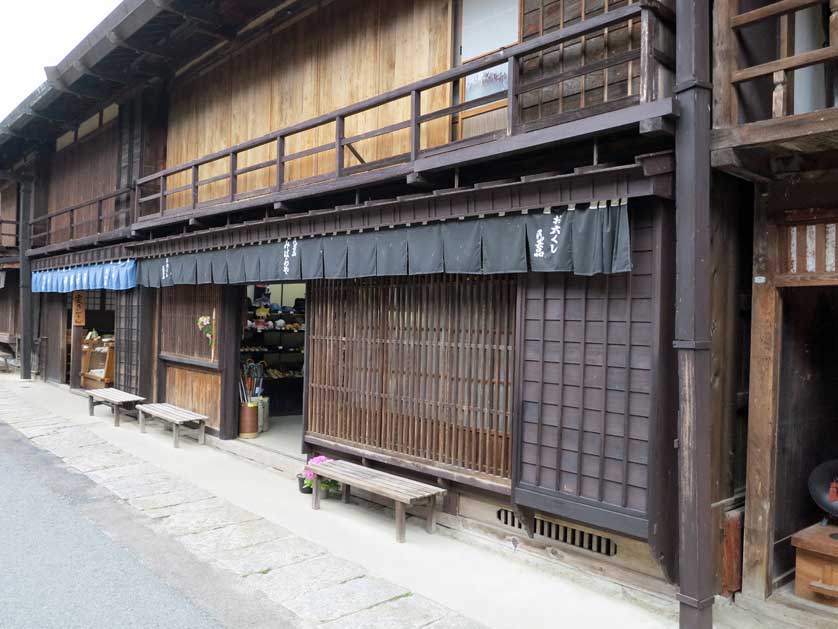 Tsumago-juku, Kiso Valley, Nagano Prefecture
Places of historic interest tied to Tsumago's history as a Nakasendo post town include the Waki-honjin - an inn used by the retainers of feudal lords, rebuilt in 1877 and containing a moss garden, a museum (Shiryokan) and a special toilet for imperial use. The building is built in hinoki cypress wood, darkened from the smoke of the irori hearth fire.
The Meiji Emperor visited Waki-honjin inn in 1880 and a western-style table was made for his visit and the tatami covered in carpets so the Emperor could enter in shoes. The adjacent museum has a number of interesting exhibits - tools, weapons, documents and dioramas explaining traditional lifestyles in the Kiso Valley. Some of the photographs show farmers from the Kiso area who moved to Manchuria during the 1930s - a landscape certainly very different from that of their mountain roots.
Across the street is the Tsumago Honjin, where the feudal lords (daimyo) spent the night. Both places are preserved as museums and can be visited separately or together by purchasing a combined ticket.
Just off the main street, Kotokuji Temple dates from 1500 and has an ancient cherry tree and "singing" floorboards.
Tsumago's festivals include a parade on November 23 with participants in Edo period dress, including monks and samurai warriors carrying palanquins, and others recreating a wedding procession. The Wachino Shrine Festival takes place July 23-24 and the Taimatsu Torch Festival on the fourth Saturday of August in the ruins of Tsumago Castle.
Magome-Tsumago-Nagiso Walking Trail
It is possible to walk the old Nakasendo on a walking trail (7.8 km) from Magome (420m above sea level) to Tsumago (600m) and on to Nagiso (3.2 km) or in the reverse direction.
The walk takes between about 2 and 2 1/2 hours, and passes through forest and farmland as well as on the Nakasendo road connecting Magome to Tsumago. The walk passes from Gifu to Nagano prefectures over the Magome Pass (Magome-toge) where a memorial stone is inscribed with a haiku poem by Shiki Masaoka (1867-1902):
These white clouds evoke
memories of my long walk
under fresh green leaves
On the whole, the trail is well sign posted (in English and Japanese) and passes a couple of pleasant waterfalls on the way: Otaki and Metaki (Male and Female) Falls. If you are coming from Tsumago, after these falls, continue on the road for a couple of hundred meters before the trail turns right into woodland.
The Otaki and Metaki Falls are featured in the book Miyamoto Musashi by Eiji Yoshikawa (1892-1962), which is a fictional account of the life of master swordsman Miyamoto Musashi. In the book, Miyamoto was traveling to Edo (Tokyo) with his sweetheart, Otsu, a woman who was betrothed to his friend. Their passion for each other grew on the journey and to cool off their ardor they stood under their respective waterfalls.
Just before the historic power station in Tsumago, coming from Magome is the Iida-kaido on your right - another Edo period highway leading to the town of Iida in Nagano Prefecture.
The trail from Tsumago to Nagiso JR Station takes another hour and passes through some pleasant farmland and small hamlets.
Look out for SL (Steam Locomotive) Park just before Nagiso, which is a charming spot with a view of the valley below and a rusting old steam train for company. There is a very small temple to Kannon nearby with three-colored plum trees in the tiny garden.
Baggage Forwarding Service
There is also a baggage forwarding service available at either Tourist Office in Magome or Tsumago. For 500 yen per piece your bags will be delivered between the tourist offices to arrive at 1pm if you drop them off between 8.30 am - 11.30 am.
You can also leave your bags to be picked up by the same service at Magomekan (馬籠館) and Magome Bekkan (別館) souvenir shops near the main crossroads where the bus arrives at the foot of the stone steps. (Luggage pick up here is 9am-11.30 am ONLY)
The service runs from around March 21 to November 30 and is suspended during the winter season.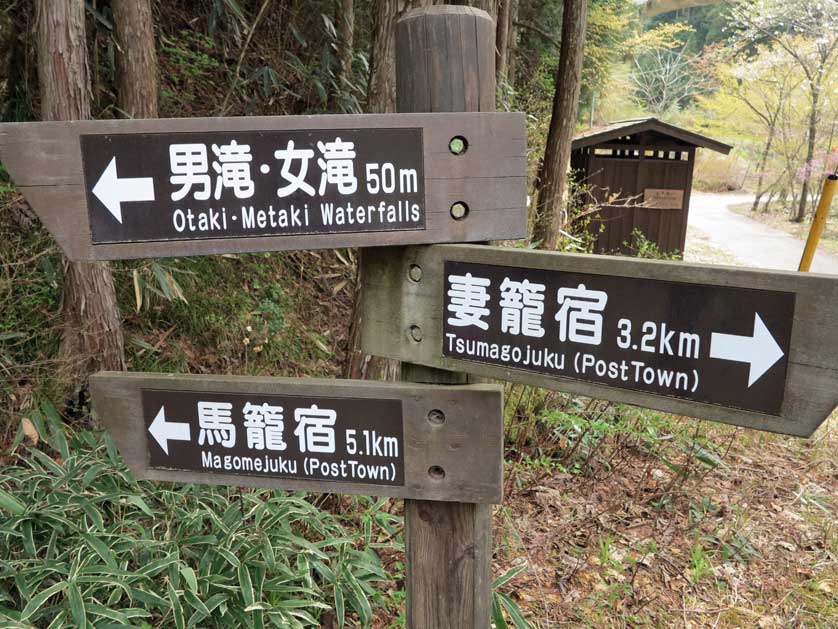 Otaki and Metaki (Male and Female) Falls
Kiso Valley Festivals
Tsumago and Magome play host to a number of festivals through the year.
In Tsumago on November 23 there is a parade of local people dressed in traditional costume re-creating a procession from the Edo Period: samurai warriors, monks and palanquin bearers.
July 23/24 sees the Wachino Shrine festival in Tsumago when locals parade a portable shrine through the town.
The fourth Saturday of August is a fire festival held at the ruins of Tsumago Castle and performances of Kiso dancing.
Tourist Offices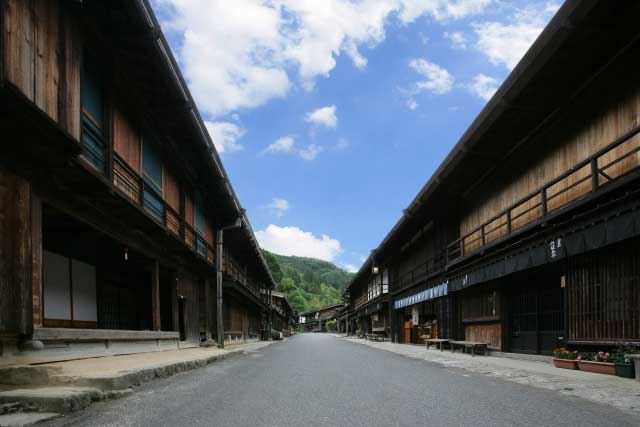 Tsumago main street of restored buildings
Magome Tourist Information Center
4300-1 Magome, Nakatsugawa-shi, Gifu-ken 508-0502
Tel: 0573 69 2336
Hours: 8.30 am-5 pm
Tsumago Tourist Office
215-2 Azuma, Nagiso-machi, Kiso-gun, Nagano 399-5302
Tel: 0264 57 3123
Hours: 9 am-5 pm
Nagiso Tourist Office
3668 Yomikaki, Nagiso-machi, Kiso-gun, Nagano 399-5301
Tel: 0264 57 2001
Hours: 9 am-5 pm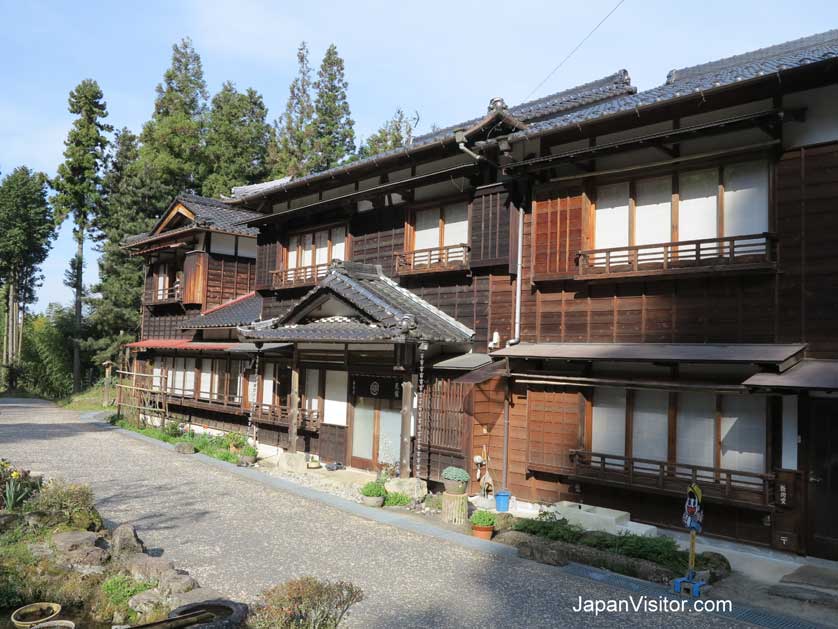 Shinchaya minshuku, O-tsumago hamlet
Accommodation in Tsumago & Magome
It is possible to stay in a variety of ryokan or minshuku in both Magome or Tsumago.
Magome Chaya is a very reasonably priced, traditional inn, conveniently located very near the Magome Tourist Information Center, and recommended for a really authentic Magome experience. Tatami mat flooring and futon bedding, meals available for an extra charge, public hot bath on the premises, flat-screen TV in each room, washing machines available.
Tajimaya is an inn with over 100 years of history in central Magome, very near the Magome Tourist Information Center. All the rooms have Wi-Fi access.
Nedoko Guesthouse in Magome has a shared lounge, shared kitchen and free Wifi.
Guest House Motomiya is a two star guest house with air-conditioned rooms, free WiFi and shared bathrooms.
Guest House Gaku Magome is located within an old school and offers dormitoryrooms and free Wifi.
The Shinchaya minshuku is located in a tranquil valley, 2km from Magome.
Shinchaya 5110 Magome, Nakatsugawa-shi, Gifu 508-0502. Tel/Fax 057 369 2619.
In Tsumago, the historic Maruya Inn is right on the Nakasendo and has tatami-style rooms and excellent food.
Maruya Inn, Tsumago, Minami Kiso-machi, Nagano, Tel: 0264 57 3117; Fax: 0264 57 2591.
Other ryokan are Hanaya Tel: 0264 57 3106, Tsutamuraya Tel: 0264 57 3235, Shinomura Tel: 0264 57 3158 and Koshinzuka Tel: 0264 57 3029. Next door to Hanaya is the noodle restaurant Kongoya Tel: 0264 57 3116.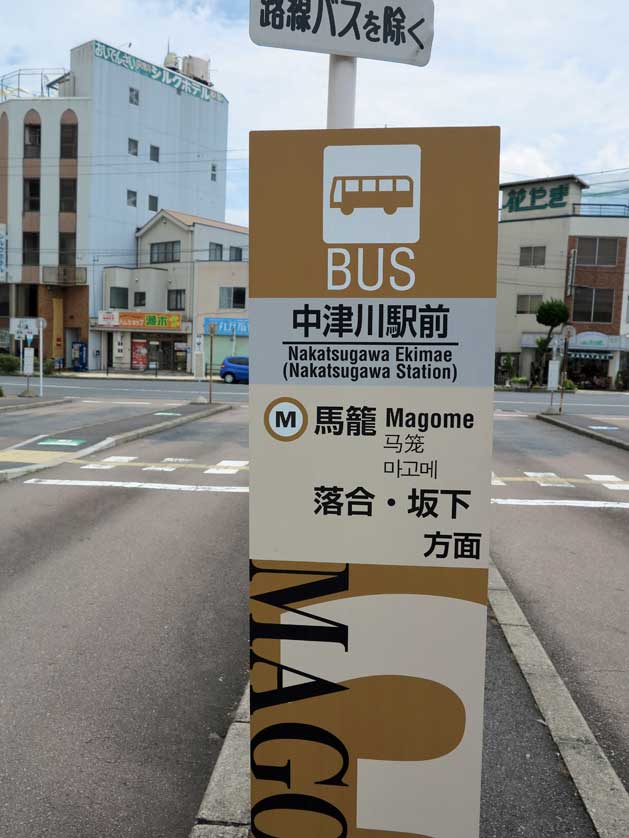 Getting Around
Buses from Nakatsugawa to Magome
The bus journey from Nakatsugawa Station to Magome takes about 25 minutes.
On weekdays there are buses leaving Nakatsugawa at 7.42 am, 9.10 am, 9.40 am, 10.15 am, 11.15 am, 12.12 pm, 1.12 pm, 2.12 pm, 3.12 pm, 4.12 pm, 5.12 pm, with the last bus at 6.30 pm.
On weekends and public holidays there are buses from Nakatsugawa to Magome at 8.10 am, 9.10 am, 9.40 am, 10.15 am, 11.15 am, 12.12 pm, 1.12 pm, 2.12 pm, 3.12 pm, 4.12 pm, with the last bus at 5.45 pm.
Buses from Magome to Nakatsugawa
On weekdays there are buses leaving Magome for Nakatsugawa at 7.05 am, 8.10 am, 8.40 am, 9.40 am, 10.10 am, 10.50 am, 11.50 am, 12.45 pm, 1.45 pm, 2.45 pm, 3.40 pm, 4.40 pm, 5.40 pm, 6.10 with the last bus at 7.00 pm.
On weekends and public holidays there are buses from Nakatsugawa to Magome at 7.05 am, 8.40 am, 9.40 am, 10.10 am, 10.50 am, 11.50 am, 12.45 pm, 1.45 pm, 2.45 pm, 3.40 pm, 4.40 pm, with the last bus at 6.10 pm.
The adult fare is 540 yen with children 270 yen. Buses do not run from December 31st-January 2.
Buses from Nagiso to Magome
There are buses leaving from Nagiso Station to Magome via Tsumago and Magome Pass at 8.40 am, 10.05 am, 12.40 pm, 2:15 pm and 4.35 pm.
Buses from Magome back to Nagiso Station leave at 9.20 am, 10.50 am, 1.25 pm, 3:00 pm and 5.15 pm.
Fares are: Nagiso Station to Tsumago (300 yen); Nagiso Station to Magome (800 yen), Tsumago to Magome (600 yen) and Magome to Magome Pass (300 yen).
The journey from Nagiso to Magome by bus takes 35 minutes; from Tsumago to Magome it is around 30 minutes.
Access - Getting to Magome and Tsumago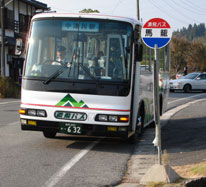 From Tokyo
Bus
The Chuo Liner Kani-go (可児号) 201 bus and the Chuo Liner Nagoya (なごや) bus depart Busta Shinjuku and take about 4 hours 40 minutes to reach Chuo-do-magome (中央道馬篭) bus stop. Chuo-do-magome bus stop is right on the old Nakasendo highway. The Magome Information Center is about a 25-minute (1.6 km) walk from here up Nakasendo, beyond the Misaki Junior High School.
Train
From Shinjuku Station, take the JR "Azusa" or "Super Azusa" train bound for Matsumoto and get off at Shiojiri Station (about 2 hours 25 minutes). (Make sure that the Azusa/Super Azusa train you intend to ride stops at Shiojiri; some don't, requiring a change of trains at Kami-Suwa Station to a Chuo Line train, also bound for Matsumoto). From Shiojiri, take a JR "Shinano" train bound for Nagoya and get off at Nakatsugawa Station (about 1 hour). From Nakatsugawa Station take a Kitaena Kotsu bus to Magone (about 25 min.)
From Nagoya
Train
From Nagoya Station take the Shinano Express on the JR Chuo Line to Nagano and get off at Nakatsugawa. From there take a local train (futsu) to Nagiso or an hourly bus to Magome.
Bus
There are Meitetsu Highway buses from Meitetsu Bus Center at Meitetsu Nagoya Station to Magome (90 mins).
Car
By car take Route 19 to Nakatsugawa and Nagiso or by Chuo Expressway the journey is about 1 hour 15 mins (toll charge 1950 yen) when the traffic is flowing normally. The Chuo Expressway is also a quick way to visit Iida, Hirugami Onsen and Tenryukyo.
The journey back to Nagoya on the Chuo can be crowded on public holidays and weekends.
Nakasendo Tours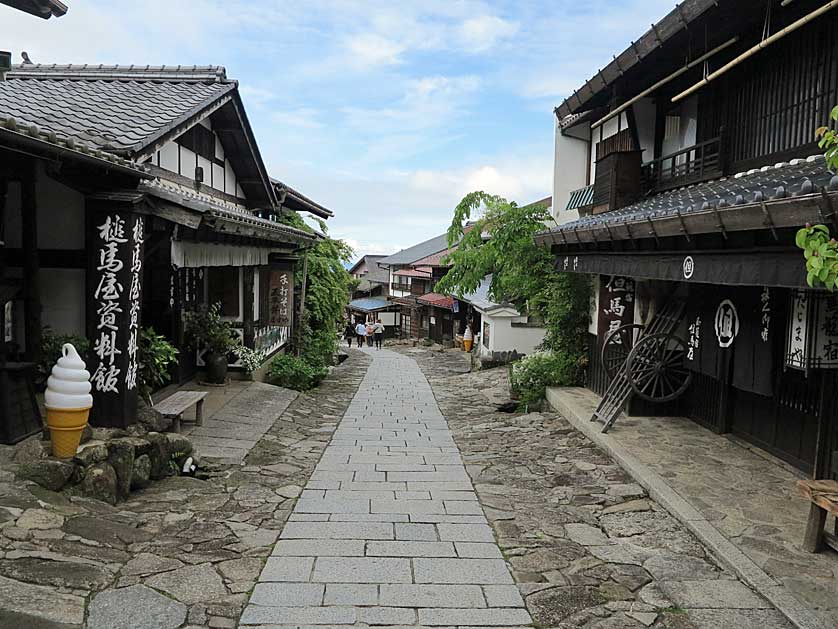 Magome main street, Gifu Prefecture
Magome & Tsumago Map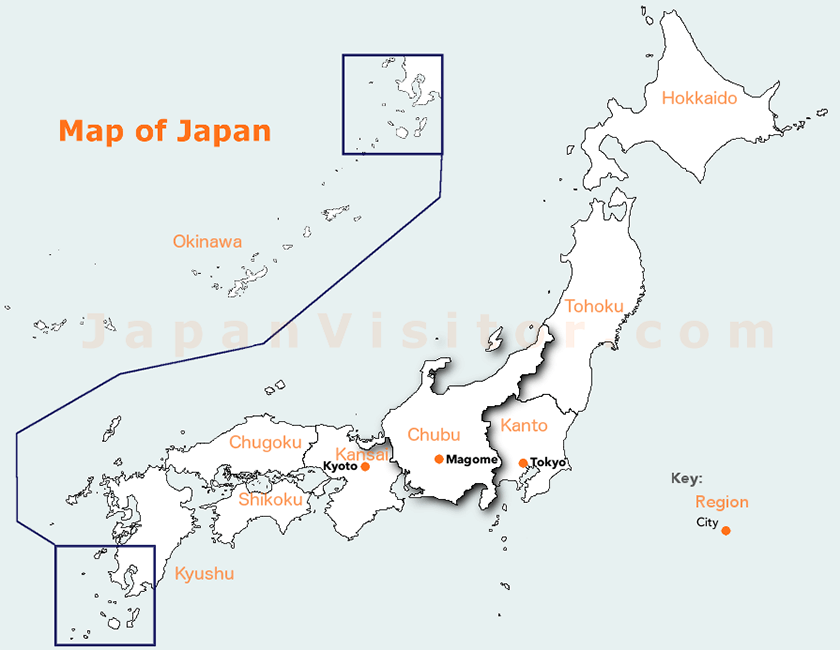 Magome Map
Magome and Tsumago Guide: read a travel guide to Magome and Tsumago in the Kiso Valley in Nagano Prefecture Japan.
All the themes of the city