Narai-juku Guide
Narai 奈良井
Narai-juku on the Nakasendo, Nagano Prefecture
Narai (Narai-juku) is a picture perfect small town in Nagano Prefecture, with very much the feel of an historical film set, on the Chuo Main Line railway in the Kiso Valley area of central Japan (Chubu), 50 km north-east of Nagoya on the way to Matsumoto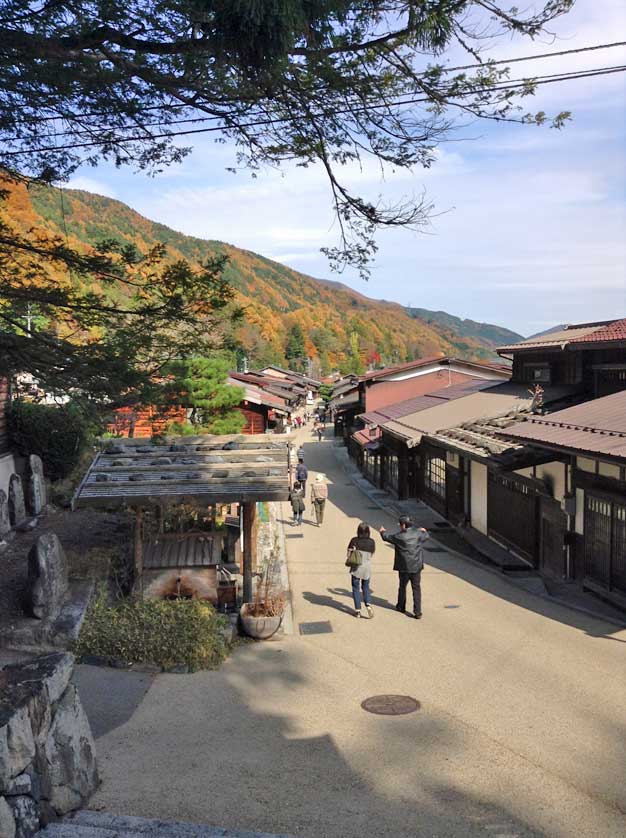 Autumn leaves, Narai-juku on the Nakasendo, Nagano Prefecture
Narai is located on the historic Edo Period Nakasendo highway between Kyoto and Edo (Tokyo) and is north of the other post-towns on the Kiso-kaido section of the Nakasendo: Ena, Nakatsugawa, Ochiai, Magome & Tsumago, Kiso-Fukushima, Miyanokoshi and Yabuhara.
Narai has a quiet and soothing atmosphere and is a world away from the frantic atmosphere of Japan's main cities on the Pacific Coast.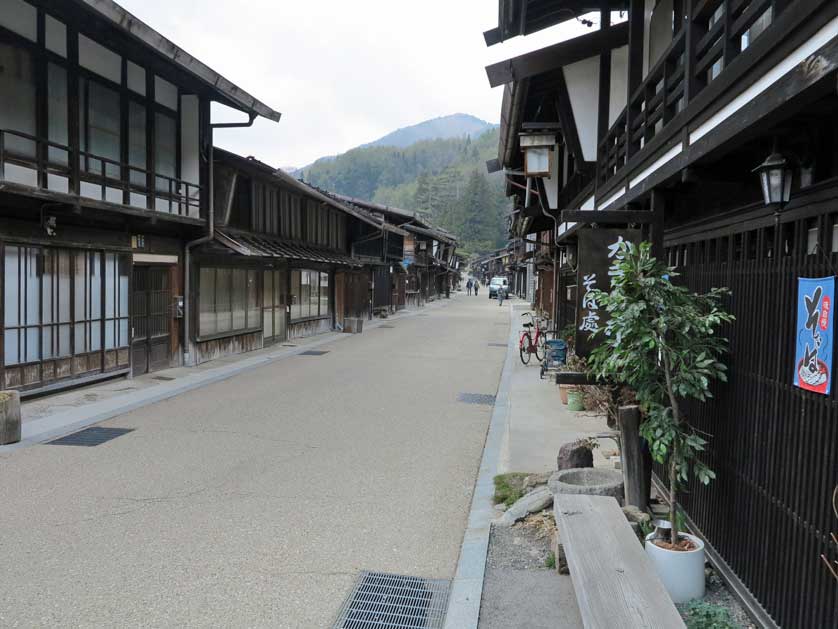 Narai-juku, Nagano Prefecture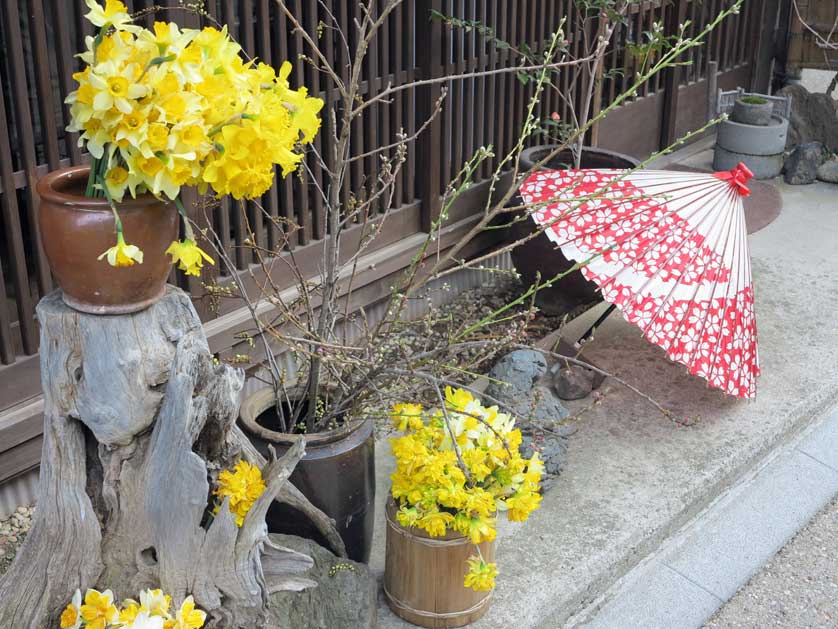 Flowers, Narai, Nakasendo Highway, Nagano, Japan
Narai Attractions
Narai, referred to as "Narai of a Thousand Houses," is located at the foot of the Torii Mountain Pass, one of the more strenuous climbs on the Nakasendo, and visitors who have made the ascent can relax in one of Narai's many traditional inns or ryokan and enjoy a Japanese beer, bath and some local food.
Narai-juku is divided into three sections: Kanmachi (uptown), Nakamachi (midtown) and Shimomachi (downtown). The buildings have overhanging second stories and eaves, a feature peculiar to this post town. The whole preserved area is about 1 km long and 200m wide.
Narai's attractions include the Nakamura Residence (admission 300 yen) a preserved Edo period town house and garden with original artifacts of the owner Rihei Nakamura (1830-1844), a wealthy comb wholesaler, on display.
Kisho Ohashi, a modern wooden bridge in the shape of a Japanese drum, stretches 30m over the Narai River and is illuminated at night from April to November. The bridge was constructed with 300 year old cypress (hinoki) wood.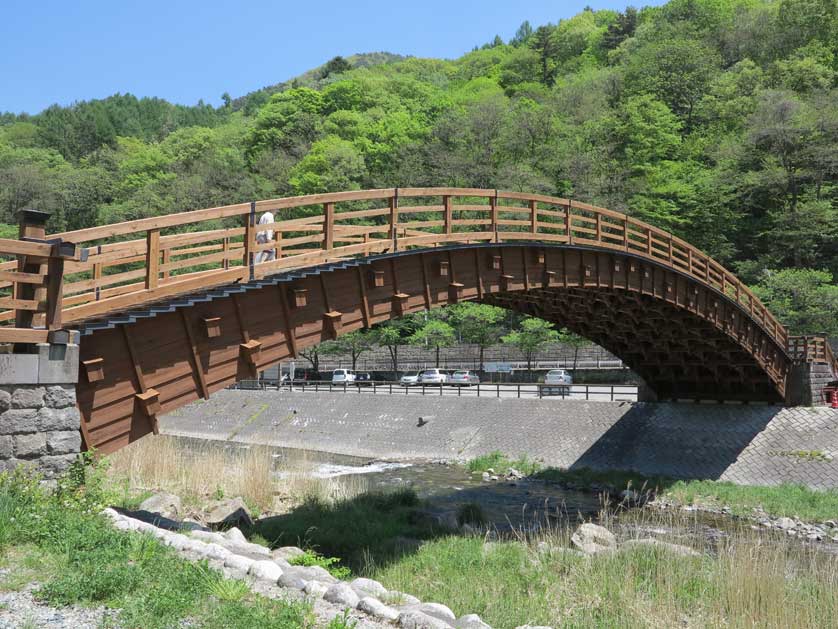 Kiso Ohashi, Narai-juku, Nagano Prefecture
Taihoji Temple contains a statue of what is thought to be a headless Virgin Mary caring for a child. The statue was made in the form of Jizo but may have been found by the Tokugawa authorities and decapitated. The find hints at the presence of "hidden Christians" in the area.
Shizume Jinja is located at the entrance to the Torii Pass and travelers would pray at this large Shinto shrine for a safe journey or give thanks upon arrival.
The Narakawa Museum of History and Folklore, close to Shizume Shrine, has exhibits on the life and customs of the people of the Kiso Valley area, with local painted combs, folk crafts and wooden furniture as well as articles from the festival of Shizume Jinja. Admission 300 yen for adults. Open 9am-5pm; Tel: 0264 34 2654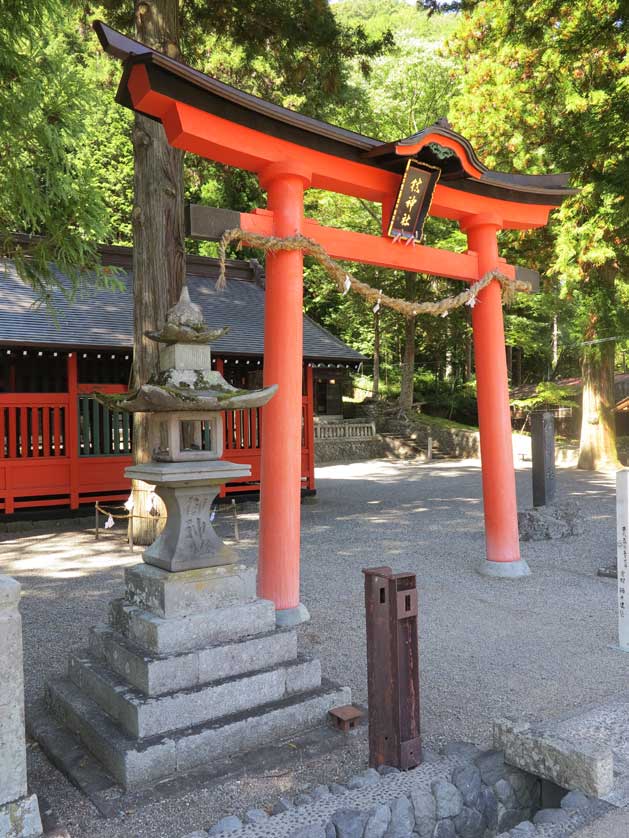 Shizume Jinja Torii Gate, Narai-juku, Nagano Prefecture
A graveyard in Narai-juku contains two hundred statues of Jizo where travelers who died on the Nakasendo were brought together.
Six original water fountains, that supplied water to travelers on the Nakasendo and the villagers, still exist and continue to be used today.
Other attractions in Narai include the post-town's kosatsuba notice board, the Tezuka Family Residence and the Kamidonya Shiryokan (admission 300 yen), a wooden shop-cum-house of a local merchant.
Narai has many interesting shops selling local souvenirs of dried fruit, Japanese sake including the local Kiso-brewed Nanawarai (Seven Smiles), woodwork, lacquer ware, baskets and delicious rice cakes (mochi). Cafe Fuka (Tel: 0264 34 3939; Cafe 風花) is a lovely tatami-space with excellent coffee, cakes and wine.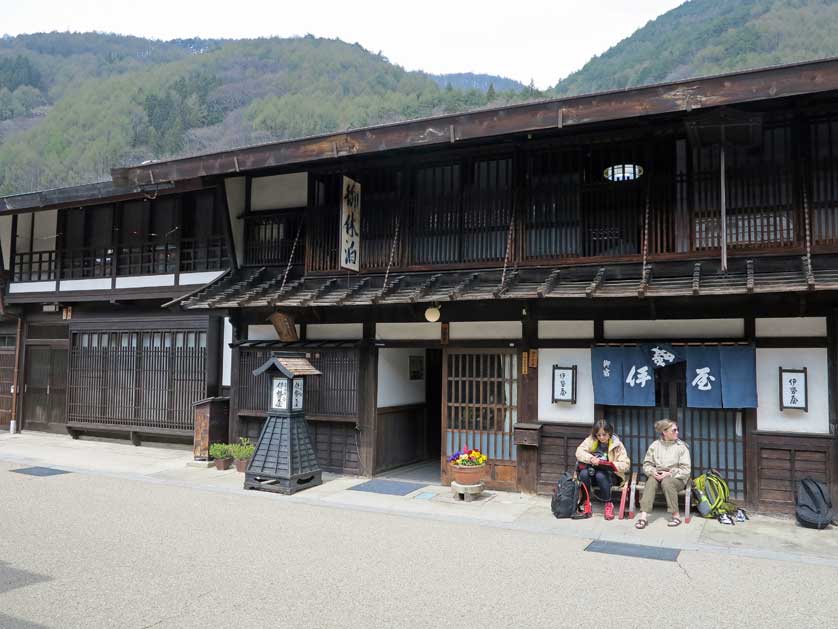 Iseya Ryokan, Kiso Valley, Nagano Prefecture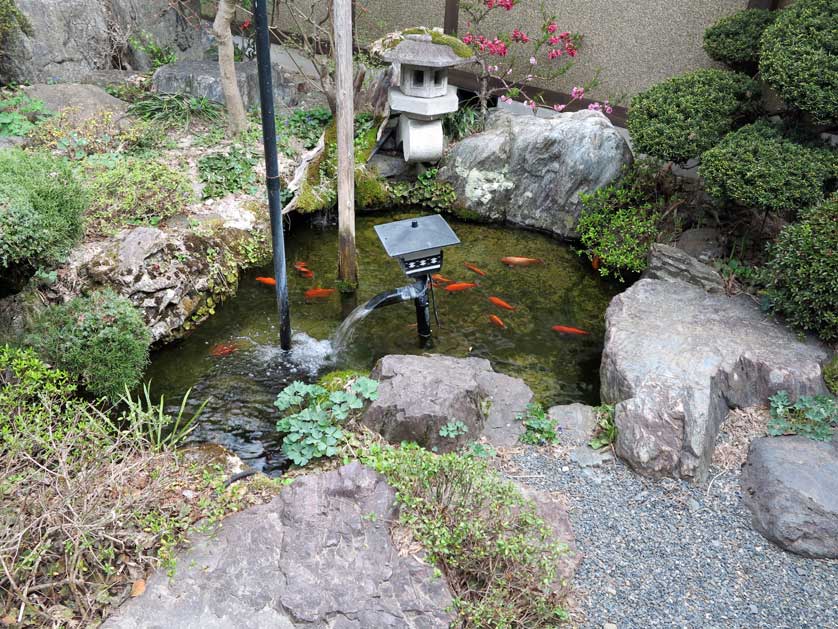 Iseya garden, Narai, Nagano Prefecture
The Honjin and Wakihonjin (inns for top officials in the Edo era) no longer exist but Narai has a number of interesting shrines and temples including the beautiful Chozenji Temple. Shrines stand at either end of the long avenue of wooden buildings.
Narai has a number of souvenir shops and crafts galleries selling local wood carvings, sake and indigo-dyed clothes and bags.
Hiking The Nakasendo from Yabuhara to Narai
Take a local train from Kiso-Fukushima to Yabuhara and turn left out of the station for the long ascent over the Torii Pass to Narai. The first part of the walk is through the post town of Yabuhara.
The hike over the Torii pass is a long uphill climb followed by a gradual descent lasting 2-3 hours. The walk passes Gokurakuji Temple and the ruins of the Takashoyashiki-ato.
Yabuhara is famous for its wooden orokugushi combs.
Narai-juku, Nagano
Accommodation in Narai
Narai has a number of traditional ryokan inns. Recommended is the Iseya Inn (Tel: 0264 34 3051; 伊勢屋). Other ryokan in Narai include Naraiso (Tel: 0264 34 3660), Ikariya Machida minshuku (Tel: 0264 34 3202) and Eshimaya (Tel: 0264 34 2609; 江島屋). In nearby Shiojiri, the western style, business hotel, the Hotel Route Inn Shiojiri is a good option.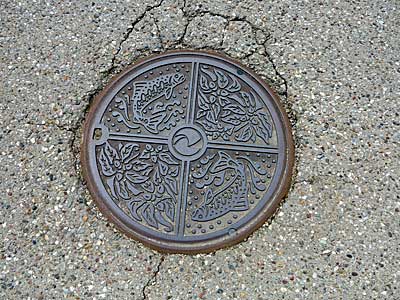 Narai Manhole Cover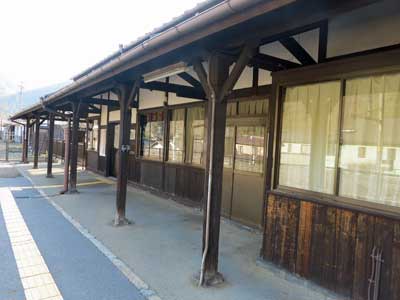 JR Narai Station
Narai Access
Air
Chubu International Airport is the most convenient international airport for an onward journey to Narai. There are direct connecting trains on the Meitetsu Centrair service to Nagoya Station and Kanayama Station for JR trains to Nakatsugawa and then change to a local train for Narai or some direct Shinano Express trains from Nagoya stop at Kiso-Fukushima. If you are traveling from Osaka take the Shinkansen to Nagoya and change.
Rail
There are Shinano Express and local trains from Nagoya via Nakatsugawa to Narai taking 117 minutes for the 154km journey. Change at Kiso-Fukushima if traveling from Nagoya or, if coming from Nagano, change at Shiojiri. The line also connects to Matsumoto to the north, where visitors can change to the Shinano Express to Nagano and then the Azuma Shinkansen to Karuizawa and Tokyo. Journey time from Matsumoto to Nagano is 50 minutes on the Shinano and 33 minutes on the Shinkansen to Karuizawa. From Nagano to Tokyo by Shinkansen is 1 hour, 40 minutes.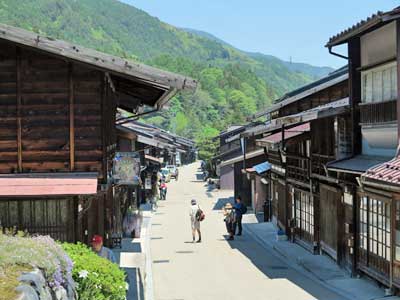 Narai-juku main street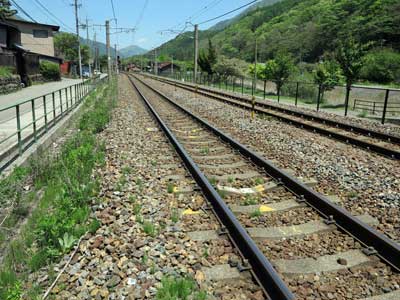 Nagano-Nagoya railway line
Car/Bus
National Highway 361 passes close to Narai. Alternatively take the 153 route or the Chuo Expressway via Nakatsugawa and Iida from Nagoya.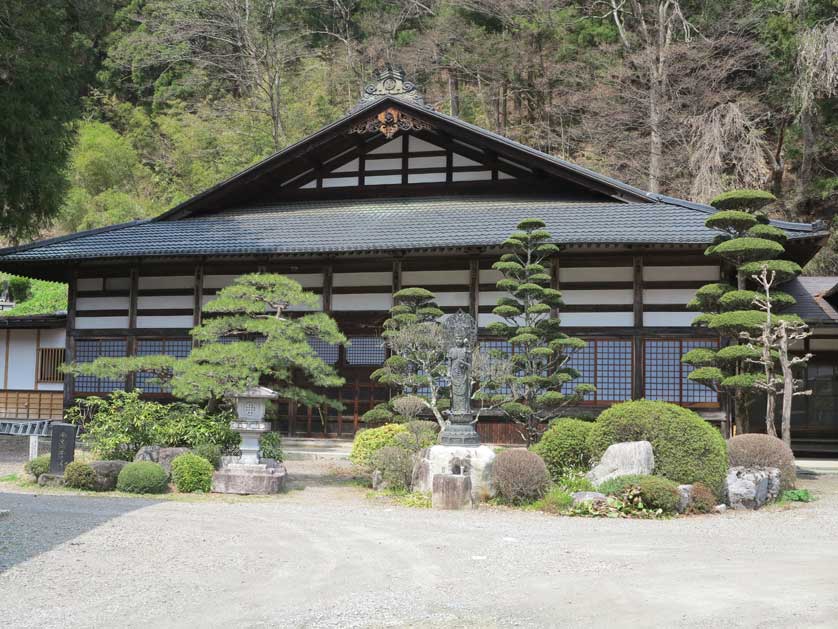 Chozenji Temple, Nagano Prefecture, Japan
Getting Around Narai
Narai basically consists of one long street which is easily walked from the railway station to your accommodation.
The next stop on a local train heading north is Kiso-Hirasawa, which is known for its high quality lacquerware, a Japanese craft for which the Kiso Valley is famous. The town has numerous lacquer shops selling miso soup bowls, trays and other items, as well as a museum dedicated to the art - the Kiso-shikkikan. Kiso Fukushima is another good place to find lacquerware.
Narai Map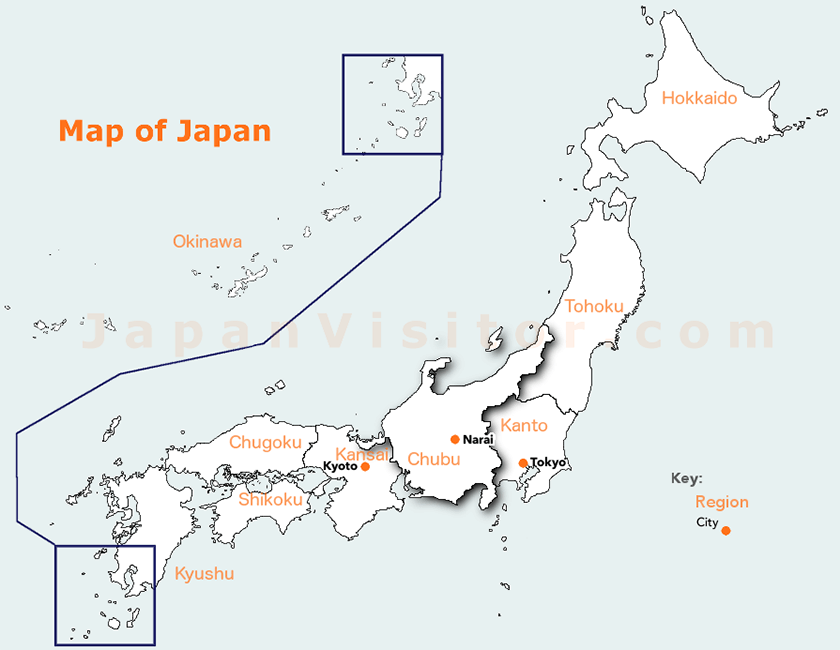 Narai Map
Book Hotel Accommodation in Nagano Prefecture Japan
Narai guide: read a guide to Narai-juku, an attractive Kiso Valley post-town on the historic Nakasendo highway in Nagano Prefecture.
All the themes of the city