Matsushiro Guide
Matsushiro 松代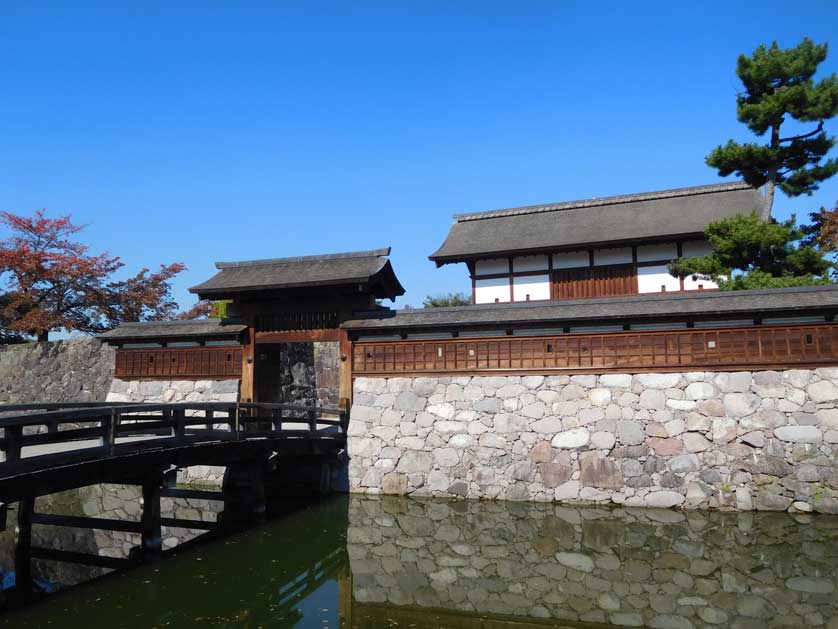 Matsushiro is a pleasant suburb of Nagano City in Nagano Prefecture, about 12 km south of the city center, and is distinguished by having its own castle - a reminder of the days when it was a town in its own right.
Matsushiro retains the samurai houses, temples and gardens of its castle town days, has some interesting museums, and even a tunnel complex from World War II.
There is more to see and do in Matsushiro than in the rest of Nagano city, and Matsushiro is the ideal base from which to discover the nearby skiing and hot springs, as well as the artistic town of Obuse.
Matsushiro's cooler weather in Japan's hot summers makes summer or autumn an ideal time to visit. In autumn the region's fruit trees are a lovely sight in full bloom.
Matsushiro Castle
Matsushiro Castle (Tel: 026 278 2801), originally known as Kaizu Castle, was built by the famous warlord Takeda Shingen before it was appropriated in 1622 by the Sanada family, who became the feudal lords of the area until the end of the Edo Period in 1868. The castle was destroyed by fire in 1872 but the main gates and some of the turrets were painstakingly restored in 2004. The surrounding park is known for its cherry trees in spring.
The castle is a short walk, turning right out of Matsushiro Station and admission is free.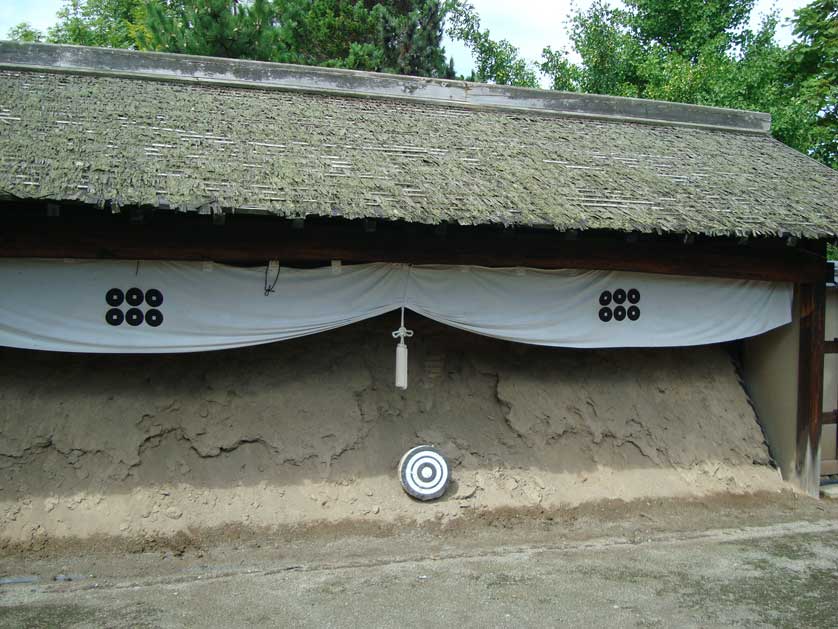 Bunbu School, Matsushiro, Nagano Prefecture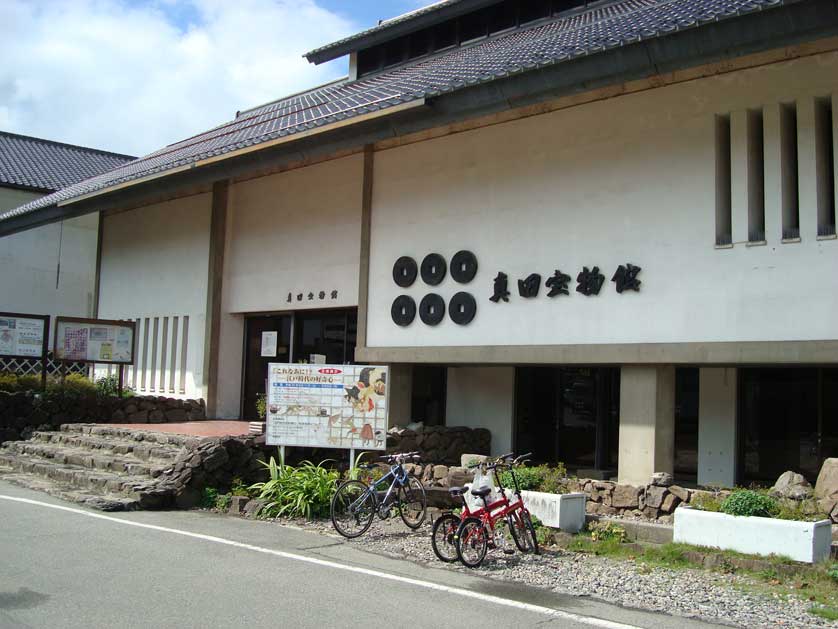 Sanada Treasure Museum, Matsushiro
A short distance back over the railway tracks is the Former Sanada Residence, the Sanada Treasure Museum and the Old School for the Literary & Military Arts (Bunbu Gakko). All three can be visited by buying a 500 yen combination ticket (see individual entry fees below). Hours: 9 am-5 pm (last entry 4.30 pm).
The Former Sanada Residence (Sanada Tei 真田邸) is a National Historical Monument, and is the only building originally associated with Matsushiro Castle that survives. Sanada Residence was carefully restored a few years ago, is the ancestral home of the Sanada clan and has a beautiful garden with a small pond. 300 yen admission.
The Sanada Treasure Museum (Sanada Houmotsukan 真田宝物館) displays artifacts donated by the Sanada family in the 1960's: beautiful samurai swords, armor, manuscripts and furniture make up the core of the 20,000 items. 200 yen admission.
The Bunbu School (Bunbu Gakko 文武学校) was built in 1853 by Yukinori Sanada and was the domain school for the sons and vassals of the Sanada clan. The wooden school buildings are wonderfully preserved and the small campus contains buildings for the study of kendo, judo, kyudo (Japanese archery) and sojutsu (spear fighting). The increasing western influence of the times can be seen in the fact that the study of western artillery was mandatory on the curriculum. 200 yen admission.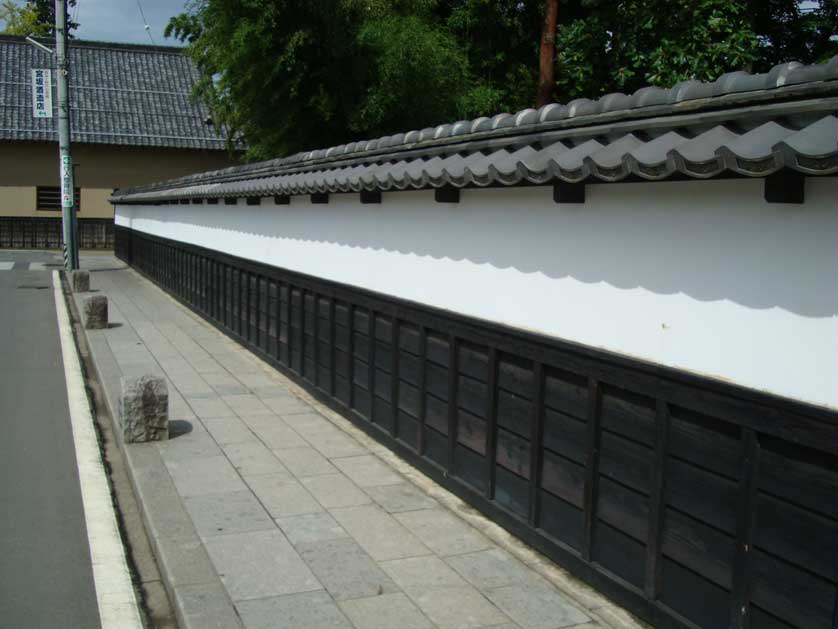 Former Yamadera Jyosan Residence, Matsushiro, Nagano, Japan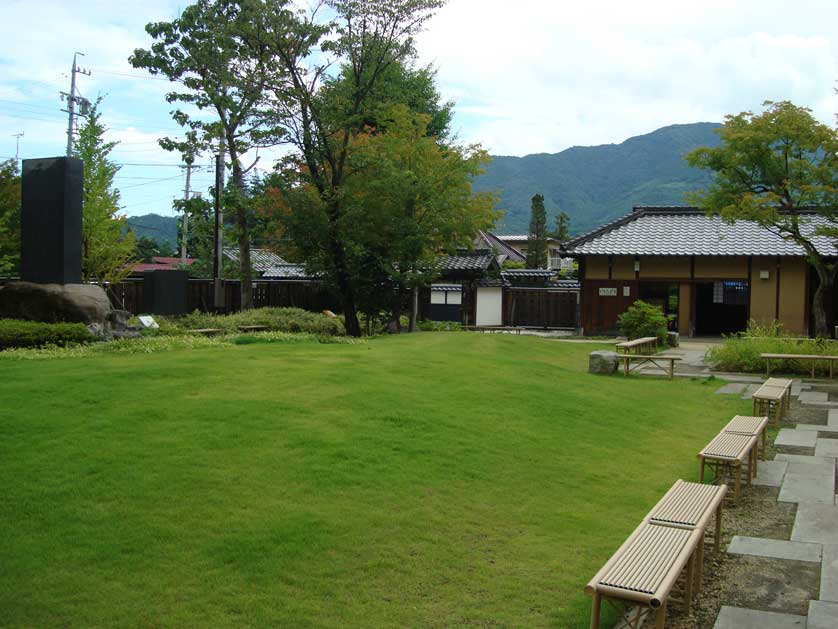 Former Yamadera Jyosan Residence, Matsushiro, Nagano, Japan
Walking south again is the Front Gate of the Former Shirai Family Residence, where it is free to enter and admire the carefully-tended garden.
A little farther on is Zozan Shrine (Zozan Jinja 象山神社) dedicated to Zozan Sakuma (1811-1864), an inventor and student of western science. Zozan (alternative spelling Shozan) advocated the opening of Japan's ports to the west and his slogan of Toyo no dotoku, seiyo no geijutsu (Eastern ethics, Western techniques) became a rallying-call for Japan's subsequent modernization in the Meiji Period. Zozan experimented with cameras, telegraphs, and glassware and later opened an artillery school in Edo (Tokyo). Zozan, though imprisoned by the Tokugawa regime and a harsh critic of some of its policies, was murdered by anti-foreign, pro-imperial (i.e., anti-Tokugawa) samurai in Kyoto in 1864. The nearby Zozan Memorial Hall (Zozan Kinenkan 象山記念館) (Tel: 026 278 2915; 9 am-5 pm, last entry 4.30 pm; closed Tuesday; 250 yen) displays the multi-talented man's many inventions and writings.
The nearby Former Yokota Residence (Kyu-Yokota-ke Juutaku 旧横田家住宅) (Tel: 026 278 2274; 9am-5pm; 200 yen) is a complete samurai house of a retainer of the Sanada family. The perfectly preserved thatched wooden buildings have tatami floors and intricate ceilings. Outside are outhouses and a traditional vegetable garden.
Zozan Memorial Hall and the Former Yokota Residence can be visited using a 320-yen combination ticket.
Other samurai houses in Matsushiro are the Former Yamadera Jyosan Residence with a lovely garden and pond and the sturdy Front Gate of the Yazawa Family Residence.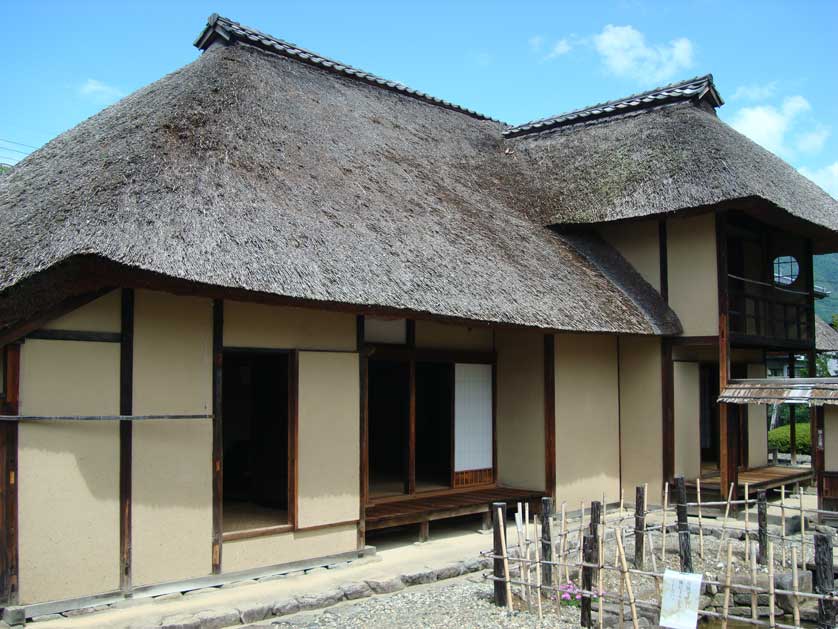 Former Yokota Residence Matsushiro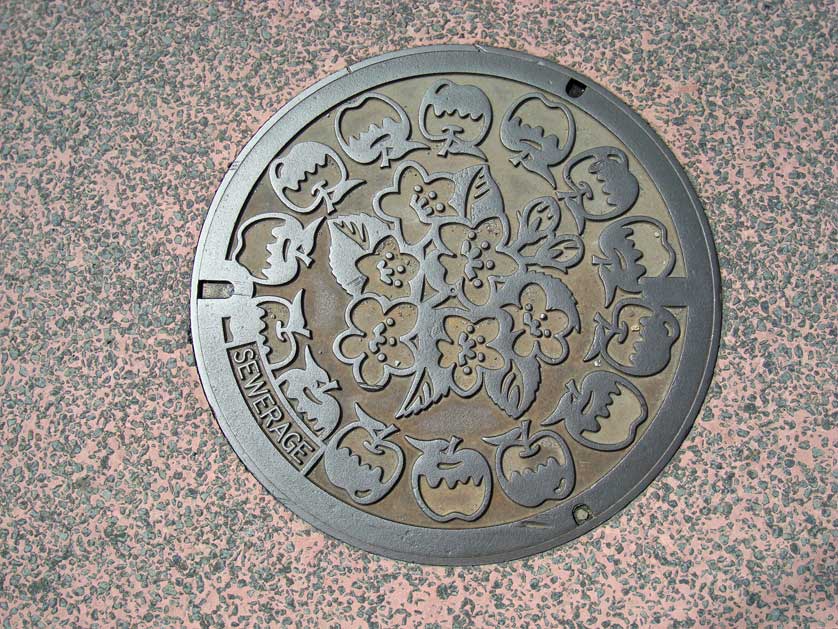 Manhole cover, Matsushiro, Nagano
Matsushiro's temples of interest are Chokoku-ji (Tel: 026 278 2454), the grounds of which contain the mausoleum of the first lord of the Sanada clan, Nobuyuki, that is reminiscent of the glorious mausoleum in Nikko - as well as the tombs of other leading Sanada family members. Emyo-ji Temple has an old bell tower and Daiei-ji Temple is the center of a group of temples.
Of more contemporary and controversial interest is Matsushiro Daihonei (Zozan Underground Imperial Headquarters) - a complex of subterranean tunnels dug by Korean forced-laborers in a bid to provide an impregnable sanctuary for the Emperor and the organs of the Imperial Japanese government at the end of World War II. A 500 meter-stretch of tunnel can be entered and there is a small museum adjacent to the main entrance detailing the brutality of the treatment meted out to the construction workers on the site.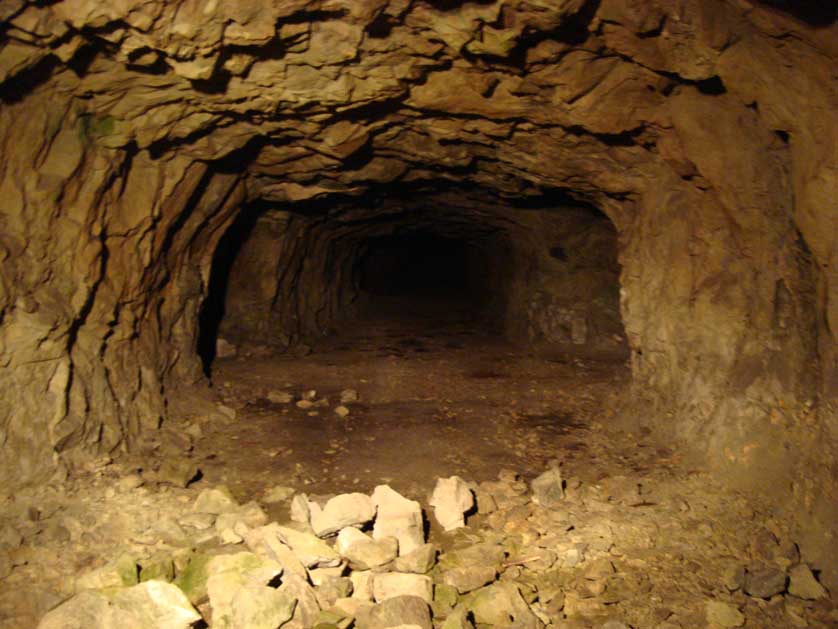 World War II Daihonei tunnels, Matsushiro, Nagano, Japan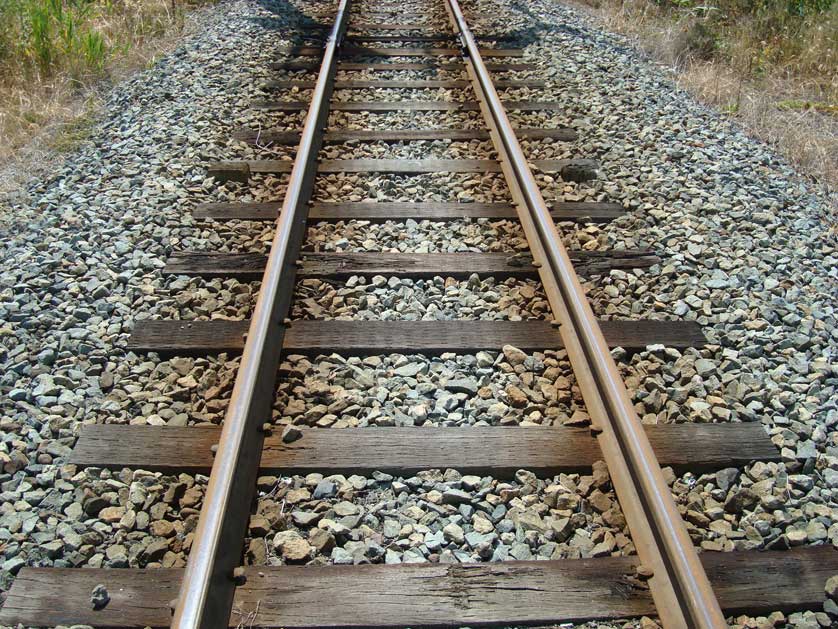 World War II Daihonei tunnels, Matsushiro, Nagano, Japan
It is very easy to get around Matsushiro on foot, by rental bicycle or by hired rickshaw.
There is a small Matsushiro Tourist Information Office , open 9am-5pm, right beside the Sanada Treasure Museum.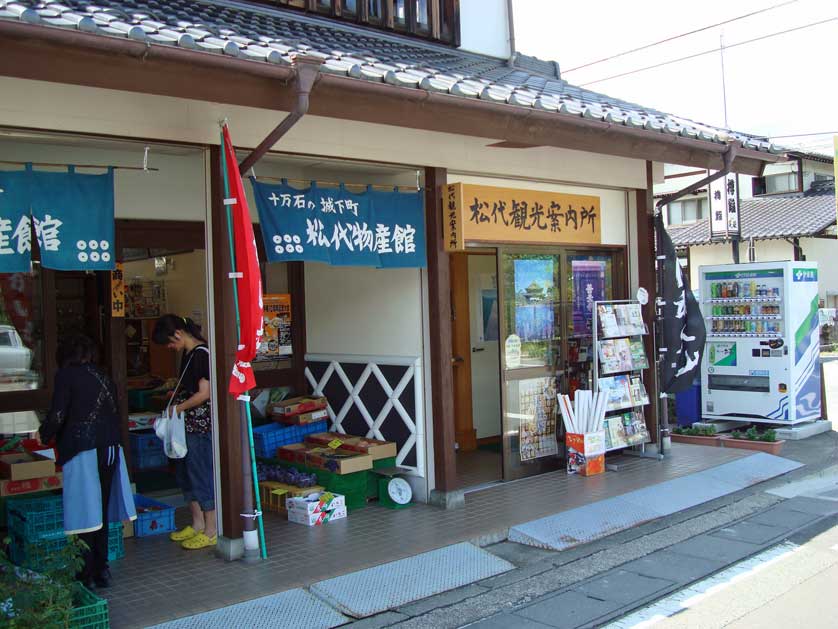 Tourist Office Matsushiro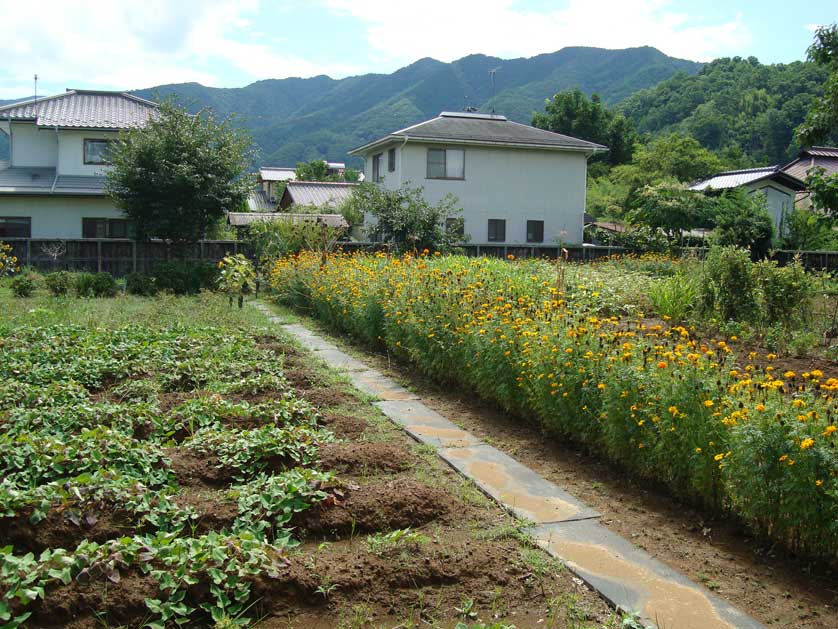 Matsushiro
Shopping/Eating in Matsushiro
Matsushiro is famous for its delicious yams, which are harvested in autumn. Matsushiro-yaki is the local pottery, noted for its simple form and blue-green glaze.
Matsushiro Festivals
In mid-October the Matsushiro Clan Sanada Jumangoku Festival celebrates the town's samurai past with a procession in period costume and taiko drum performances.
Matsushiro Accommodation
The Shinshu Matsushiro Royal Hotel is a large, reasonably priced hotel north-east of Matsushiro Castle, with a free shuttle bus to Nagano Station. Free wired internet and a full range of facilities in each spacious room. Sauna, hot pool, luggage storage service, and Japanese and Chinese restaurant on site.
If you are staying in Nagano city there are a number of recommended hotels including the Toyoko Inn right at Nagano Station, Hotel Kokusai 21 which has excellent views from its tower rooms and the budget Chuokan Shimizuya Ryokan near Zenko-ji Temple.
Access - Getting to Matsushiro
Air
Shinshu Matsumoto Airport (Tel: 0263 57 8818) is the nearest airport to Nagano. There are flights to Osaka (55 mins), Fukuoka (1 hour, 40 mins) and Sapporo (1 hour, 30 mins).
Train
To Nagano there are JR express Shinano trains from Nagoya (2 hours, 45 minutes) and Osaka (5 hours). Nagano shinkansen trains run twice hourly from Tokyo Station (1 hour, 20 mins). To reach Matsushiro from Nagano take a local Nagano Dentetsu train.
Bus
There are highway bus services between Nagano and Busta Shinjuku inTokyo, Nagoya (3 hours, 10 mins), and Osaka.
To get to Matsushiro from Nagano take a local bus from bus platform #3 outside Nagano station.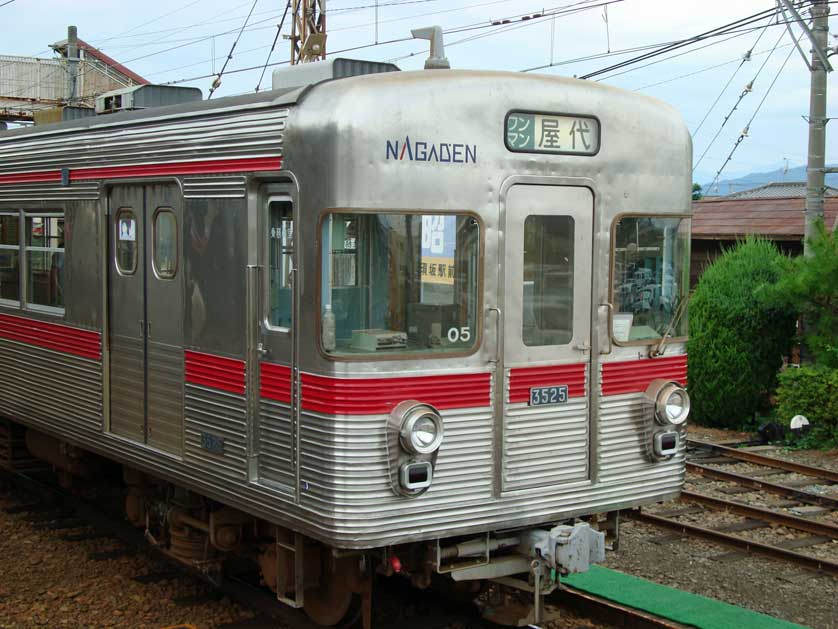 Dentetsu train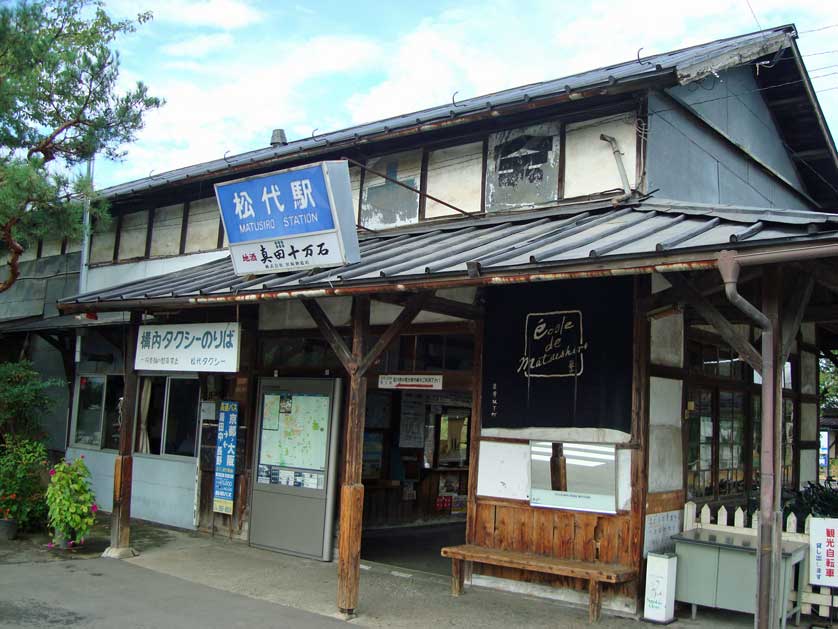 Matsushiro Station
Book Hotel Accommodation in Nagano Japan
Matsushiro Guide: read a guide to Matsushiro in Nagano. Matsushiro is a lovely castle town of samurai houses, gardens and museums.
All the themes of the city